DM2 True2-Slot dual time slot
Direct mode dual-slot communication achieves two groups of calls at a frequency point at the same time, so that the communication efficiency is doubled and frequency resources are saved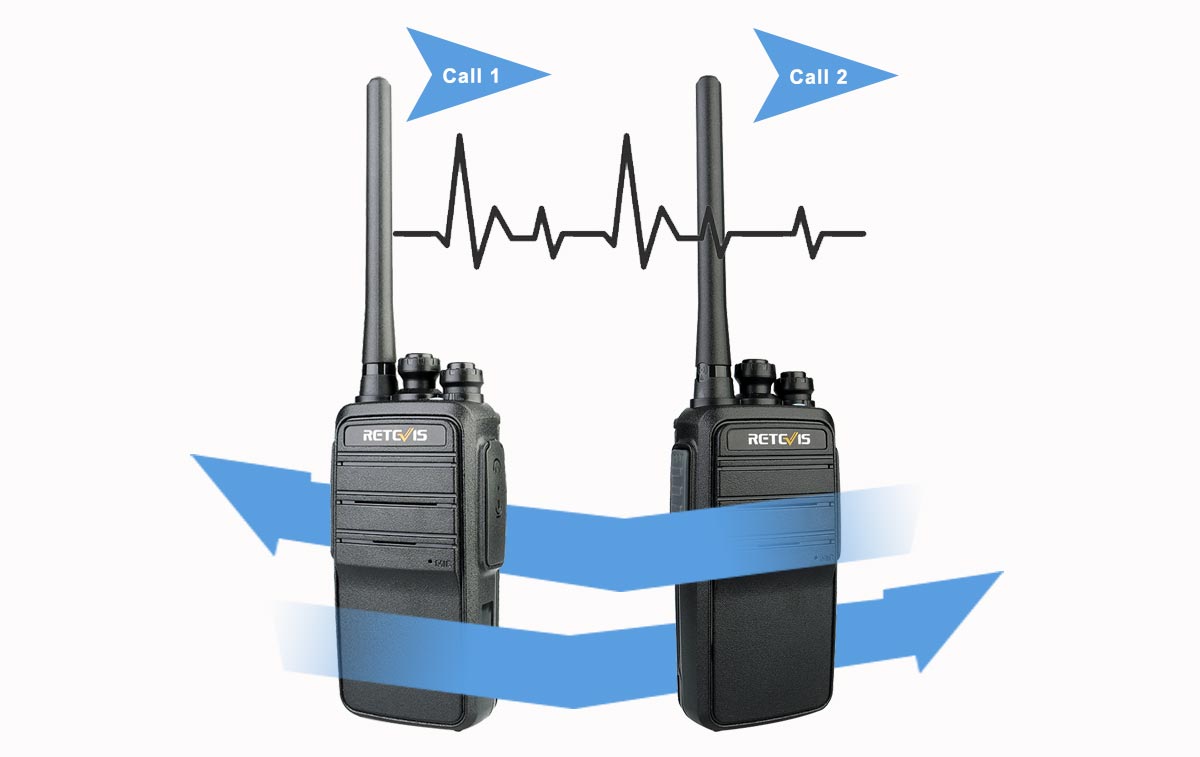 High sound quality
This digital two-way radio uses advanced AMBE +2TM voice processing technology to achieve higher quality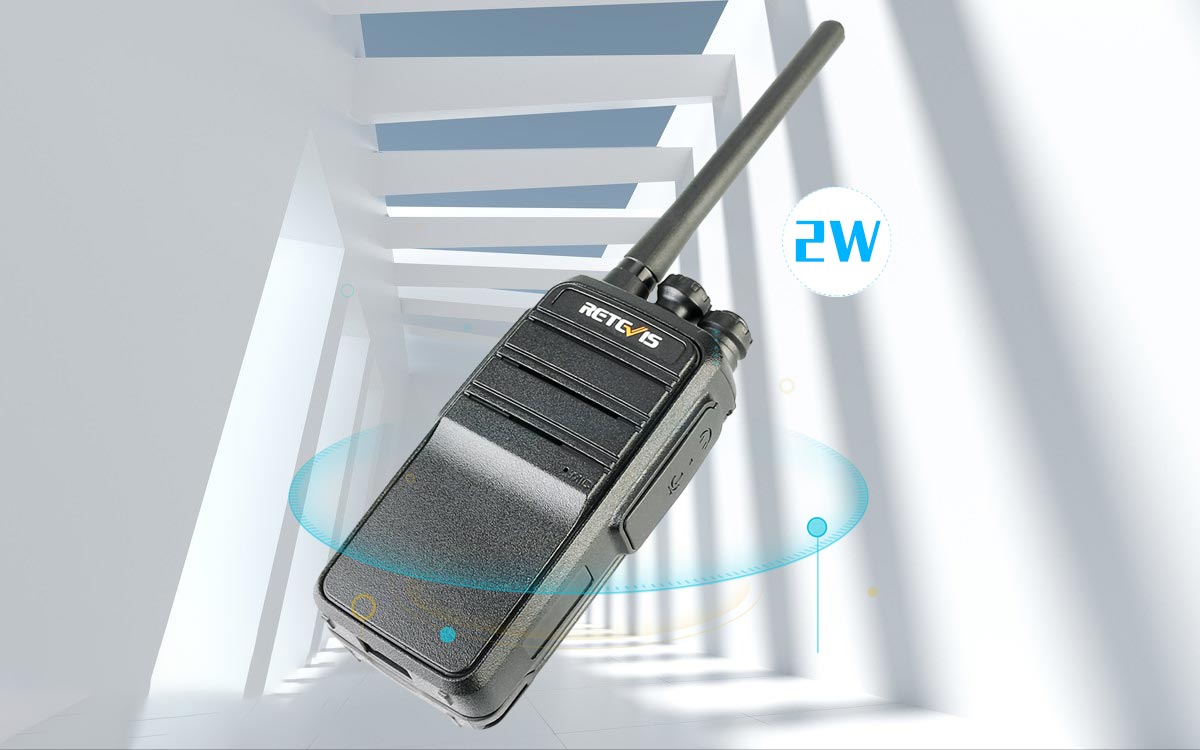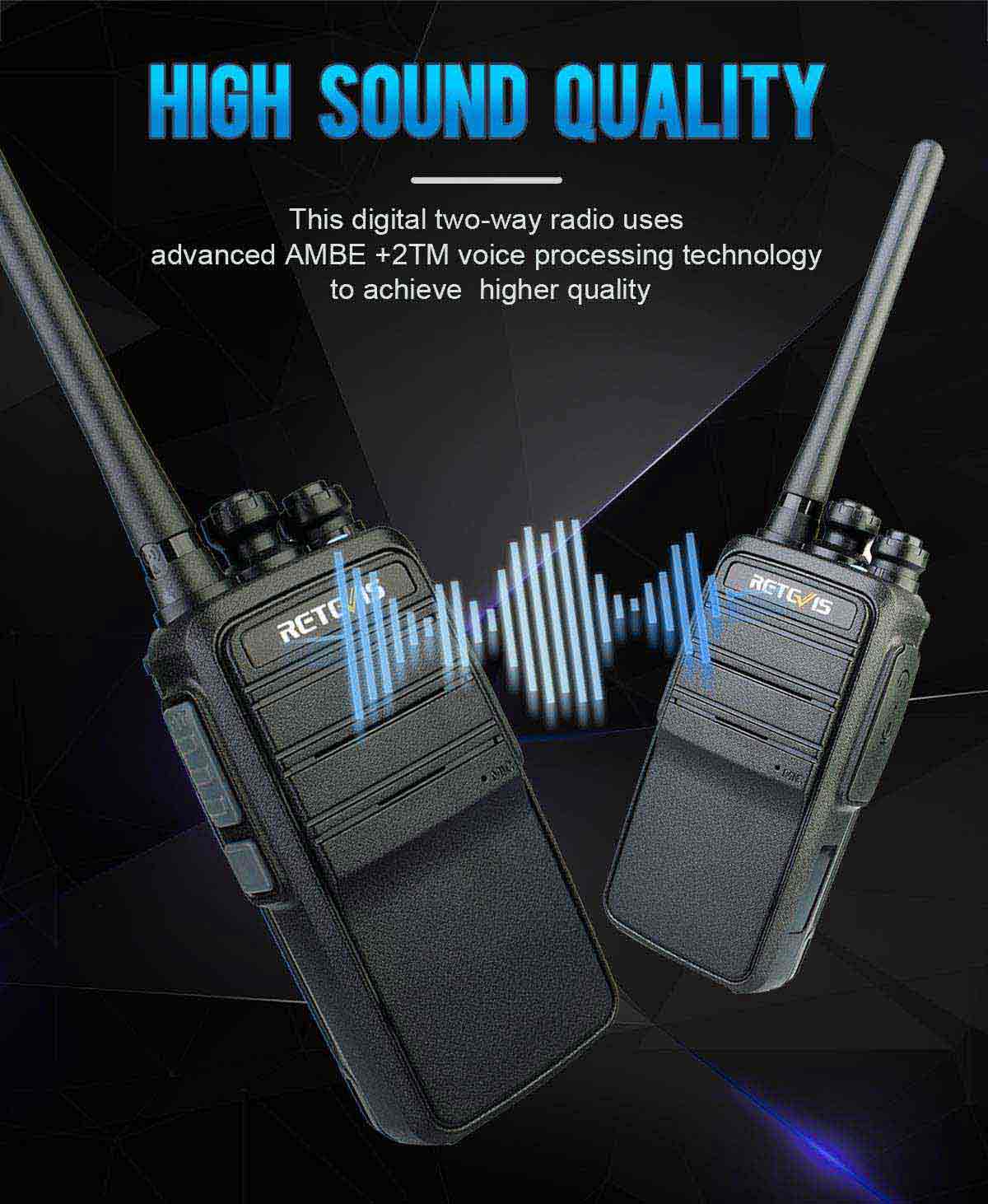 Digital signaling function
Rich calling modes that support DMR protocol, including single call, group call and all call; supports remote inhibit function and other applications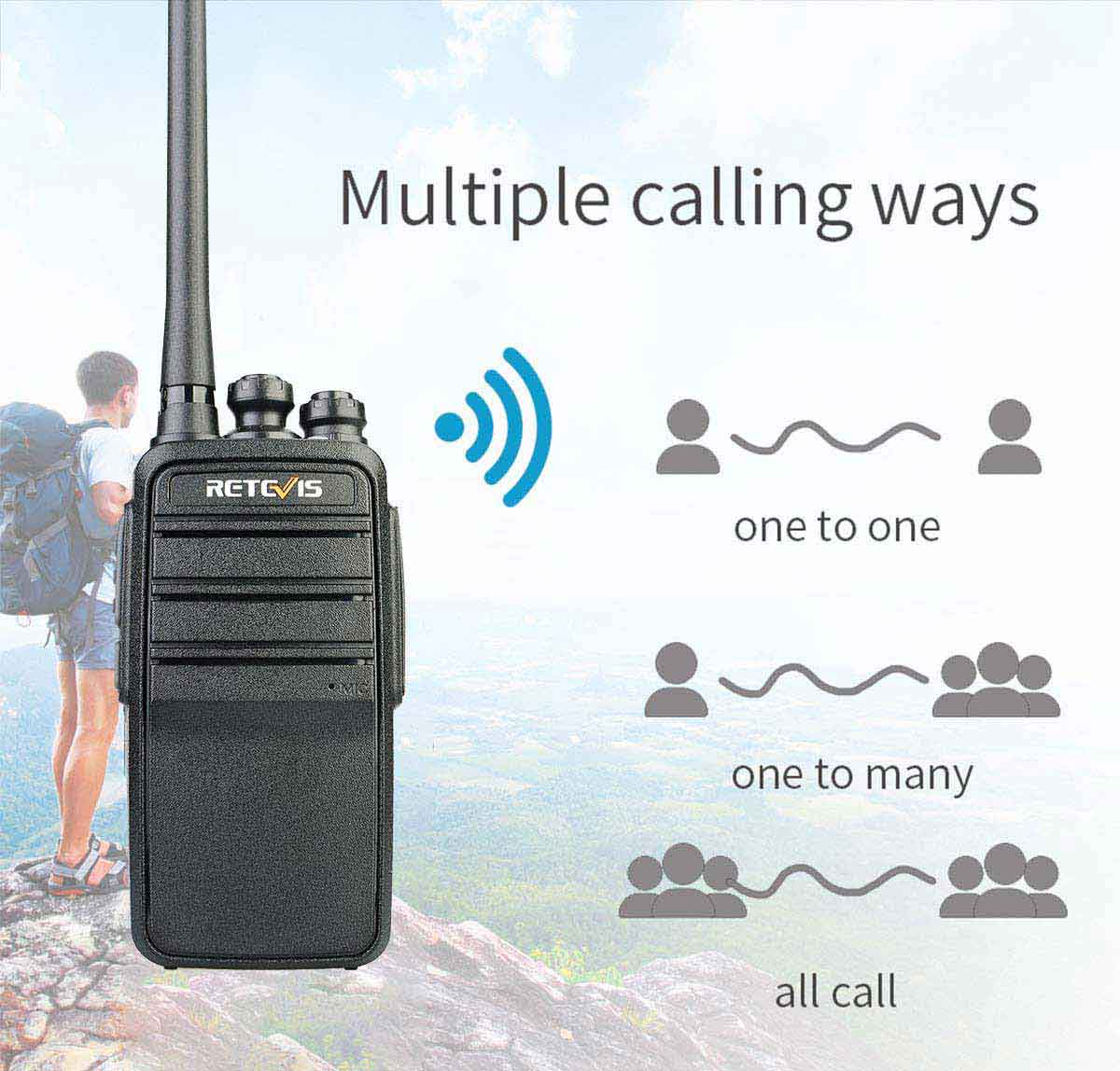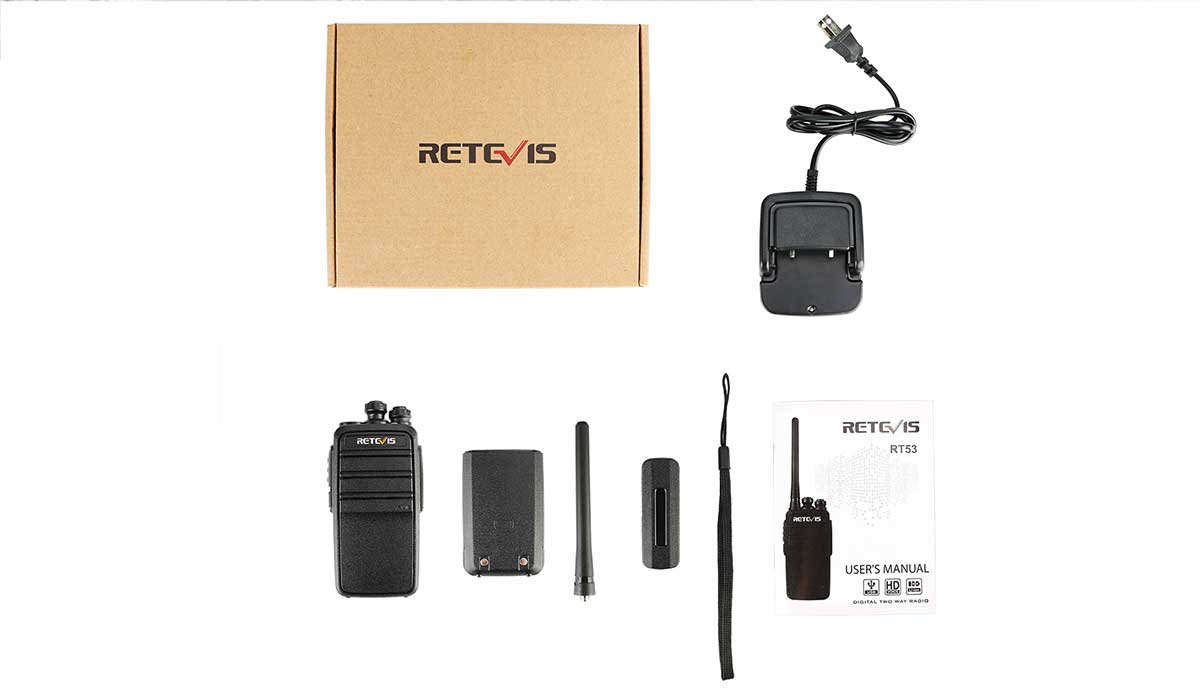 Main technological specification
| | |
| --- | --- |
| Frequency range | UHF:400-470MHz |
| Memory Channel | Up to 1024 |
| Frequency Stability | ±1.0ppm |
| Operating Temperature | -30℃~+60℃ |
| Operating Voltage | DC 3.7V |
| Dimension | 128×60×34mm ( no including antenna) |
| Weight | 191g |
Transmission

Output power

High:2W Low:0.5W

Output Consumption

Analog≤1.2A Digital≤0.8A
≤0.18A

Consumption

16K¢F3E@25KHz 141K¢F3E@20KHz

FM modulation

11K¢F3E@12.5KHz

4FSK digital modulation

12.5KHz for data:7K60FXD 12.5KHz for
data and voice :7K60FXE

Modulation Distortion

≤5%

Signal-to-noise(wide/narrow)

≥45dB@25KHz ≥40dB@12.5KHz

Adjacent Channel power

≤-65dB ≤-60dB

Audio Response

+1~3dB

Antenna Port Spurious

9KHz-1GHz: ≤-36dBm
1GHz-12.75GHz: ≤-30dBm

Digital Protocol

ETSI-TS102 361-1,-2,-3

Vocoder type

AMBE+2 TM
Reception
| | |
| --- | --- |
| Analog receive sensitivity | -122dBm (12dB SINAD) |
| Digital receive sensitivity | -120dBm (BER≤5%) |
| Audio power | 1W |
| Audio distortion | <10% |
| Audio response | +1~-3dB |
| Signal imitation | ≥70dB |
| Inter-mediation (Wide/ narrow) | ≥62dB/≥58dB |
| Adjacent channel selectivity | ≥65dB/≥60dB |
| Receive Current | ≤380mA |
| PM noise | ≥45dB@25KHz /≥40dB @12.5KHz |
RT53 UHF DMR Radio
Main Features
●UHF Full-Frequency Radio
Frequency range: UHF400-470MHz
●DM2 True2-Slot dual time slot
Direct mode dual-slot communication achieves two groups of calls at a frequency point at the same time, so that the communication efficiency is doubled and frequency resources are saved
●Digital and analog compatible
Support DMR digital and analog two communication modes to ensure that the original analog products smooth transition to digital products to meet different communication needs
●Digital signaling function
Rich calling modes that support DMR protocol, including single call, group call and all call; supports remote inhibit function and other applications
●High sound quality
This digital two-way radio uses advanced AMBE +2TM voice processing technology to achieve higher quality
●High/low power switch
2W/0.5W power switch, Meeting the power requirements of different call distances to save more energy
●Alarm function
Supporting general alarm and silent alarm in emergency situations
●Digital mode supports the use of repeater
●Side buttons can be customized without changing the user's operating habits
Package includes
1 x RT53 Two Way Radio

1 x Antenna

1 x Battery

1 x Belt Clip

1 x Sling

1 x Power Adapter

1 x User Manual
1, UHF DMR Radio 400-470mhz.
2, Simple and Easy to use
3, Decently priced can be used for business or family.
What's in the Box?
Package includes

1 x RT53 Two Way Radio

1 x Antenna

1 x Battery

1 x Belt Clip

1 x Sling

1 x Power Adapter

1 x User Manual
Product Reviews
---

Very profesional

Charlie on Jul 31,2019

I use them for events they look and work very profesional, the volume is very hight and the range is moré than 2 miles

Work great.

Robert C. on Jul 31,2019

These things work great for our job. We work on 5 acres and can hear each other crystal clear. Sometimes we eve get traffic for other locations down the street.

Works great around LA

J.Long on Jul 31,2019

I use this all around Los Angeles and works great with all the hills and house

Clear, durable, and worth the money. The ...

Mike on Jul 31,2019

Clear, durable, and worth the money. The signal is strong and the quality is industrial grade. We use these as our radio of choice in shipyards and it withstands daily abuse.

UHF radio, strongly recommend

Eric on Jul 31,2019

Great cheap radio for reliable communications. I work on a 36 acre college campus and utilize these radios for our Facilities, Maintenance, and limited Security use. These work great for our needs and patch into our existing systems very easily.

EXTREMELY GOOD RECEPTION!!!!

Susan Rosa on Jul 31,2019

This radio was AWESOME!!! Extremely good reception...walked all over the competition!!! We purchased 2 and they worked way beyond our expectations!!!! I will purchase again!!!!

durable

william on Jul 31,2019

These are not your kids walkie talkies. I am a contractor painting water towers and these radios are the best!

Overall pleased

M. Sun on Jul 31,2019

Does it's job, the range is a little less quality than anticipate but it will work.

Durable and great reception!

Amebail on Jul 31,2019

Works great in areas that have bad reception and awesome in areas with great reception. Very durable.

Highly recommend.

john lemmons on Jul 31,2019

We work at a 82 acre property with 3 story buildings and they work great throughout.