RB37 License-free Two Way Radio with Bluetooth earpiece
$54.99
Free shipping on orders over $50
$ 54.99
-100%
Retevis RB37 is a license-free radio.
The built-in Bluetooth can connect your wireless earpiece.
The walkie talkie with earpiece.
The wireless copy function can quickly establish a call channel.
The programming cable is

C9018A
OverView
1. RETEVIS RB37 License-free Two Way Radio with Bluetooth earpiece,IP67 Waterproof, wireless copy,and Emergency alarm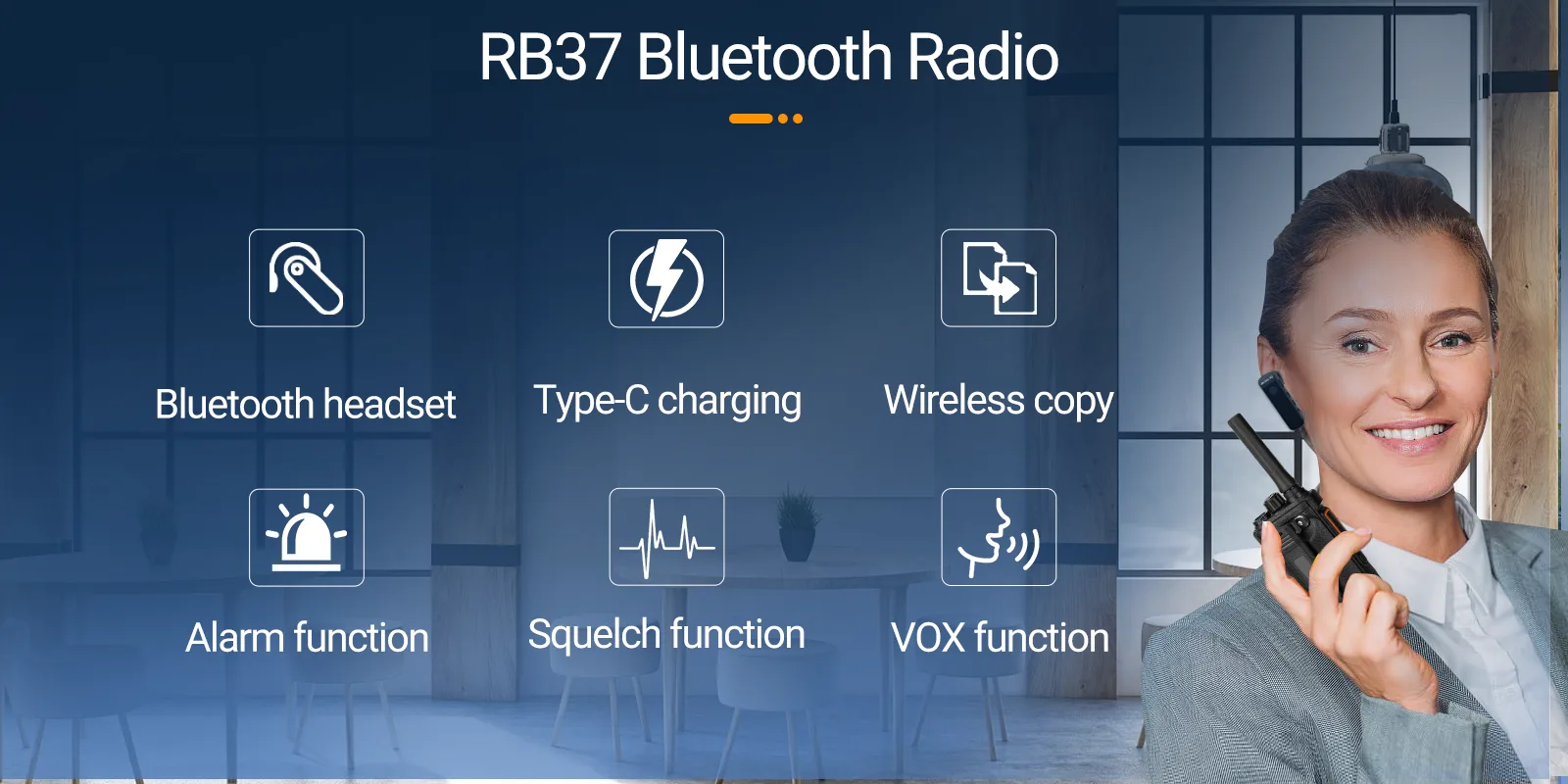 2. RB37 bluetooth radio with bluetooth earpiece
Compared with the old Bluetooth headset, the upgraded Bluetooth headset is smaller and lighter, which is quicker to connect to the walkie-talkie; Detachable ear hook makes the headset comfortable and convenient to wear and take off; With memory function, no need to repeat pairing after restarting, which is more convenient.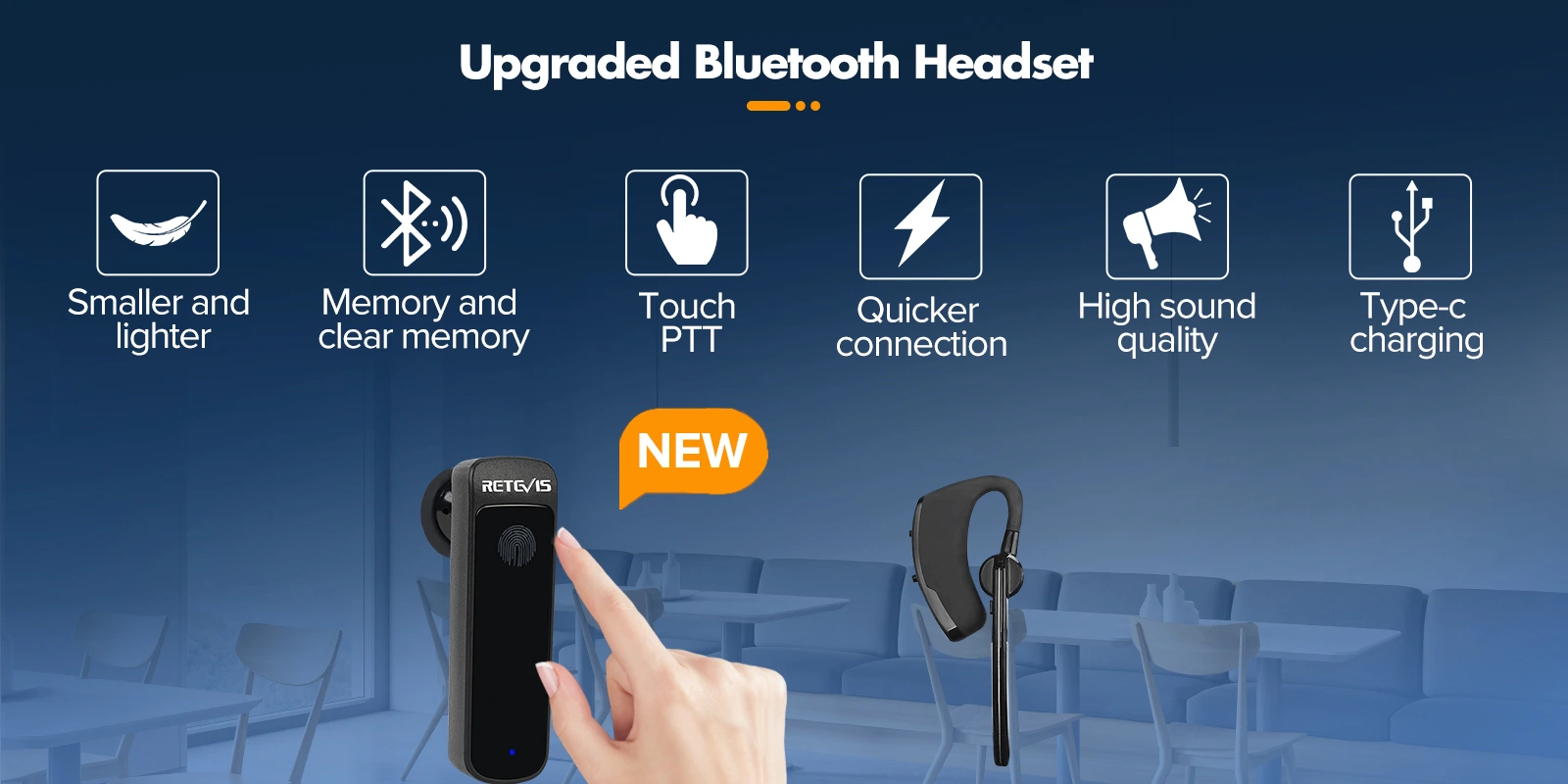 3

.Long Standby Time
With a built-in 180mAh lithium battery, the Bluetooth headset can be continually used 12 hours, and standby for up to 150 hours. Equipped with a 2000mAh lithium battery, the walkie-talkie can last up to 120 hours. (Note: The service life may vary from usage customs and environments).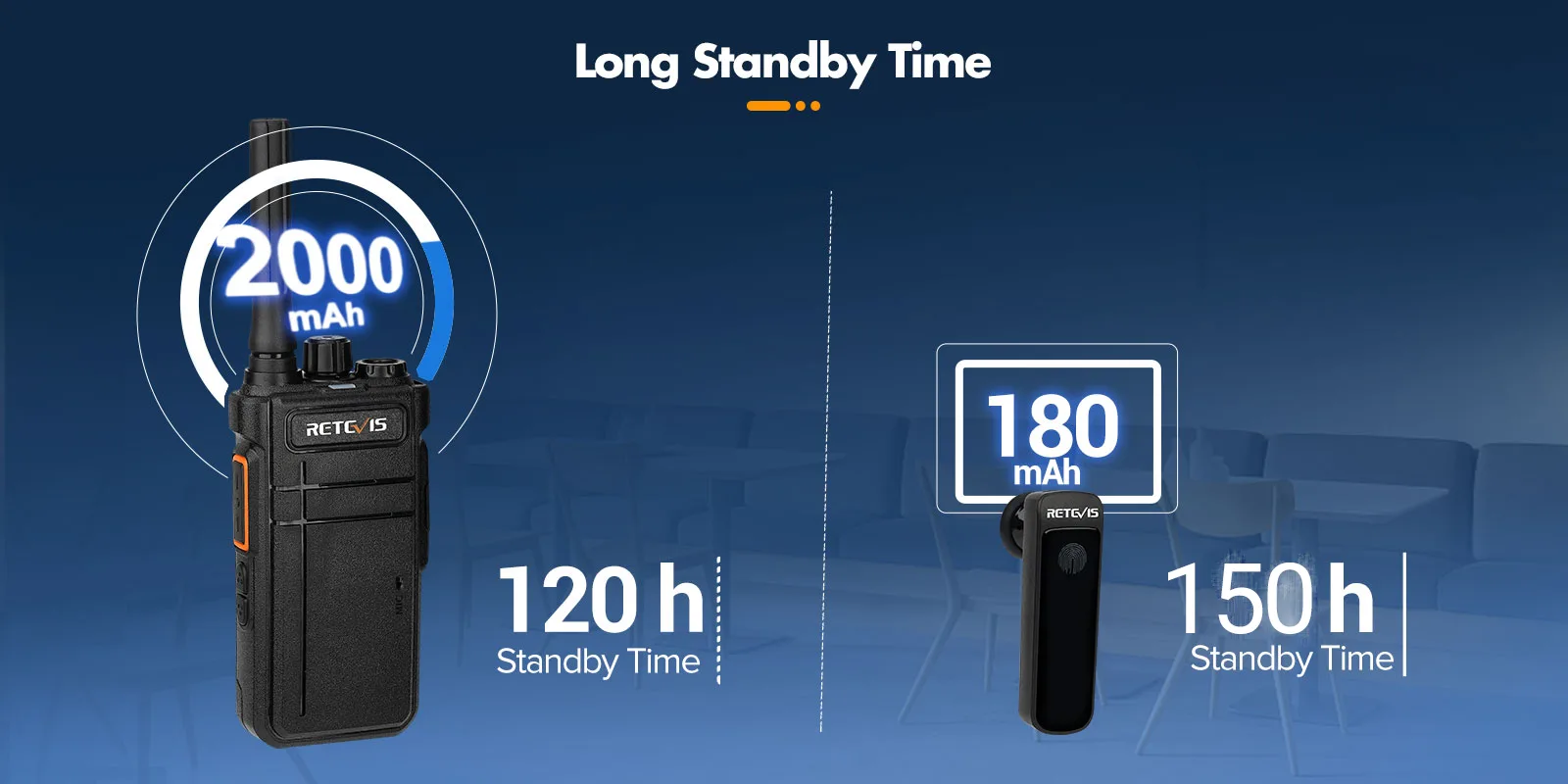 4. Bluetooth earpiece-Long communicate range
With the touch screen, the Bluetooth headset is more flexible and convenient to communicate. Wide Compatible, The headset can be connected to the phones and other walkie talkies. The walkie-talkie also can be connected to partial models of Bluetooth headsets, such as Xiaomi, Baidu.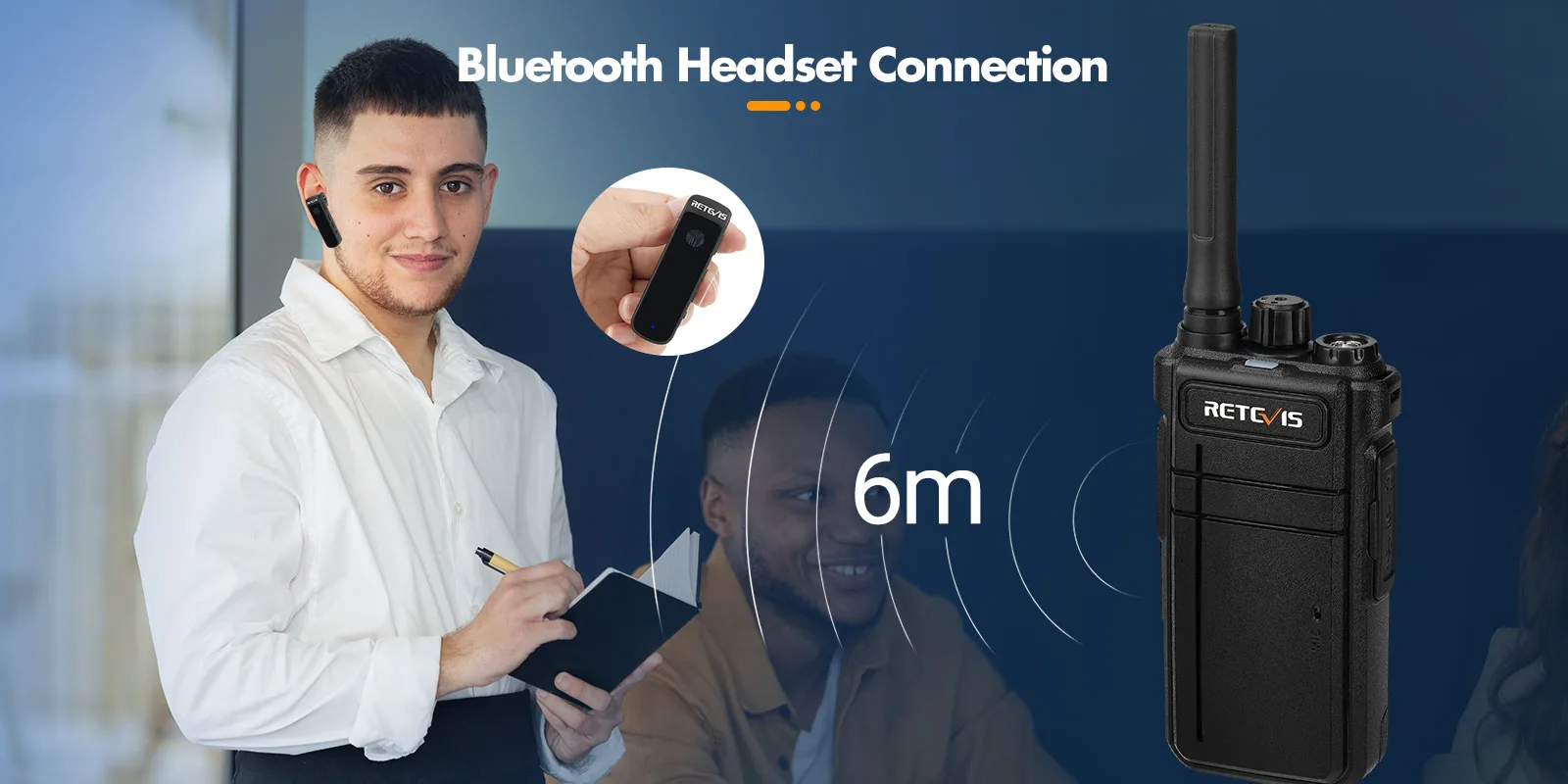 5. wireless copy
The wireless copy function enables the walkie-talkie easily copy the frequency without programming, which saves time and improves working efficiency.
Receiver:
1. Press the PF2 key and power it on simultaneously;
2. A

fter

seeing

the green indicator flash

ing

and

hearing

three beeps, the radio enters wireless copy receiv

e

mode

;

3. W

hen the green and red indicator flash alternately,

the data is received.
Transmitter:
1. Press the PF1 key and power it on simultaneously;
2. After seeing the red indicator flashing and hearing three beeps, the radio enters wireless copy transmission mode;
3. Press the PTT button, when the red indicator flashes, data are transferred.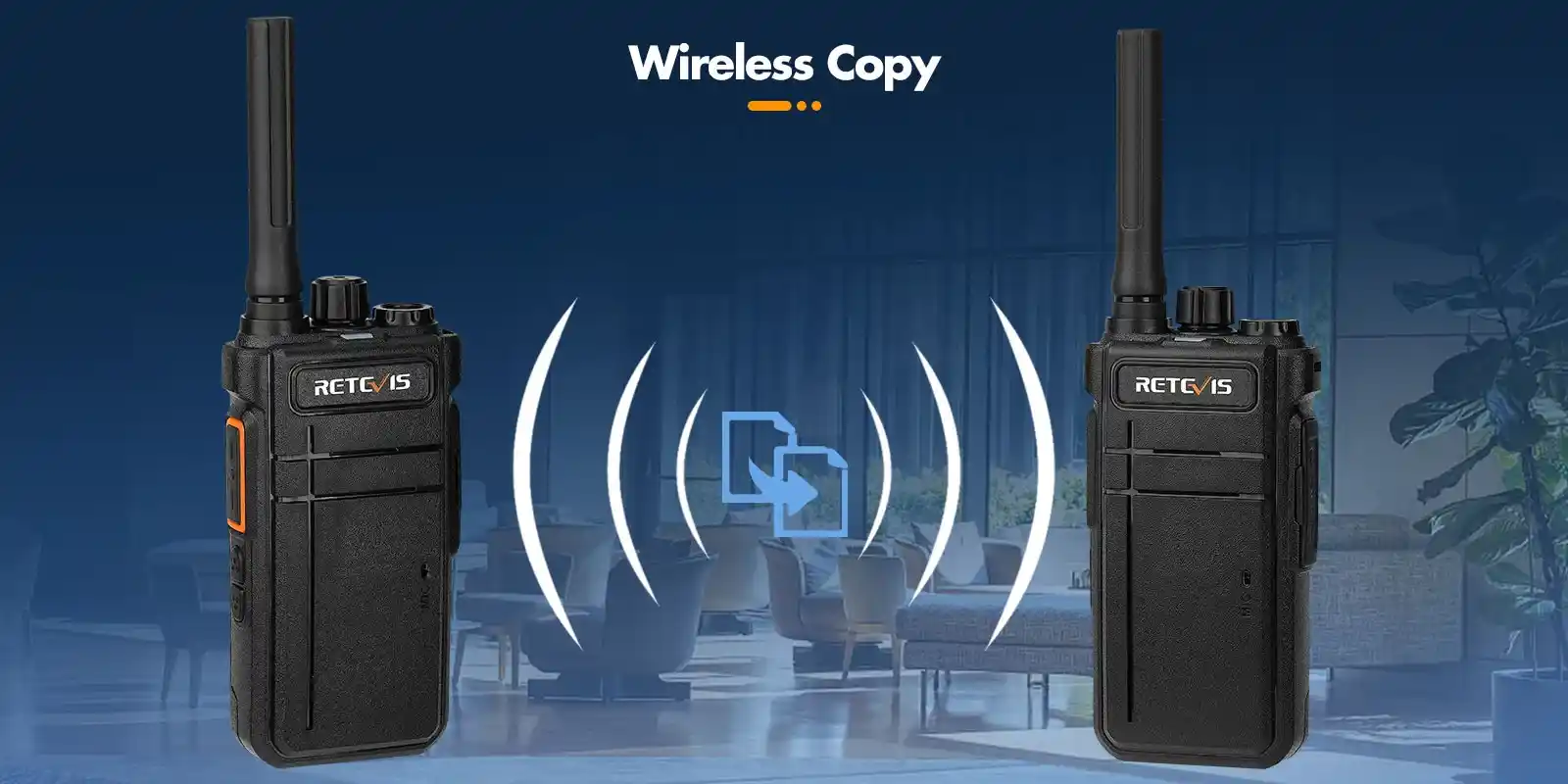 6.

Powerful Flashlight
Built in big LED flashlight. You can walk in the dark without worrying about the surrounding environment, which is safer.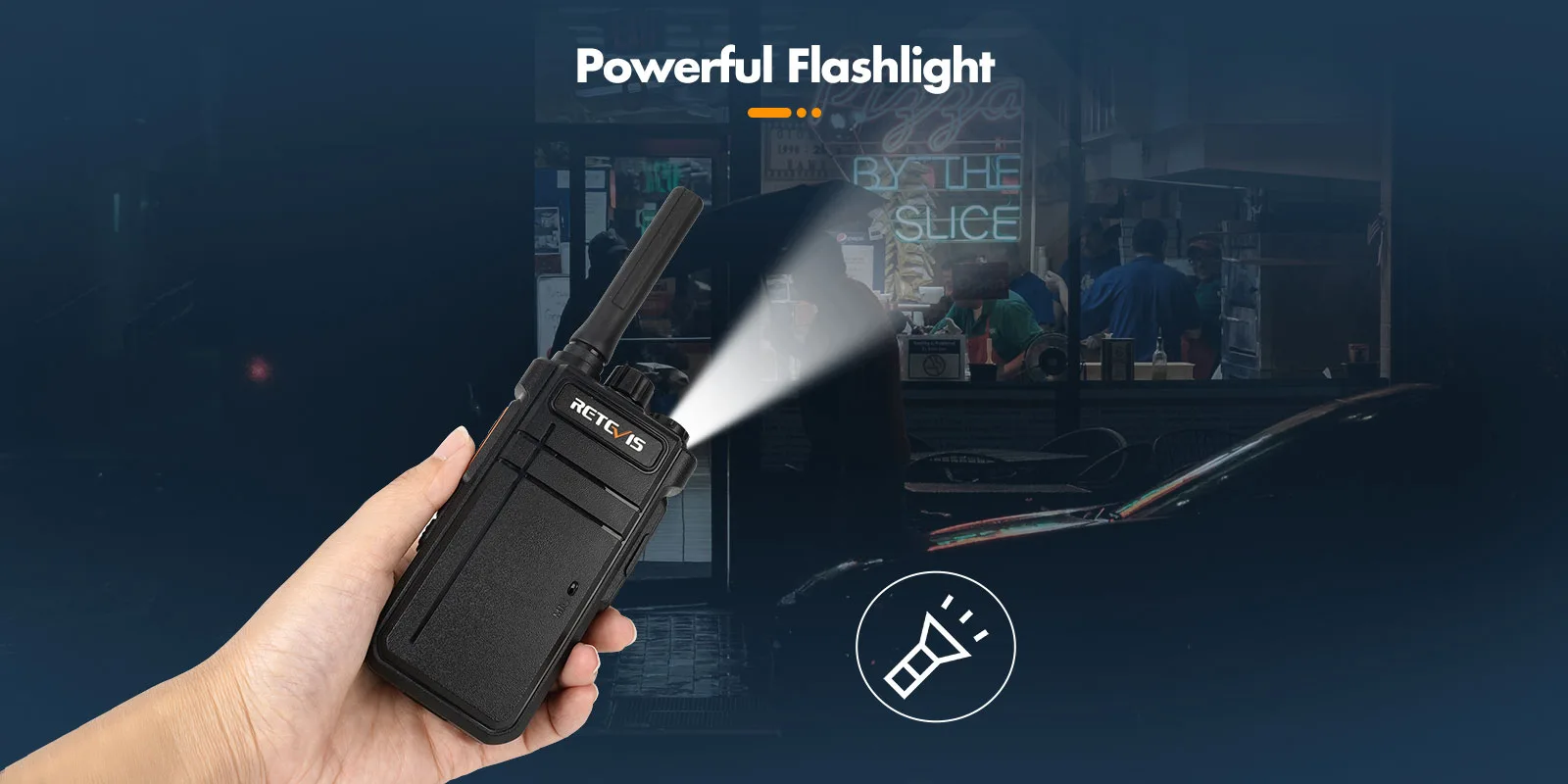 7.

Alarm Function-

Local/Remote Alarm
Working in a hotel, you may confront emergencies. When you cannot solve, you can activate the alarm function, signaling to your colleagues for help. (Note: Local/Remote alarm needs to be chosen and set in advance by programming).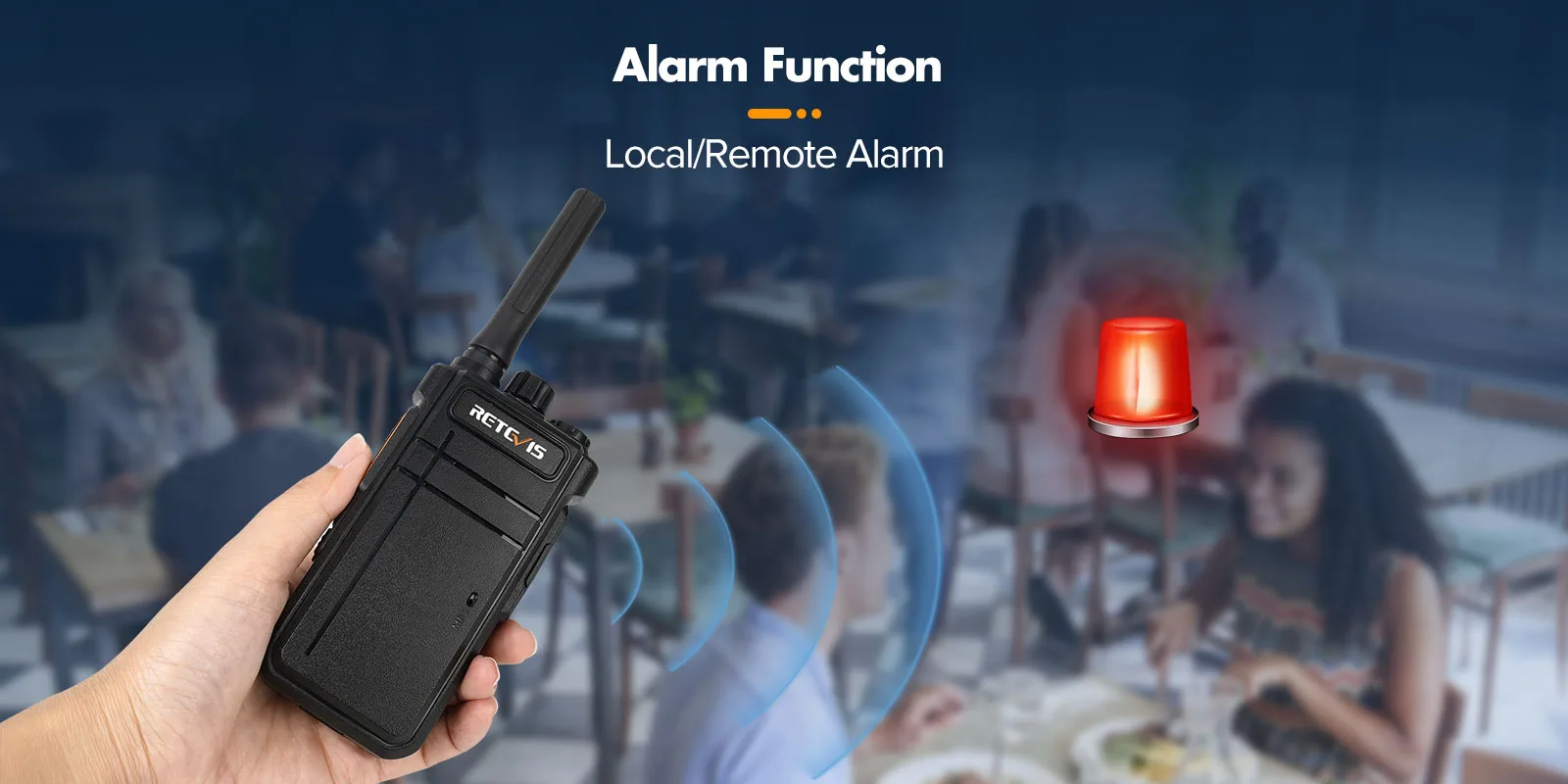 8. RB37 Bluetooth radio typc-c charging
The walkie-talkie and the Bluetooth headset adopt Type-C interface, which is convenient to charge, without the hassle of plugging and unplugging. Additionally, the walkie-talkie can be charged via direct charger or desktop charger, which makes the walkie-talkie be charged more flexibly and efficiently.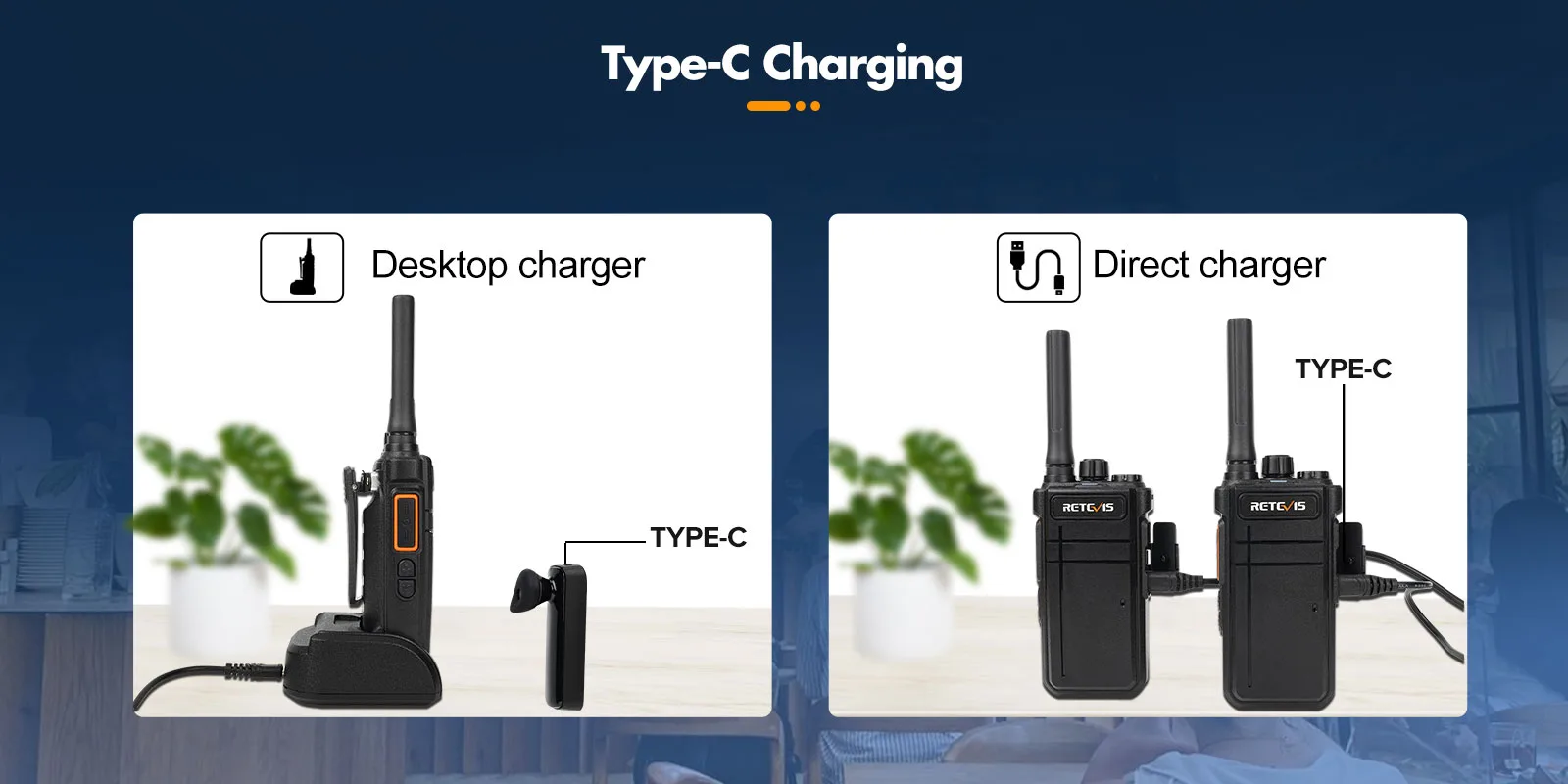 9.Vox function



VOX function free your hands, on the walkie-talkie is essential, which makes employees efficient to communicate even when they are busy.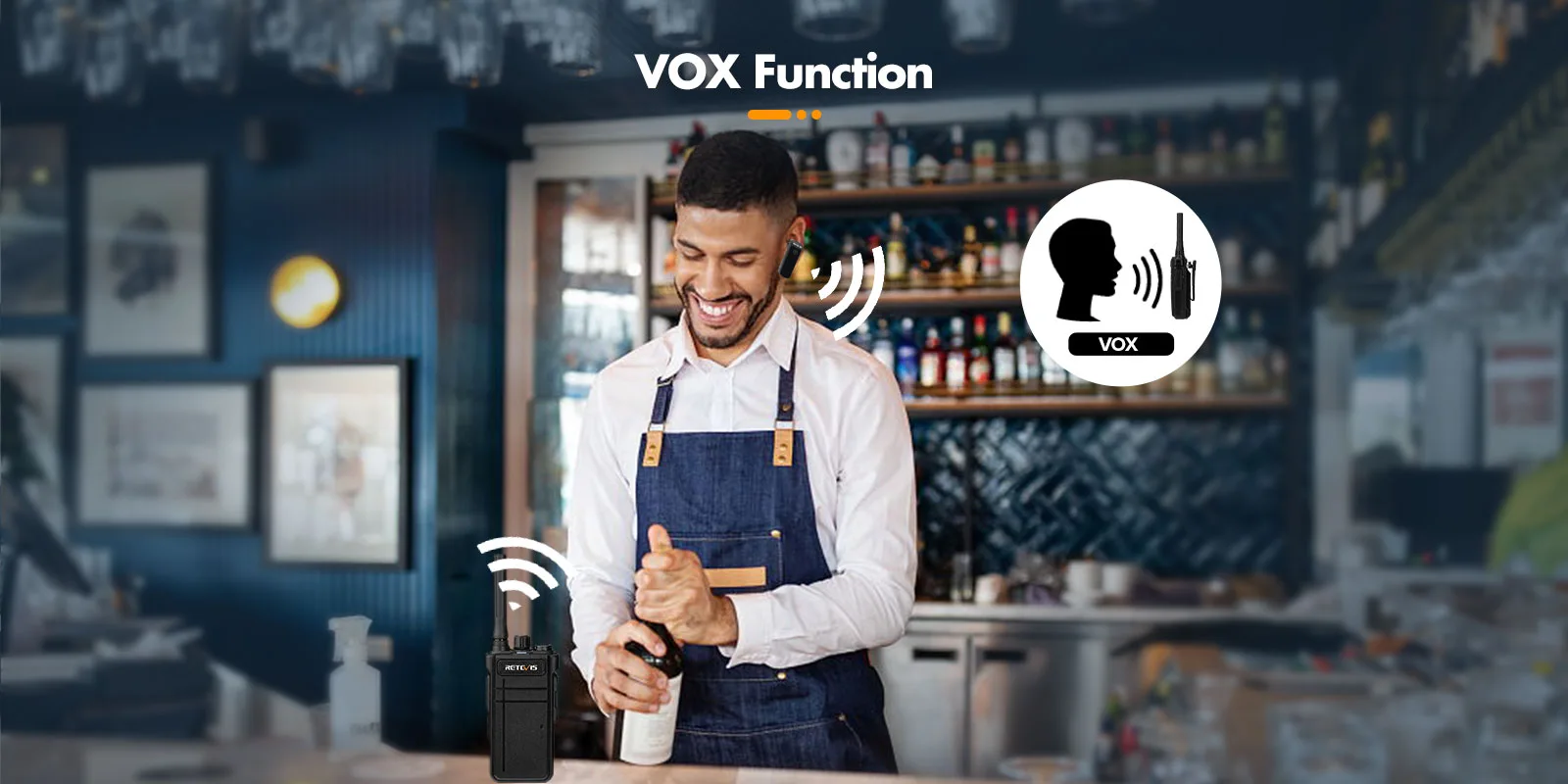 10.

Squelch Function
During the main dining hours, the restaurant is very crowded and noisy. The communication quality of the walkie-talkie will be affected. Squelch can reduce the noise and improve the sound quality, and work is more efficient.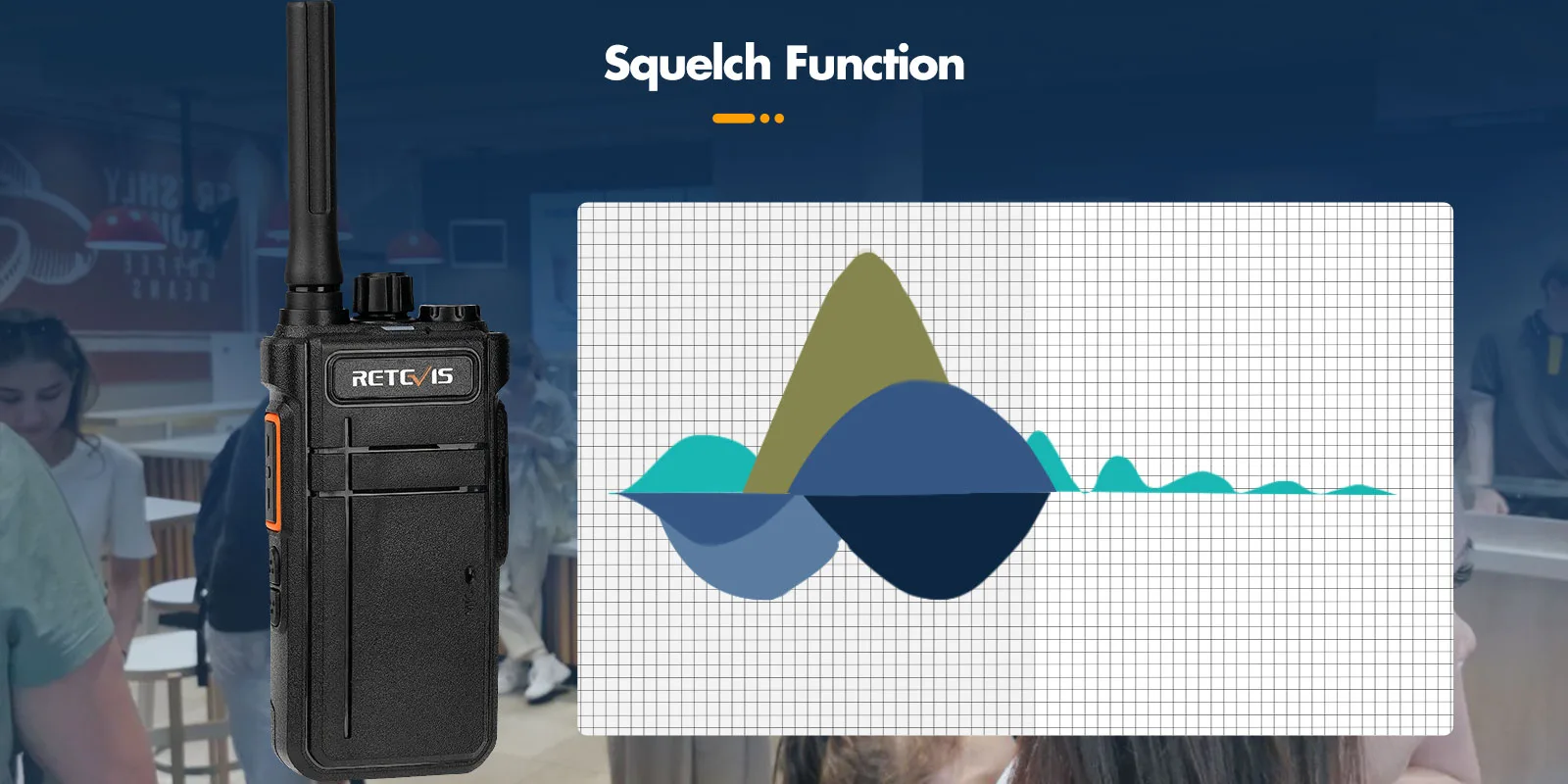 11. RB37 Bluetooth radio for restaurant,hotel and cafe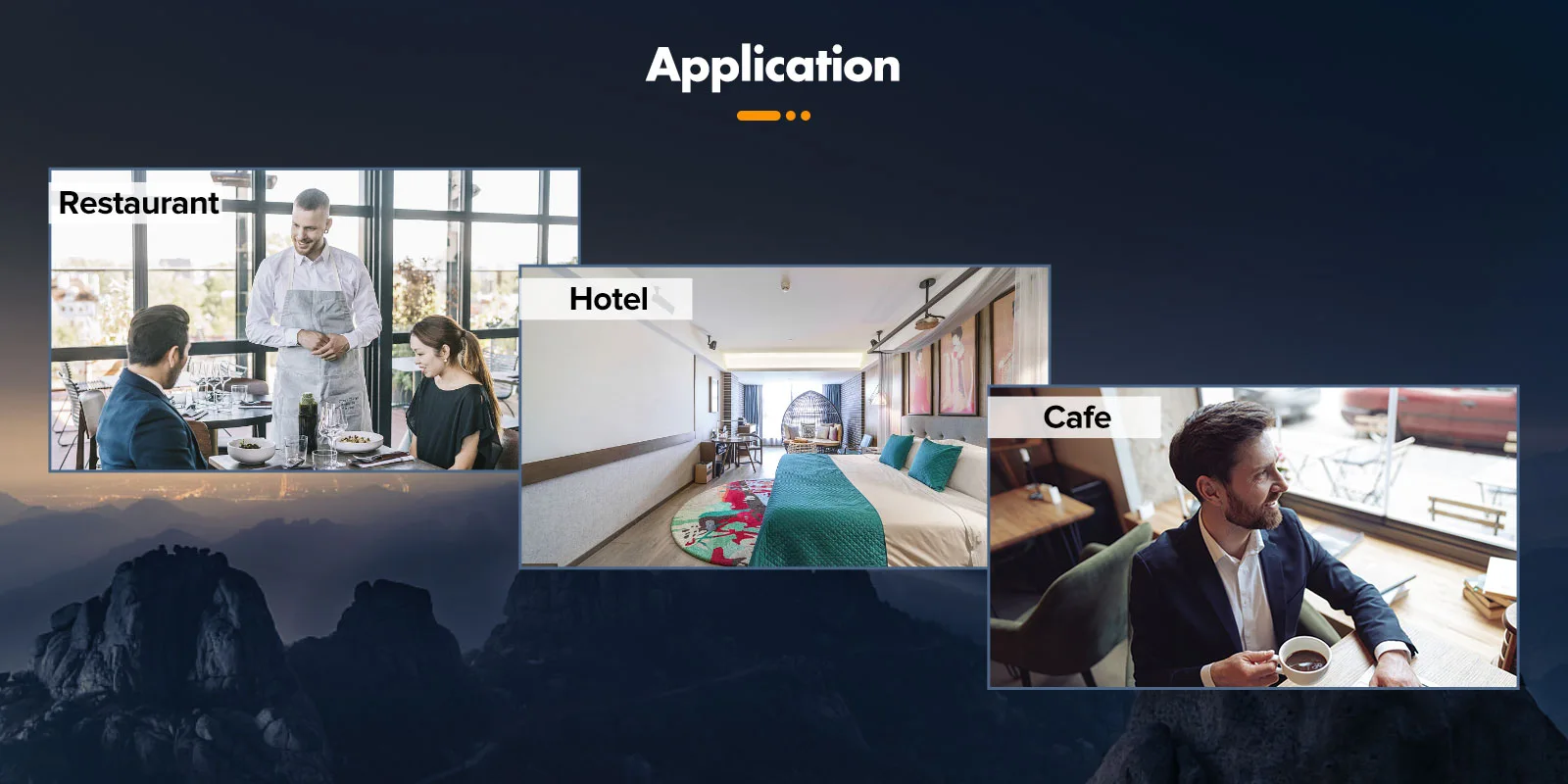 12. RB37 funtction detail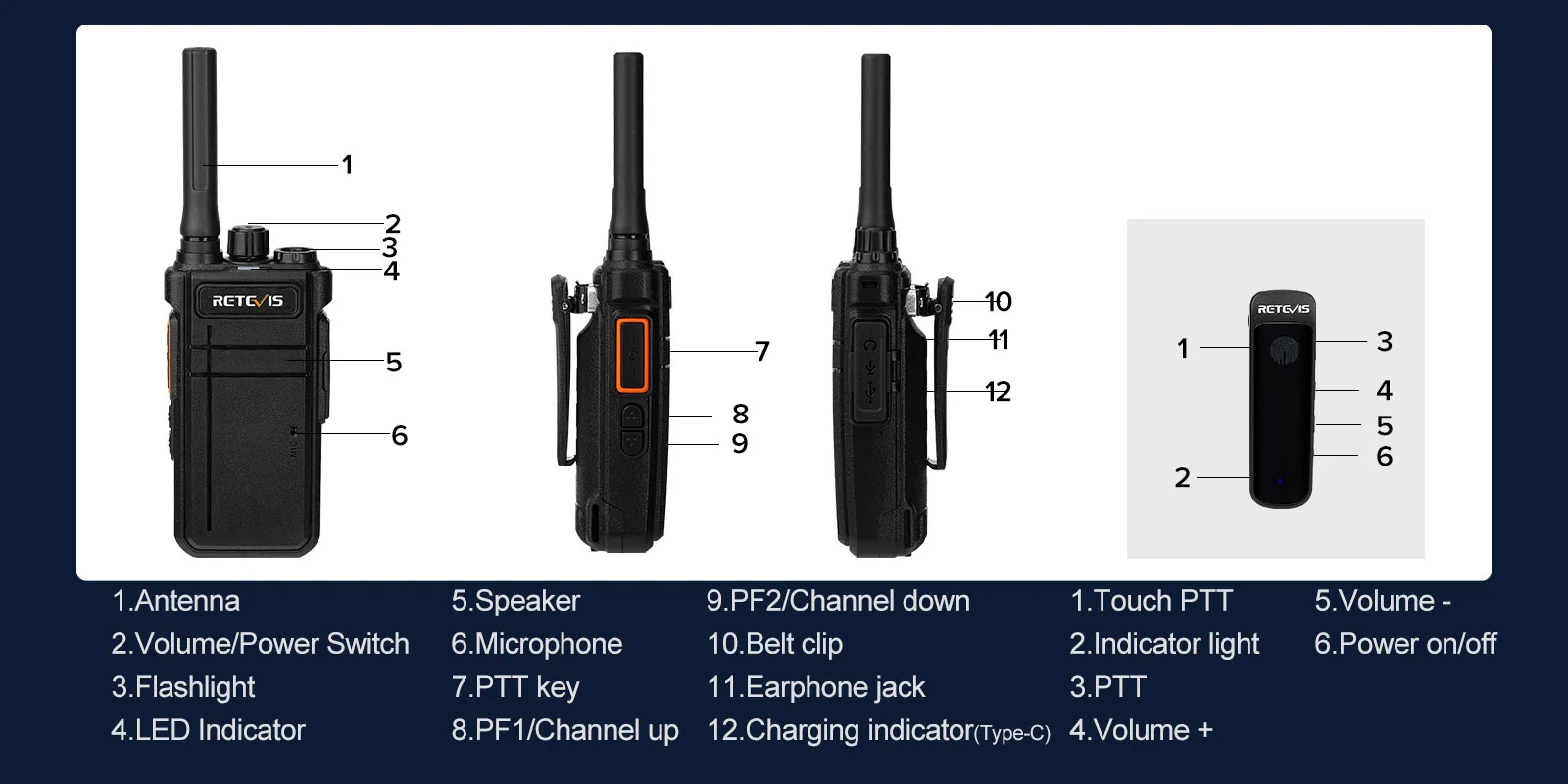 13. RB37 Specification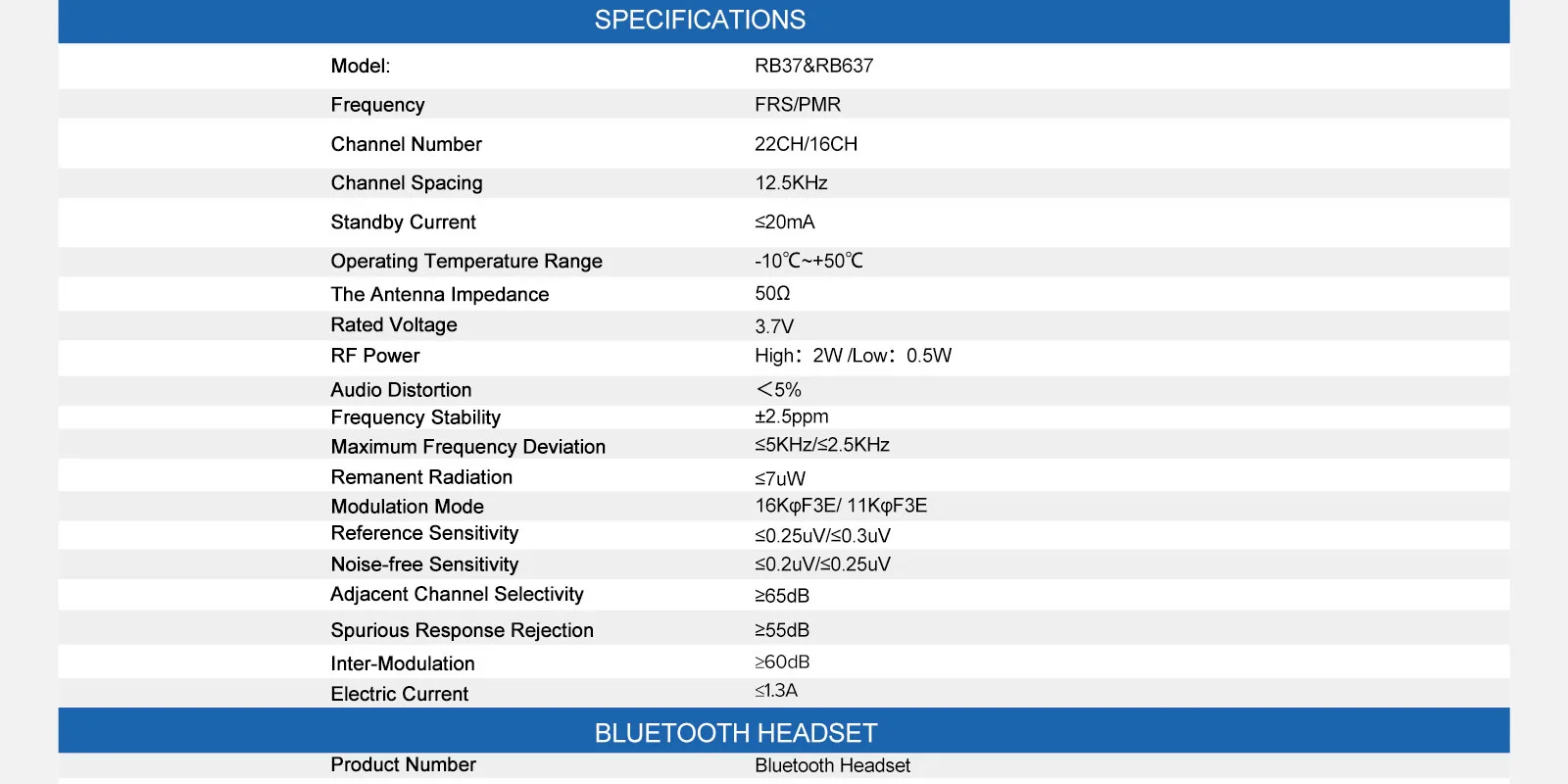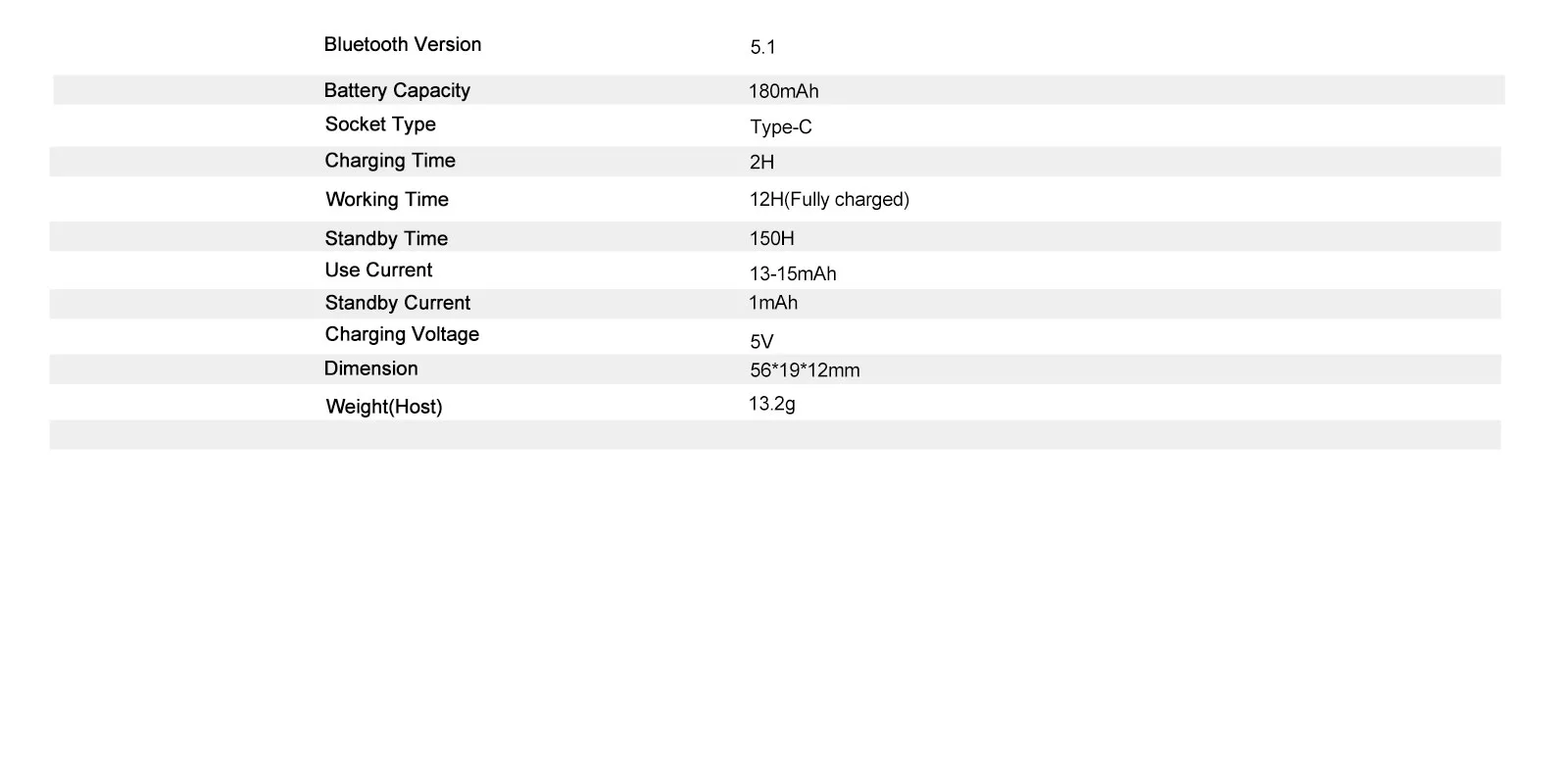 14. RB37 package detail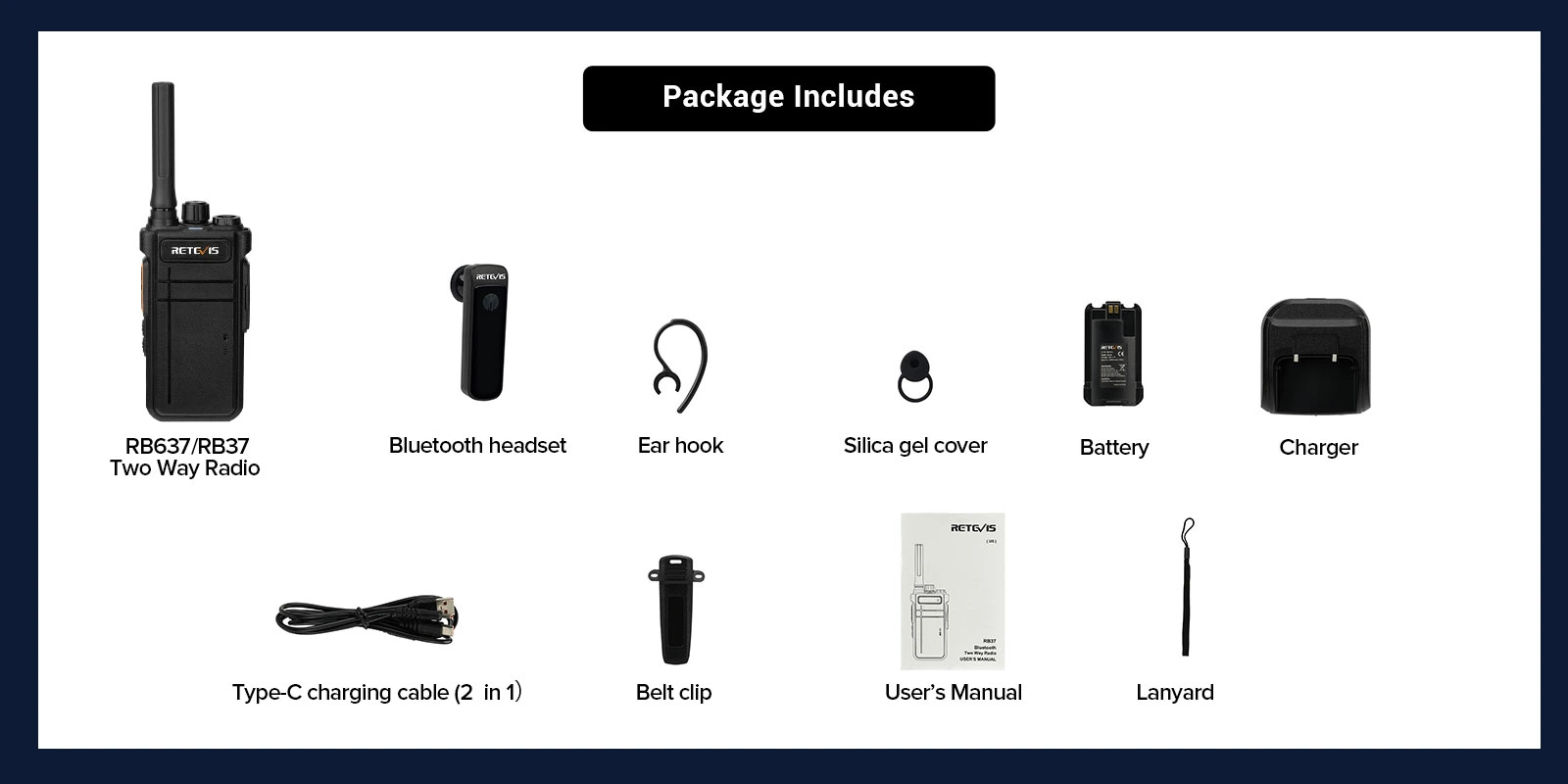 What's in the Box?
Package includes:

1 x Two Way Radio

1 x Bluetooth headset

1 x Ear hook

1 x Silica gel cover

1 x Battery

1 x Charger

1 x Adapter

1 x Type-C charging cable

1 x Belt clip

1 x User's Manual

1 x Lanyard
Spec
General

Product number

RB37

Frequency range

FRS

Channel number

22CH

Channel spacing

12.5KHz

Standby current

≤20mA

Operating temperature range

-10℃~+50℃

The antenna impedance

50Ω

Rated Voltage

3.7V

RF Power

High:2W

Audio Distortion

<5%

Frequency Stability

±2.5ppm

Maximum Frequency Deviation

≤5KHz/≤2.5KHz

Remanent Radiation

≤7uW

Modulation Mode

1 6KφF3E/ 11KφF3E

Reference Sensitivity

≤0.25uV/≤0.3uV

Noise-free Sensitivity

≤0.2uV/≤0.25uV

Adjacent Channel Selectivity

≥65dB

Spurious Response Rejection

≥55dB

Inter-Modulation

≥60dB

Electric Current

≤1.3A
Feature
Features:
Bluetooth wireless connection
Powerful Torch Light
Monitor
Alarm functionVOX
VOX delay function
Key locks
Scan
TOT
Type-C Charger
Wireless copy: Wireless data transmission between walkie-talkies without Programming Software.
Product Reviews
John Palmer

Fantastic radio for church safety and hospitality teams.

Our campus is rather large, and this radio has great coverage. The BT earpiece is great for being quiet during church, but still be in communication. USPS lost my first order, but Retevis refunded that order. The second order shipped via DHL with no issues. Overall, fantastic radios for the price.