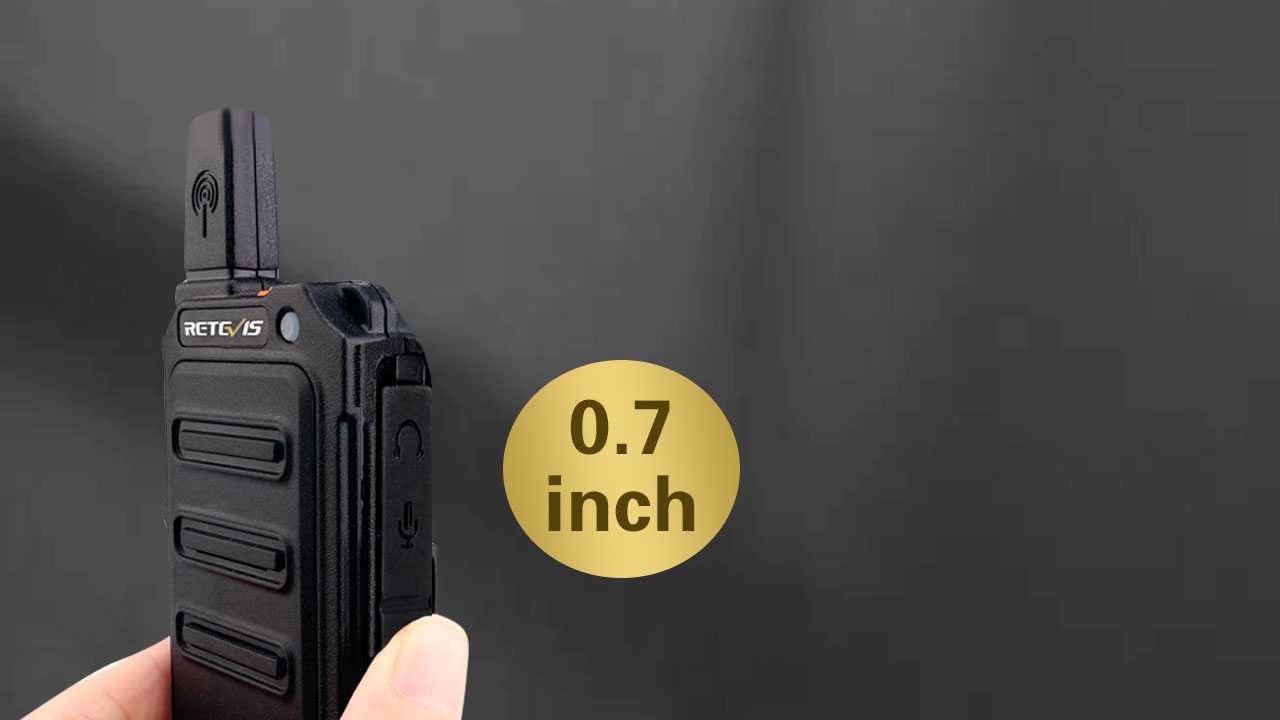 Compact and slim design
The body is 0.7 inches thick; it weighs only 0.2 pounds; which can fit your palm well.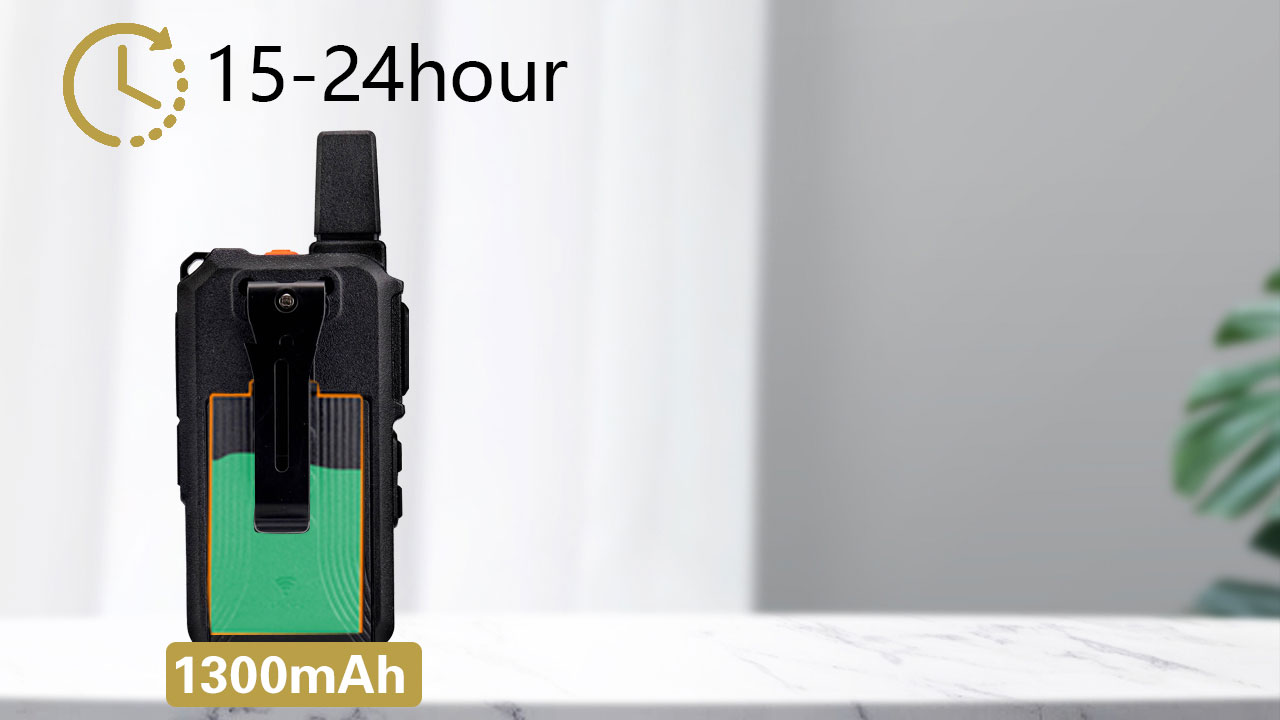 Long life battery
Small body, built-in 1300mAh battery; provides 15-24 hours of use time, fully meet the daily working time.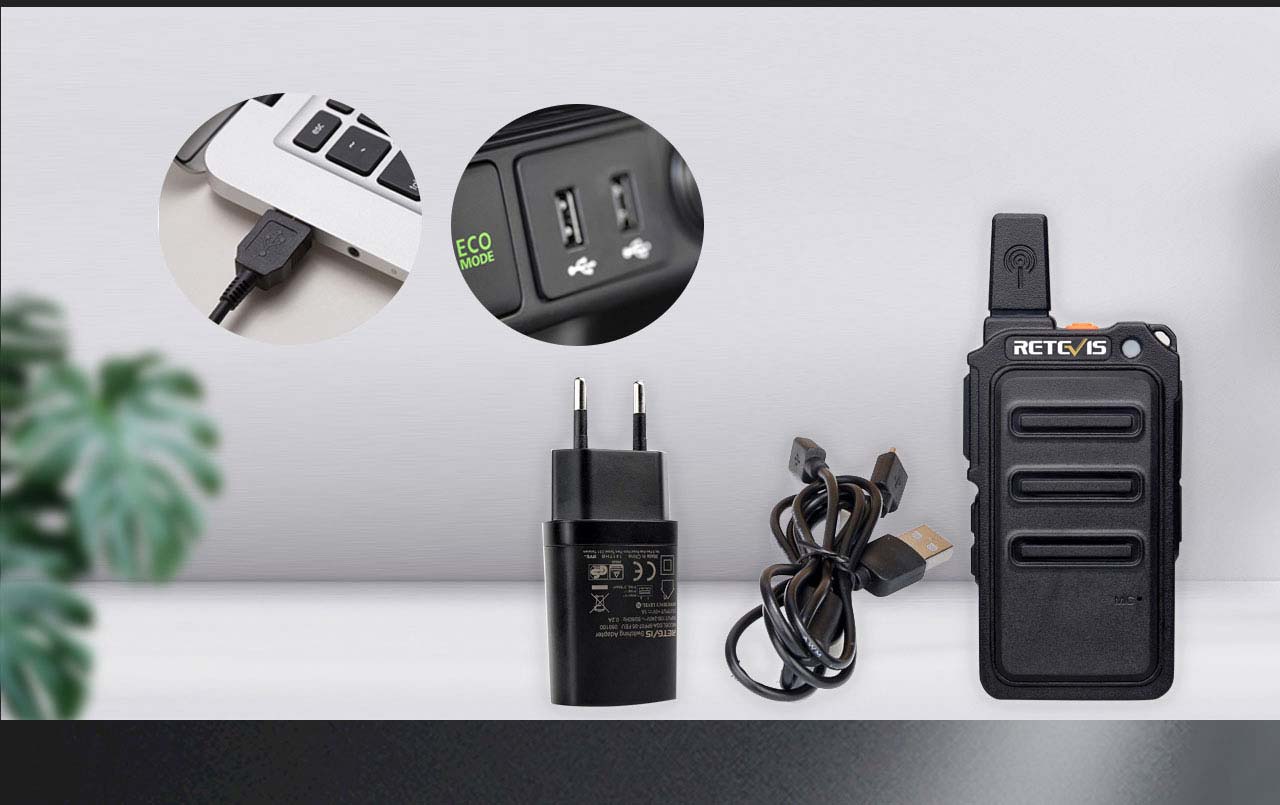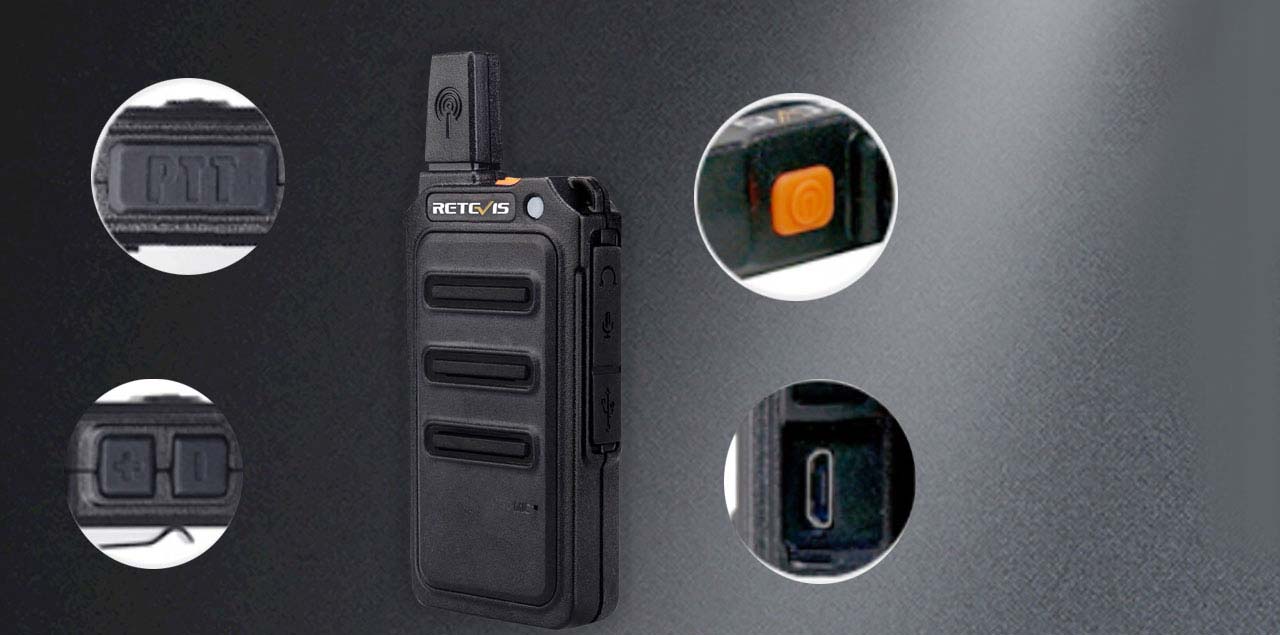 Easy to use
The body only has PTT button, channel, volume adjustment, power button, suitable for children and adults.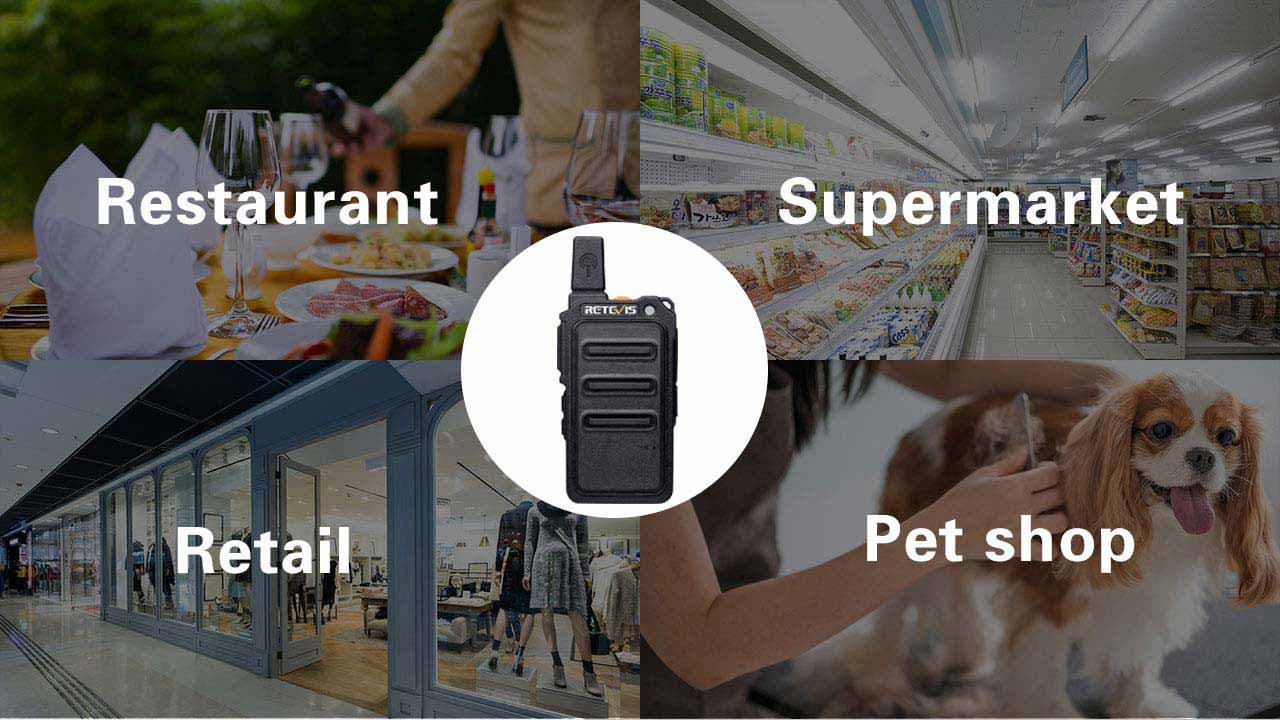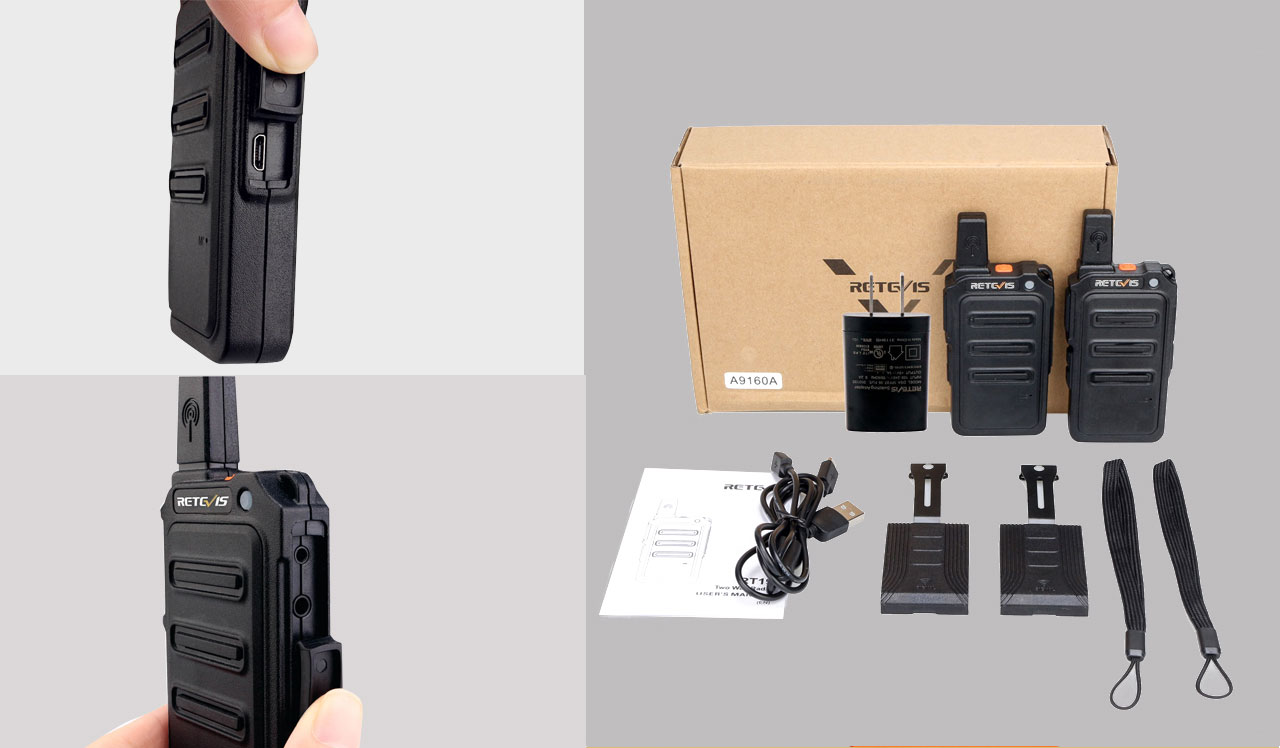 General
Model Number
RT19
Frequency Range
US:FRS
Channel Capacity
22
Battery Capacity
Li-ion 1300mAh
Working Voltage
DC 3.7V
Antenna Impendence
50Ω
Working temperature
-20-60℃
Weight (Include battery)
90g
Size(Include antenna)
122x50x18mm
Transmitter
Output Power
≤2W/≤0.5W
Modulation
16K F3E / 11K F3E
Maximum Frequency Deviation
1≤5KHZ / ≤2.5KHz
Remanent Radiation Mode
≤7uW
Electric Current
≤1.2A
Modulation Distortion
≤5% (300-3000Hz)
Receiver
RF Sensitivity
≤0.25uV / ≤0.3uV
Audio Frequency Power
≥200mW
Audio Distortion
≤5%
Inter-Modulation
≥60dB
Adjacent Channel Selectivity
≥65dB
Spurious Rejection
≥55dB
Firmware/Software
---
win11-DriverInstaller

The win11 driver is compatible with win10, win8 and win7 systems.
Accreditations
---
Accreditations
---
RT19-FCC-Certificate
RT19-IC-Certificate
RT19-UL62368-Certificate
Portable
Ultrathin fuselage
License free
NOTE: Programming software: please click "

support

" to download
Order Handling Time within 3 Working days(Pre-sale products excluded).
25934 PEOPLE ARE LOOKING FOR THIS PRODUCT
What's in the Box?
2 x RT19/RT619 Two Way Radio

2 x Battery

2 x Belt Clip

2 x Strap

1 x Micro-USB cable

1 x User manual

1 x

Adapter
Product Reviews
---

Reviewed in United States

on

Jul 31,2019

I bought 6 pack for a tripartite few days ago. 4 adults and 2 kids were traveling in our groupI was pleasantly surprised with how well they worked. Inside buildings, even inside elevators, we were experiencing clean communication. We switch channels to choose one and it was very easy to do, everyone had no issues working the devices. It can be used for about two days which mean you don't need to charge everyday. This product is absolutely worth the price.

Neo Q.

Great Walkie Talkies with reasonable price.

Reviewed in United States

on

Jul 31,2019

So far they work as expected . The size is not big ,I feel very comfortable in my hand. it looks normal but we found they are not cheaply made . clear sound makes one another easy to understand.

Jonathan S

Good Distance! Good Battery! Exactly what I need!

Reviewed in United States

on

Jul 31,2019

For the price, this is a great walkie talkie. It comes with the regularly used accessories like belt clip. This fits families going to theme parks, conventions, county fair or larger areas where they might split up. For that purpose, this radio works very well. The earpiece is definitely a nice addition to the package.

Reviewed in United States

on

Jul 31,2019

Its a great walkie talkie comes with the full package 2 charging docs and earpieces It works as expected and has 16 channels ans the group talk is a great feature that could come in handy sometimes Its comfortable and clear sound

Brett Miller

Great for a sparse staff that needs to cover a lot of ground.

Reviewed in United States

on

Jul 31,2019

Living in a area with a lot of hills, I wanted to test this product's claims and yes, it actually had no issues traveling through the rural hill area. I can now safely and thoroughly recommend this product.

Eric Rowland

All around solid radios...great value!

Reviewed in United States

on

Jul 31,2019

I purchased these Sanzuko radios to be used to communicate with 2 people helping me on a 4 day music festival, Too often I can never get ahold of my helpers as the work is irregular and hard to schedule definitively. These mad it easier to stay in touch. I am sure to find better ways to use them as I bring them to other events...and likely other completely different applications as well. Terrific value!

Reviewed in United States

on

Jul 31,2019

i bought this for my 2 boys to play. they have been having a blast playing army from their tree house and around the neighboorhood. We used it during camping as well and it was very useful to keep track of everyone

paula vines

Don't hesitate to purchase. The range is amaxing

Reviewed in United States

on

Jul 31,2019

Very happy, my daughter lives two long blocks away and we can hear her loud and clear. Very fast shipping. Very satisfied

Joe J. Katin

Purchased 2 sets kept in touch with family while boating

Reviewed in United States

on

Jul 31,2019

Like small compact size. Used them to launch Boat worked perfect!

Reviewed in United States

on

Jul 25,2019

I was surprised to see it was so small. It is just slightly bigger than a credit card. The thickness is thinner than a deck of cards. Compared to my Motos and Midlands, the sound quality is much better... crisp, clear and no background noise. Range is as expected for 2w. The antenna is not a separate piece. It's part of the frame which is great. Rubber is high quality and buttons are easy to press which is important for my little kids. Simplicity is the theme here and that's all you need. Press and talk. No need for any fancy screen. I will definitely buy more.