Two way radio for Children
Multi-color outdoor adventure walkie talkie
7+ boys and girls can use
Gifts, competition prizes
Role-playing companion use
Order Handling Time within 3 Working days(Pre-sale products excluded).
33723 PEOPLE ARE LOOKING FOR THIS PRODUCT
RT628 Multi-color Outdoor Adventure Game Toy Walkie-Talkie
1. With buttons, children can set up calls at any time
Multi-color Outdoor Adventure Game toy walkie-talkie has four buttons to set the frequency and channel at any time, which is convenient for talking; in addition, at night, you can turn on the flashlight to illuminate it, which is very popular with children.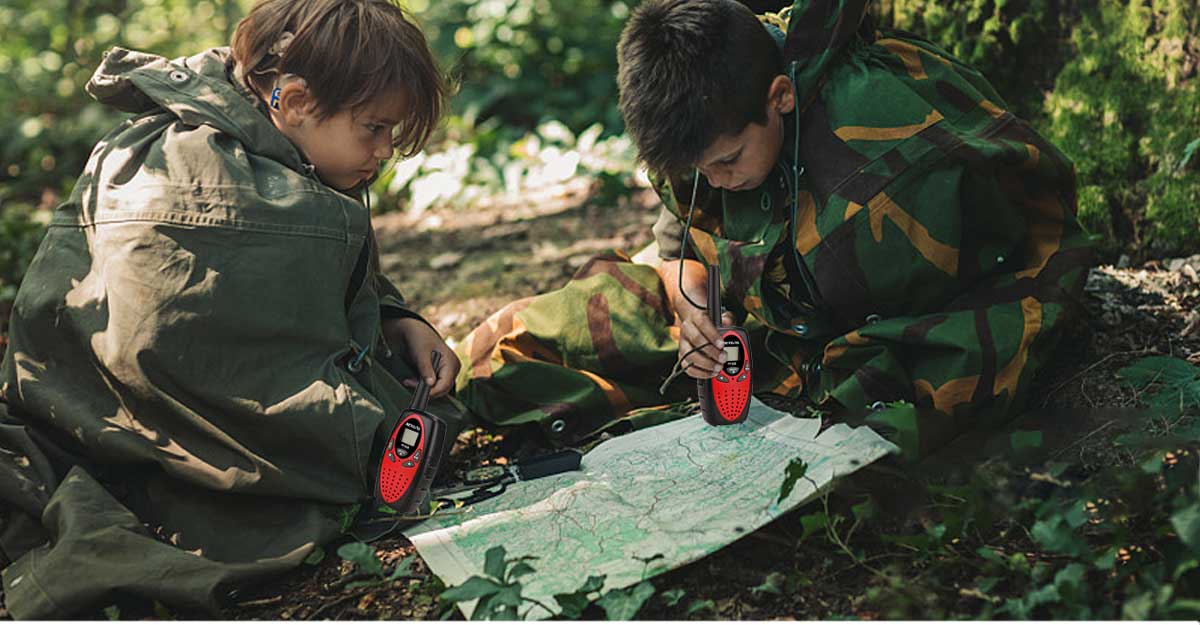 2. Complete functions
RetevisRT628 is exquisite in appearance, easy to carry, and has complete basic functions. VOX, CTCSS/DCS, Auto squelch, Keypad tones and Mute function, etc. This is a cost-effective toy walkie-talkie.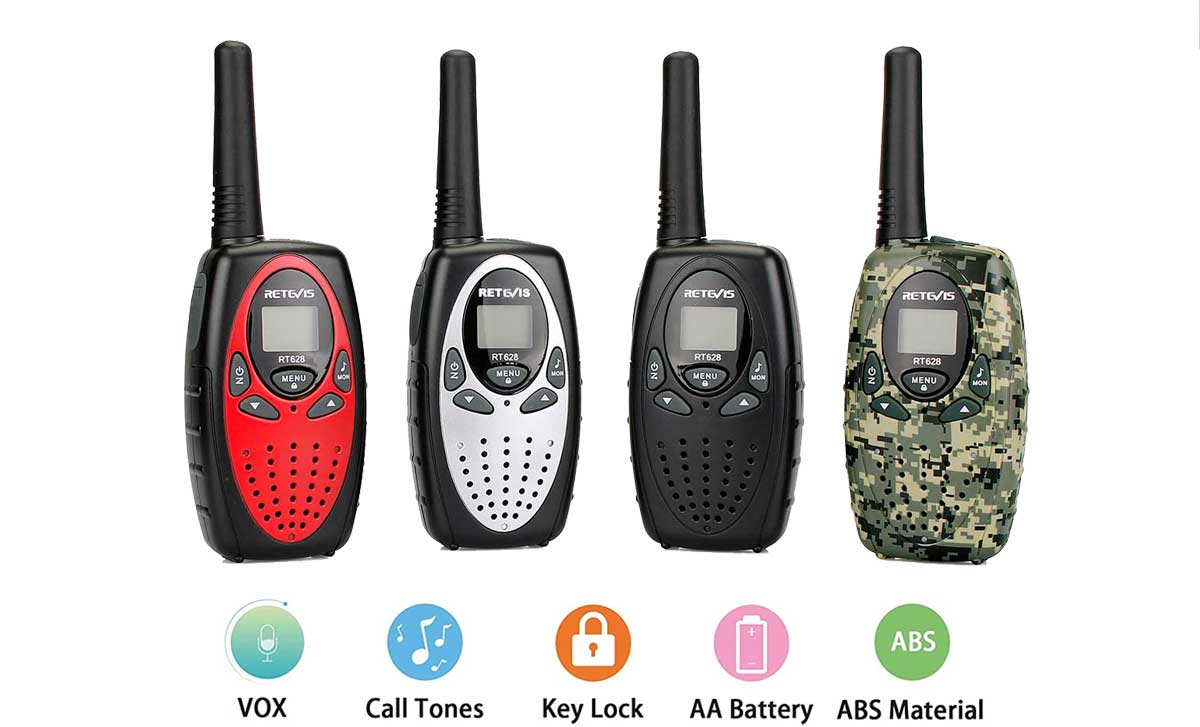 3. Many colors to meet the needs of boys and girls
RetevisRT628 is a popular walkie-talkie toy that can be used indoors and outdoors, schools, camping, forest adventures and Souts activities. Especially in schools, it is convenient for students to communicate.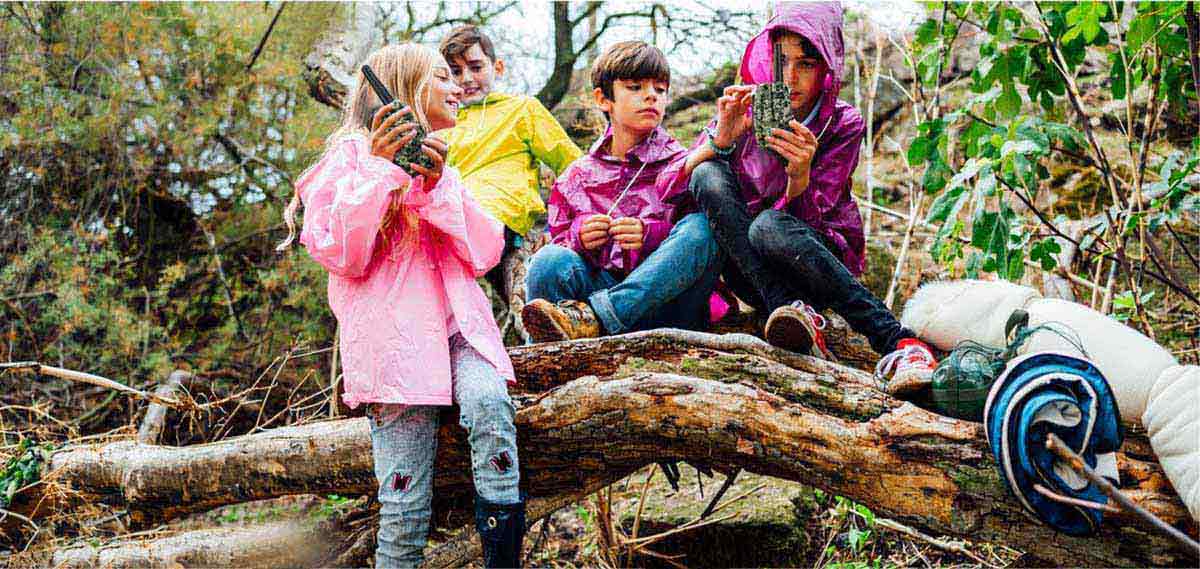 4. Educational toys that children must grow up
Walkie-talkie is a toy product with good knowledge of radio and electromagnetic waves. Discover children's interest in radio and electromagnetic waves. In addition, the walkie-talkie toy is the perfect holiday gift.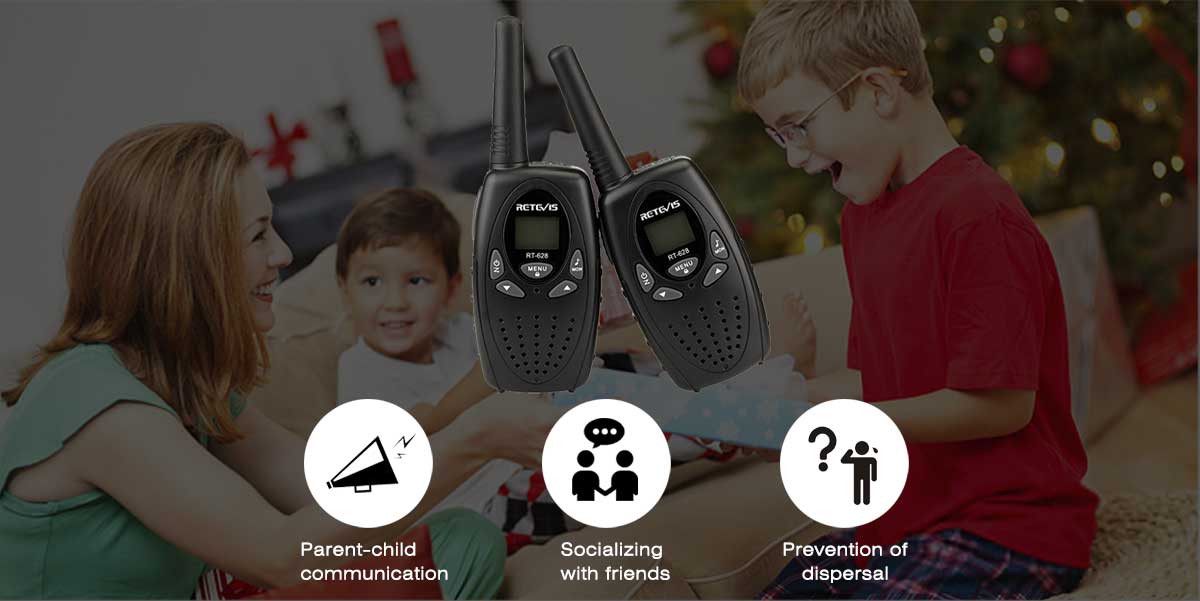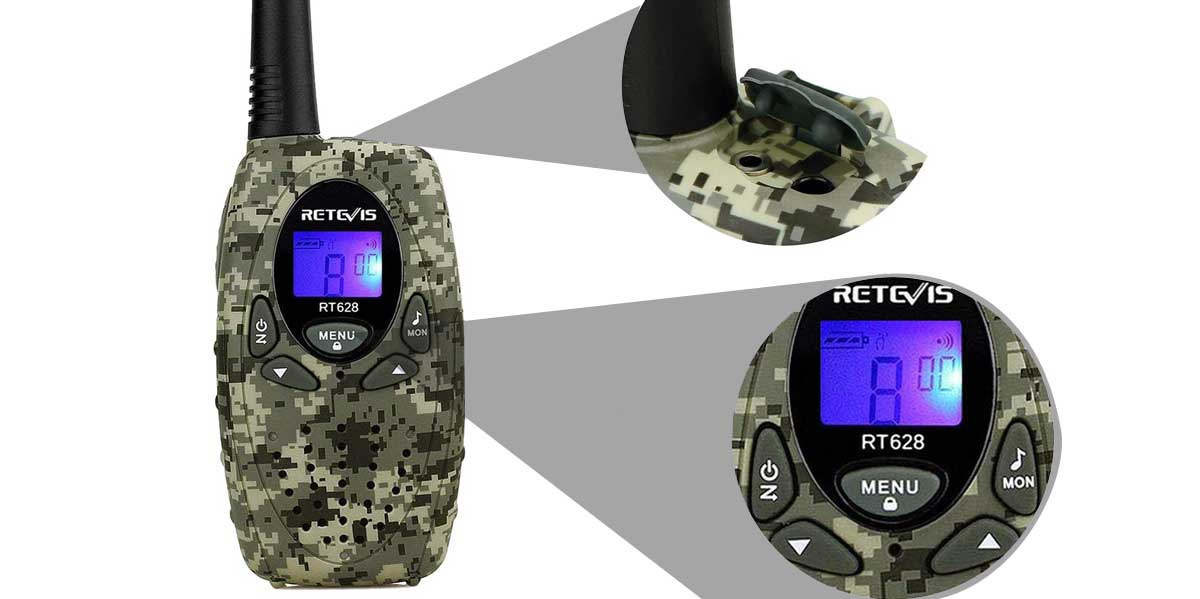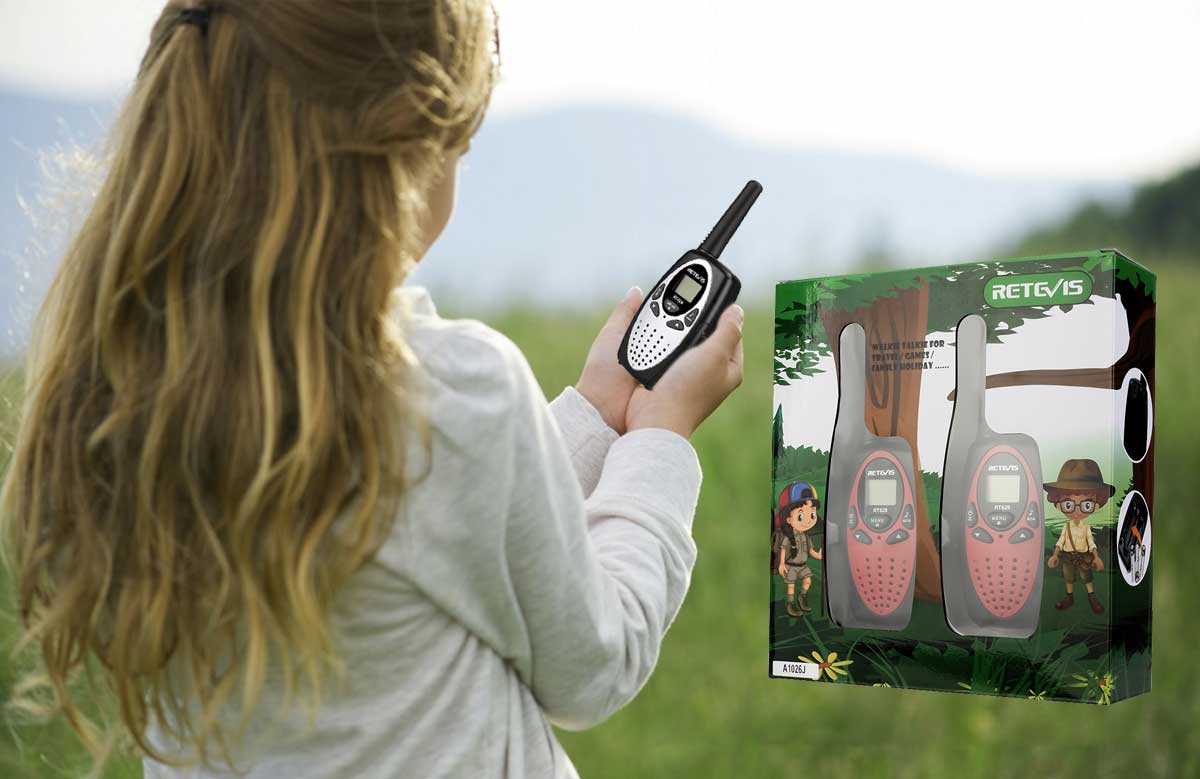 These walkie talkies make for a nice toy for your kids. We bought my sons some toy walkie talkies (Ninja Turtles) and they were junk - you couldn't make out what the other person was saying and the range was a joke. These are much better fidelity, and have a fantastic range. My boys love to play police men all around the house with these. A few features include: Easy to press PTT button Channel lock Monitor mode 10 different call melodies Adjustable volume level One negative I found is that they use 4 AA batteries rather than rechargeables. This is an item that should include rechargeable batteries, especially when kids will be using it due to the fact that they always forget to turn things off. I knocked off a star due to not using rechargables. All in all, these are a nice value. Way better than the other terrible toys out there on the market, and your kids will have a ton of fun with them. A sample unit was provided in exchange for my unbiased opinion and a fair review.
I bought these for my husband and I since I hate yelling for him to come upstairs or if he is yelling for me F43to come downstairs, so I bought us a pair of affordable walkie talkies!Sheet2!F47 We have used it quite often while he may be doing yard work and while I am inside, or vice versa. It has made it very easy to communicate and using them is very simple and easy. Without batteries in them, they are very light and feel a bit cheap, but once batteries are in and they are working, the quality of hearing and easy to use set-up outweighs the cheaper plastic feel! It's a great price for what you get. They reach very far as well. I live about 5 minute walk from my brother and I talked to my husband from a walkie talkie and I was at the cul-de-sac and he heard me! It did break up here and there but I never expected it to actually work that far away!
My boys got these for Easter. I ordered a bit later than I meant to so I checked with Cust Service. They replied, followed up with a status and even followed up to make sure we received everything ok. I wish there were stars for creativity. In one day, my boys were firemen, farmers, Paw Patrol characters, and policemen. Great product! Had an initial problem, but seller resovled the issue
These are exactly as advertised. They are clear and no static at all. We were abel to transmit and receive from quite a long distance with no problems. I absolutely recommend these walkie talkies.
If you are looking for walkie talkies. These are excellent quality and reasonably priced. Search no more.
Bought as Christmas present for 7 yr old son and nephew. Not as user friendly as a toy would be but voice quality was excellent. Seller sent very quickly, so happy about. Four stars due to user friendliness. Seller gets five stars.
Overall, the walkie talkies work as advertised. The coverage area is more than expected and both my 5 and 3 year old children are able to operate them with ease. The only negative I can think of is the back clip falls off too easily, considering the use of the walkie talkie is geared towards younger children.
Great quality. Bought these for a trip with our nieces & nephews to Disney. The aim was for fun (treasure hunt ) communication and safety . These walkie talkies exceeded our expectations . Professional quality at a toy cost. Very pleased with the purchase and durability . We take these to the beach now too
These are great for my six year old grandson. He likes to get in the top bunk of his bunk beds and talk to his Mom and Dad downstairs. They work well for the price.
We really like the walkie-talkie set. It's a little complicated but I'm sure we will adjust. We wanted them so we could play with the neighbor across the street. They work well. I'd say they work well in a 2 block radius.
All of our items are Brand New
Frequency Range
PMR446
Channel
16
Output power
0.5W
Color
Red/White/Black/Camouflage
VOX function
Yes
Channel lock
Yes
LCD display including, battery status indicator
Yes
Adjustable volume level
Yes
Transmitting and receiving icons
Yes
Channel number and scan status
Yes
Monitor function
Yes
Setting the double channel monitor
Yes
Scanning Channels
Yes
Power selection (LO/HI)
Yes
Push to Talk Timeout Timer
Yes
Setting and Transmitting Call Tones
Yes
Setting the Sensitivity Level
Yes
Setting the SQUELCH Level 1-6
Yes
Size
Approx 160X55X28mm
Battery
3 x AA batteries(Not include battery)
Weight
90g/piece
Features:
1、LCD display
2、10 Call tones
3、Adjustable volume level
4、Battery status indicator
5、Monitor function
6、Double Channel Monitor
7、Auto Squelch
8、Key lock function
9、Low battery alert
10、VOX Function
11、Auto battery save
12、Power selection (LO/HI)
13、TOT Function