The best long-range walkie talkies can keep you connected on hikes and various other adventures. While long-range walkie talkies might sound like a novelty to a lot of people, but it's actually a lot more helpful than you might think.
The right walkie talkie can be a low-cost way to connect with fellow colleagues on a job site.
It's also a valuable tool for adventurers in the great outdoors, where cell phone signals aren't always guaranteed.
Not only can you communicate with a wide selection of people quickly and easily through a walkie talkie, but you can also reach friends and family in an environment where there's virtually no mobile network coverage to speak of.
The toughest part about choosing one of these products yourself is figuring out which are the best long range walkie talkies for your needs.
After all, there's a wide selection of options out there, and for beginners, making the choice can be tough.
The best long range walkie talkies we've found are: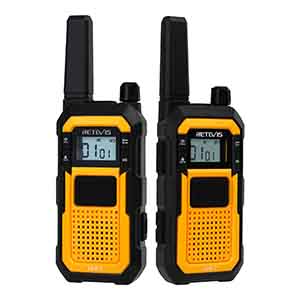 Reliable and easy to use, these long range walkie talkies will simply clip onto your clothing, so there's no need to fumble around for your communication device in cold and wet conditions.
Created by one of the better-known brands for construction workers in the industry, the retevis RB48 long range walkie talkies come with up to 100,000 square feet of long-distance signal range, although your actual distance will depend on conditions and terrain.
Sporting up to 10 hours of battery life with a built-in rechargeable battery, these IP67 water-resistant wearable walkie talkies are great for life on the move.
There's also a "roger beep " tone which lets you know the other person received your message,and call vibration, answer the other party's call information in time.
Features include:
Simple clip-on wearable design
Turnable belt clip
Shock resistant up to 2 meters
Voice prompts available
22 channels
Ultra-clear 100,000 square foot range
UHF/FM reception
Keystroke tone signal
Easy charging with up to 10 hours of battery
"Roger" signal included and call vibration
Great if you're working in conditions that require you to keep your hands free, these DEWALT wearable long range walkie talkies are clear and easy to use.
The battery in this product can drain a little quickly depending on how often you use it, and it's worth remembering that your range will depend heavily on your surroundings.
Pros:
Excellent wearable design
Splash and shock resistant
Convenient voice features and "roger" signal
Ultra-clear range up to 100,000 square feet
Designed for long-term use
Cons:
Range differs depending on surroundings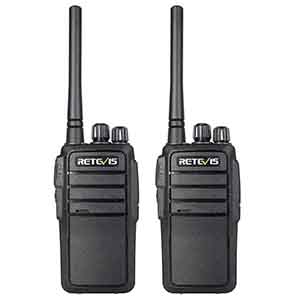 Built for the FRS band, the Retevis RT21 set of super long-range walkie-talkies is well-known for its strong body that can withstand a harsh collision. The sound is pretty loud and clear, so you don't need to strain your ears while listening.
The Retevis R21 also has 16 channels and a 1100mAh battery that ensures you can use it for a long time period. The standout feature in this sturdy heavy-duty device is the covert air acoustic earpiece that allows you to keep your hands free and your radio attached to the belt clip.
The Retevis R21 is one of the best long-range walkie-talkies that can be used for healthcare, retail, hotels, distribution services, and other business activities.
Pros:
small and portable radio
sturdy heavy-duty radio