What are Marine Radios?
One of the most important pieces of safety equipment on board your ship is your two-way radio. VHF Marine radios use the radio frequency range between 156.0 to 162.025 MHz, inclusive. Marine radios have a specific set of frequencies assigned to predetermined channels on the radio, and each channel is designated for a specific type of communication. For example, channel 16 (156.8 MHz) is the international calling and distress channel on all marine radios. Permanently mounted marine radios (also called fix-mount) on seagoing vessels are also required to have "Digital Selective Calling" (DSC) capability, to allow a distress signal to be sent with a single button press. If you plan to travel more than a few miles offshore it is a good idea to have a second radio as well, one fix-mount and one handheld is best.
A marine VHF radio is a combined transmitter and receiver. Marine VHF radios primarily use "simplex" transmission, this means communication takes place in one direction at a time. A transmit button on the set or microphone determines whether it is transmitting or receiving. Some channels are set as "semi-duplex" transmission, making it possible to communicate in both directions simultaneously. Each semi-duplex channel has two frequency assignments.
Types of Marine Radios
There are basically two types of marine radios, handheld, and fixed-mount. Handheld marine radios are more limited in power and therefore have a shorter range, but can be moved from one boat to another. Fixed-Mount marine radios, just as the name implies are permanently mounted. They deliver more power and have a longer range because they are run off electrical connections on your boat. Maximum transmission power for marine VHF radios ranges from 5 watts on handhelds, to 25 watts on fix-mount.
Communication Range
A maximum range of up to about 60 nautical miles (111 km) between aerials mounted on tall ships and hills, and 5 nautical miles (9 km; 6 mi) between aerials mounted on small boats at sea level, who are transmitting on a 25-watt radio. Antennas need to be vertical in order to have the best reception. Marine radios are intended mainly for short-range communications, generally 5-10 miles. To communicate at longer ranges you will normally need a satellite telephone or an MF/HF marine radio-telephone. Marine radio-telephone equipment normally operates between 2 - 26 MHz using single sideband emissions. MF/HF marine radio-telephones can also be used to receive high seas weather broadcasts, and by using a computer and a special interface provided by some coast stations, can provide Internet email.
Marine VHF vs Other VHF Radios
A marine VHF radio is different from other VHF radios used for land or air communications. Marine radios are specifically designed for communications on the waterways. They are installed on all large ships and most seagoing small craft, and with slightly different regulation on rivers and lakes. Not all VHF radios are designated for marine use. It is important that you use two-way radios specifically approved for marine use when on the waterways. Other VHF radios should not be used as they will not have the proper frequency settings. Also, today's marine radios have other features such as NOAA weather alert channels that would not be available on land mobile VHF radios.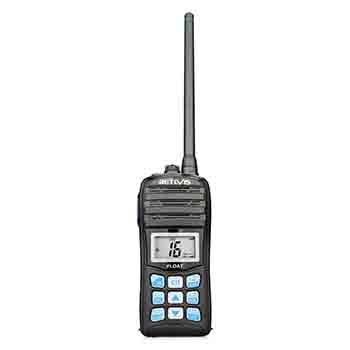 Reasons to buy
Large easy to read screen
Great value
Floating
ip67 waterproof
Reasons to avoid
No GPS
This retevis RT55 handheld VHF unit is a real workhorse.
Designed for both leisure and the commercial market, this is first felt in the housing, with a no nonsense feel and sturdy casing.
The VHF is buoyant, and when it detects water, it automatically turns the screen light on and off. When you are sailing at sea, driving your speedboat or canoe accidentally drops your VHF radio into the water,
The RT55 is rated IPX7 for water resistance (1 meter, 30 minutes), and has a battery life of 16 hours in standby (3 hours on a charge). Also worth noting is the large screen, which is easier to read than some smaller products, even though it displays more information.
This powerful, high-function unit makes it the main unit on an open sports boat, or for those who often find themselves in busy areas of commercial vessels.