By comparing the features and specifications of the top handheld ham radio models on the market, analyzing strengths and weaknesses, you can make the right purchase decision. So, keep reading to find the best handheld radio for your needs.
1, MOST POWERFUL DMR HANDHELD HAM RADIO – AILUNCE HD1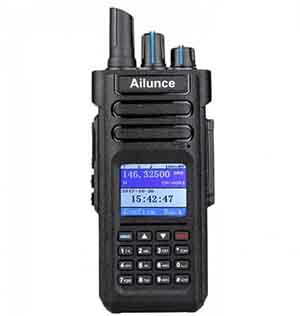 As Retevis' first flagship dual-band DMR ham radio, Ailunce HD1 is built to impress seasoned ham radio operators.
Like a true dual-band DMR radio, it acts like an FM analog transceiver and Tier II DMR digital radio at the same time.
The VHF frequency range overlaps public service frequencies so you can check in on emergency announcements at any time.
You can even pause your FM radio transmission when you get important calls.
It offers up to 10 watts of power output in three power levels.
The stock antenna does the job well, but you can also choose from Retevis' wide range of compatible accessories should you wish to extend the range even further.
However, the receiver tends to be easily desensitized when competing with nearby devices on high power. Front panel programming enables you to set up your DMR features without a programming cable. It also has an intuitive button layout and two customizable buttons below the PTT to give you quick access to all your most-used features.
Moreover, HD1 has many interesting features not found in other handheld DMR radios, like a promiscuous mode that allows you to listen to other talk groups freely.
It can also display the names and callsigns of the people talking if you have them saved in the 10,000 DMR ID storage. Powered by a large 3,200mAh battery, it can last you up to a week without charging.
BOTTOM LINE
Besides the extremely impressive power output and battery capacity, Ailunce HD1 is also loaded with robust DMR radio features that appeal to seasoned amateur radio operators. However, we would recommend that you stick to medium or low power when in urban areas since this radio's receiver is easily-desensitized.
POSITIVE
10-watt power output
Huge battery capacity
Front panel
programming
GPS-enabled
Sensitive stock antenna
NEGATIVE
Easily-desensitized receiver