Significant improvements in a number of areas in recent years have seen VHF marine radios move from being purely portable communications devices to something altogether more useful. As technology has shrunk, battery life improved and screens become clearer, VHFs can now offer many of the safety features that used to be available only on fixed marine radios. Features now often include frequency scanning; weather reports; GPS integration; and an ability to automatically send distress signals.
Every sailor and boater should have a VHF marine radio. There are fixed mounted units with more range and handheld ones with more versatility. VHF stands for very high frequency sending and receiving marine radio communication by line of sight. These nautical products are units that are reliable and modern enough to work in today's recreational sailing and boating conditions, in the United States, Canada and international waters.
Waterproofing has increased too with many of the best marine radios now able to float for sustained periods of time without any damage to the internal electrics. Many of these floating handheld VHFs also offer some form of automatically activated strobe to help you find it in the dark if it has been dropped in the water.
VHF is not the same as GMRS radio or FRS two-ways. Read our guide to marine radios, which include explanations of how VHF works, as well as the different advantages and disadvantages of the handheld radios vs fixed mounted units. The Guide to VHF marine radios explains MMSI, DSC as well as other features that will make your boating experience safer and more enjoyable.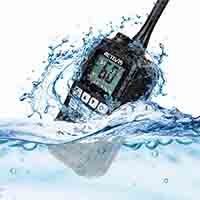 The RM01 is a lightweight low spec VHF handheld radio suitable for taking with you paddleboarding or in your tender as well as for use to augment a fixed VHF unit on a larger boat. The float and flash system works well too so if you do drop it in the water it'll carry on functioning and you'll be able to retrieve it easily. Rated to IP67 you won't want to leave this submerged for too long but it certainly will keep on functioning with the odd dunking.
The slim design means that it is one of the lightest units on the market at a mere 136g. The radio also has a tidy USB connector for convenient charging from a variety of electronic devices in much the same way as a mobile phone.
Even though it is a small unit, it does still feature plenty of screen real estate, and it boasts an LCD screen Battery life is impressive too, offering 29 hours on standby, charging back up to full in 3 hours. It is not a DSC radio and does not have built-in GPS, so is not particularly a safety-feature heavy radio, but for those looking for a reliable, budget, but dependable handheld VHF, this will do the job.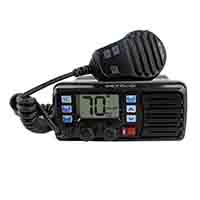 The Retevis RM20 is a fixed mount VHF radio with built-in GPS, allowing you to view exact coordinates, and also transmit your location. Simply power on and press DCS for 1 second, and your radio will instantly and accurately receive your GPS location no matter where you are, a feature especially important when in an emergency situation.
The radio is IPX7 waterproof, IP67 waterproof (1 m depth of water for 30 minutes) and Vibration drainage function(While pushing and holding [▲] and [▼], turn power ON. " VIB WATER " appears.)
NOAA Weather alarm, This radio has 10 weather channels. When the weather alert function is on, 24 hour access to national All-Hazards and weather information on weather channels;NOAA Weather alarm Alerts you to nearby threatening weather.
25W high power,and has long range communication, the radio can connect external speaker, when the noise is big, you can get the sound clearly.