DMR Ham Radio
DMR ham radio is an open standard radio network optimized through efficient bandwidth use via Time-Division Multiple Access. TDMA divides communication into time slots, which ensures the senders and receivers can communicate uninterrupted in two separate conversations without changing the frequency.
DMR is an open standard, which means any company can manufacture a compatible product. This makes the DMR radio market more competitive, which leads to better hardware and lower prices for consumers. This makes the DMR ham radio community easy to join. Follow along to learn the basics and get started in the DMR ham radio world.
Digital Mobile Radio (DMR) is an international digital radio standard developed by the European Telecommunications Standards Institute (ETSI), and first ratified in 2005. More than a decade ago, vendors and users of radio systems recognized that the existing analog trunking standards required updates with modern techniques to provide:
Improved voice quality
Improved functionality such as Location information)
Improved security (i.e. Authentication and Encryption)
Improved channel efficiency (2 slot TDMA)
As a result, today, we have a complete set of standards which cover voice, data services, and conformance testing.
DMR aims to provide an affordable, low-complexity digital standard to replace analog radio. The ETSI DMR Standard defines three different tiers on www.dmrassociation.org:
Tier I (unlicensed): DMR equipment works in Direct Mode (unit-to-unit) on public frequencies. Tier 1 DMR devices are best for individuals, recreation, small retail, or other situations that do not require wide area coverage.
Tier II (licensed conventional): This Tier is aimed to be a direct replacement for the analog conventional radio system. These DMR systems operate under individual licenses working in Direct Mode (unit-to-unit) or using a Base Station (BS) for repeating. It has a degree of wide-area coverage and is targeted at users "who need spectral efficiency, advanced voice features and integrated IP data services in licensed bands for high-power communications."
Tier III (licensed trunked): DMR trunking systems operate under individual licenses with a controller function that automatically regulates the communications. It also supports packet data services in a variety of formats, including support for IPv4 and IPv6. It is ideal for organizations looking to migrate from MPT-1327/EADS/LTR (logic trunked radio) systems or who want the full benefits of managed trunking, voice and data solution.
The DMR standard also specifies the use of TDMA technology. TDMA stands for Time Division Multiple Access. TDMA provides two logical channels and each 12.5-kilohertz channel space (see diagram below). This provides a useful doubling of capacity within the same analog channel space.
What DMR Radio should I buy?
You have two choices here, either a DMR Portable or a DMR Mobile. The DMR Portable is a low-power device and resembles a walkie-talkie. The DMR Mobile is a high power device, but since DMR operates so efficiently, these models are generally reserved for use in commercial radio and look much like the radios police cars have in them.
If you want to buy the one dmr radio, you can order the Ailunce HD1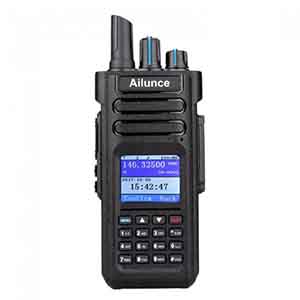 Brand: Retevis
Model: HD1
Operating range: 136-174 /400-480MHz /76-107.95MHz
Number of channels: 3000

Squelch/Coding: Yes, CTCSS/DCS subtones

Output Power: VHF 10W/5W/1W / UHF 8W/4W/1W

Possibility to connect a PTT/Headset: Yes

Battery: Li-ion / 3200mAh
Supports both digital and analog modes, compatible with existing analog systems, users can gradually switch analog terminal settings according to budget and actual communication needs.
Dual time slot for point to point supports two group calls in one channel under direct model; 3000 channels, 20000 priority contacts enable you to call the people important to you more convenient.
Waterproof walkie-talkie HD1 has VFO mode; very easy to learn and use.3200mAh battery enable normal use 7 days standby / 2-3 days typical use / Continues use 12-16 hours.
HD1 has GPS positioning function, GPS function gives you latlong; altitude; bearing; and speed information SMS function support to text the information to another radio with the same DNA protocol. In the event of an emergency, GPS can be used to locate the team's location for emergency rescue.
IP67 waterproof rating, can be immersed in 1 meter of the water for 30 minutes,waterproof and dustproof function, can be used in rainy and snowy weather, very suitable for outdoor skiing activities.
AILUNCE HD1 DMR Digital VHF/UHF Handheld Radio With CTCSS/DCS TONE SQUELCH long range waterproof walkie talkies for Business, outdoor activities.