22 GMRS Channels + 8 Repeater Channels
40W High Power and Long Range, Up to 20km
LCD Dual Band and Dual Display
Programmable Handheld Microphone
Automatic Number Identification (ANI) Function
Order Handling Time within 3 Working days(Pre-sale products excluded).
1889 PEOPLE ARE LOOKING FOR THIS PRODUCT
Secure Payments

30-Day Money-Back Guarantee

Hassle-Free Warranty

Lifetime Customer Support
OverView
RA87 40W Powerful Long Range GMRS Mobile Radio
Retevis RA87 is a 40W GMRS mobile radio, which can reach 20 km in the open field, ideal for 4wd expeditions, remote outback touring, convoys and truck drivers. Its GMRS channels can be connected to a local repeater for further range. Integrated microphone and panel with buttons for easy operation.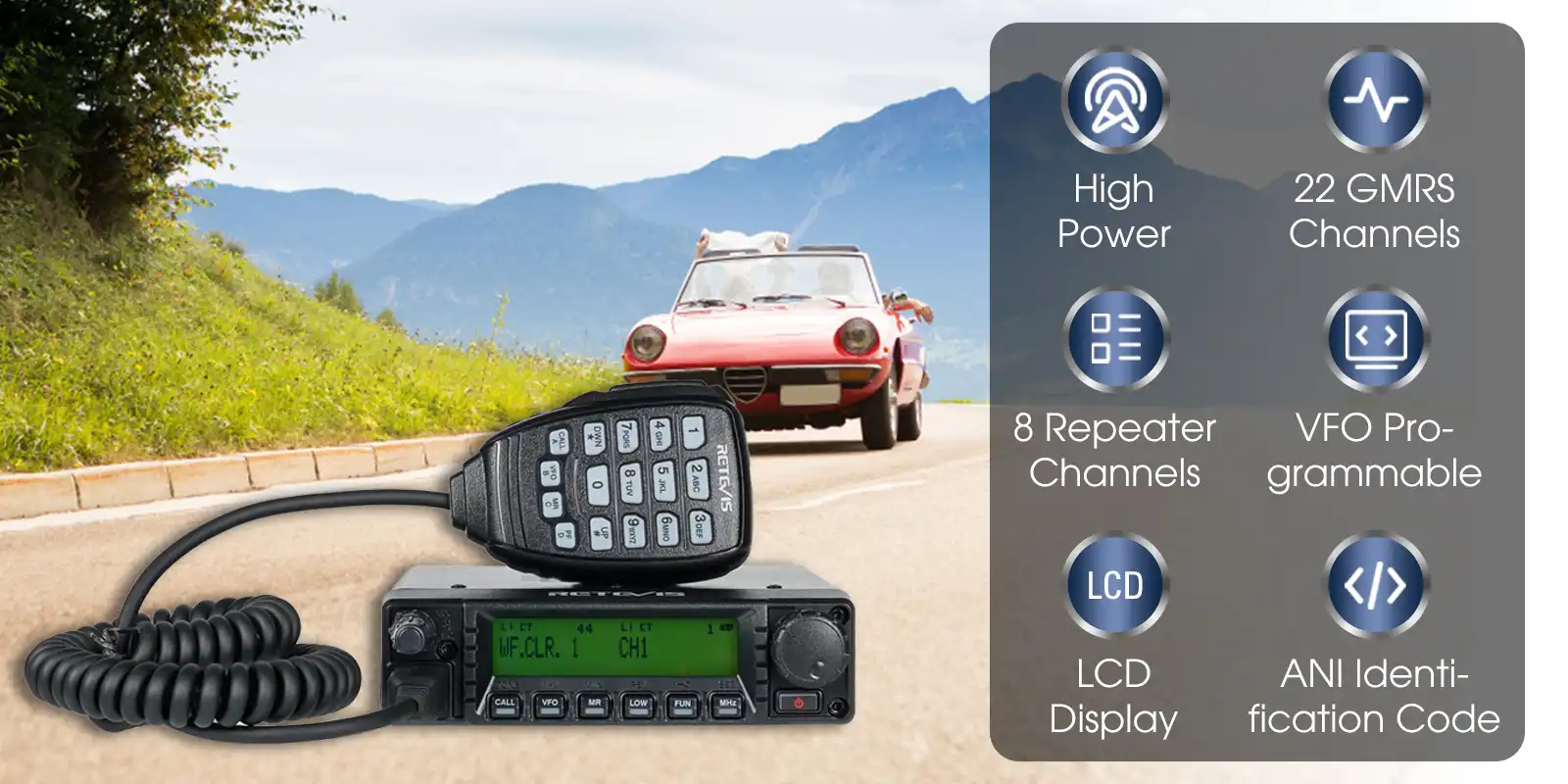 High Power and Long Range
High power GMRS mobile radio is a good helper for communicating with your friends or colleagues over the distance.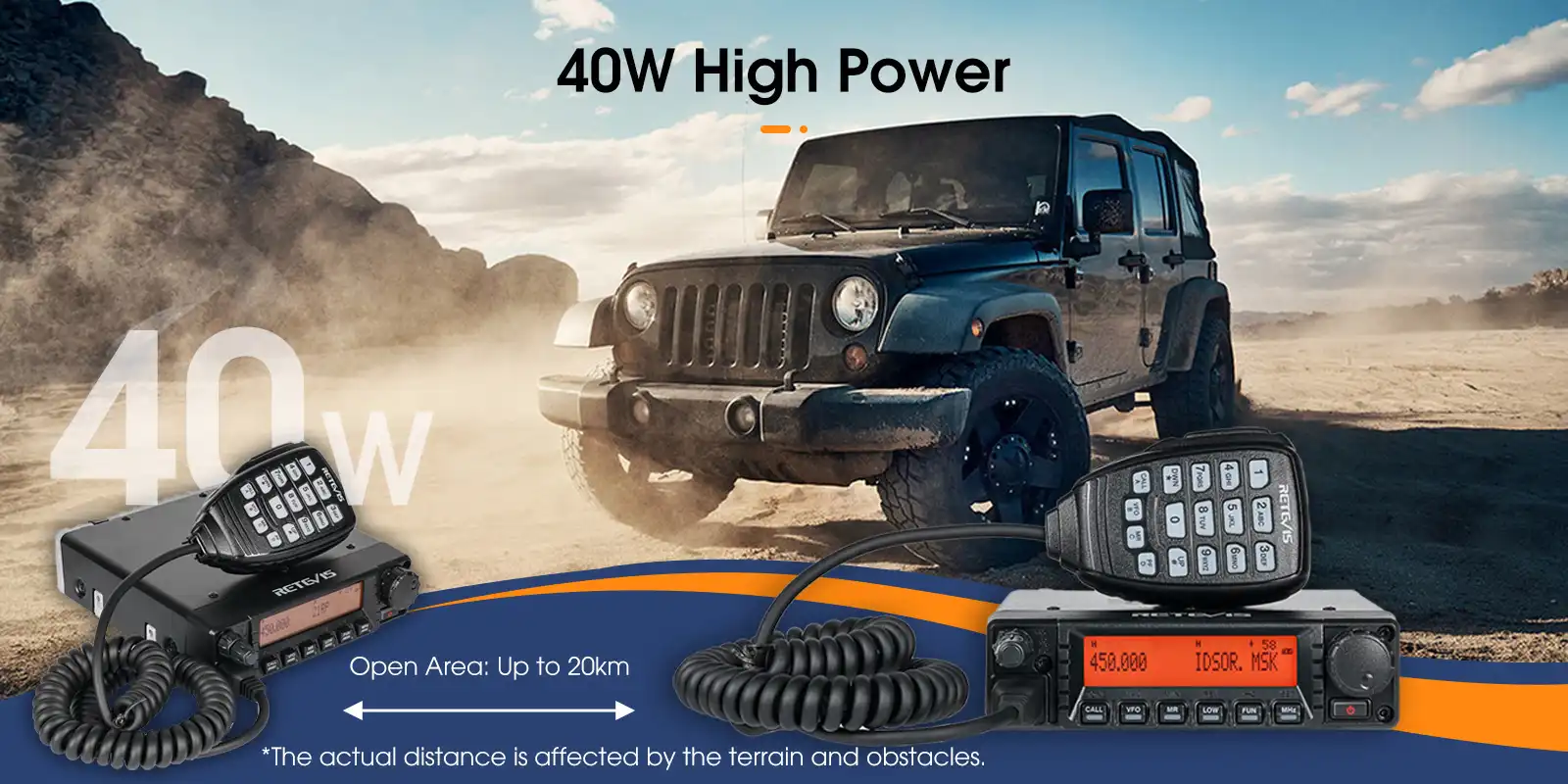 22 GMRS Channels
The RA87 GMRS mobile radio has strong compatibility. With the included 22 GMRS channels, it is convenient to work with GMRS or FRS two-way radios.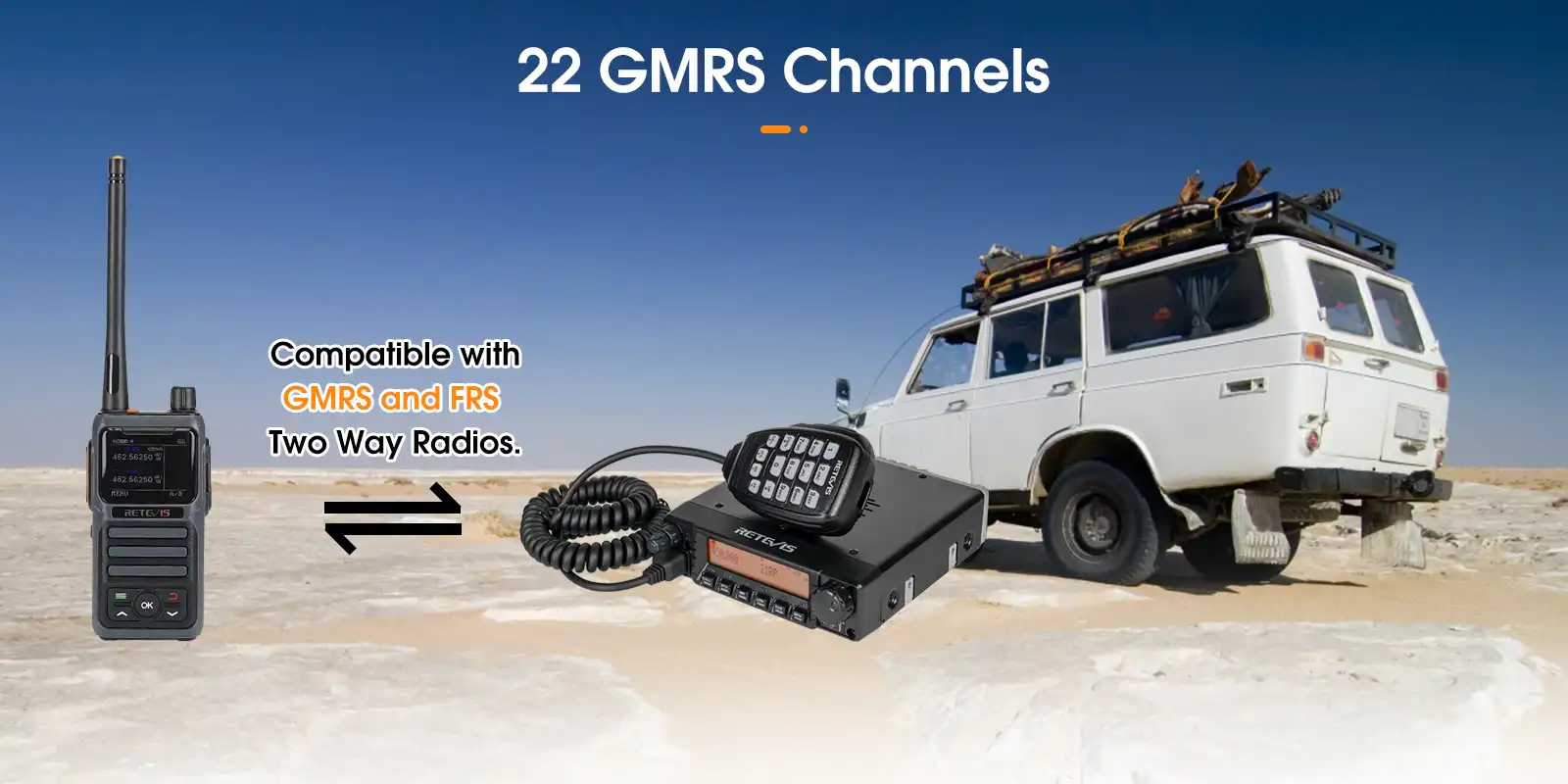 Longer Communication Distance
The mobile radio has 8 repeater channels. Two mobile radios can form a simple repeater base station by connecting a data cable. They are efficient in extending the communication distance.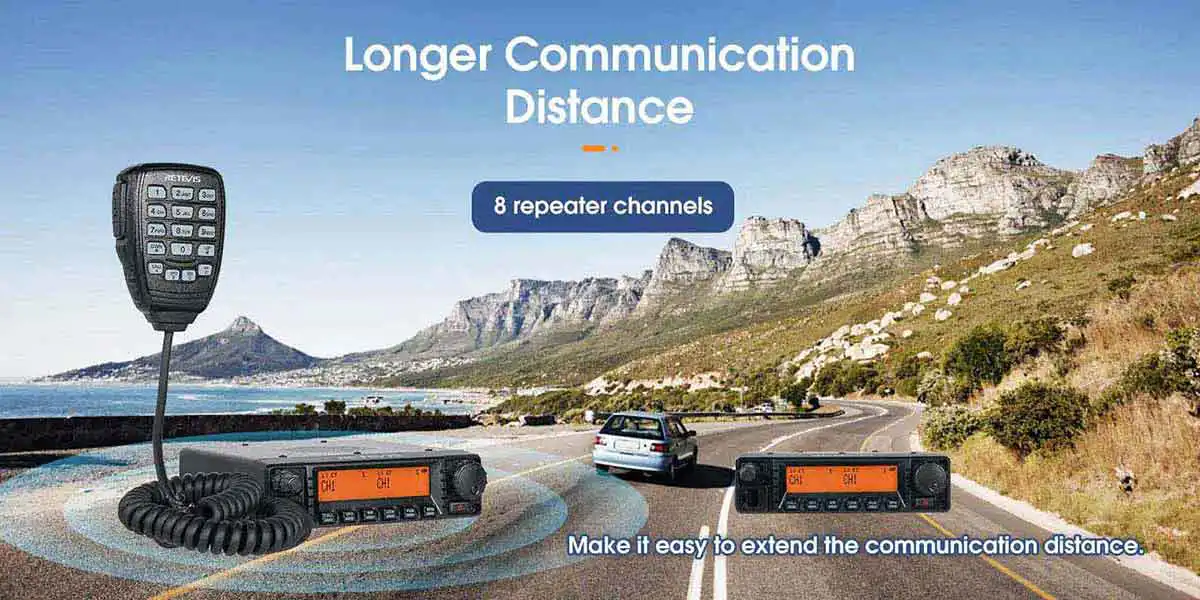 Programmable Speaker Microphone
Without programming software, the handheld microphone can be operated to change settings or functions, which is more convenient to use.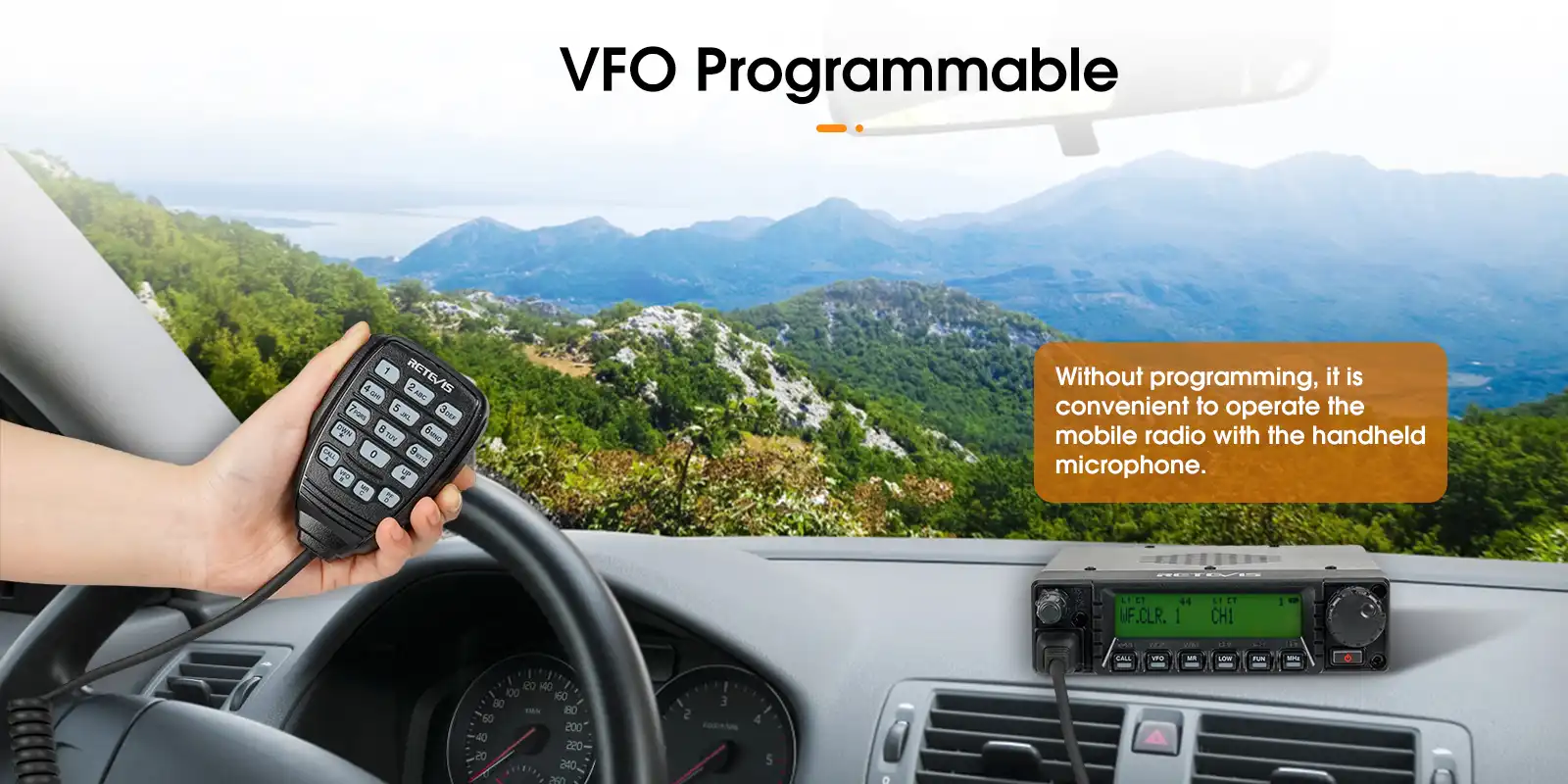 8 Sectional LCD Screen Colors
LCD screen is highly readable. The 8 optional screen colors provides great convenience for clearly using the mobile radio at any time.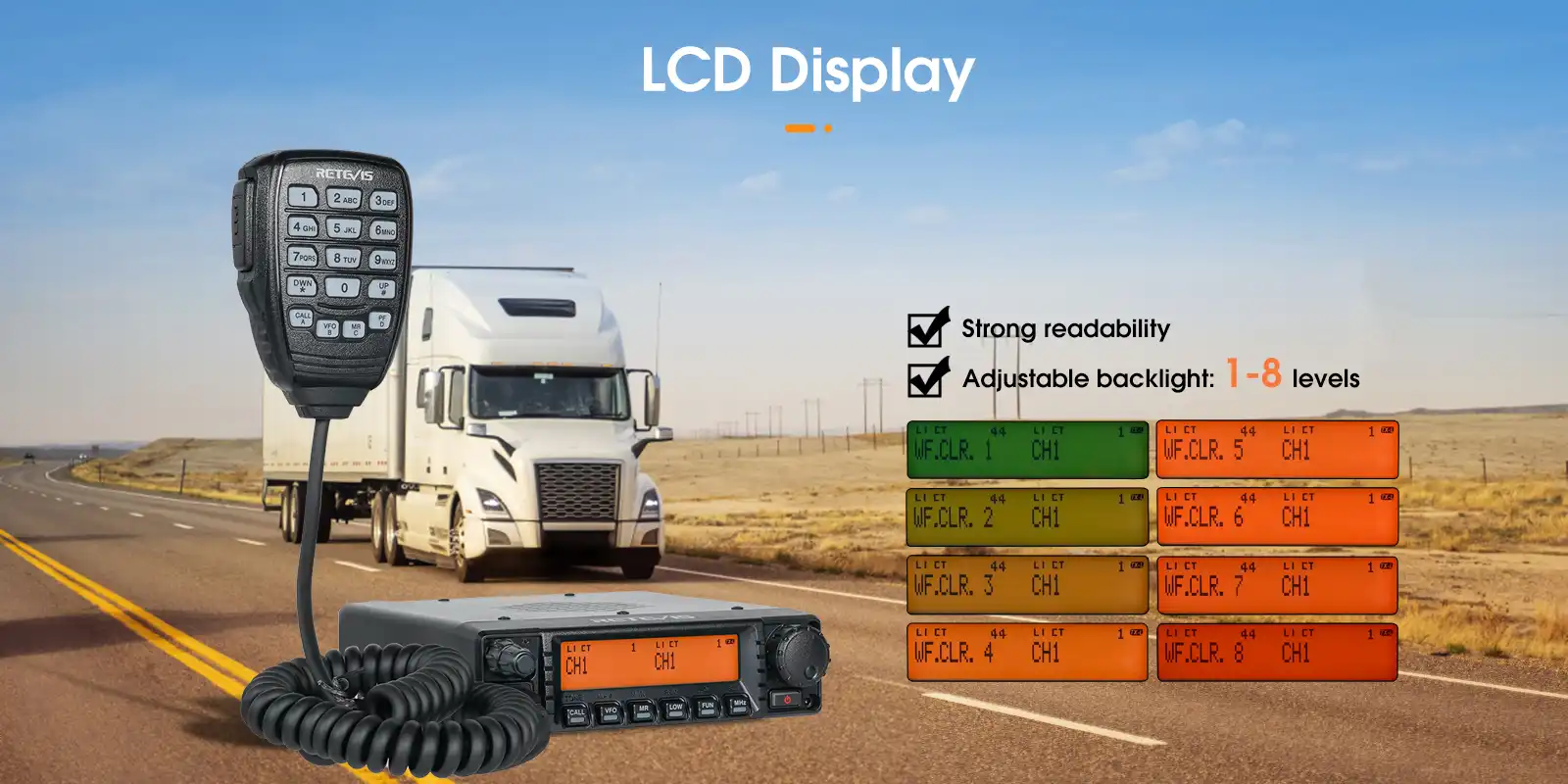 Dual Watch Display
Dual watch function allows you to receive different frequencies at the same time. It is convenient to switch the main frequency and sub frequency through easy operation.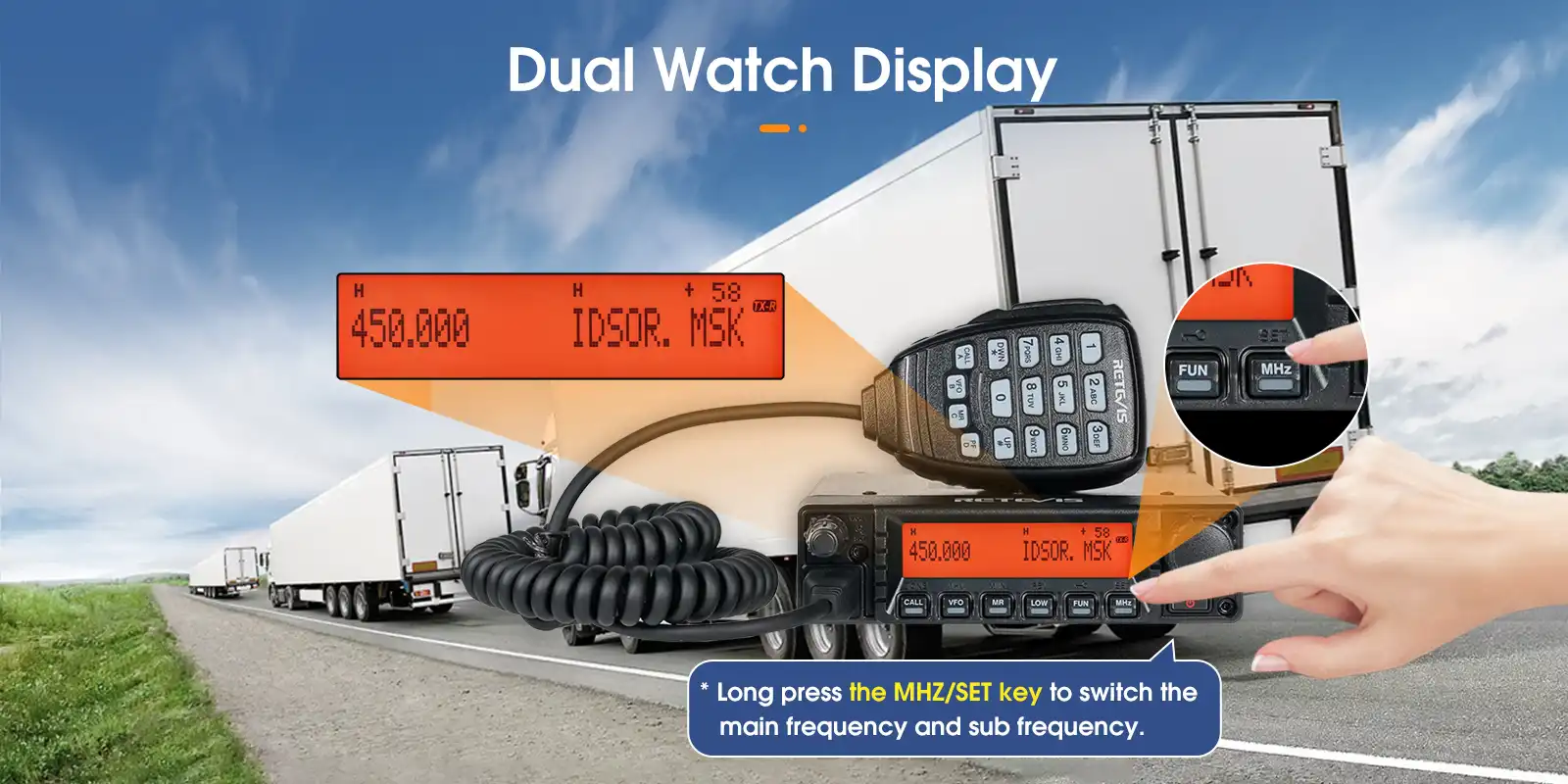 ANI Identification Function
Automatic Number Identification (ANI) function greatly helps you to identify the people who want to call you, and avoids unnecessary communication.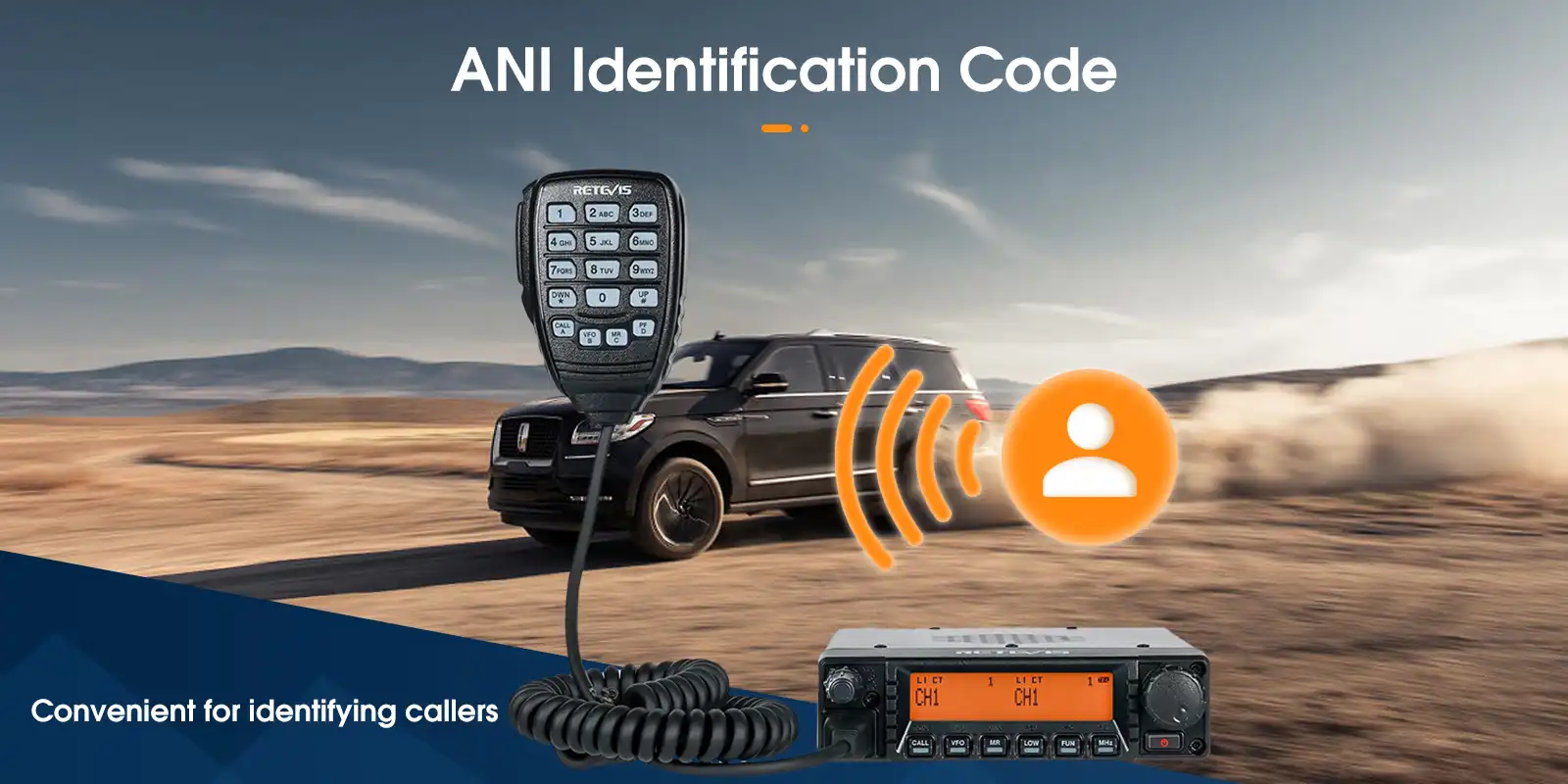 Selectable Privacy Codes
260 CTCSS/DCS codes can offer 5720 optional channels, which greatly ensures the communication privacy by eliminating the communication interference.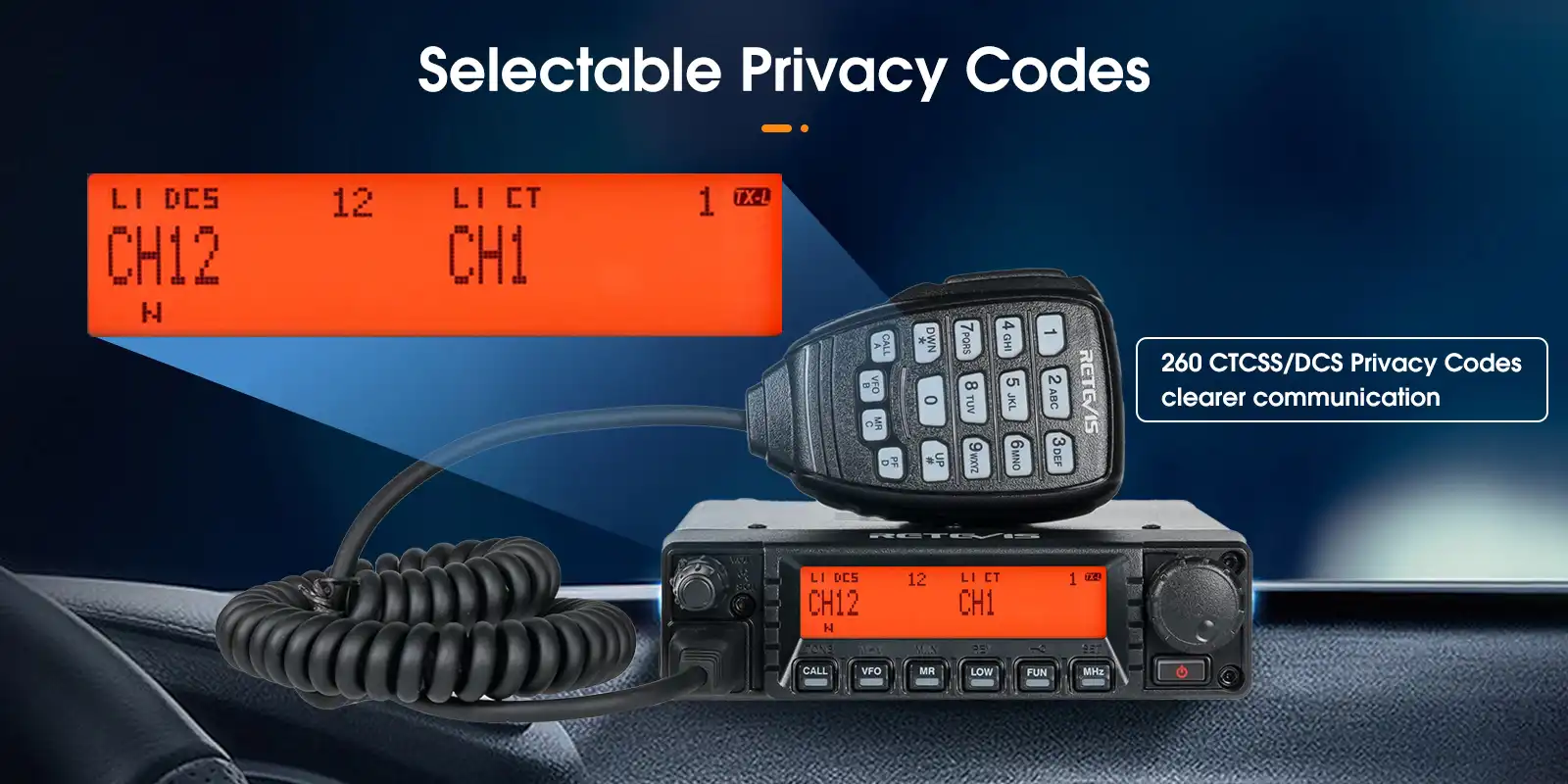 DTMF Function
The DTMF encode and decode function provides great convenience not only for sending the called number, but also for some special functions, such as remote kill or revive (Remotely turn off or turn on the transmitting and receiving functions of the radio.)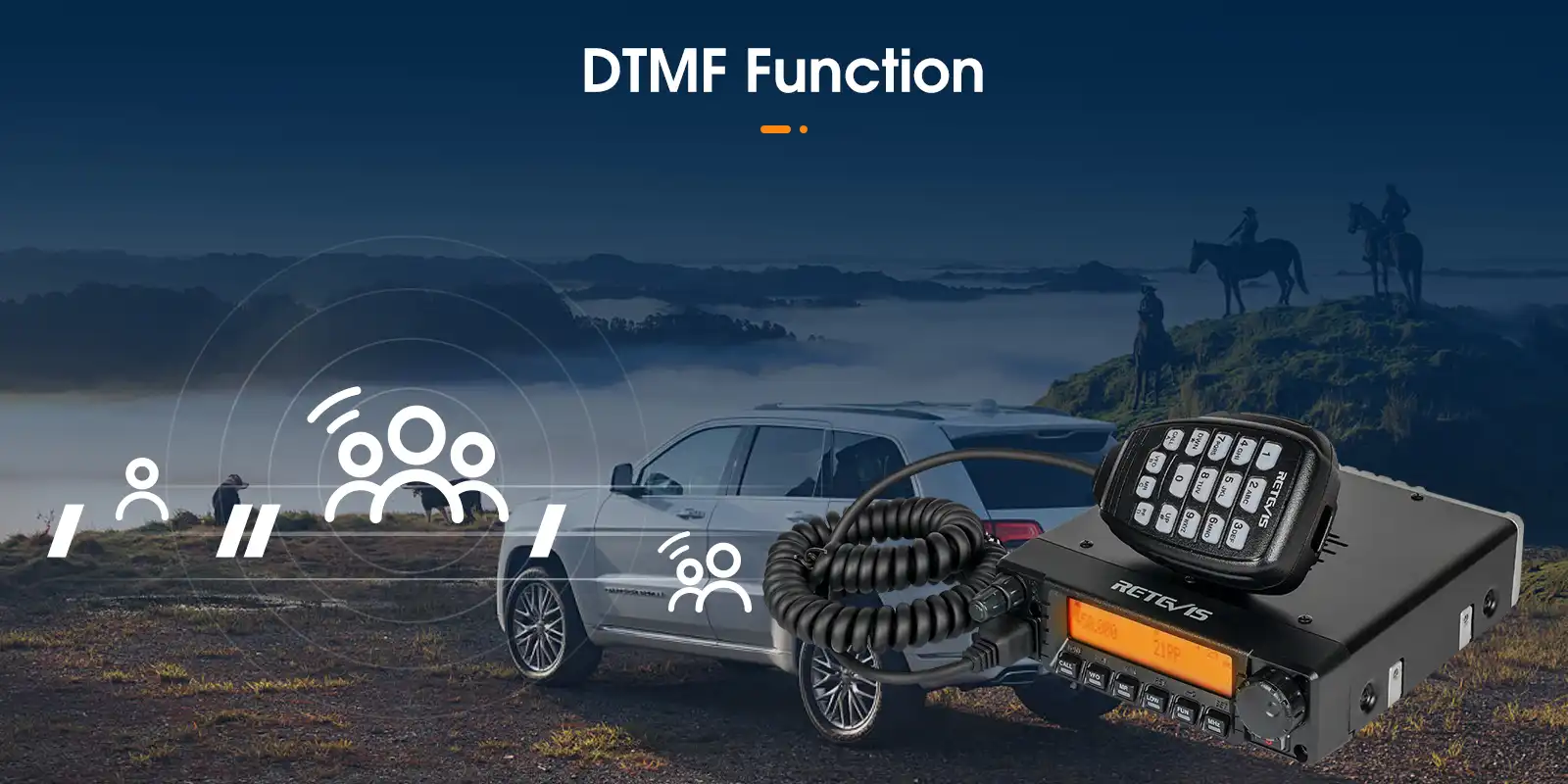 Multiple Scan Methods
The mobile radio supports multiple scanning methods, including band scan, call scan, call channel scan, etc. It is convenient for you to choose the appropriate scan methods based on your or the occasion's needs.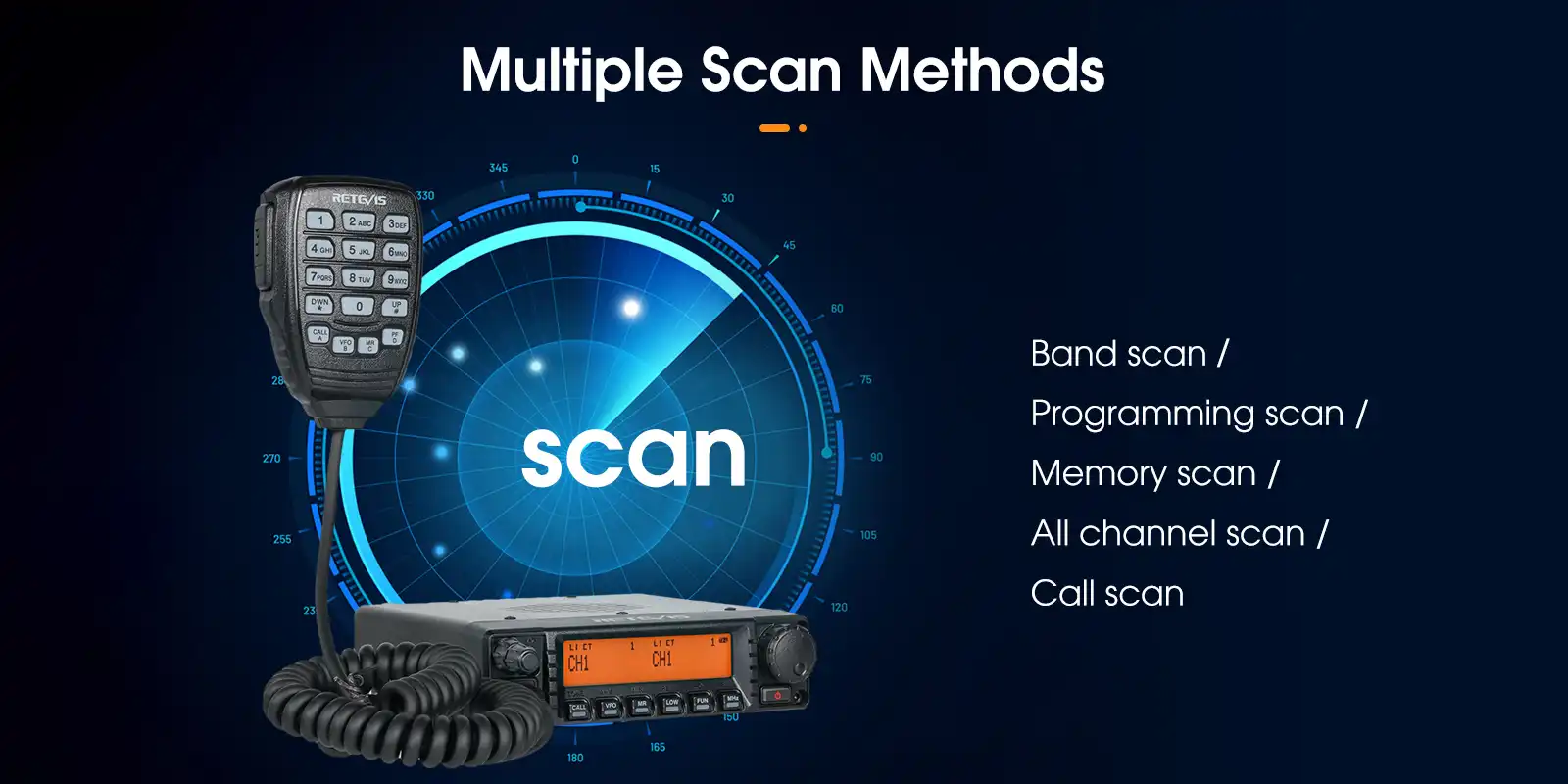 Radio Details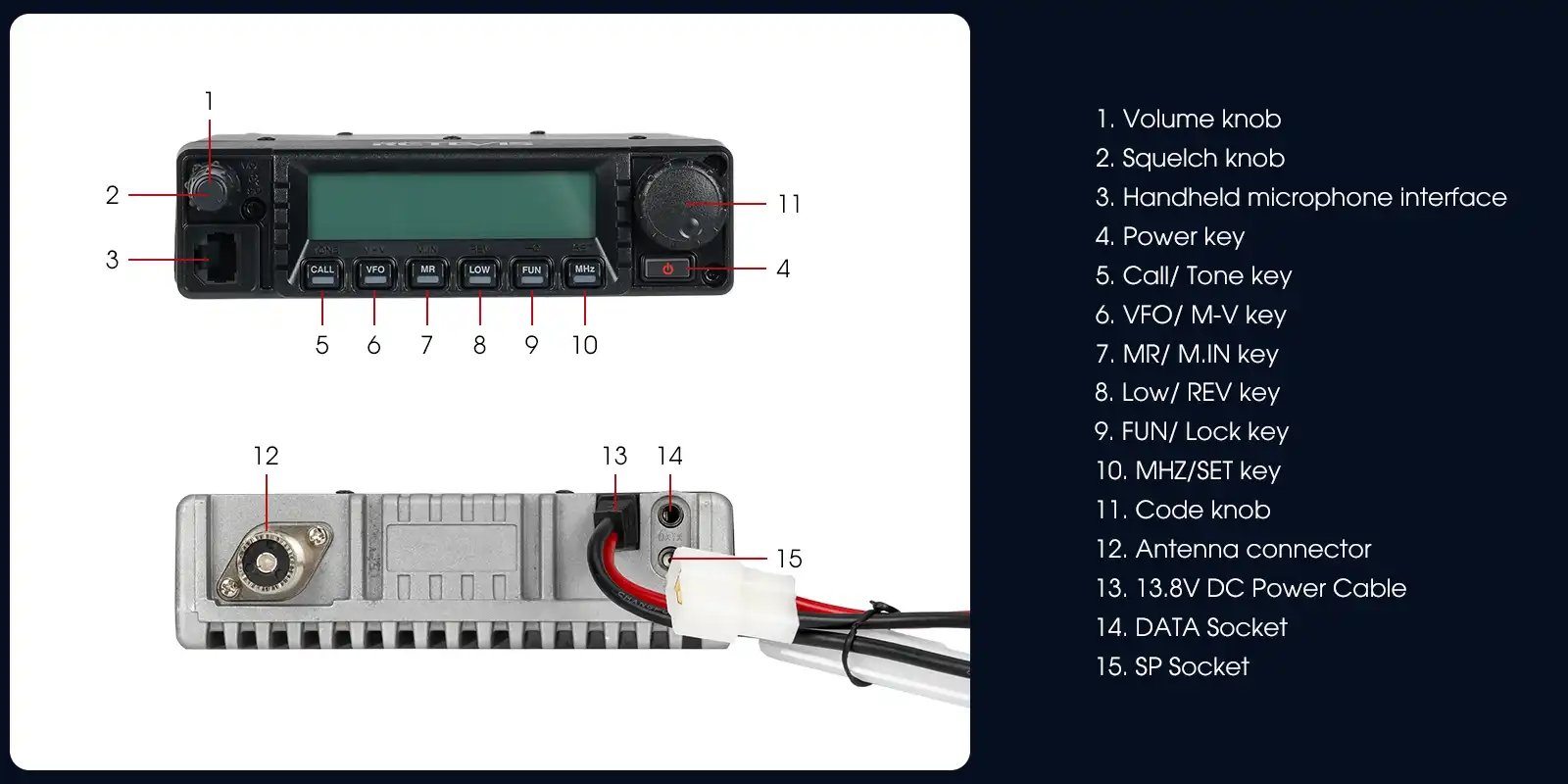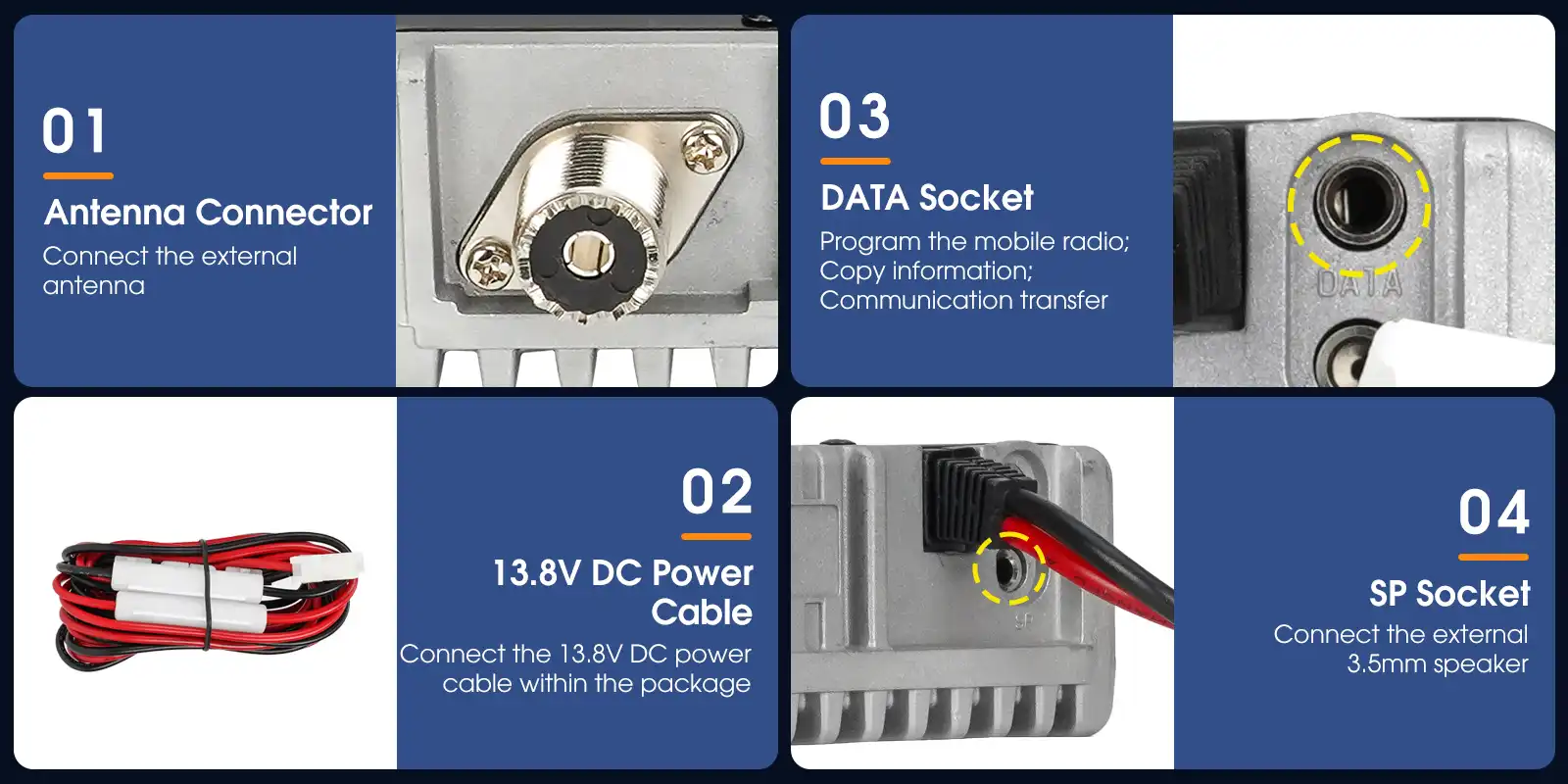 Various Applications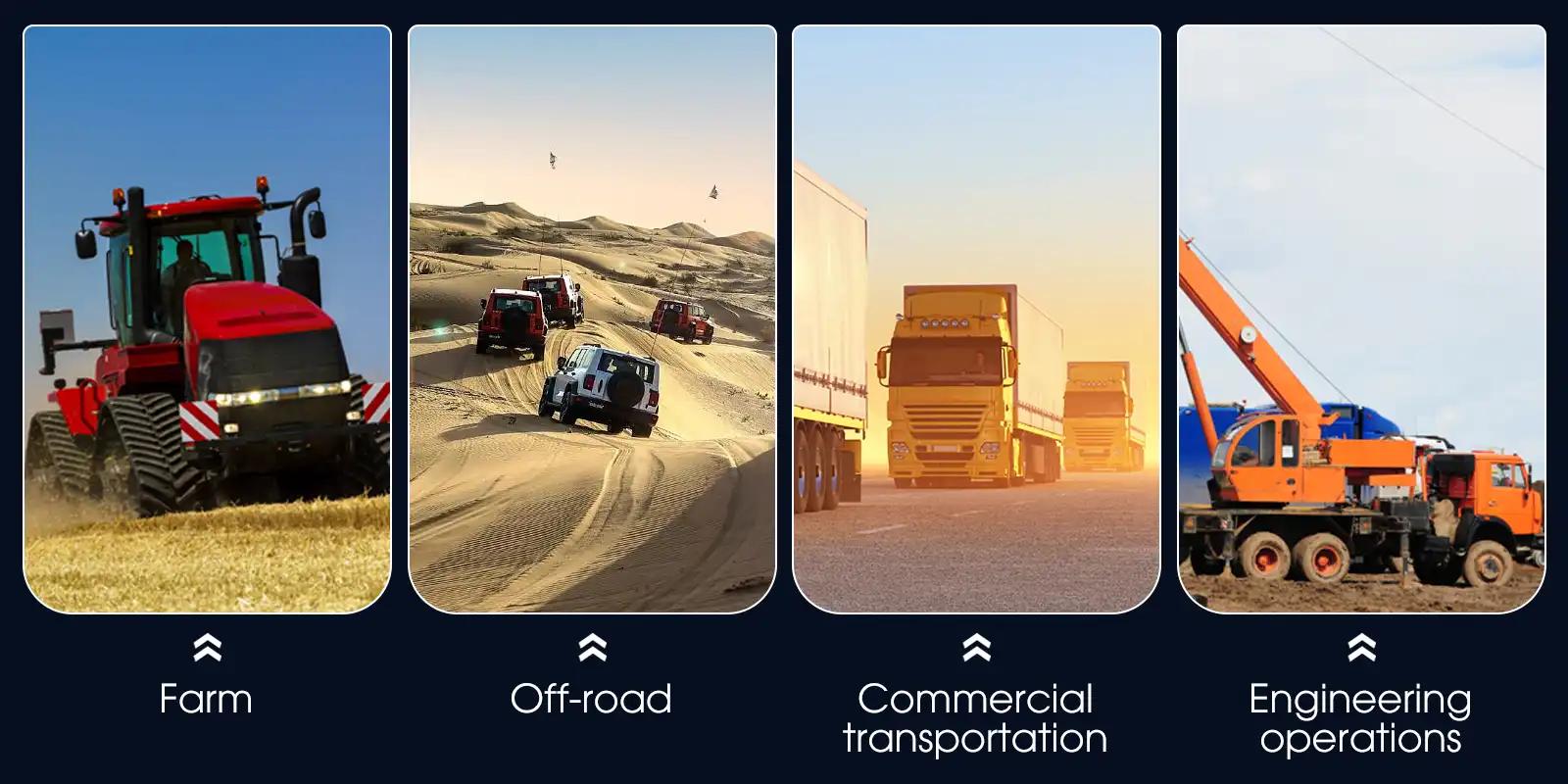 Specifications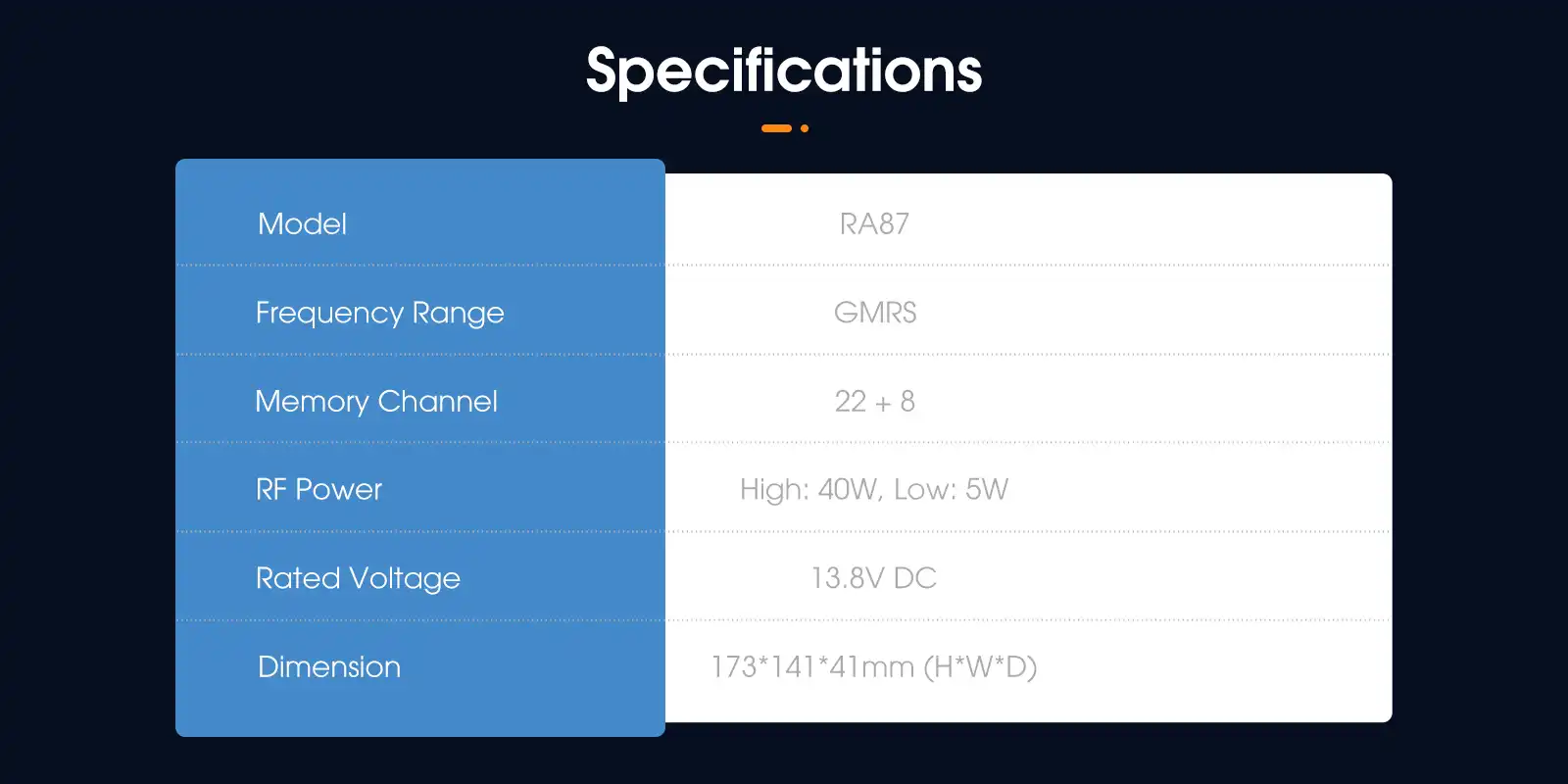 Package Includes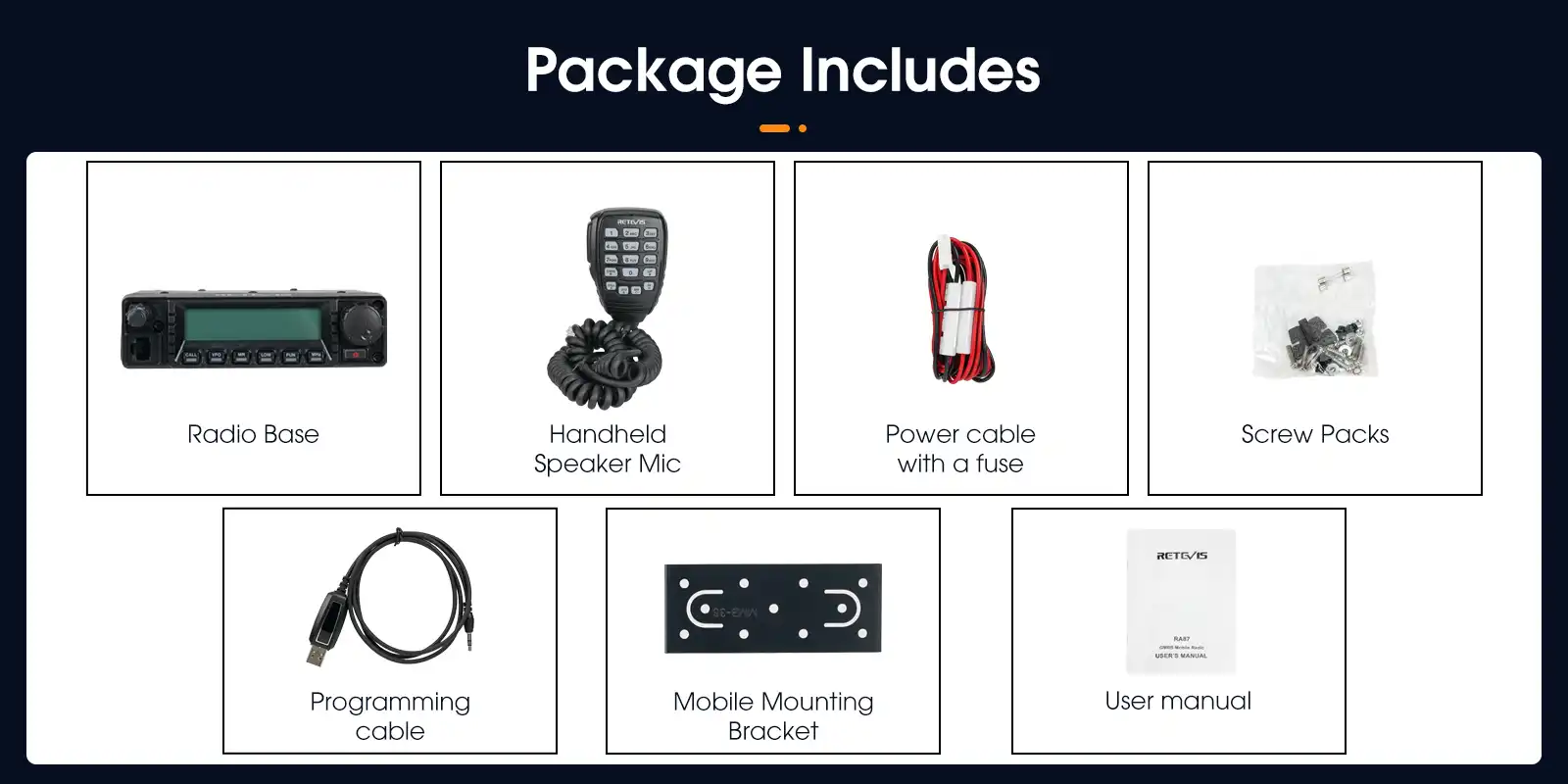 What's in the Box?
1 x RA87 Radio Base
1 x Handheld Speaker Mic
1 x Mobile Mounting Bracket
1 x Power Cable with A fuse
1 x Programming Cable
1X Screw Packs
1 x User Manual
Spec
Specification
| | |
| --- | --- |
| Frequency Channels | 22 GMRS+ 8 Repeater |
| Power | 40W/5W |
| Rated Voltage | 13.8V DC |
| Bandwidth | Narrow(12.5K)/Wide(20K) |
| Dimension | 173*141*41mm(H*W*D) |
Feature
Functions:
22 GMRS channels with 8 repeater channels
200 memory and call channels
Memory channel group management
Multiple scan modes can be selected
Programmable hand microphone function keys
LCD and adjustable backlight colors
Compose simple repeater station
Dual standby, dual frequency display
DTMF encode and decode function
MSK signaling encode and decode
Same/different/reverse frequency setting
Wideband/Narrowband adjustment
APO (Auto Power Off) protection
Voice companding
260 CTCSS/DCS
AIN identify code
Support
Firmware/Software
---
RA87-GMRS-Software

Please install the software in the C Drive of your computer.

WIN11-DRIVERINSTALLER

The WIN 11 driver, also compatible with WIN 10, WIN 8 and WINDOWS 7 operating systems.