Retevis RT18 FRS portable ultra-thin dual PTT theatre walkie talkie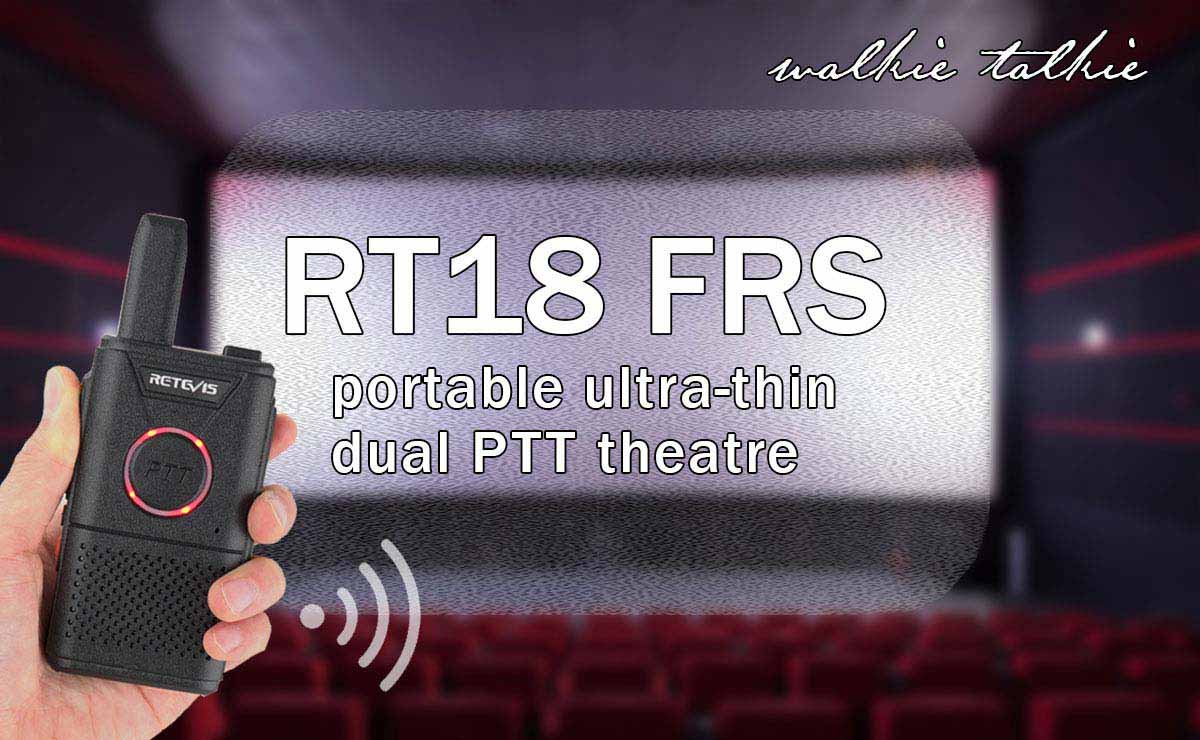 Description:Small and light, compact, easy one-handed operation;High quality batteries for long time calls;Mini USB jack, support multiple charging methods.Multiple functions,keystrokes easy,convenience
Function Introduction
◆ Frequency FRS ◆ Up to 16 Channels ◆ Chinese/English Language ◆ 50 Groups CTCSS,105 Groups of standard DCS ◆ Time-out timer(TOT) ◆ Battery saving function◆ USB rapid charge
◆ Programmable by PC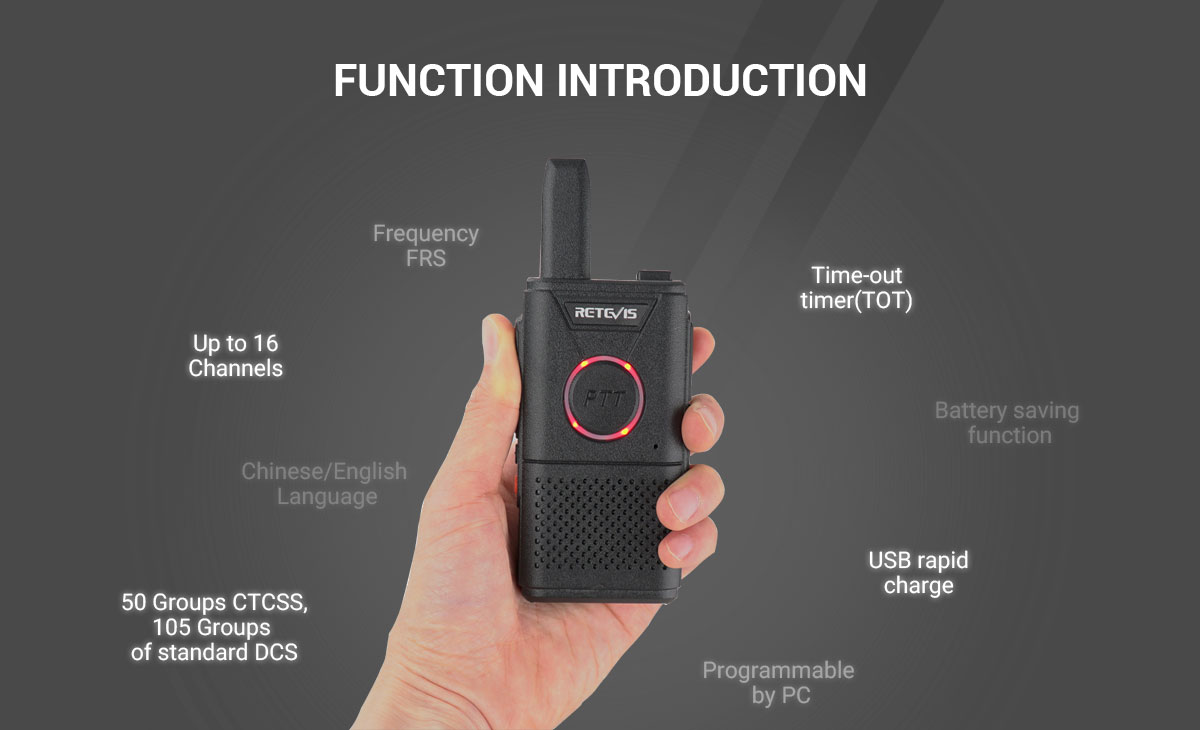 In the standby state, the breathing light flashes to indicate that it has entered the standby state.

Package include:2 x RT18 two way radio1 x USB cable2 x Belt Clip1 x User manual2 x Hand-Strap1 x Adapter
Technical parameters:
General Specifications
Frequency
FRS
Channels Capacity
16
Channels Spacing
12.5KHz
Operation voltage
3.7V DC
Operation temperature
-20℃--+50℃
Antenna impedance
50Ω
Transmitter Specifications
RF Power
≤2W/0.5W
Maximum deviation(W/N)
≤5KHz/≤2.5KHz
Frequency stability
±5ppm
Adjacent channel power
≤-65dB/≤-60dB
SNR(W/N)
≥-45dB/≥-40dB
Audio Distortion
≤5%
Transmission current
≤1.45A
Receiver
Sensitivity
-122dBm(12Db SINAD)
Audio power
0.33-0.37W@3.7V
Audio distortion
≤5%
Inter modulation
55dB
Adjacent channel selectivity(W/N)
50dB@12.5KHz 55dB@20/25KHz
Modulation Acceptance
3.5KHz@12.5KHz 7KHz@25KHz
Receiver current
≤70mA
Firmware/Software
---
win11-DriverInstaller

The win11 driver is compatible with win10, win8 and win7 systems.
Small and light, compact, easy one-handed operation;
High quality batteries for long time calls;
Mini USB jack, support multiple charging methods.
Multiple functions,keystrokes easy,convenience
Order Handling Time within 3 Working days(Pre-sale products excluded).
12719 PEOPLE ARE LOOKING FOR THIS PRODUCT
What's in the Box?
2 x RT18/RT618 two way radio

1 x USB cable

2 x Belt Clip

1 x User manual

2 x Hand-Strap

1 x Adapter
Product Reviews
---

Reviewed in United States

on

Jun 04,2020

Looks really good, for that price. Where can I found program software for RT618?

Brooke Smith

Great Customer Service

Reviewed in United States

on

Aug 30,2019

The radios are a great buy for the price. The earpieces do not have the VOX option. The radios themselves need to be programmed via computer to use the VOX option for which you will need software installed and a USB cable from the company. The company was very responsive in getting me the cable and instructions for enabling this option.

Abe Cooper Jr

Happy with device!

Reviewed in United States

on

Aug 30,2019

Very useful and dependable.

Sephia

Worked well on my seven day cruise

Reviewed in United States

on

Aug 30,2019

When it was time to charge I became the person in charge. 2 walkie talkie per charger. I had four different room. Overall I was pleased with the sound quality.

Keving

Excellent compact walkie talkies

Reviewed in United States

on

Aug 30,2019

I got 8 of these walkie talkies for our hotel for the maids and maintenance. Absolutely clear perfect reception, super easy to use, small and light weight , holds a charge for days. Multi channels are a plus. Distance is super clear for the three city blocks of our resort. I highly recommend.

Ally

Great purchase for responsible price!

Reviewed in United States

on

Aug 30,2019

Mainly bought for work and I can say they work good for what they were bought for.

Joe J. Katin

Good product

Reviewed in United States

on

Aug 30,2019

Like small compact size. Used them to launch Boat worked perfect!

Reviewed in United States

on

Aug 30,2019

I have not used any accessory computer programming cable. Tried them out around the neighborhood and they worked about one mile in densely populated area with houses and low buildings. Bought them to use in two national park we are visiting in the fall as cell service is limited. They are nice and small and the clip makes it easy to attach to belt or jacket. A very good product so far.

Tom

Great Little Walkie Talkie For The Money!

Reviewed in United States

on

Aug 30,2019

These are so much fun. Easy to charge both units with the double charge cord and wall outlet adapter. They charge fast too!