Retevis RT602 Rechargeable Walkie Talkies 80Channels CB UHF TWO WAY RADIO
1, The best handheld UHF radio australia
Retevis RT602 Comes with 80 Channels, the best choice for Australian and New Zealand.The ideal handheld walkie talkies for stayting connected on your next family trip and adventure, even in the most remote locations without mobile signals.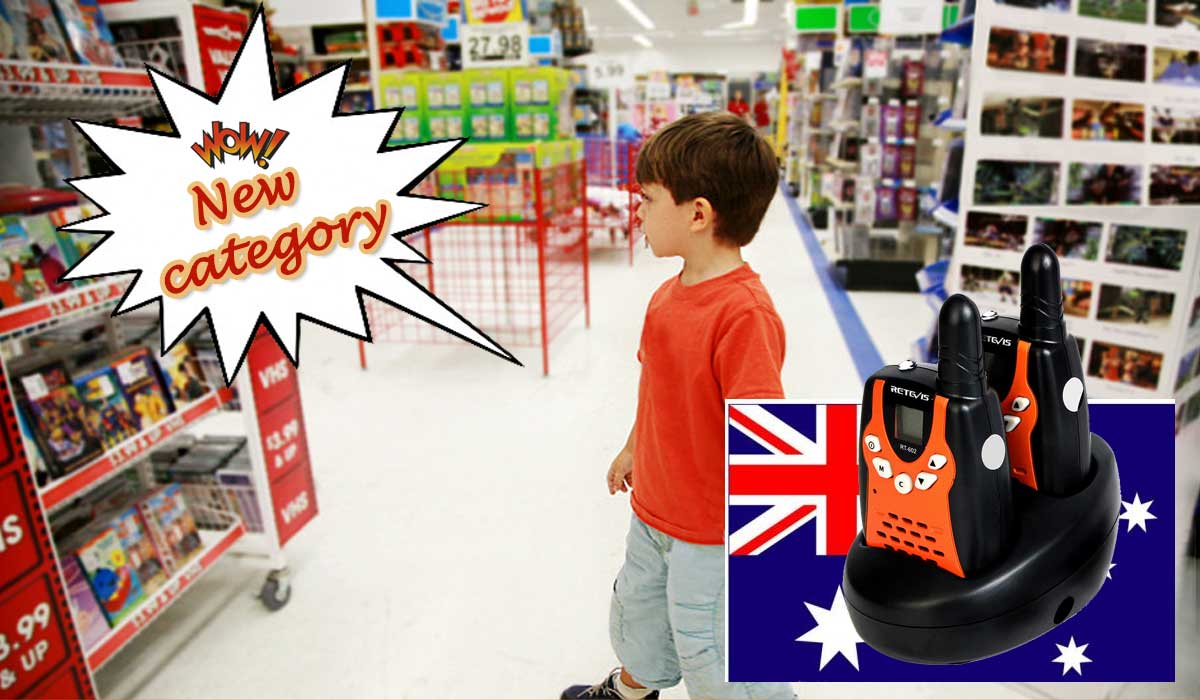 2, A new Kids Toys-The communication toys
The RT602 bring the new kids toys to communication. Kids can use the UHF radios talk with family and friends. Also, Retevis RT602 built-in the LED light, idea for camping.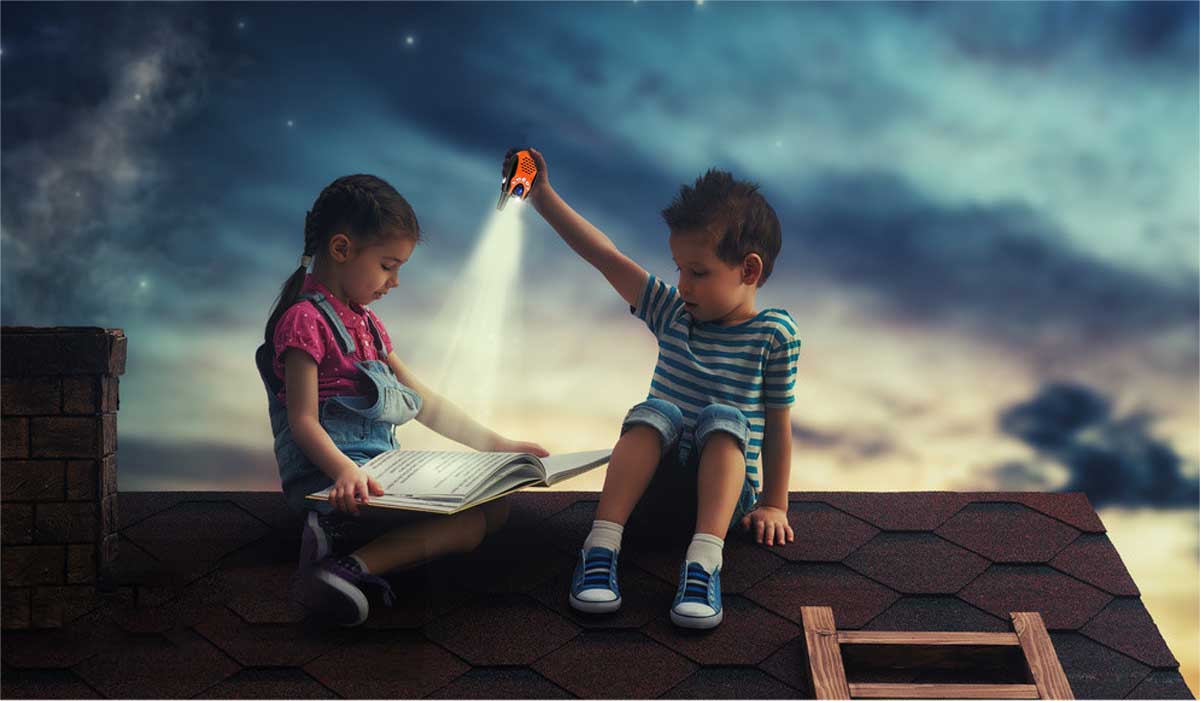 3, Rechargeable Battery-The Rechargeable Walkie talkies for kids and family
Retevis RT602 is the rechargeable walkie talkie. It comes with the rechargeable battery. Also you can purchase the replace battery everywhere. RT602 Compatible with Standard Battery AAA with 3pack. Also, we ready for the base charger to help you charge your RT602 battery.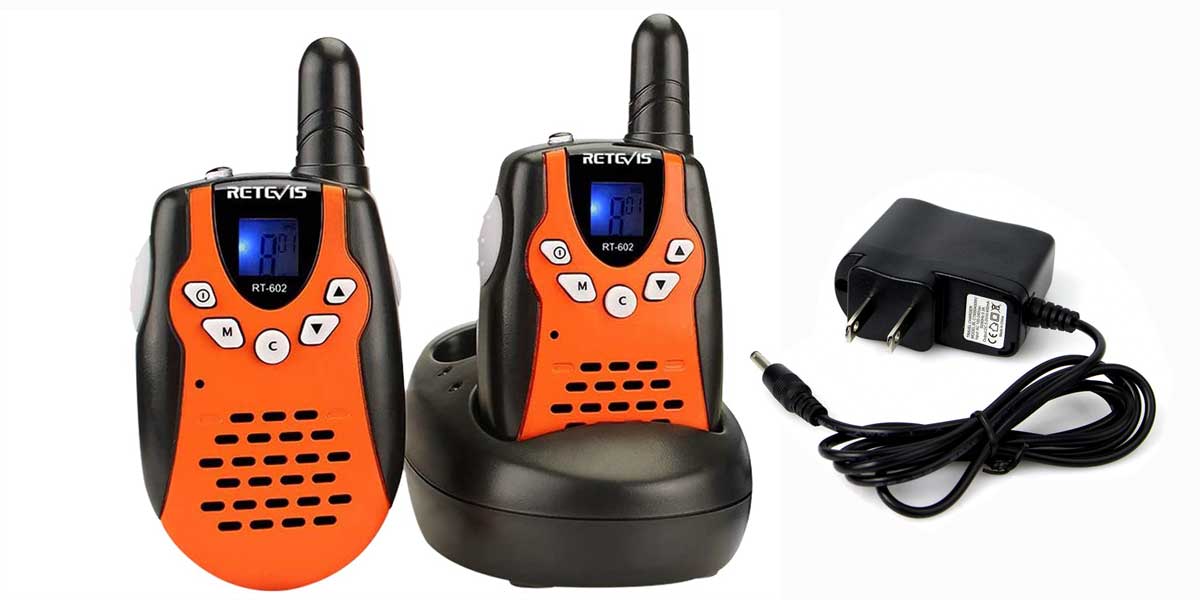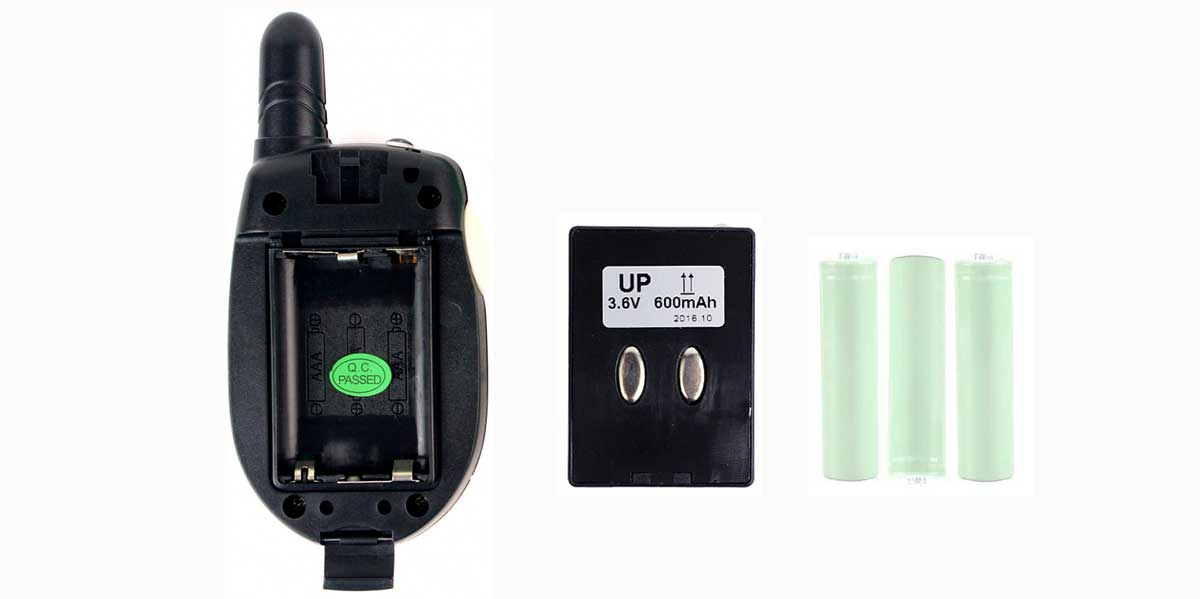 4, Mini Compact Size-Allow you to take the radio anywhere.
The RT602 is designed with the mini compact size, that allow you to take the radio anywhere. For walking, camping, shopping, biking or just hanging out. With extended range and crystal clear voice. Retevis RT602 is the affordable toys gifts walkie talkies for kids and family.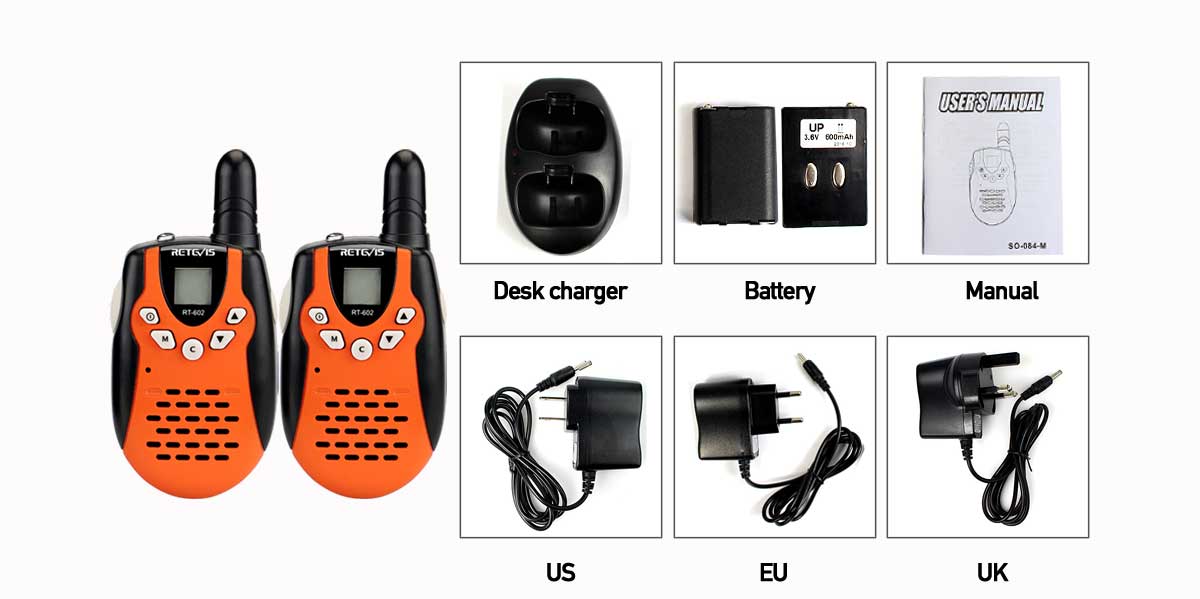 Specification
Model
RT602
Frequency range
80Channels UHF CH band
Output power
0.5W
Channel
80
Color
Orange
Battery Type
Li-ion Battery
LCD display including battery status indicator
Yes
Adjustable volume level
Yes
CTCSS/DCS
Yes
Transmitting and receiving icons
Yes
Channel number and scan status display
Yes
Earpiece connection
Yes
Auto squelch
Yes
Call alert
Yes
Built in flashlight
Yes
Channel lock
Yes
Low battery alert
Yes
Power selection
Yes
5 Call tones
Yes
Mute function
Yes
Battery saving function
Yes
Backlit display
Yes
Keypad tones
Yes
VOX function
Yes
Talk confirmation tone
Yes
Size
Approx:165x165x65mm
Weight
390g/piece
Kids Toy walkie talkies
Inbuilt LED Light
Base station charger/desk charger
80 channels
Mini Compact Size
Rechargeable battery( included) or Standard Battery Compatible( not included)
LCD display
VOX function, make hands-Free. No need to press PTT to talk.
Channel Scan: Help you to check which channel is busy
10 groups calling tones.
Built Rugged for Australian and New Zealand Conditions
RT602 Rechargeable Walkie Talkies 80Channels UHF TWO WAY RADIO
1, Rechargeable Battery and Compatible with Standard Battery
2, Comes with Desk Charger (2 in 1)
3, 80 Channels, the best choice for Australian and New Zealand
Order Handling Time within 3 Working days(Pre-sale products excluded).
4080 PEOPLE ARE LOOKING FOR THIS PRODUCT
Product Reviews
---

Use for my kids around the neighborhood- works well.

We were sent this as a PR and have to say we are very impressed with the quality of the product

We were sent this as a PR and have to say we are very impressed with the quality of the product