RETEVIS RT95 Dual Band HAM two way radio mobile Radio 180 degree rotatable TFT display alarm ANI remote kill US version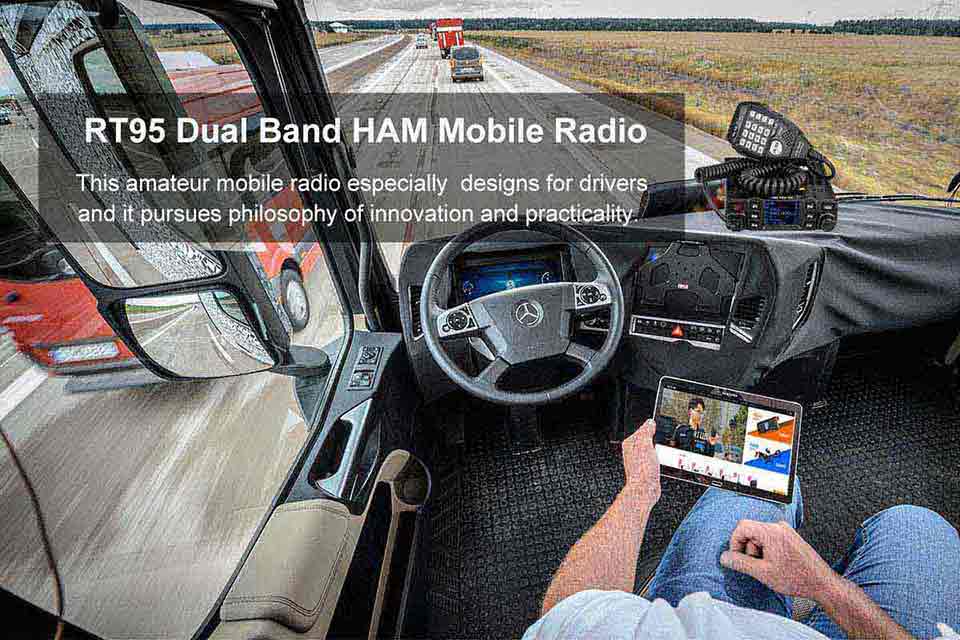 This amateur mobile radio especially designs for drivers and it pursues philosophy of innovation and practicality.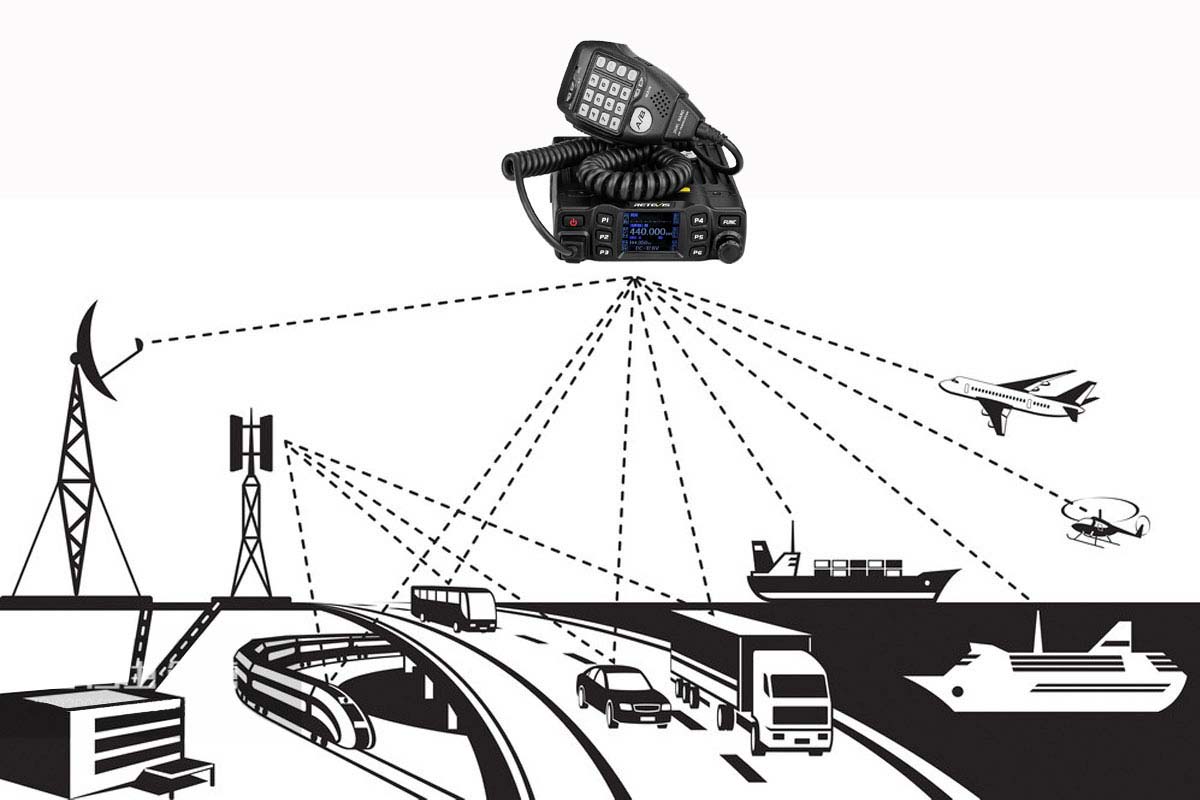 180 degree rotatable TFT LCD display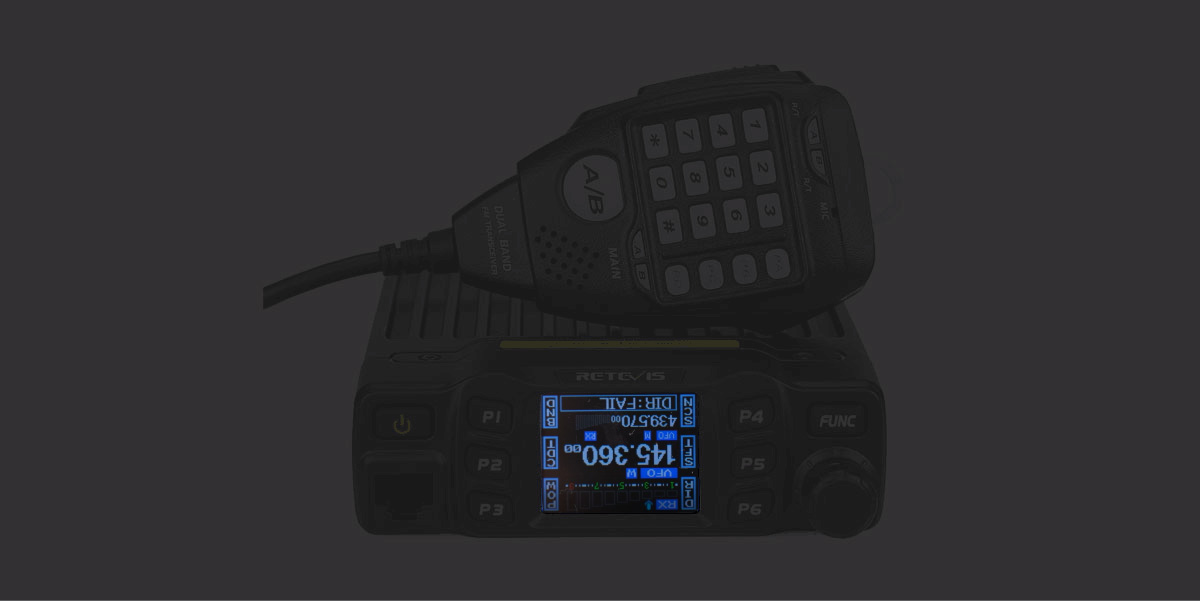 Amateur mode and professional mode for different operation requirement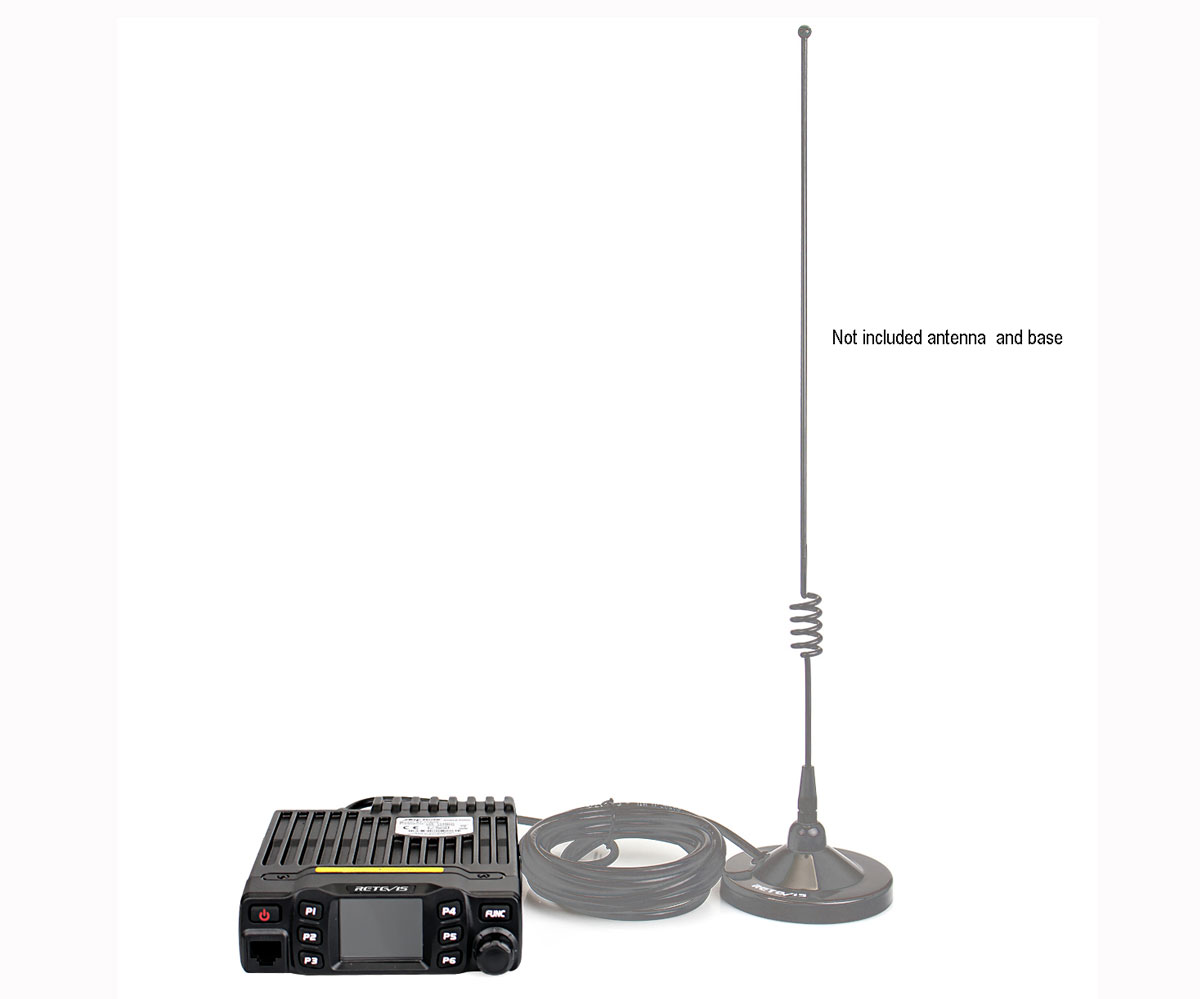 Full alloy body for heat radiation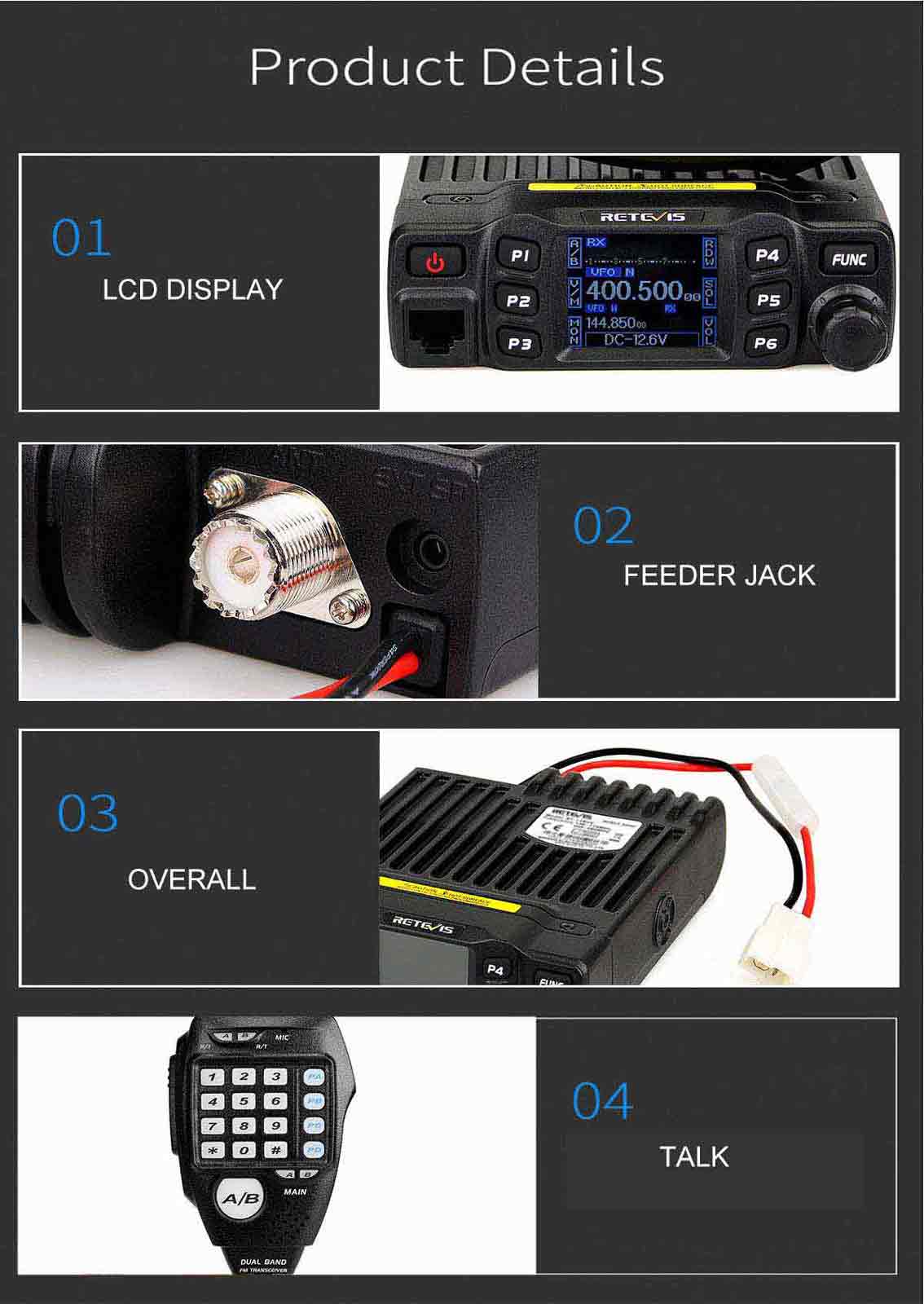 Frequency Range
VHF:144-148MHz UHF: 430~440MHz
Number of Channels
200 channels
Channel Spacing
25K (Wide Band) 20K(Middle Band) 12.5K (Narrow band)
Phase-locked Step
2.5KHz, 5KHz, 6.25KHz, 10KHz, 12.5KHz, 20KHz, 25KHz, 30KHz, 50KHz
Operating Voltage
13.8V DC ±15%
Squelch
Carrier/CTCSS/DCS
Frequency Stability
±2.5 ppm
Operating Temperature
-20℃~+60℃
Dimensions(mm)
124 (W) x 163(D) x 39 (H)
Weight
about 0.64Kg
RECEIVER
Wide band
Narrow band
Sensitivity (12dB Sinad)
≤0.25μV
≤0.35μV
AdjacentChannelSelectivity
≥60dB
≥60dB
Audio Response
+1~-3dB(0.3~3KHz)
+1~-3dB(0.3~2.55KHz)
Hum & Noise
≥45dB
≥40dB
Audio distortion
≤5%
Audio power output
>2W@8
TRANSMITTER
Wide band
Narrow band
Power Output
25W / 15W / 5W
Modulation
16KΦF3E
11KΦF3E
Adjacent Channel Power
≥70dB
≥60dB
Hum & Noise
≥40dB
≥36dB
Spurious Emission
≥60dB
≥60dB
Audio Response
+1~-3dB(0.3~3KHz)
+1~- dB(0.3~2.55KHz)
Audio Distortion
≤5%
Adopt superior quality material, better technology and high quality radiator to ensure stable and durable operation
180 degree rotatable TFT LCD display
Full alloy body for heat radiation
Amateur mode and professional mode for different operation requirement
Distribute buttons reasonably, convenient for operation
Separate band width setting for each single channel, Wide 25K, Middle band20K, Narrow band 12.5K
200 programmable memory channels, identified by editing name
Separate CTCSS, DCS, DTMF, 5Tone setting for each single channel, rejecting extra calling from other radios
Various scan functions including CTCSS/DCS scan function
Smart menu control and PC programming control
Voltage level protection
LCD brightless control
Automatic power on function
Main unit and microphone key lock function
5Tone signaling for data transfer, alarm, all call, ANI, remote kill, remote waken
DTMF-ANI or 5Tone-ANI for automatical calling recognition
Password function
Dualwatch function
Talk around function
Frequency reverse function
Offset function
Firmware/Software
---
win11-DriverInstaller

The win11 driver is compatible with win10, win8 and win7 systems.
Support the Chirp software
NOTE: Programming software: please click "support" to download
Order Handling Time within 3 Working days(Pre-sale products excluded).
60565 PEOPLE ARE LOOKING FOR THIS PRODUCT
What's in the Box?
1 x Mobile radio
1 x Power cable
1 x Handheld mic
1 x One pack of screw and accessories
1 x User's manual
Product Reviews
---

Reviewed in United States

on

Jan 28,2021

I agree with everyone. The radio is an absolute beauty. So convenient and small. Gets a bit hot but it doesn't care. Would like to reduce hang time when you press p button eg to go to volume then back to channel. Any ideas? Beautiful display. Have an Anytone 778 as well (same rig). Absolute bargain, good audio reports loud speaker. A real gem.

Slim beauty and elegant - Retevis RT-95 Great Radio

Reviewed in United States

on

Nov 03,2020

I just receipt the unit RT-95. This is great radio. I do happy with this radio, The body is slim and beauty also elegant. the display is fantastic, about performance of radio. both RX and TX is very good. Even I used the small antenna, but the radio can be reach the repeater where the distance is about 50km from home. Small note is the rotary.. the default rotary is for change the frequency or channel. I hope the default is for up and down sound volume.

Reviewed in United States

on

Oct 24,2020

I was looking for a small, reliable, affordable and well built dual band radio for my car. After looking at many radios available I settled on the Retevis RT95 as I read the reviews and watched many YouTube videos on it. When it arrived I downloaded the software and programmed it as it had come with the program cable. I decided to use it as my home base set for a while so I could get to know how it worked. WOW, I found it so incredible, especially it's receiver sensitivity that I decided to use it as my permanent dual band home base radio. When funds permitted, I bought another one and fitted it in my car. Several of my Amateur friends were so impressed that they also bought one. One friend said that I spoke so highly about it I should be on commission! I can't praise this radio too much. It's the best I have ever used. I highly recommend it...John EI2HO Dublin Ireland.

Well built radio at a bargain price

Reviewed in United States

on

Aug 08,2020

This radio is solidly built and supplied with a quality microphone. The size factor makes it great for mobile or caravan use. The button pressing and knob turning takes a bit of getting used to. Some actions require extra presses as compared with a larger form radio but you get used to this. The screen is a gem, full of information but relatively uncluttered and aesthetically pleasing. Great that it is now Chirp programmable. That is a clincher for me. Easily the best of the Chinese radios around at the moment and a snip at the price. I have two.

Reviewed in United States

on

Jun 03,2020

My first retevis. I had struggled in begining with it. But it is good overall. Firstly manual is hard to follow. Programming software is good no issues. Receiver is very good. Great value and excellent egronomics. My only feedback: 1. There is no error message if there is high SWR or antenna is not connected. You can be confused not knowing if there is an issue with transmit or not. 2. the Function button are very hard.

Best little mobile around

Reviewed in United States

on

Mar 02,2020

This little radio is very deceptive. As it is very quiet (no noisy cooling fans) and yet packs a 25w punch that is clear as a bell even at long distance. The menus are easy to navigate and the function buttons are programable so that you can set your most used ones right where you need them. The mic is clean and crisp with the ability to add 4 programmable functions to it. The screen is coulourfull and sharp making it easy to read in any lighting situation. As yet I have had no glare issues from the sun. All contacts I have had, with this radio, are good audio reports.

Eric

No CHIRP support yet but easy to program.

Reviewed in United States

on

Aug 28,2019

Rated at 25 watts but puts out a measured 30. Clean audio and good reports from other operators. No regrets at all.

Reviewed in United States

on

Jan 01,2019

This would make a great all mode radio...would sell world wide.

Claude Parker

Super radio. Great Value.

Reviewed in United States

on

Dec 28,2018

This radio is a bargain for the price. It works and sounds great. It is easy-to-use and pretty intuitive to operate once you figure out the instructions.

Paul McCreery

Radio is just fine - you may have to ask for the programming software

Reviewed in United States

on

Dec 28,2018

I recently purchased the Transceiver to use in my new vehicle. Shipping was prompt and the product worked immediately when powered up. I experienced some difficulty with programming the radio, but the seller was VERY accommodating and saw to it that not only was I taken care of, but that the problem was resolved and the correct software found. With that said, I think it would be fine to purchase this product, but be sure to inquire about the correct version of the programming software.