Compared to ordinary two-way radios, the best walkie talkie for hunting provide range, clarity, and ruggedness at a much higher level. Apart from that, a good walkie talkie for hunting generally also comes with additional features such as vibration mode, privacy codes, and eavesdrop reducers.Let's take a look several best walkie talkie for hunting.
1. Retevis H-777 Walkie Talkies For Hunting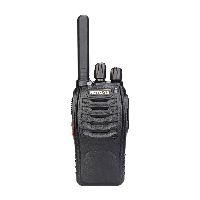 Compared to most of the walkie talkie for hunting, the Retevis H-777 is the best walkie talkie for hunting offered at the most affordable price. But don't let that fool you, because this two-way radio is packed with amazing features. One of the things that impressed us the most was the emergency alarm. Whenever there's a potential danger, such as mudslides or fire, you'll immediately get a notification. A really useful feature, especially for less experienced hunters.
As for the battery life, Retevis promises no less than 10 hours of usage time. For the main power source, this lightweight walkie talkie uses a rechargeable and removable Li-ion battery. Apart from that, there are high and low power modes, so you can actually save energy juice as needed.
What We Love
An affordable and reliable walkie talkie for hunting
Pros:
Durable
Rechargeable
VOX hands-free
Loud audio

Cons:
It's not completely waterproof

BUY NOW:https://bit.ly/3x9oGvM
2. Retevis RT29 long range radio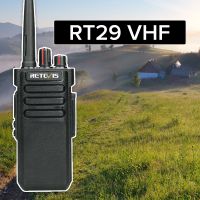 Some hunters dub Retevis RT29 as one of the best range walkie talkies. In areas where there's no obstruction at all, you should still be able to get decent audio up to 30 miles away! However, if you plan to hunt in hilly areas, this two-way radio will probably work best between 2-3 miles.This walkie-talkie is IP67 waterproof and can be submerged in 1 meter of water for 30 minutes. That means it can withstand dust as well as wet weather conditions.The 3200mAh large-capacity battery can last for about 24 hours, so you don't have to worry about power problems outdoors.
What We Love
High power,long range
Pros:
Long range
IP67 waterproof
High power
Cons:
No flashlight
BUY NOW:https://bit.ly/3m7IrOY
3. RT76P Long Range GMRS Portable two way radios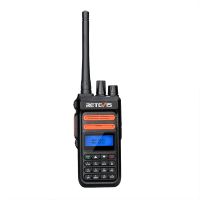 When it comes to communication in times of need, securing all bases means having at least acouple of the best walkie talkies for hunting AND survival stashed in your emergency kit. Every prepper's ideal two way radio for survival is compact, lightweight, rechargeable, sturdy, and reliable on long ranges and across various obstacles. And retevis rechargable 2 way radio ticks all boxes.
Be prepared for storms and emergencies with the built-in NOAA radio receiver providing coverage of all government operated weather channels. The unit runs on a rechargeable 1,500mAh Li-Ion battery which means pretty decent battery life.

What We Love
Long Range,portable
Pros:
Long range
NOAA weather cannel
portable
Cons:
NO Waterproof