Kenwood 2 Pin Earpieces for most two-way radios.
Stretchable coiled top cable for added flexibility and movement.
VOX or PTT dual mode optional
Kenwood 2 Pin EEK018 VOX Coiled Top Cable G-Shape Earpiece 1-Wire
This VOX 1-Wire Coiled Top Cable Concealed Sound Tube Headphone for Two-Way Radio is suitable for Law Enforcement, Security Company, Police, Casino, Resort, Nightclub, Hotel Staff Restaurant, Private Investigator, Event Coordinator, Film Crew, Museum Security , crowd control of concerts, etc., free your hands, make your operation easier, and receive information in time.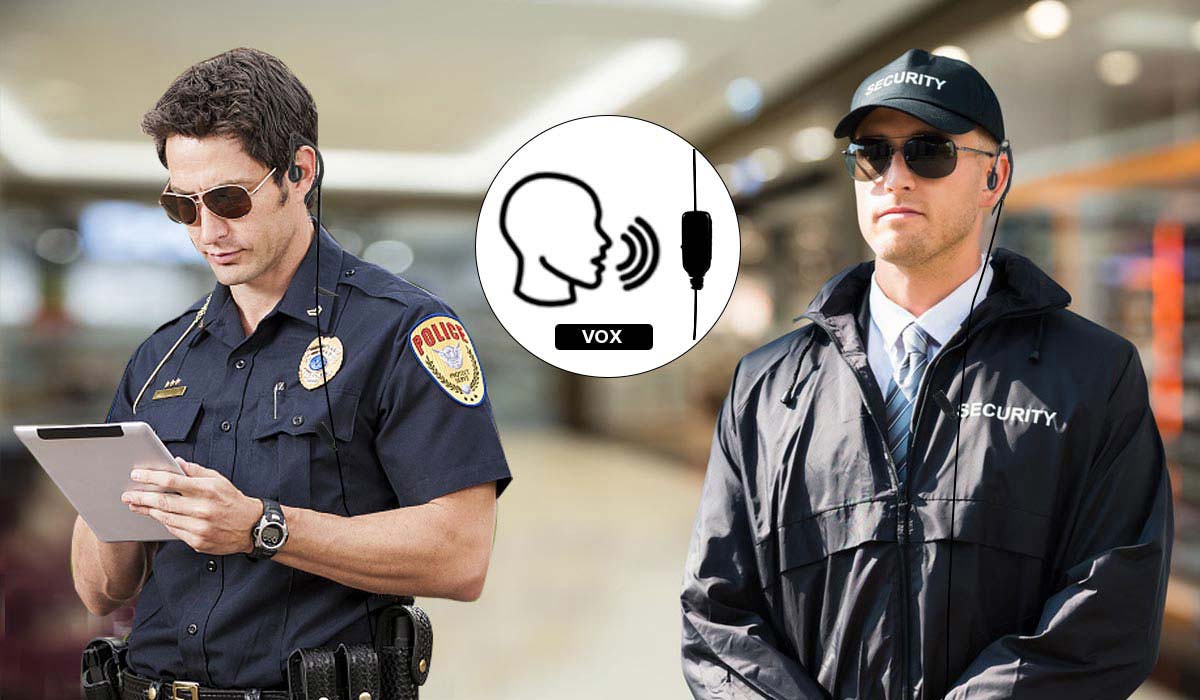 Dual Transmission Ways, PTT/VOX
Unlike regular headsets, this Retevis headset features VOX, allowing you to focus on your work without stopping to press PTT to talk. In addition, it supports push-to-talk. Dual transfer mode makes communication easier. The VOX function is for VOX-enabled radios.
Flexible G Shape In-ear Earpiece
A more flexible and comfortable headset with ear cushions for more comfortable and secure communication. Since the speaker is closer to the eardrum, it can be widely used in noisy environments.
Metal Collar Clip
Sturdy metal clothespins can be attached to collars or lapels to secure coils. Pulling is not easy to fall off during use, and it can easily cope with various use environments
Stretchable and Durable Cable
Stretchable coiled cable adds flexibility and expandability. Reinforced cables are more resilient and can withstand 6.8kg of pulling force.
High Audio Quality
High-quality microphone and earphones ensure clear audio output and reception, ensuring efficient communication at work.
Compatible with the following models




| | |
| --- | --- |
| Retevis | RT5R, RT5RV, H777, H777, RT1, RT2, RT5, RT3/RT3S, RT7, RT81, RT22, RT22S, RT24, RT25, RT26, RT27, RT80, RT28, RT28P, RT50, RT84, RT15, RT17/RT617, RT51, RT52, RT46, RT18/RT618, RT53, RT19/RT619, RT66/RT666, RT67/RT667, RT68/RT668, RT56, RT69/RT669, RT43, RT76, RT71, RT72, RB17/RB617, RB18/RB618, RT85, RB35/RB635, RB26, RA16/RA616, RT86, RB37/RB637, RB25, RT10, RB38V, RB27, RB27B/RB627B, RB27V, RB627V, RB28/RB628, RB29 RB629, RB20, RB85, RB17V, RT56B, RB17A |
| Kenwood KPG | KPG27D, KPG29D, KPG48D, KPG49, KPG55D, KPG56D, KPG62D, KPG66D, KPG69D, KPG70D, KPG74D, KPG75D, KPG77D, KPG82D, KPG87D |
| Kenwood TH | TH-D7, TH-D7A, TH-D7AG, TH-D7E, TH-F6, TH-F6A, TH-F7, TH-F7E, TH-G71, TH-G71A, TH-G71E, TH-K2, TH-K2A, TH-K2E, TH-K2ET, TH-21, TH-21AT, TH-21BT, TH-22, TH-22A, TH-22AT, TH-22E, TH-25, TH-26, TH-27, TH-28, TH31AT, TH31BT, TH41AT, TH41BT, TH-42, TH-42A, TH-42AT, TH-42E, TH-45, TH-46, TH-47, TH-48, TH-55, TH-75, TH-77, TH-G71, TH-205, TH-215, TH-225, TH-235, TH-235A, TH-235E, TH-315, TH-415, |
| Kenwood TK | TK-208/308,TK-220/320,TK-240/340,TK-240D/340D,TK-248/348,TK-250/350/353,TK-260/360,TK-260G/360G,TK-270/370,TK-270G/370G,TK-272G/372G/373G,TK-278G/378G/388GPro-Talk, TK-430/431, TK-2100/3100Pro-Talk, TK-2102/3102Pro-Power, TK-2107/3107Pro-Talk,TK2207,TK3207,TK-2160/3160, |
| BAOFENG | Almost All: UV5R, UV5RA, UV5RB, UV5RC, UV5RD, UV5RE, UV5REPlus, UV5R+, UV5RO, A52, UV8, UV8D, UVB5, UVB6 BF480/490/320/V6/V7/V8/658/520/530/999/888/777/666S/777S/888S/388A/F8+/A5/ |
| HYT | TC286 386 2685 3865 6685, TC 278 378 388, TC 2100 2088 |
| WOUXUN | KG-UV1D/KG-UV2D/UVDIP/KG-669/659/679/689/639/699/801 |
| PUXING | PX333/888/888K/328/358/999/666/777/777PLUS |
| QUSHENGAN | TG-K4AT/2AT/22AT/45AT/42AT/25AT/UV |
| LINTON | LT-2288/3288/6288/5288/3188/2188/3260/2268/3268 /6288/6188/3288A |
| WEIERWEI | VEV-3288S,VEV-6288,VEV-3288 |
Speaker
Diameter
Ø15mm*5.5mm
Impedance
32 Ohm±15% at 1kHz
Sound pressure level
115±3 dB at 0.179V/0.1mW/1kHz
Rated power
2mW
Maximum output power
3mW
Microphone
Types
Condenser electret microphone
Maximum impedance
2.2k Ohm
Sensitivity
-40±3 dB at 1kHz(0Db=1V/Pa)
Operating Voltage
1.5-10VDC
Plug wire
Φ3.0mm PU 4-core straight wire 1.0m
Ear hook
Φ1.95mm PU 2-core coiled wire