Kenwood 2Pin Earpieces for most two-way radios.
Stretchable coiled top cable for added flexibility and movement.
VOX or PTT dual mode optional
This VOX 1-Wire Coiled Top Cable Concealed Sound Tube Headphone for Two-Way Radio is suitable for Law Enforcement, Security Company, Police, Casino, Resort, Nightclub, Hotel Staff Restaurant, Private Investigator, Event Coordinator, Film Crew, Museum Security , crowd control of concerts, etc., free your hands, make your operation easier, and receive information in time.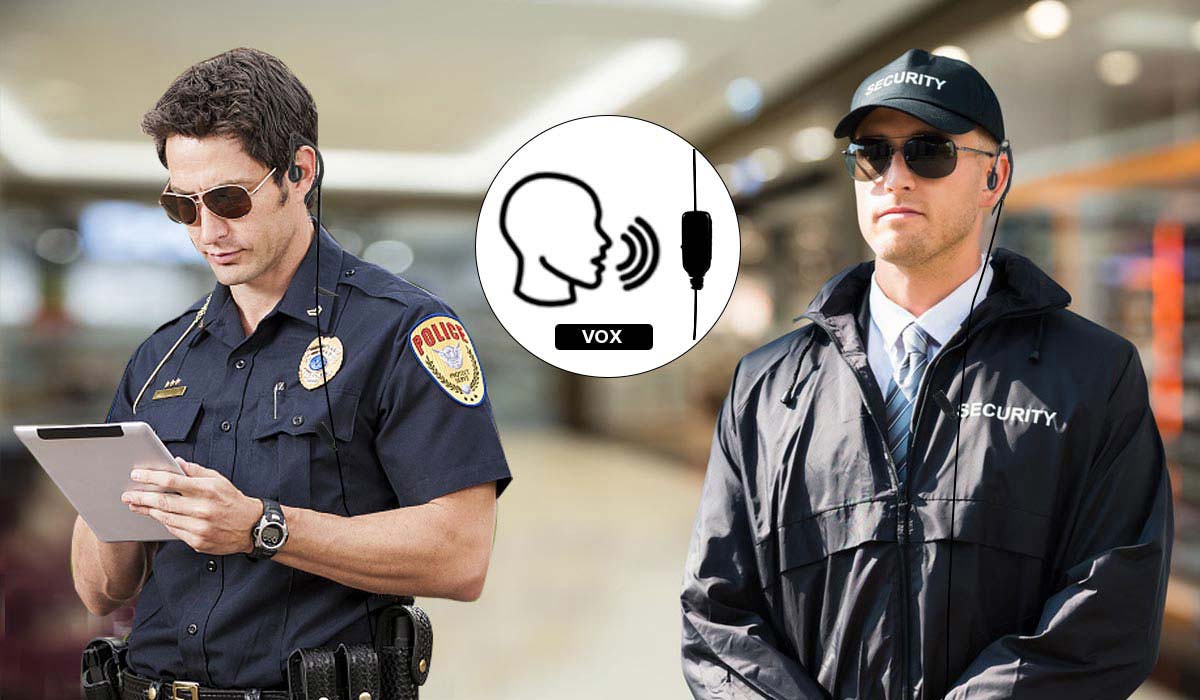 Description:
VOX or PTT mode optional design.It is convenient to push the PTT/VOX switch on earpiece for applications that you need to release your hands.

Stretchable coiled top cable for added flexibility and movement.

Secure and comfortable rubber G-shape ear hanger can be worn on either ear.

Sturdy metal clothing clip attaches to shirt collar or lapel.
PTT button, can be operated with gloves.
High quality microphone and speaker for crystal clear audio.
Kenwood 2Pin earpiece for most two-way radios.


| | |
| --- | --- |
| Retevis | RT5R, RT5RV, H777, H777, RT1, RT2, RT5, RT3/RT3S, RT7, RT81, RT22, RT22S, RT24, RT25, RT26, RT27, RT80, RT28, RT28P, RT50, RT84, RT15, RT17/RT617, RT51, RT52, RT46, RT18/RT618, RT53, RT19/RT619, RT66/RT666, RT67/RT667, RT68/RT668, RT56, RT69/RT669, RT43, RT76, RT71, RT72, RB17/RB617, RB18/RB618, RT85, RB35/RB635, RB26, RA16/RA616, RT86, RB37/RB637, RB25, RT10, RB38V, RB27, RB27B/RB627B, RB27V, RB627V, RB28/RB628, RB29 RB629, RB20, RB85, RB17V, RT56B, RB17A |
| Kenwood KPG | KPG27D, KPG29D, KPG48D, KPG49, KPG55D, KPG56D, KPG62D, KPG66D, KPG69D, KPG70D, KPG74D, KPG75D, KPG77D, KPG82D, KPG87D |
| Kenwood TH | TH-D7, TH-D7A, TH-D7AG, TH-D7E, TH-F6, TH-F6A, TH-F7, TH-F7E, TH-G71, TH-G71A, TH-G71E, TH-K2, TH-K2A, TH-K2E, TH-K2ET, TH-21, TH-21AT, TH-21BT, TH-22, TH-22A, TH-22AT, TH-22E, TH-25, TH-26, TH-27, TH-28, TH31AT, TH31BT, TH41AT, TH41BT, TH-42, TH-42A, TH-42AT, TH-42E, TH-45, TH-46, TH-47, TH-48, TH-55, TH-75, TH-77, TH-G71, TH-205, TH-215, TH-225, TH-235, TH-235A, TH-235E, TH-315, TH-415, |
| Kenwood TK | TK-208/308,TK-220/320,TK-240/340,TK-240D/340D,TK-248/348,TK-250/350/353,TK-260/360,TK-260G/360G,TK-270/370,TK-270G/370G,TK-272G/372G/373G,TK-278G/378G/388GPro-Talk, TK-430/431, TK-2100/3100Pro-Talk, TK-2102/3102Pro-Power, TK-2107/3107Pro-Talk,TK2207,TK3207,TK-2160/3160, |
| BAOFENG | Almost All: UV5R, UV5RA, UV5RB, UV5RC, UV5RD, UV5RE, UV5REPlus, UV5R+, UV5RO, A52, UV8, UV8D, UVB5, UVB6 BF480/490/320/V6/V7/V8/658/520/530/999/888/777/666S/777S/888S/388A/F8+/A5/ |
| HYT | TC286 386 2685 3865 6685, TC 278 378 388, TC 2100 2088 |
| WOUXUN | KG-UV1D/KG-UV2D/UVDIP/KG-669/659/679/689/639/699/801 |
| PUXING | PX333/888/888K/328/358/999/666/777/777PLUS |
| QUSHENGAN | TG-K4AT/2AT/22AT/45AT/42AT/25AT/UV |
| LINTON | LT-2288/3288/6288/5288/3188/2188/3260/2268/3268 /6288/6188/3288A |
| WEIERWEI | VEV-3288S,VEV-6288,VEV-3288 |
Speaker
Diameter
Ø15mm*5.5mm
Impedance
32 Ohm±15% at 1kHz
Sound pressure level
115±3 dB at 0.179V/0.1mW/1kHz
Rated power
2mW
Maximum output power
3mW
Microphone
Types
Condenser electret microphone
Maximum impedance
2.2k Ohm
Sensitivity
-40±3 dB at 1kHz(0Db=1V/Pa)
Operating Voltage
1.5-10VDC
Plug wire
Φ3.0mm PU 4-core straight wire 1.0m
Ear hook
Φ1.95mm PU 2-core coiled wire