RT3S dual band digital ham radio uses Digital Mobile Radio (DMR) Tier 2 Standard protocol. It is compatible with the popular MOTO TRBO series Tier I and II using standard encryption, It is also compatible with any existing analog two-way radio operating on the supported UHF and VHF frequencies for easy migration to digital technology.
It is compatible with the popular MOTO TRBO series Tier I and II using standard encryption, as well as other makes and models of DMR supported radios.
Up to 3000 channels ,for extremely complex organizational communications.
lone worker is an employee who performs an activity that is carried out in isolation from other workers without close or direct supervision.Helping people minimize risk and injury.
GPS gives you a clear idea of your location even in the wild. Use it to find your way or to help others find you.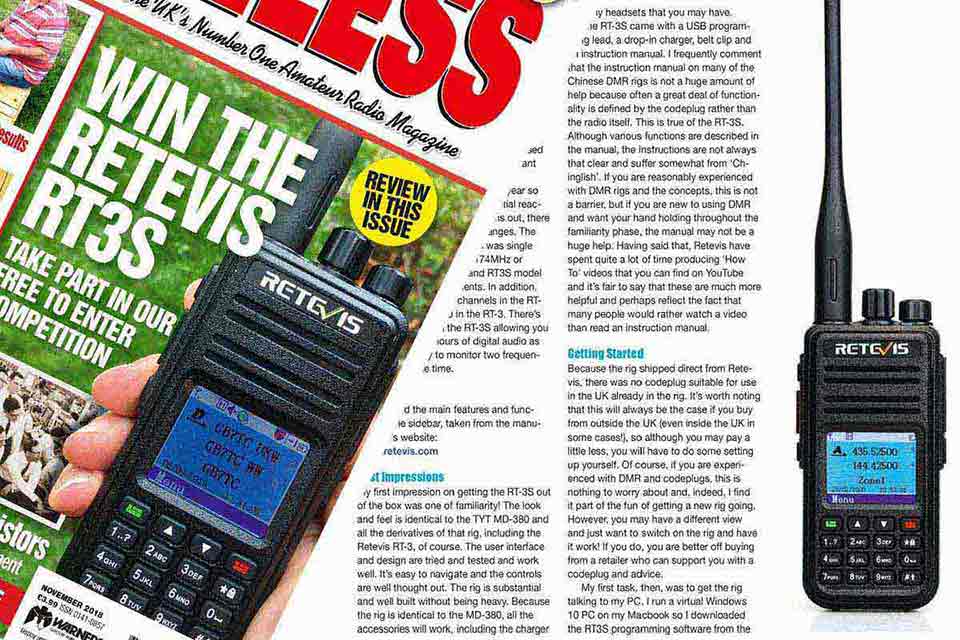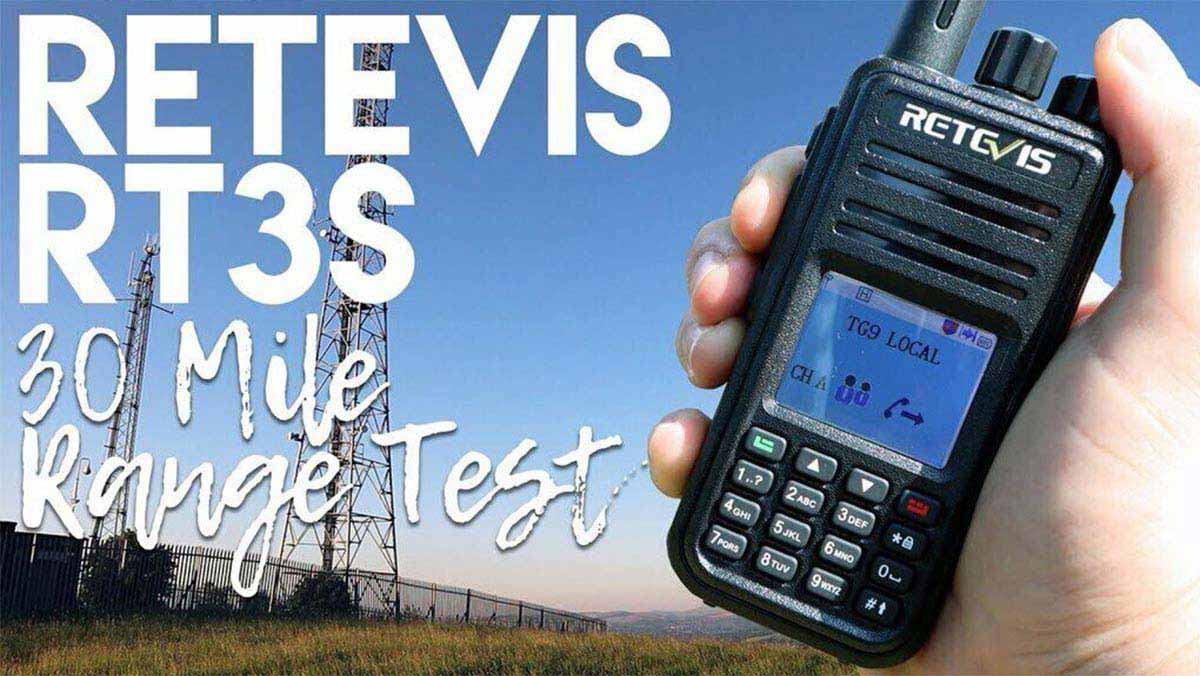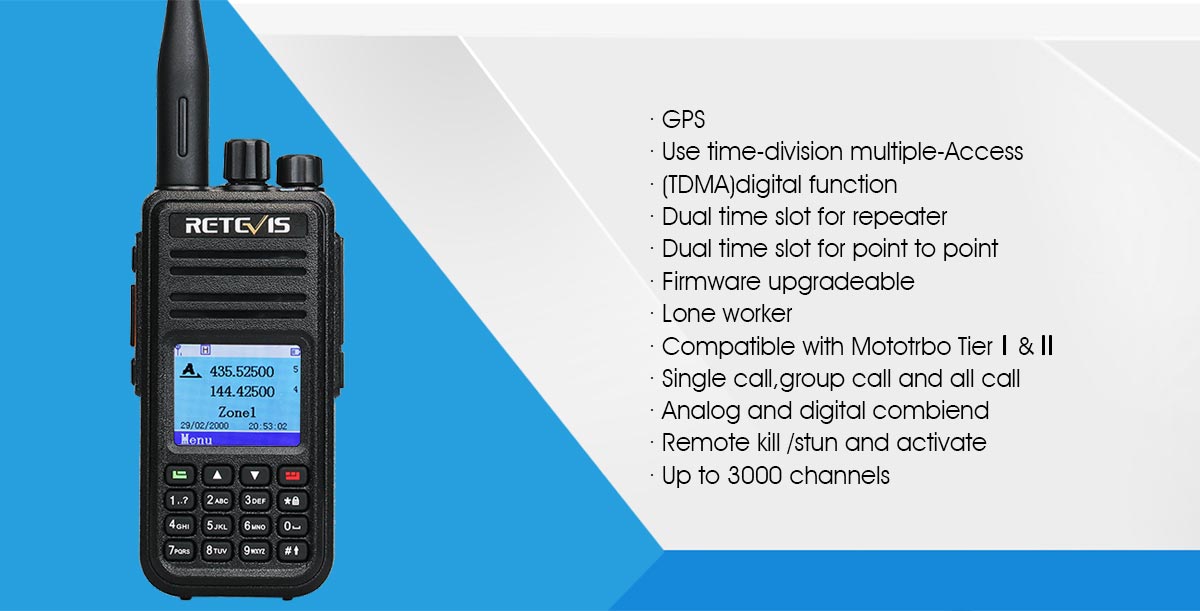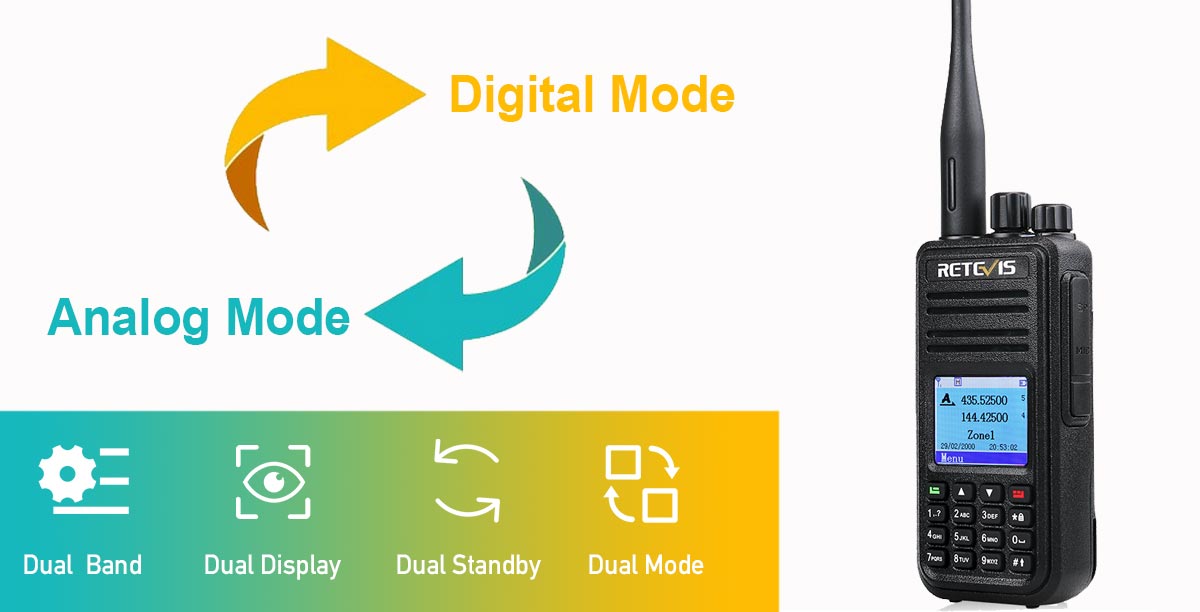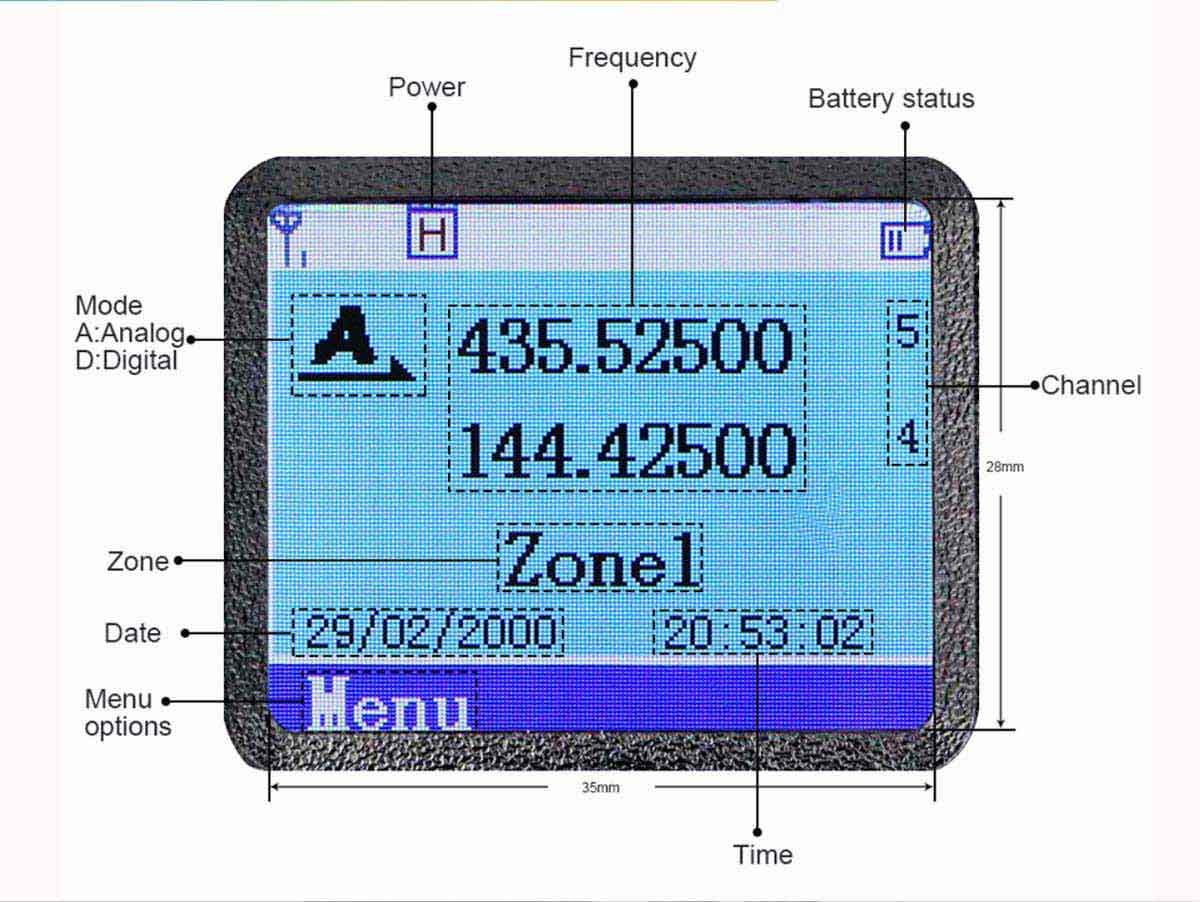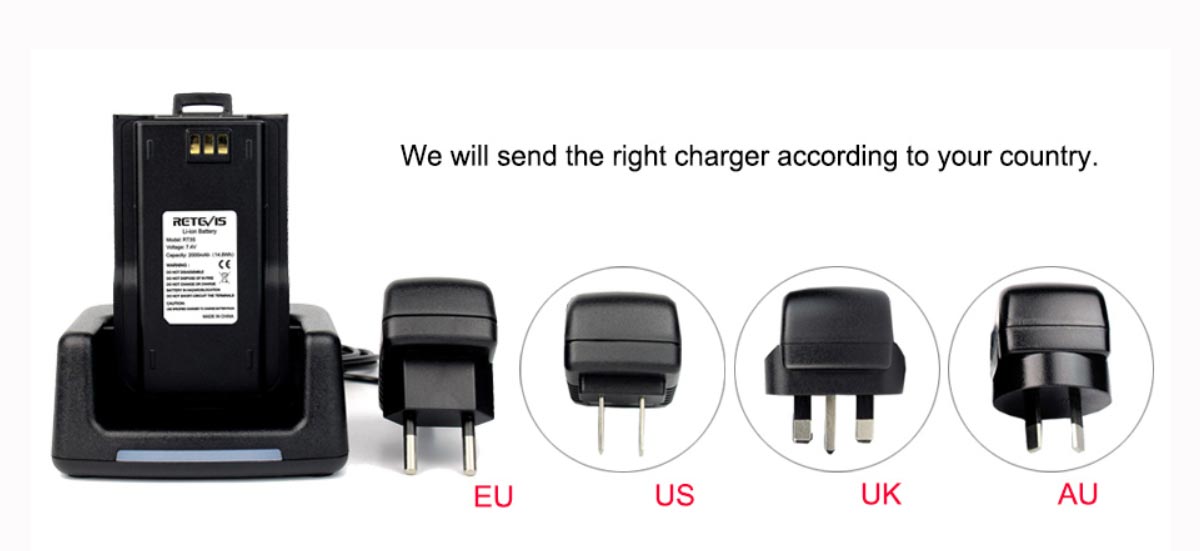 General specifications

Frequency
136-174&400-480MHz
Channels
3000
Frequency Stability
±1ppm
Operating Temperature
-30℃~+60℃
Operating Voltage
7.4V DC
Dimension
131 x 61 x 36mm
Weight
258g (with battery)
Battery Type
Li-ion
Battery Capacity
2000mAh
Antenna Impedance
50Ω
Audio Impedance
1W@16Ω
Channel Spacing
12.5KHz
Vocoder
AMBE+2™

Transmitter

Power
High≤5W, Low≤1W
Frequency Stability
±1.0ppm
Adjacent Channel Power
≤-60dB
Free Time Slot Power
TDMA:≤57dBm
Hum and noise
-40dB@12.5KHz
Spurious radiation
Antenna:9KHz-1GHz ≤-36dBm

1GHz-12.75GHz ≤-30dBm

FM modulation mode
11K0F3E@12.5KHz
4FSK digital mode
12.5KHz(data only):7K60FXD

12.5KHz(data and voice):7K60FXW

Modulation maximum deviation
2.5KHz@12.5KHz
Nonactive slot power
-57dBm
Digital Protocol
ETSI-TS102 361-1,-2,-3
Audio Response
+1~-3dB
Modulation BER(bit error rate)
≤5%

Receiver

Analog Sensibility
0.2µV@12dB SINAD
Digital Sensibility
0.25µV(BER:5%)
Adjacent Channel Selectivity
≤-60dB@12.5KHz
Intermodulation
≤60dB
Spurious Response
≥70dB
Audio Response
+1~-3dB
Rated Audio Distortion
<5%
Rated Audio Power
1W
Modulation
≥45dB@25KHz

≥40dB@12.5KHz
GPS
Use time-division multiple-Access
(TDMA)digital function
Dual time slot for repeater
Dual time slot for point to point
Firmware upgradeable
Lone worker
Encryption function
Compatible with Mototrbo TierⅠ&Ⅱ
Single call,group call and all call
Analog and digital combiend
Remote kill /stun and activate
Up to 3000 channels
Transmit interruption
Group call match(promiscuous)
Private call match(promiscuous)
Record
Emergency Alarm
VOX
TOT
---
What's in the Box?
1 x RT3S GPS two way radio
1 x Battery
1 x Antenna
1 x Adapter
1 x Charger
1 x User's manual
1 x Belt clip
1 x Sling
Product Reviews
---

Review this product

Share your thoughts with other customers

Reviewed in United States

on

Jul 25,2020

good

Reviewed in United States

on

May 17,2020

my very first dmr.. very solid radio...

Reviewed in United States

on

Mar 28,2020

Good one

Great Product for the price

Reviewed in United States

on

Mar 28,2020

Good service, great product, fair price.

Reviewed in United States

on

Mar 07,2020

The radio is my daily driver. Owning it for 15 months it has not failed me. I also suggest getting a spare battery pack and I have the eliminator for the car. The Nagoya 701 antenna works great for this radio.

Little Brad

good tough radio

Reviewed in United States

on

Oct 29,2019

I run a small communications company and I hire them out to security companies,to date I own 16 of these radios because they are such a great performing radio, I have these radios in service since february with no drama, other than a few busted belt clip but that was due to the environment that where placed in

Kurt

Great radio for the money

Reviewed in United States

on

Jul 02,2019

Well-built radio with everything you need to start into the world of DMR. Audio quality is great with plenty of volume available. Battery life is good given the size. Programming software is capable, but more suited for an experienced codeplug programmer. Overall, a great buy!

Reviewed in United States

on

May 31,2019

Build quality on this radio is suppurb. I'm loving it. Audio is pretty good both rx and tx. Unfortunately I cannot test tx on dmr due to my license but analogue and rx dmr are both great. Does pick up a bit of interference in the cbd but that is to be expected. Overall a great handheld.

VK7HSE

Great First DMR Radio

Reviewed in United States

on

Apr 30,2019

As this is based on the TYT MD-UV380 the build quality is good. My only criticism is the programming software could do with some code clean up but otherwise its a great first dmr radio

Reviewed in United States

on

Apr 21,2019

Everything working better than expected. In fact it has been one of the most fun radios I have had in 50+ years of being a Ham. Programming was straight forward but the features were so rich that you had to be careful. Now I can store my other HT and just use the RT3S. It does everything I could ask for. It is used while walking the dog, driving the car, sitting in the shack, and sometimes, when my wife lets me, in the living room while watching tv. BTW, it has taken a few tumbles since I got it. It just takes them in stride. No problems at all. I can see one of the Retevis mobile radios in my future. Thanks for a good product.