Noise-cancelling headphones reduce unwanted ambient sounds using active noise control. That's the reason not a few customers ask for the Noise Cancelling Headset. Noise cancellation makes it possible to listen to audio content without raising the volume excessively. It can also help a passenger sleep in a noisy vehicle such as an airliner. In the aviation environment, noise-cancelling headphones increase the signal-to-noise ratio significantly more than passive noise attenuating headphones or no headphones, making hearing important information such as safety announcements easier.Noise-cancelling headphones can improve listening enough to completely offset the effect of a distracting concurrent activity. Not a few customers required Noise Cancelling Headset for walkie talkie, to use in a noisy environment.
What scenarios are suitable for use Noise Cancelling Headset?
1.racing car
2.Film and television director
3.Drivers driving large machinery
4.Night Club
5.Concert
6.Gliding
7.Airport ground handling
8.Heavy industry factory Based on so many customers' requirement, Retevis has developed a new noise cancelling single side headset. As below:

C9126A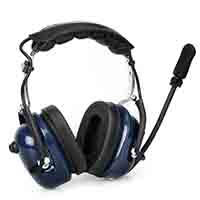 Advantage:
1.Single side headset: meet your requirement for preventing noise, at the same time, no missing important informations.
2.Voice adjustment available
3.Super soft comfortable head cushion and ear cover, wear comfortable;
4.Suitable for not only have anti-noise requirement, but also need hear part Live sound
5.Kenwood 2pins plug, It is suitable for all walkie-talkies with kenwood 2 pin; E.g KENWOOD RETEVIS TYT and so on.
6.High Elastic Metal Bracket, Good Quality, Good Strength;
Retevis have also double sides noise-cancelling headset. Which is suitable for totally noise-cancelling requirement.
Noise cancelling headset Advantages:
1.Easy to operate with three PTT
2.Finger PTT makes the application more extensive
3.VOX switch for easy use
4.Dual volume adjustment knobs to meet different needs
5.Dual microphone application makes transmission of speech clearer
6.ABS shell material is more durable
7.Sponge-filled dual earpiece for a more comfortable fit
8.Comfortable, Soft skinearmuff, clear and penetrating speaker
9.Design of waterproof connector
These earpieces are high-end noise-cancelling headsets. If you are interested in, or for more details, please feel free to email to kam@retevis.com or leave message under the post.