Whether directing traffic after a storm or working on utility lines, or personal outdoor road trips, skiing, and more, you rely on wireless accessories that are extremely fast, safe, rugged, and easy to use. That's why the retevis enhanced bluetooth wireless walkie-talkie.
Our wireless product portfolio excels in meeting key standards for secure and reliable wireless communications. Featuring industry-leading remote speaker microphones, earpieces, and push-to-talk (PTT) pods, our accessories are designed for those who need reliable communication.
WHAT IS BLUETOOTH?
Simply put, Bluetooth radios eliminate the need for wires without compromising on connectivity between devices. Rather than relying on cords to connect, Bluetooth transmits signals to connect devices wirelessly. Bluetooth two-way radios allow the user to still use headphones, microphones, earpieces, and more without the distraction and potential hazard of wires.
HOW BLUETOOTH RADIOS ARE BENEFITING INDUSTRIES
When it comes to your work, every second can make a difference, especially when safety is on the line. Advantages of Bluetooth radios go beyond convenience. These radios can help your team stay safe with the elimination of wires, cords and bulky accessories that can get in the way of the job at hand. How else will Bluetooth enhance your team's radio communications? 
Discreet communication. Depending on your industry, discreet communication can be vital. Private security and hospitality applications often involve the need to communicate with other staff members inconspicuously. 
Instant mobility. The hands-free nature of Bluetooth means that your team can be mobile in an instant. Rather than organising wires, your team can save countless seconds with the power of Bluetooth. This level of quick response is especially important for first responders.
Regulatory Compliance: Some industries that require mobile fleets have strict regulations to follow that prevent them from handling a mobile device, Bluetooth delivers reliable communications to keep teams safe and compliant.
Durability. A Motorola Bluetooth radio is built as tough as you need it to be, so you can maximize your team's productivity no matter the environment.
RETEVIS BLUETOOTH RADIOS AVAILABLE
A number of Retevis Bluetooth radios are available that offer a range of functions to suit your work environment and your team's voice and data communications needs: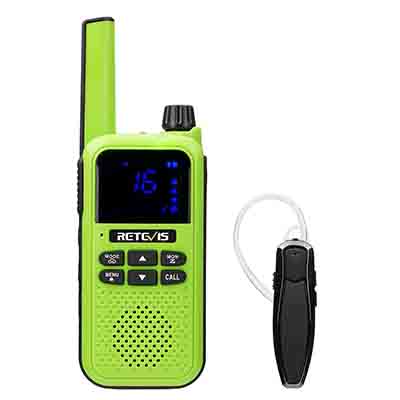 RA19 is the license-free two way radio, no need to program, no more extra fee, easy skiing or other outdoor adventure. Easy to pair with the headset with one button. Comes with the Bluetooth two way radio headset, No matter skiing or bicycling, Retevis RA19 Bluetooth walkie talkie makes communication easily. and Wireless Copy Function, no need the computer, it will Help you easy to copy another radio's settings without the programming software. Black LCD display with the Blue Font, easy to read the radio when you are out. No matter skiing or bicycling.
other function:

Emergency Alarm
LED Flashlight
Dual-Watch
VOX( Hands-free)
USB charger
Retevis RA19 Allows to pair Bluetooth headset and free your hand from holding walkie talkie while using. It is perfect for outdoor family or group activities. Keep in touch and ensure safety. Retevis RA19 is the durable, pocket-size and simple to use outdoor skiing camping walkie talkie. The best Bluetooth Walkie Talkies.