The best ham radios can also come in handily during emergencies when all other means of communication fail. With these radios, people can keep in touch with each other. This is one of the most affordable ways of wireless communication across the globe.
What is the meaning of ham radio? Before the Millenials were born, there used to be a time when there was no internet and no cellphones. People used ham radios to communicate city-to-city, country-to-country, road-to-road and over different places.
Today, people use these radios, also called amateur radio for hobbies and fun. An enthusiast in Arizona can communicate with not only other ham radio lovers in a place like France, but also with astronauts in space.
Best Affordable Ham Radio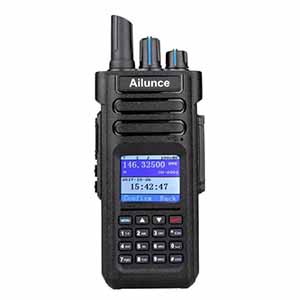 | Radio Name | Ailunce HD1 Dual Band DMR Amateur Radio |
| --- | --- |
| Brand | Ailunce |
| Band | Dual Band |
| GPS | Yes |
| Channels | 14 FRS, 15 GMRS ( 7 Common channels) |
| Frequency | 136MHz – 174MHz, 400MHz – 480MHz |
| Antenna Impedance | 50Ω |
| Battery | 3200Mah |
| Power Source | AC & Battery |
If you're just starting to explore communications with ham radios and you don't want to spend a lot of money on your first device, or you're looking for a backup device, the HD1 is a great option.Retevis offers a variety of communication devices, including basic two-way radios, handheld two-way radios, waterproof two-way radios, and of course, ham radios.
HD1 offers10 watts of power as opposed to 5 watts, so it offers twice as much output power. Ailunce HD1 DMR allows transmission in both VHF (136-174 MHz) and UHF (400-480 MHz) frequencies. It comes with a highly accurate GPS tracker, capable of giving altitude, at long, speed, and bearing information. Many features make this two-way radio an excellent option for survivalists. The 3200 mAh battery with 160 hours of standby and 15 hours of usage time is great during SHTF situations!
The HD1 offers 3000 channels, 200,000 contacts, 256 zones, and 1000 priority contacts. It is compatible with both digital and analog modes. It also offers a Promiscuous function that will allow you to listen to all signals even if you aren't in the same group.
Interestingly, it comes with an SMS function with DMR data functions that will allow you to send and receive text messages of 144 characters in length.
The Ailunce HD1 comes with squelch technology to offer crystal clear sound reception. The integrated VOX feature allows hands-free operations.
It is compatible with Motorola Tier I and Tier II.
It allows one-to-one calls, one-to-many calls, and many-to-many calls.
It comes with a password lock and keypad lock.
It even has voice annunciation.
The radio is firmware upgradable.
It comes with an LCD display and backlit keypad.
It is 100% IP67 waterproof.
It has a durable body casing with a sturdy build that can endure harsh weather conditions, rain, sand, snow, etc.

Cons of Ailunce HD1 DMR

There is no flashlight.
There is no separate mic.

What is the Handheld ham radio range?

Some handheld ham radio manufacturers will claim up to 20 miles of range for their devices. Don't be fooled, sir! In general, a handheld transceiver will give you a range of up to 2 miles in a city. This range may, however, increase if you are using a separate high gain antenna.

Alternately, if you have a clear line of sight with no obstructions (like trees, high grounds, etc.) in between, you may get up to 6 miles. If you are in the countryside with flat terrains, the range may increase to 10 miles. That's the most you can get.

retvis RT3S ham radio

he Retevis RT3S DMR dual band handheld radio is an update to their popular and long running RT3S DMR handheld. The RT3S has some new features, most notably, the RT3S is now a dual band handheld. The RT3 was just a single band model.

The RT3S is a tier I and tier II DMR radio, so it will work with DMR repeaters in the US. In addition to DMR digital modulation, it also has analog support with CTCSS/DCS tone encode and decode, and DTMF encoding and decoding.

The Retevis RT82. In fact, in comparing it with the RT82, the RT3S has many of the same internal features, but lacks the IP67 waterproof designation and the roller ball interface. But with that being said, the ergonomics are very good and I do like the front panel buttons, channel selector, and volume control knob. The radio has a familiar 2 pin Kenwood style mic connector, so if you have a collection of 2 pin accessories, they should all work. Battery is a 2000 mah 7.4 volt lithium ion battery. Battery life is good, giving me all day use on a single charge.

RT3S is now a dual band radio, so it has built-in coverage for the 136-174 Mhz VHF and 400-480 Mhz UHF bands. Of course you can only transmit where your license allows. As for new features, the RT3S has a function called lone worker. You can set the radio to signal an alarm at the push of a button if the operator is in distress. I guess this would be good in a commercial setting, but it really doesn't have an application for amateur radio operation. The new model also supports more contacts and channels: 3000 channels and 10,000 contacts, in fact.