Nowadays there are more and more people who want to get into the practice of kayaking as a sport or as a leisure activity, as it is one of the fastest growing water sports in the world in recent years.
More and more people join the kayak fishing fever, and this is because this activity is extremely recreational and allows you to maintain greater contact with nature. In addition to the fact that it is cheaper to buy a kayak than a boat or any other type of boat.
What is a fishing kayak?
These types of kayaks are specifically sports and are manufactured so that the fisherman has much more space in the boat to store the accessories that will be necessary during the day.
There are many types of fishing kayaks that will be adapted and chosen according to the needs of the user and will be more or less comfortable, but for the most part these boats have a wider seat and more spacious compartments.
For the most part, there are two types of kayak used for this practice: the closed kayak and the sit on top kayak.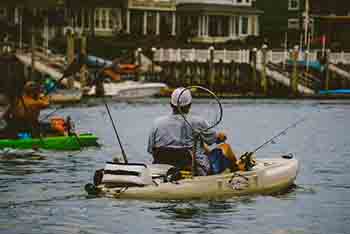 Cuando le preguntas a algún experto por el kayak ideal para pesca, es común que recomienden el kayak sit on top, esto debido a que son autovaciables y dan mucha más libertad y comodidad al pescador.
Sin embargo, en fechas como invierno lo ideal sería utilizar un kayak cerrado pues el casco del mismo, ayudará a proteger las piernas del frío. Asimismo, los kayaks cerrados mantienen las partes del cuerpo que van dentro de la embarcación completamente secas.



Necessary equipment to fish with your kayak
Kayak: It is important for the kayaker to know what type of fishing kayak is best suited to its use. In this sense, the surface on which you are going to navigate and the amount of cargo that you are going to carry inside the boat come into play.
In addition to the must-have kayak, you'll need paddles for rowing, a first aid kit, GPS or any positioning system, life jackets, flashlights, kayak fishing rods, emergency bilge pumps, and more
The most important thing is that AC equipment, sea or river, there is often no network signal, you need to keep in touch with your partner, and you need a certain waterproof function, Retevis RT49P is a good choice for you, NOAA weather channel, and at the same time Know the weather in advance.