Are you having trouble coming up with gifts for the ham radio operators in your life? Luckily, there are a lot of great gift ideas out there. Whether they're new to the hobby and need some starter kits or if they've been at it for decades and could use some new accessories, there's something for everyone. In this post, we will take a look at different options for the perfect presents for people who love ham radios. You'll find ideas that are perfect for beginners, intermediate operators as well as experts.
HAM RADIO OPERATORS AND THEIR KITS
Ham radio operators might not seem like the gift-giving type, but that doesn't mean you shouldn't get them gifts. It's always nice to have a reason to have a party and eat lots of food, right? A lot of people get into ham radio largely as a survivalist hobby. They're primarily interested in emergency communications and being able to stay in touch when the rest of the world goes dark.
A lot of these people prefer to use kits to get started with ham. This is because kits are pre-built and come with all the necessary parts to get on the air right away. When choosing a kit, make sure you're buying one that is appropriate for your operator. Kits for beginners might come with lower-quality parts that aren't durable enough for daily use.
BEGINNER-FRIENDLY KITS
If you're buying a kit for someone who is just getting started, you don't want to get them something that will be outgrown or outdated. These kits will be durable and last for years, and they'll also be future-proofed so they can be upgraded as time goes on.

EXPERT-LEVEL EQUIPMENT
If your gift recipient is an expert ham radio operator, chances are they have everything they need. If you're not sure what to get them, you can always buy them something related to their interests. For example, if they love camping and using ham radios, you could get them a solar panel to power their rig during long excursions into the wilderness.
The most important thing you need to know about ham radio equipment is that it's not cheap. You'll have to pay for at least an entry-level transmitter and an entry-level receiver. The best bet is to start small and invest a bit at a time in order to get the best equipment possible.
RT97 GMRS Repeater FARM TRACTOR BUNDLE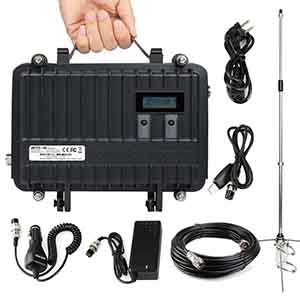 ACCESSORIES FOR EXPERT HAM RADIO OPERATORS
If your ham is an expert, they probably have everything they need. But they might appreciate some accessories. If they travel a lot or work in a noisy environment, they might appreciate a noise-canceling microphone. They could also use a rugged case to keep their radio safe while they're out and about.