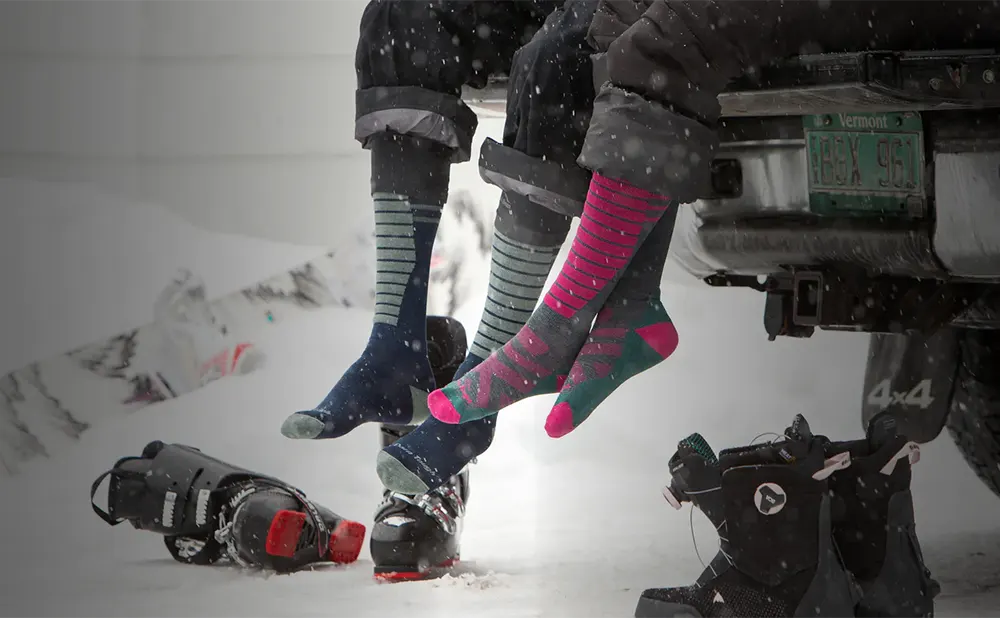 Most ski and snowboard socks are made from either merino wool or a synthetic blend—or a hybrid of both. They also include a small percentage of elastane or Lycra spandex to enhance the fit and provide flexibility. Wool and synthetic are similar when it comes to function and durability, so it's up to you to decide which socks feel best.
Wool: Merino wool is a material that retains its warmth when wet and is naturally odor resistant. Wool also breathes more easily and is known for its ability to wick moisture away from the skin—a key factor in keeping feet dry, warm and happy. Wool takes longer to feel wet because its fibers naturally absorb moisture; in synthetic fabrics, moisture runs across the fiber where you feel it more readily.
Synthetic: Synthetic blends like nylon-polyester have become more popular in recent years, especially as an alternative for people who have sensitive skin or are allergic to wool. Synthetic yarn typically features fibers that trap warmth and wick moisture, giving the material many of the characteristics naturally found in wool. Most synthetics also come with an antimicrobial coating for odor control. Some skiers prefer the feel of synthetic socks, although merino wool is much less itchy than the wool socks of yesteryear.
A note about cotton: Just say no. No matter how cold it is outside, your feet are bound to get sweaty while skiing or riding. Cotton lacks the wicking properties of wool and synthetic fabrics—leading to wet, cold feet and increasing the potential for blisters.
Another very necessary ski tool for skiing is the ski walkie-talkie, waterproof, drop-resistant, certificate-free machine, alarm function, which can better protect the safety of skiers.
Ski Soc,
Skiing,
skiing walkie talkie
---