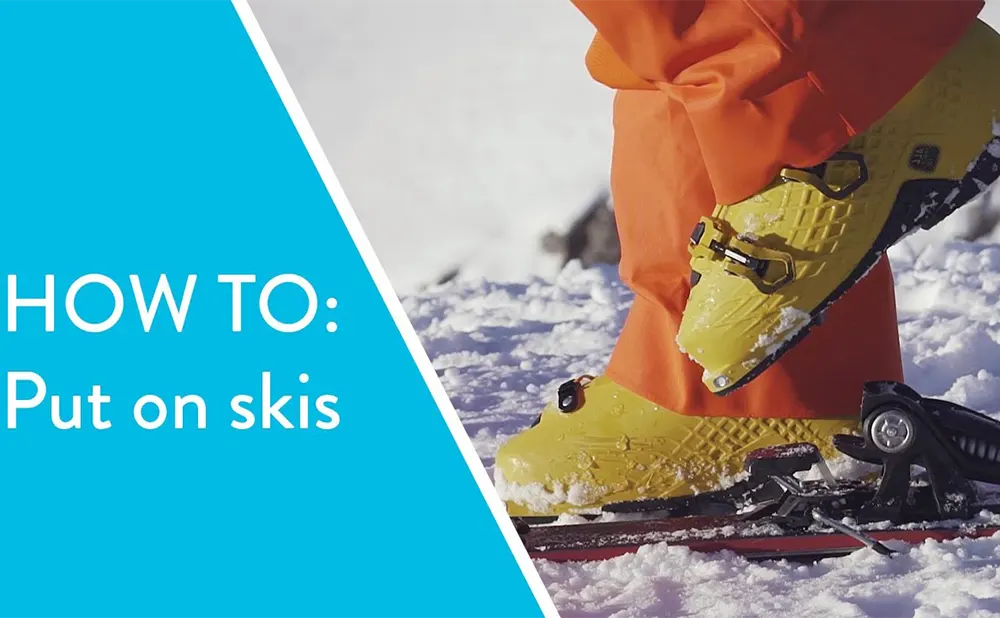 Set your skis parallel on a flat surface or across the slope (perpendicular to the fall line) so they don't slide away from you. (Hint: Put your skis on close to where you want to start skiing, such as near a chairlift).
Skis typically aren't designated for the right or left foot. Sometimes ski shops mount and test your bindings using a specific left or right boot and may mark skis right or left.
Make sure the heel pieces of the ski bindings are pushed down.
Use your ski poles to tap excess snow from your boots. Or tap your boots gently against the toe or heel piece of your binding to remove the snow. ( Snow clumped on the bottom of boots is a common reason people can't get into their skis.) Also clear the binding's toe piece of snow.
Plant your poles for balance. If you're on a hill, you'll want to put on your downhill ski first. This will give you more stability before you click into the second ski.
Align the toe of your boot with the toepiece of the binding. Hint: You know your skis are facing in the correct direction if the ski brake sits under your heel.
Standing on your tiptoe, look back at your heel piece and drop your heel down into the binding until you hear a solid click. The heel piece should now be flipped up and your boot should be secured to your ski.
How to Click Out of Your Skis
Find a relatively flat spot.
Insert the pointy tip of your ski pole into the indentation on top of the heel piece.
Push down firmly to release your boot from the binding.
Lift your foot to the side and step out.
How to Put on Skis,
Skis
---