From festival organizers to hikers, in construction sites and restaurants, the best long-range two-way radios are essential. They are crucial tools for communication, making it easy to stay connected to people within a specific distance.
Why opt for long range two way radios?
Enjoy superior range and secure communications with long range walkie talkies!
Buying a long-range radio is overwhelming. Different brands and models are available. It can be tempting to choose the cheapest, but that should not be the case. Instead, consider the following factors:
Range: Most of the radios in this review have a range of up to 10 miles. They are good for wide and open spaces, such as concert grounds. When there are obstructions, such as buildings and trees, the distance coverage can be significantly shorter.
Ease of Use: An intuitive radio offers a seamless operation, which is one thing that beginners will love. It should come with a seamless control panel with easily accessible buttons. Voice detection is also nice, which enables hands-free operation.
Battery: The battery life will differ from one model to another, with most lasting anywhere from ten to 36 hours. Some have battery-saving features to automatically turn off when inactive.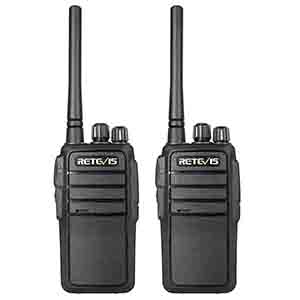 It may not be the best for long-range walkie-talkies 1000 miles, but the coverage is pretty decent for its price. This radio is only for short distances, making it ideal for applications like catering and concerts.
The large-capacity battery is also worth mentioning. The 1,100 mAh lithium-ion batteries deliver a continuous runtime of 10 to 12 hours. When it is time to recharge, there is an instant reminder, making sure that there is always juice.
More so, it has plenty of features that ensure user-friendliness. For instance, the frequencies are set upon delivery, so there is no need for configuration out of the box. It is ready to use in an instant.
From audio clarity to privacy, it has features to deliver top-notch performance. I can customize the squelch function from zero to nine, which will minimize interference. Additionally, it has a voice transmission for hands-free operation.
You will receive secret service earpieces when you purchase this radio set. The latter is designed to fit comfortably while being discrete. It is for private listening, which is handy in industries like restaurants and hotels.
Heads-up: Despite the good things, one of the problems is that the antenna loosens quickly. This means that I have to tighten it frequently, which can be annoying.
What We Liked:
Instant reminder when there is a need to recharge;
Set on the same frequency out of the box;
Adjustable squelch to eliminate background noise;
Comes with a secret service earpiece;
What We Didn't Like:
The antenna easily loosens
At four ounces a pop, the Retevis RT22s are a very lightweight and compact solution for those looking to purchase an affordable six-pack of radios. Many users report loving these radios, and the internet is flush with 5-star reviews on this multi-unit pack.
They include a convenient charging dock and feature great audio and battery life for the price. I would purchase this six-pack if I had a family outing in a crowded area or wanted to stay in touch with others in a group at a festival.
The Retevis brand may not stand out as an example of extreme durability and quality like others on this list, but they'll do what you ask of them, all without breaking the bank. Pull the trigger on these if you don't plan on relying on these radios in rugged outdoor situations like hunting, hiking, or camping.
What We Liked:
Inexpensive,
excellent audio for the price,
super compact and lightweight
What We Didn't Like:
No bells-and-whistles
plain jane, not extremely durable
Conclusion
The best long-range two-way radios make it easy to connect and communicate. Whether you are working in a construction site, hiking in the forest, or having fun in a theme park, a walkie-talkie saves the day. Consider the products listed above and you won't have regrets. They have many innovative features, making them worth every dollar.