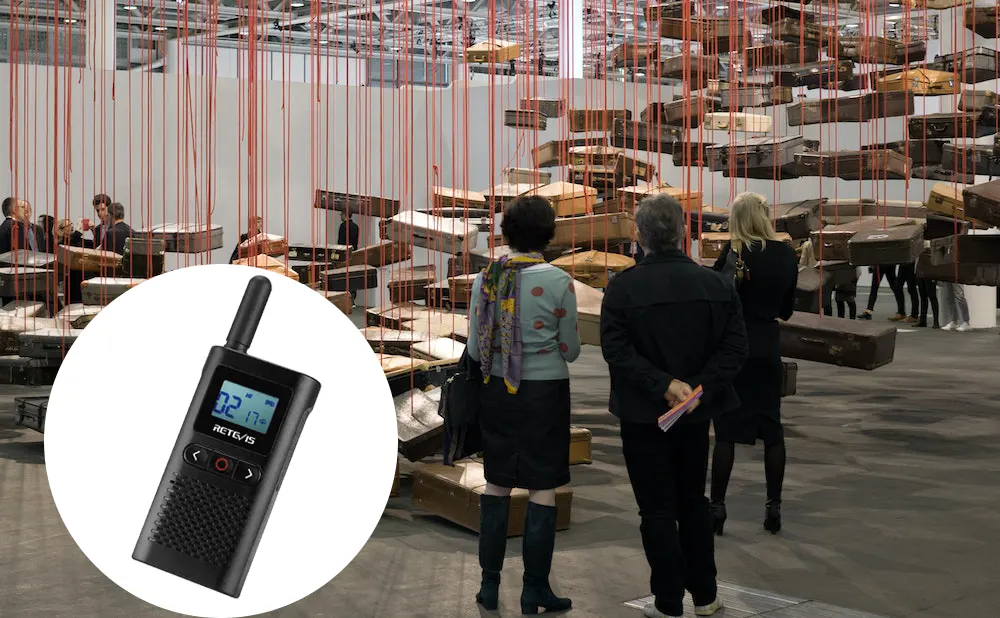 Whether it is a commercial exhibition or an art exhibition, there is a large number of people flow. At this time, all kinds of accidents are prone to happen. In order to solve these accidents quickly and make the exhibition go smoothly, Retevis Business Intercom RB28 is very necessary. Next I will tell you why I recommend it;.
1. Fast communication
Due to the large number of people at the exhibition, the result of an accident is incalculable. Effective communication can help us deal with the accident as soon as possible when it happens. And RB28 is a good tool for quick communication. Compared with cell phones, walkie-talkies do not need to dial and wait for the other party to answer. Just press the "PPT" button to deliver emergency messages.
2. Simple operation
RB28 has a very simple appearance. There are only five buttons on it. All the operations are done through them. Even people who are not good at using electronics can learn to use them quickly.
3. Portable size
RB28 is small and delicate in size, and its details are shown in the picture below. In addition, it weighs only 127.7 grams. Such a delicate walkie-talkie is not only easier to operate, but also light and unburdensome.
4. Weather forecast alarm tone
If an outdoor exhibition is held, bad weather such as heavy rain can affect or even interrupt the exhibition. Therefore, it is essential to have a walkie-talkie with NOAA function like RB28. If you are a user in the US or Canada, you can receive NOAA radios. In addition, if you miss it, the bell will alert you.
Intercoms are indispensable when holding exhibitions. There is no doubt that Retevis Business Walkie Talkie RB28 is a good choice for you.
retevis RB28,
business walkie talkie
---