Noise reduction and Bluetooth function
Can connect to the mobile phone to listen to music
NRR:24dB, SNR:29dB, Effectively protect the hearing of shooting people
Two colors are available, brown (C9215C) and black (C9215D)
Order Handling Time within 3 Working days(Pre-sale products excluded).
658 PEOPLE ARE LOOKING FOR THIS PRODUCT
Retevis EHN007 Bluetooth Electronic Noise Reduction Earmuff
Bluetooth electronic earmuff features a combination of hearing protection and amusement (built-in Bluetooth) with Bluetooth wireless technology that allows connection to external devices like phones, tablets, MP3 and other Bluetooth devices, also designed with a Bluetooth indicator.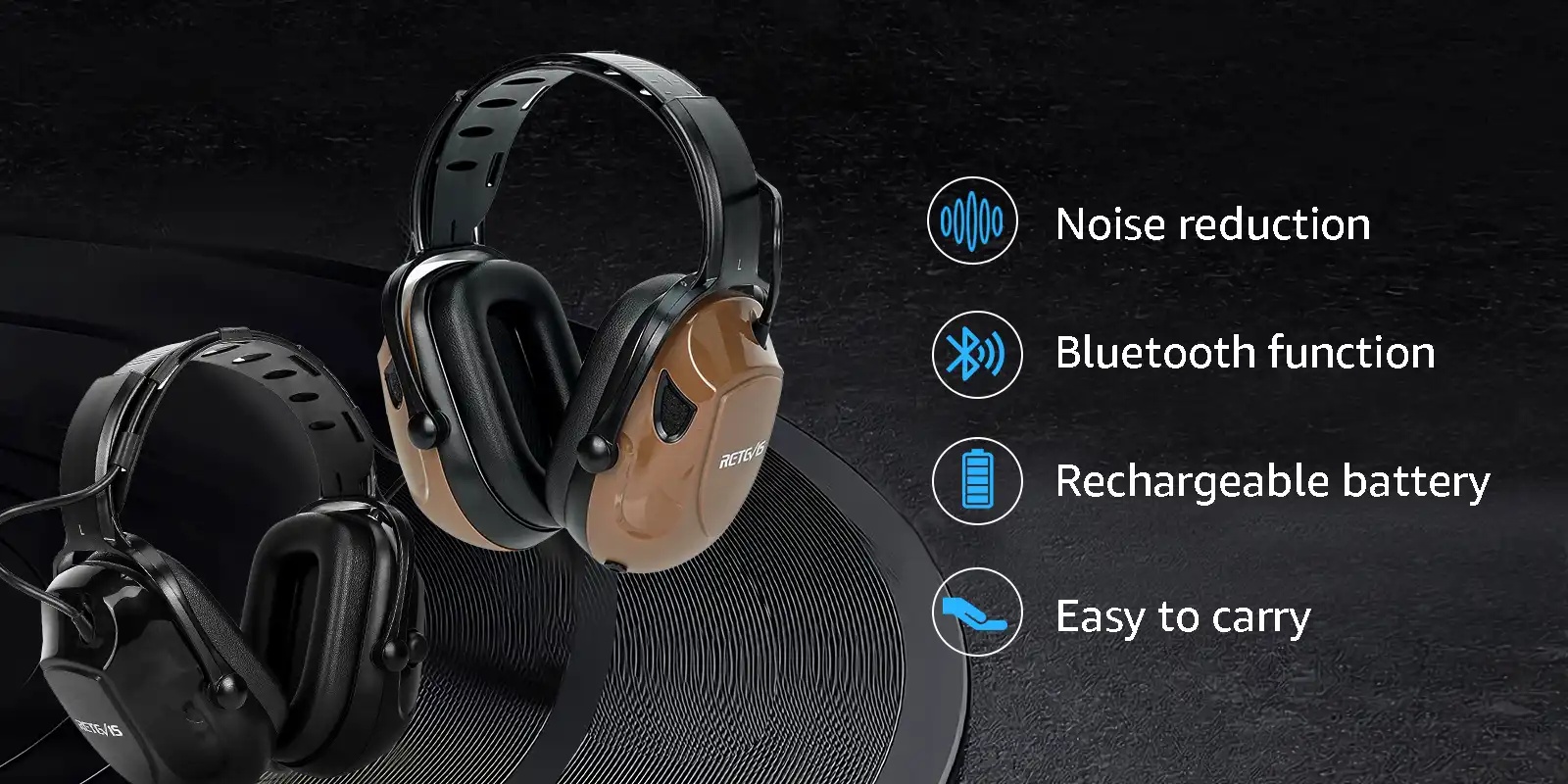 Noise Reduction
When the sound exceeds 82dB, the earmuffs will automatically turn off the sound pickup function. You can enjoy music and communication without compromising your hearing protection.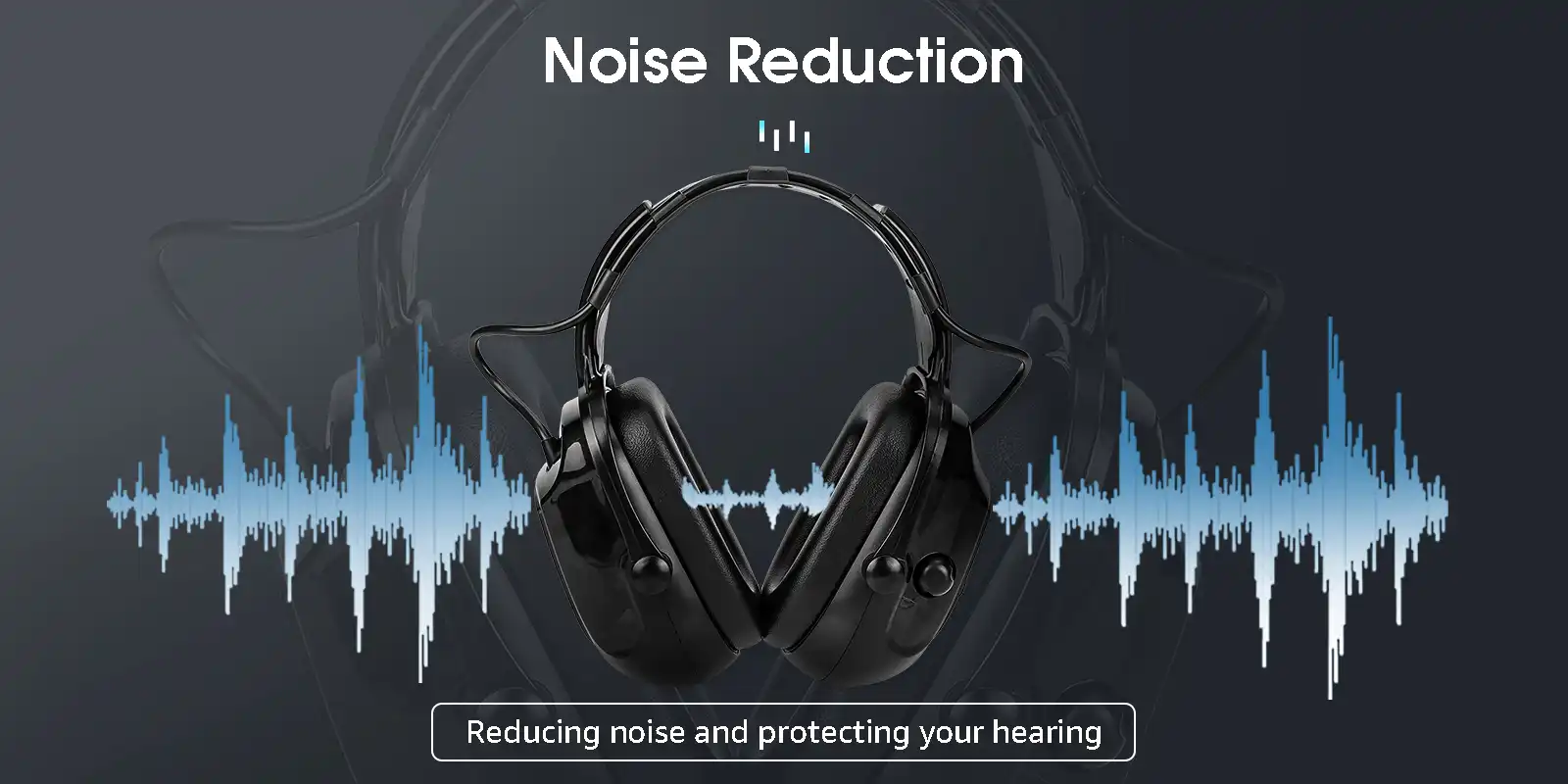 Support Bluetooth 5.0
The Bluetooth function is suitable for listening to music and taking calls through the Bluetooth earmuff.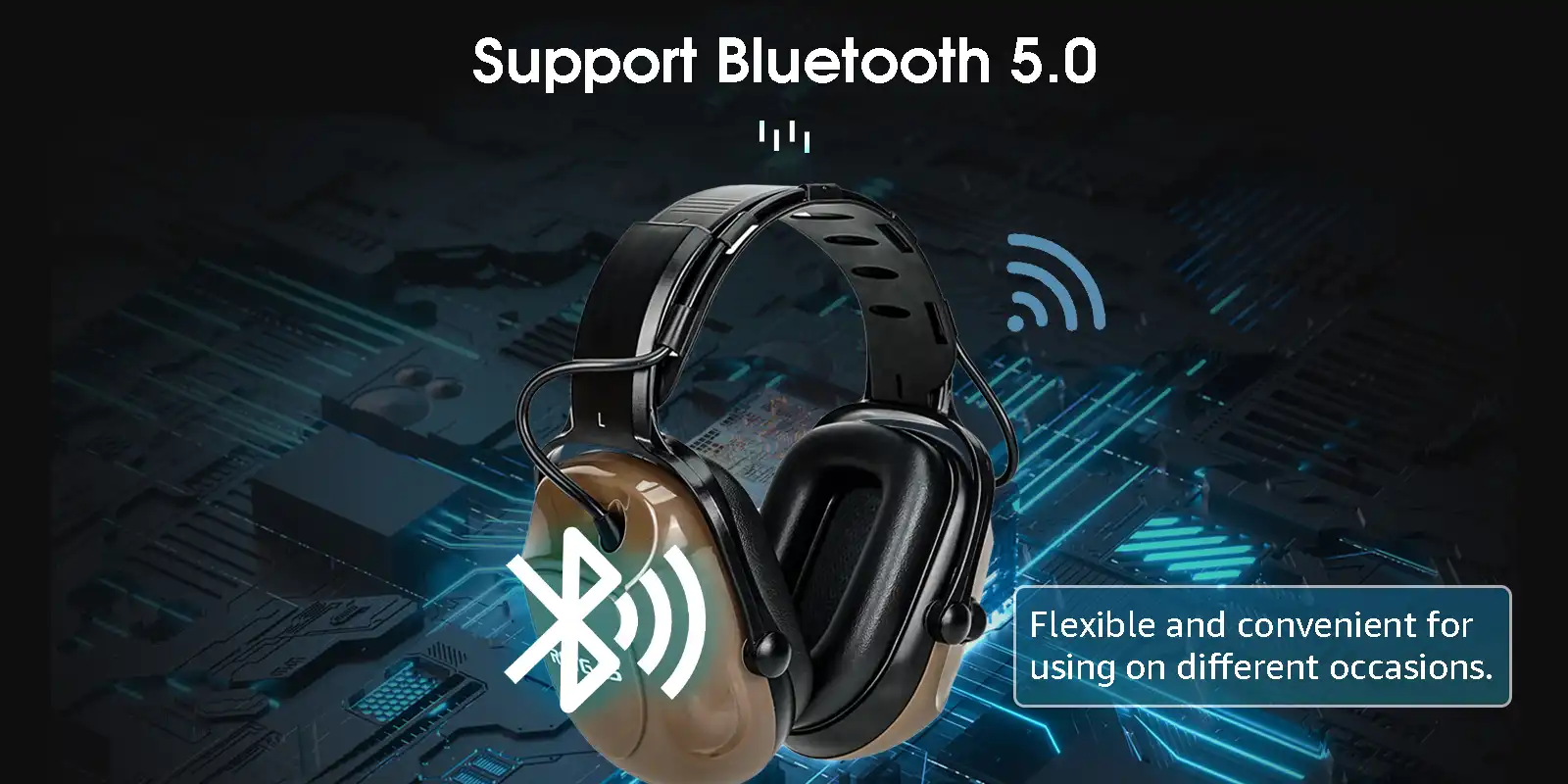 Long Working Time
Using the rechargeable battery and USB charging cable, you can easily recharge the earmuff and extend their usage.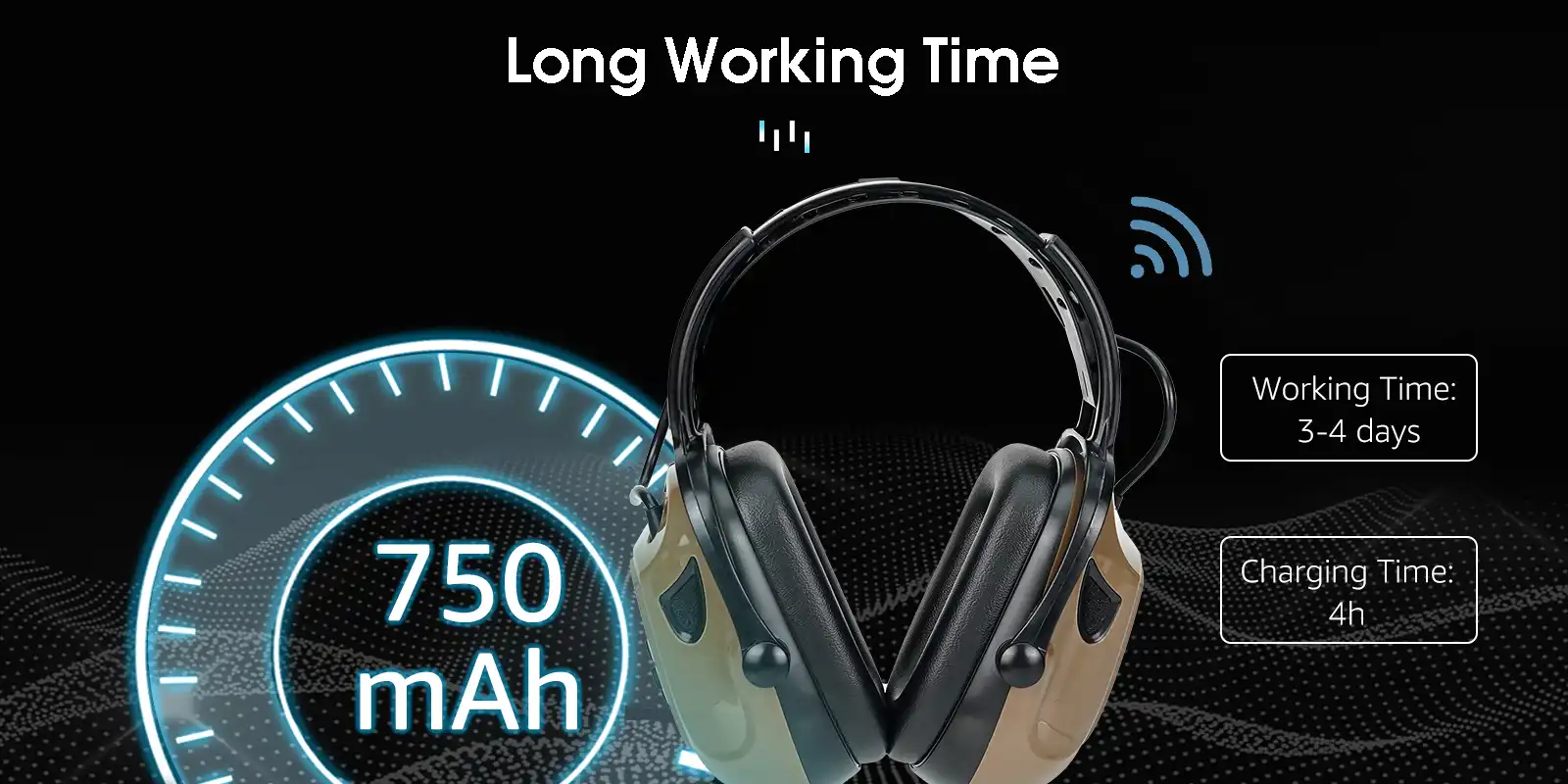 Easy to Carry
The Bluetooth earmuff is foldable and comes with a pouch for easy carrying anywhere. When not in use, you can use the storage bag to easily store the earmuff.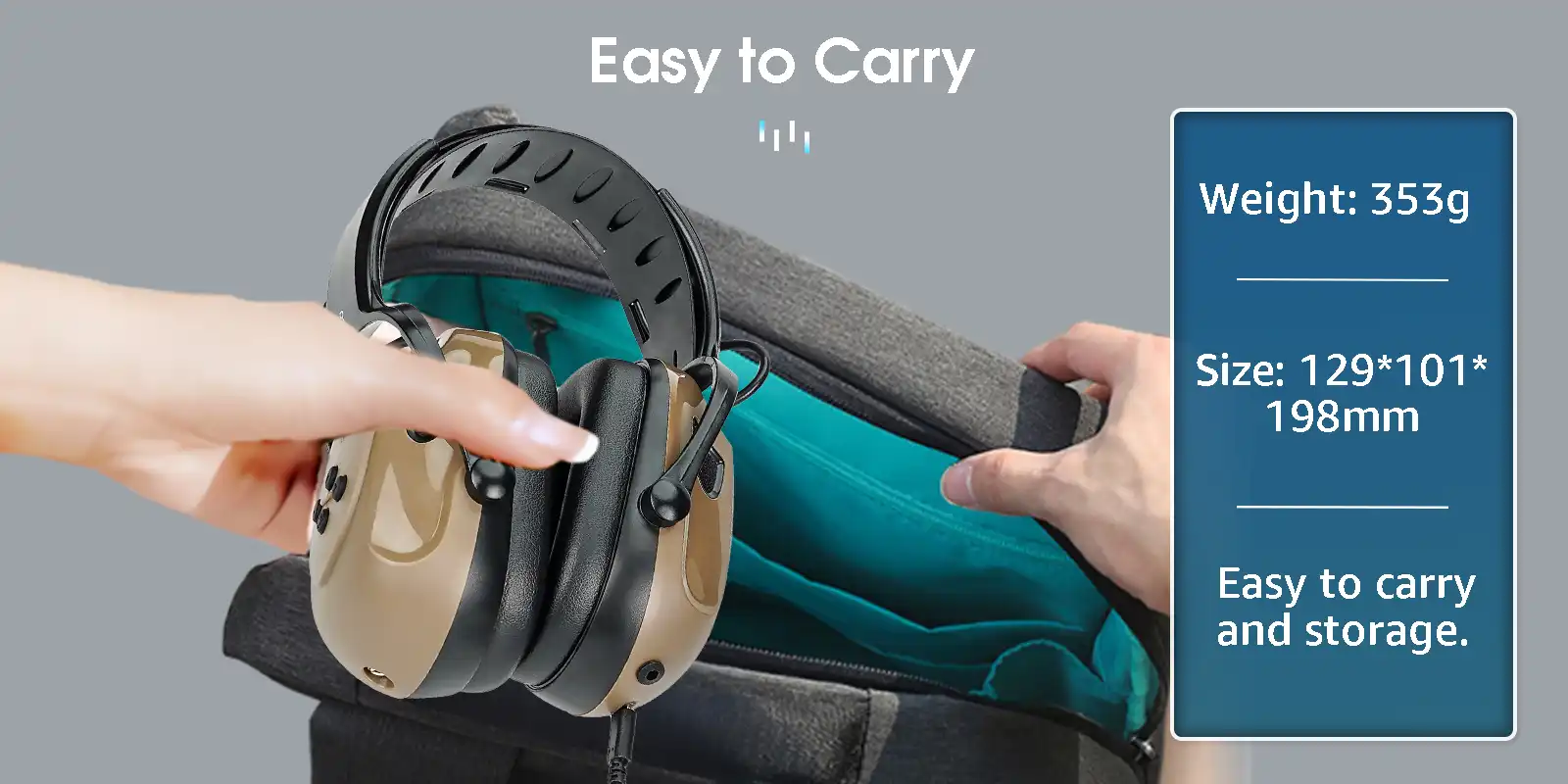 3.5 mm Audio Jack
The Bluetooth earmuff has a 3.5 mm audio jack and comes with an audio cable for easy connection to your MP3 player, smartphones or other listening devices.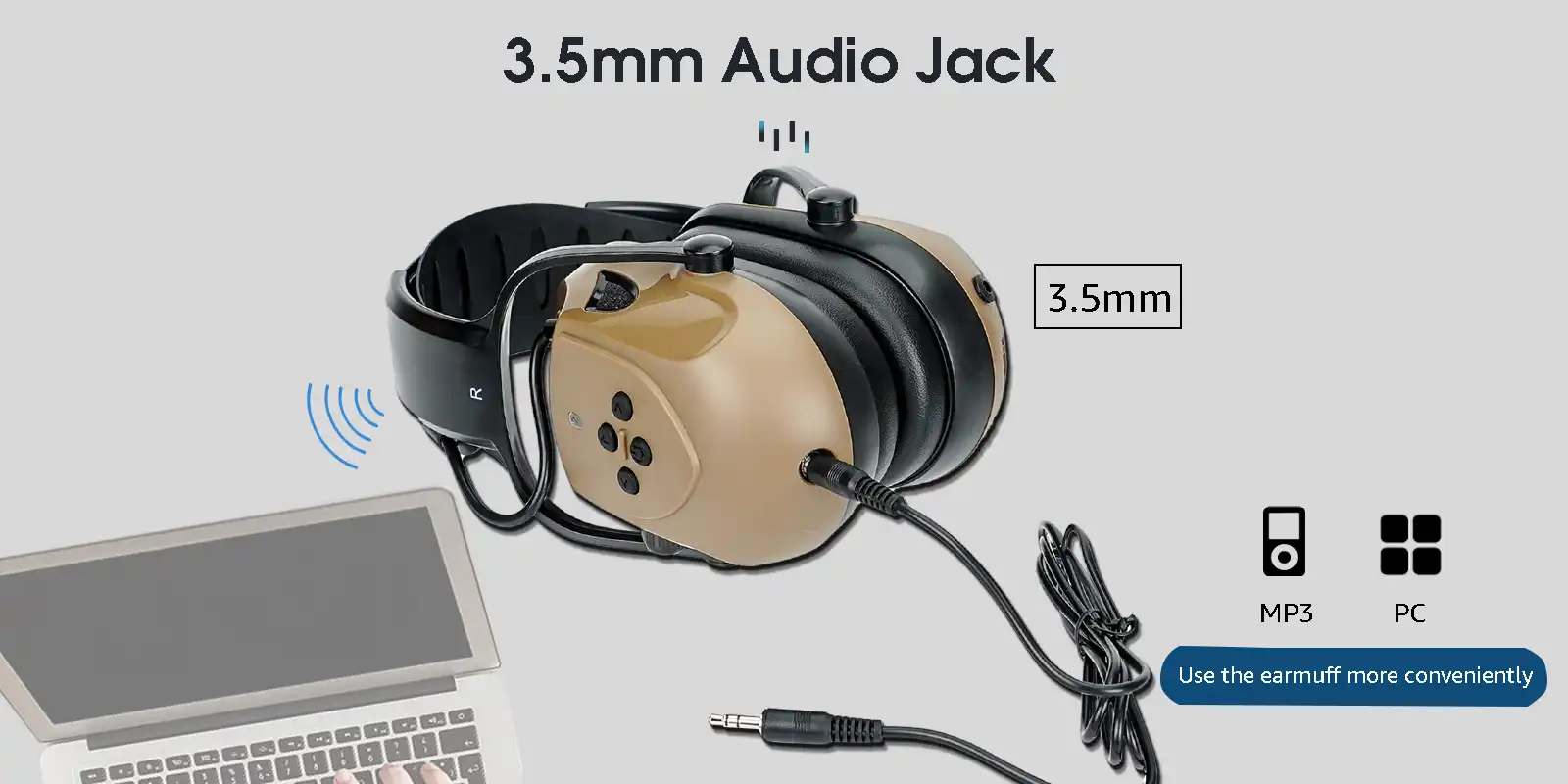 Adjustable Headband
The headband of the Bluetooth earmuff is adjustable and you can adjust its length based on your needs.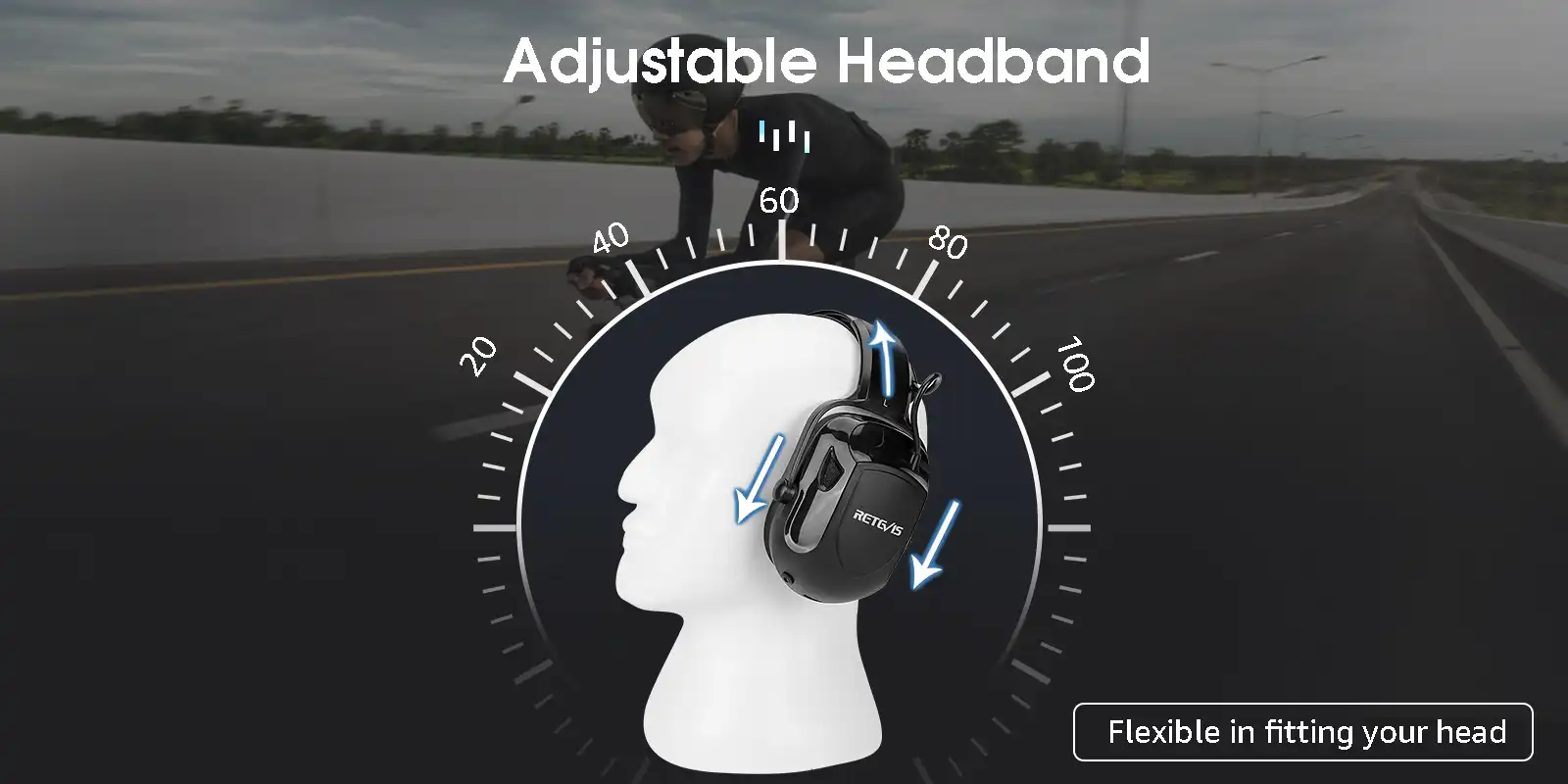 Various Applications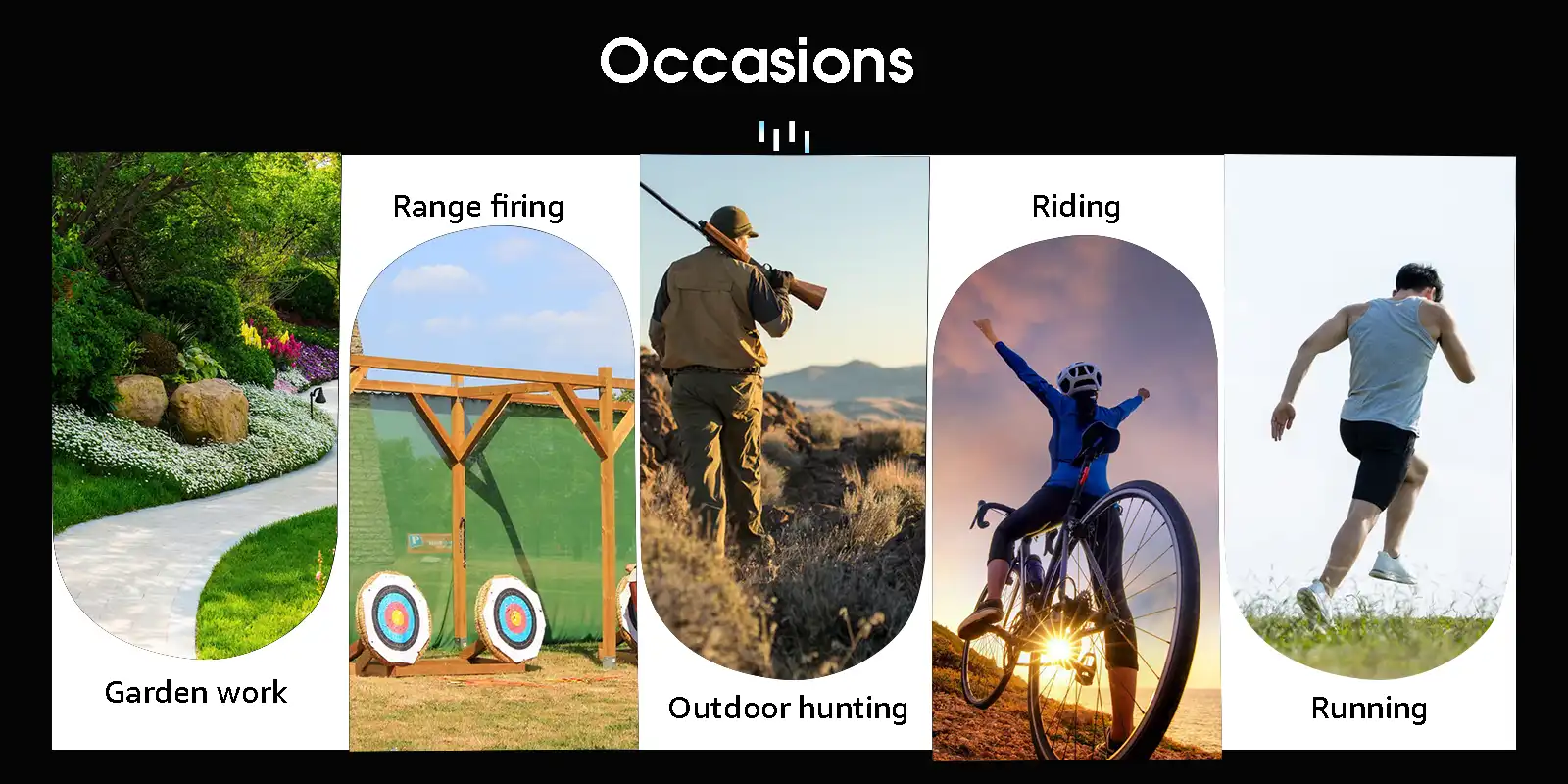 Function Keys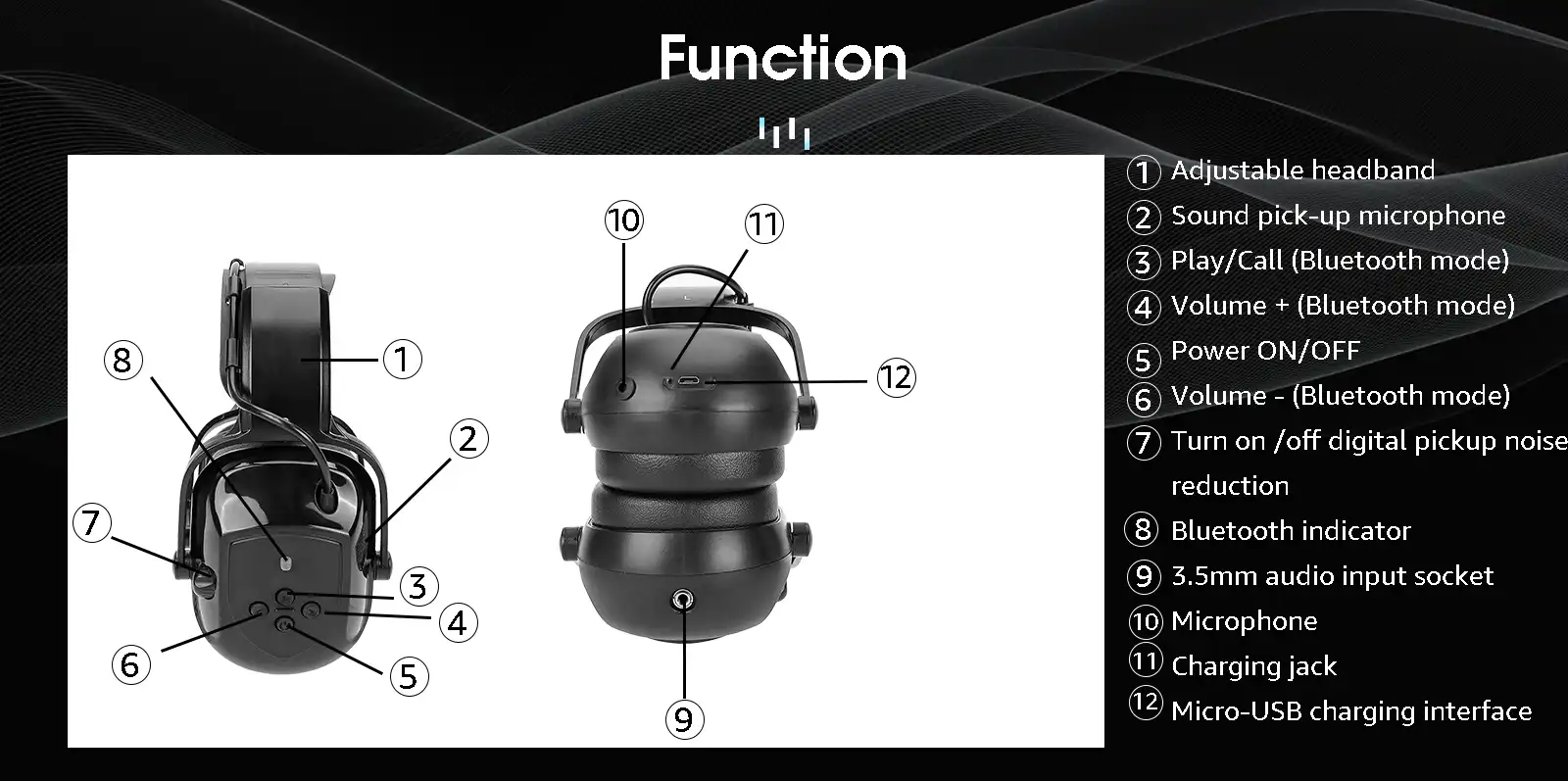 Specification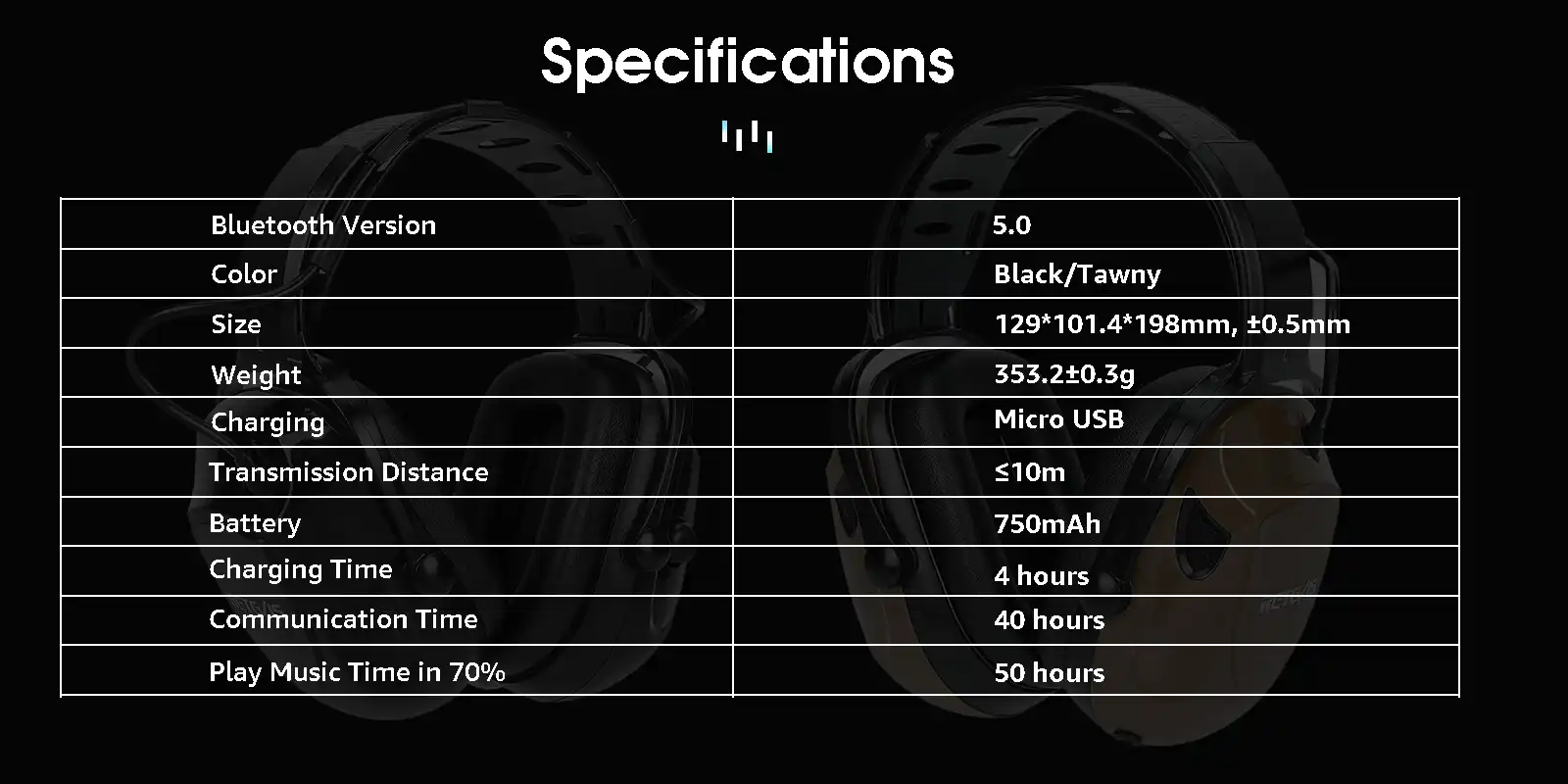 Package Includes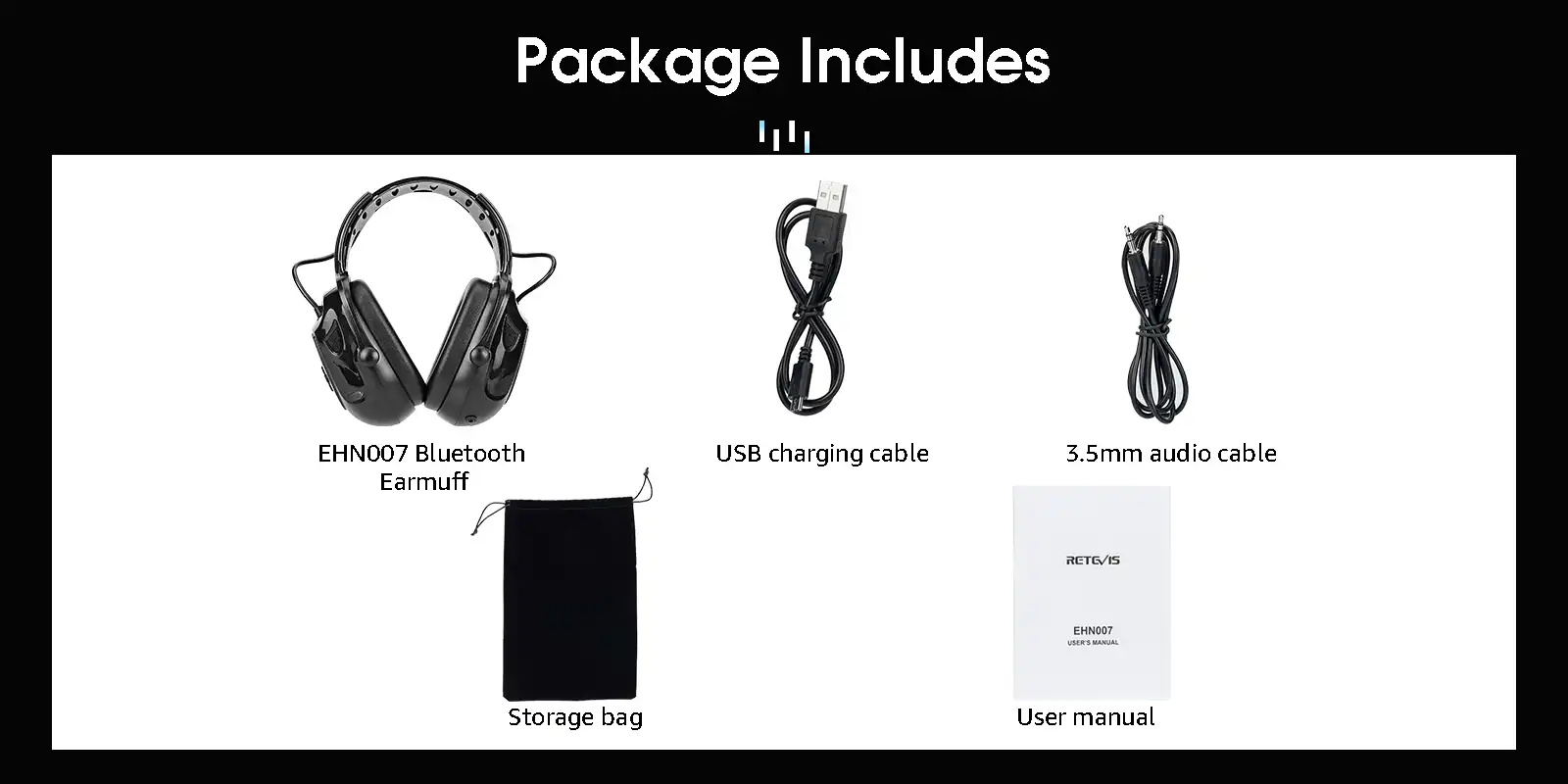 Specifications:
NRR: 24dB
SNR: 29dB
Bluetooth Version: 5.0
Battery Type: Built-in rechargeable Li-ion battery
Battery Capacity: 750mAh
Working Time: ≥ 32 hours
Charging Time: about 4 hours
Transmission Distance: ≤10 m
Charging Jack: Micro USB
Audio Jack: 3.5 mm
Working Environment: 0-40℃
Weight: 350g
Package Includes:
1 x Bluetooth Electronic Noise Reduction Earmuff
1 x USB Charging Cable
1 x 3.5 mm Audio Cable
1 x User Manual
1 x Storage Pouch
Features:
Actively listens and automatically shuts off amplification when ambient sounds reached 82dB.
Built-in Bluetooth and microphone, free to call and listen to music function.
Designed with high-noise resistant shell and comfortable ear cups that have spacious interior space, effectively prevents low-frequency noise.
With the high-density PU foam filling the interior sound block cup layer, achieving effective noise reduction.
AUX input allows connection to the external devices, like MP3, smartphone or any other audio devices.
Charge indicator at the USB port indicates charging status.
Earmuff is equipped with volume control button.
The left and right earmuffs can be slid along the wire of the headband to adjust the height for comfortable wearing.
Equipped with a storage pouch for easy carrying and storage.