AILUNCE HD1 DMR Digital VHF/UHF Handheld Radio With CTCSS/DCS TONE SQUELCH long range waterproof walkie talkies for Business, outdoor activities.


Supports both digital and analog modes, compatible with existing analog systems, users can gradually switch analog terminal settings according to budget and actual communication needs.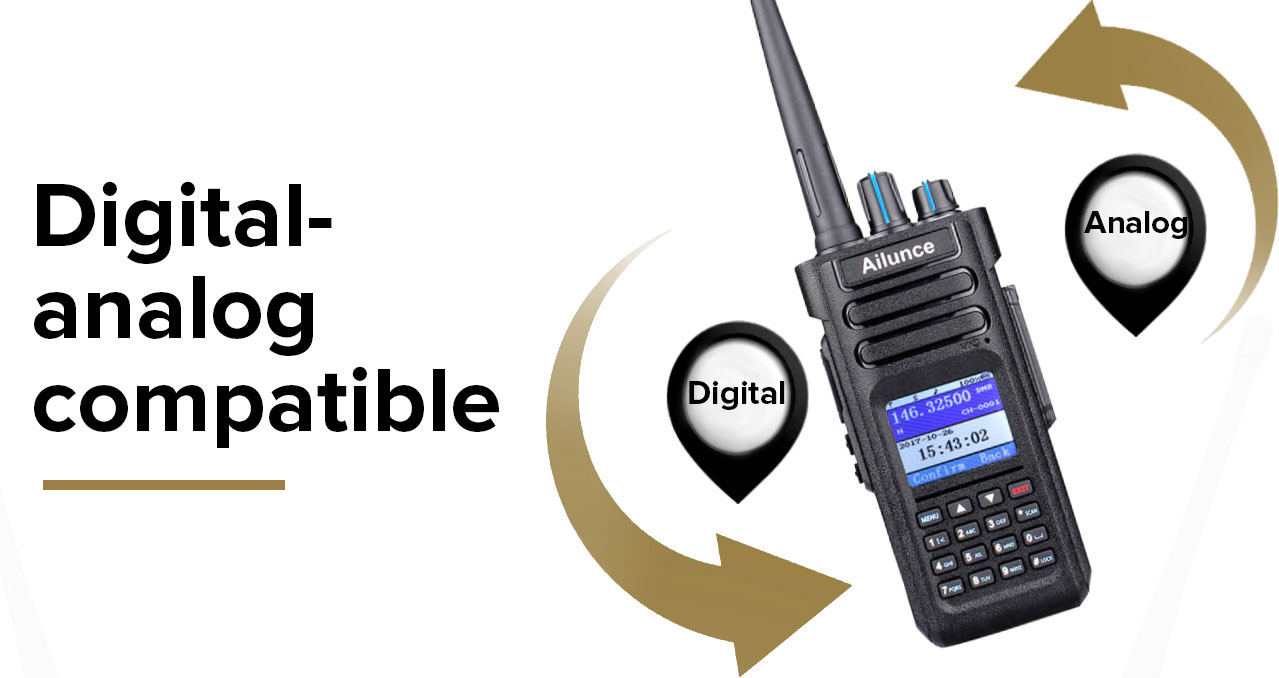 Dual time slot for point to point supports two group calls in one channel under direct model; 3000 channels, 20000 priority contacts enable you to call the people important to you more convenient.


Waterproof walkie-talkie HD1 has VFO mode; very easy to learn and use.3200mAh battery enable normal use 7 days standby / 2-3 days typical use / Continues use 12-16 hours.0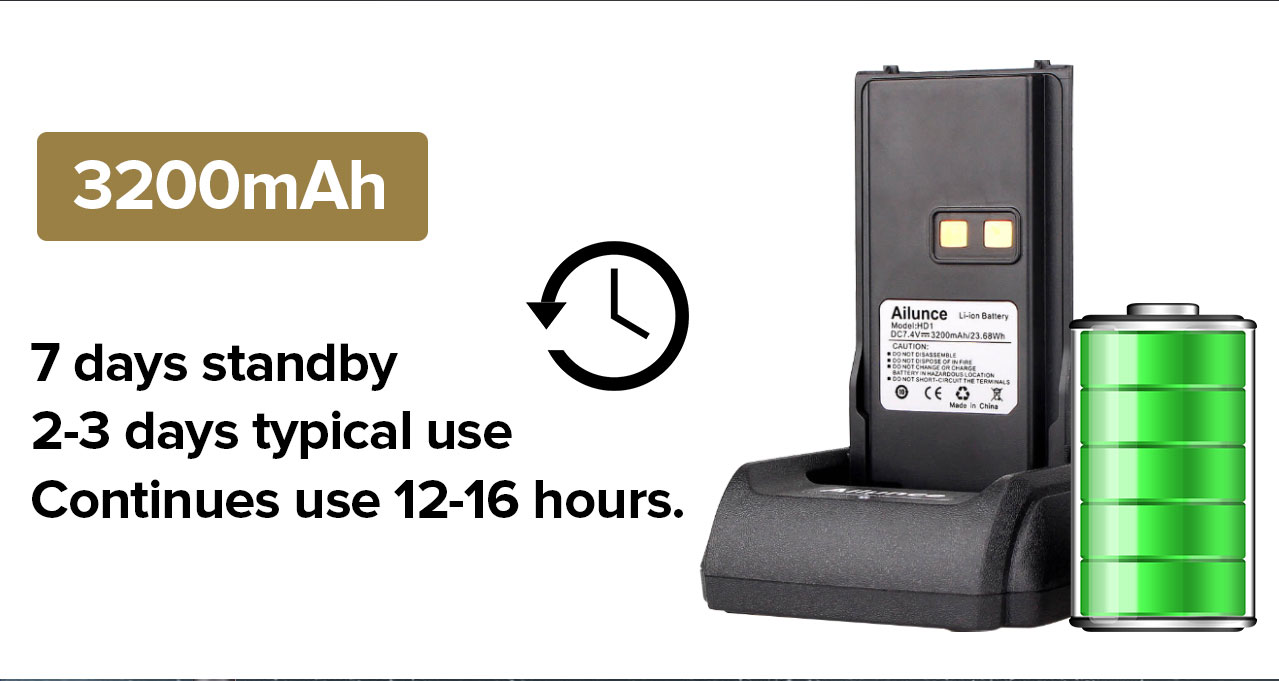 HD1 has GPS positioning function, GPS function gives you latlong; altitude; bearing; and speed information SMS function support to text the information to another radio with the same DNA protocol. In the event of an emergency, GPS can be used to locate the team's location for emergency rescue.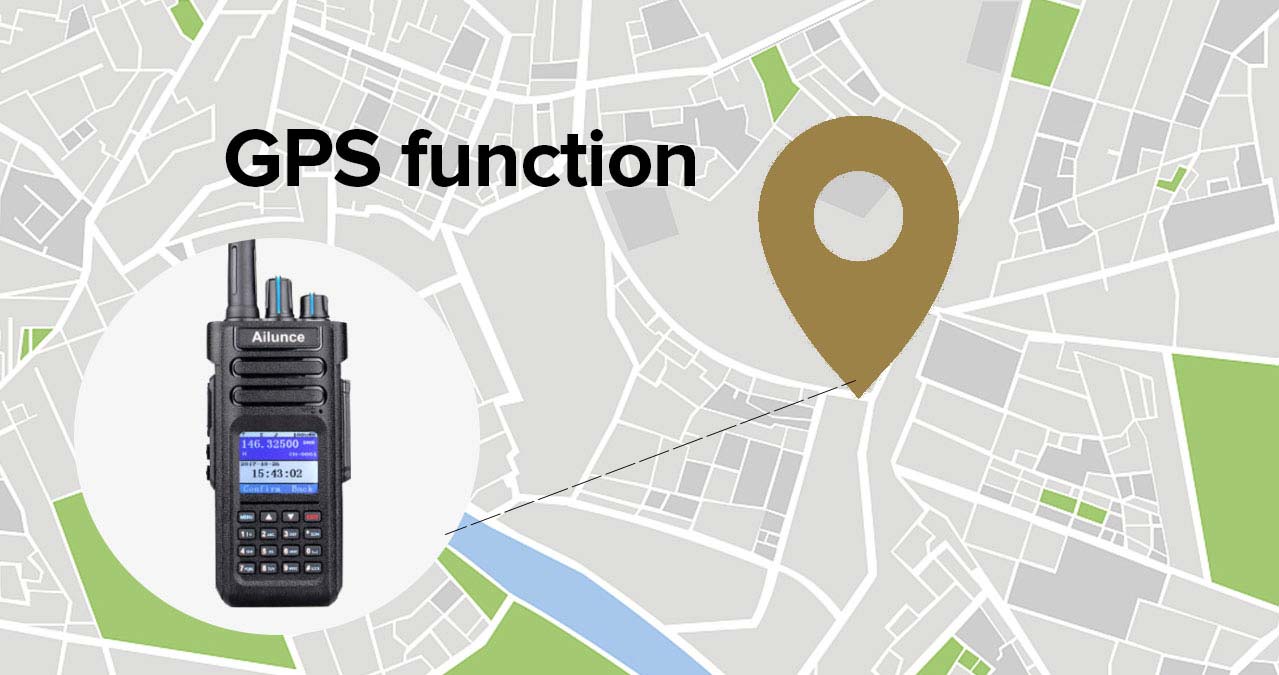 IP67 waterproof rating, can be immersed in 1 meter of the water for 30 minutes,waterproof and dustproof function, can be used in rainy and snowy weather, very suitable for outdoor skiing activities.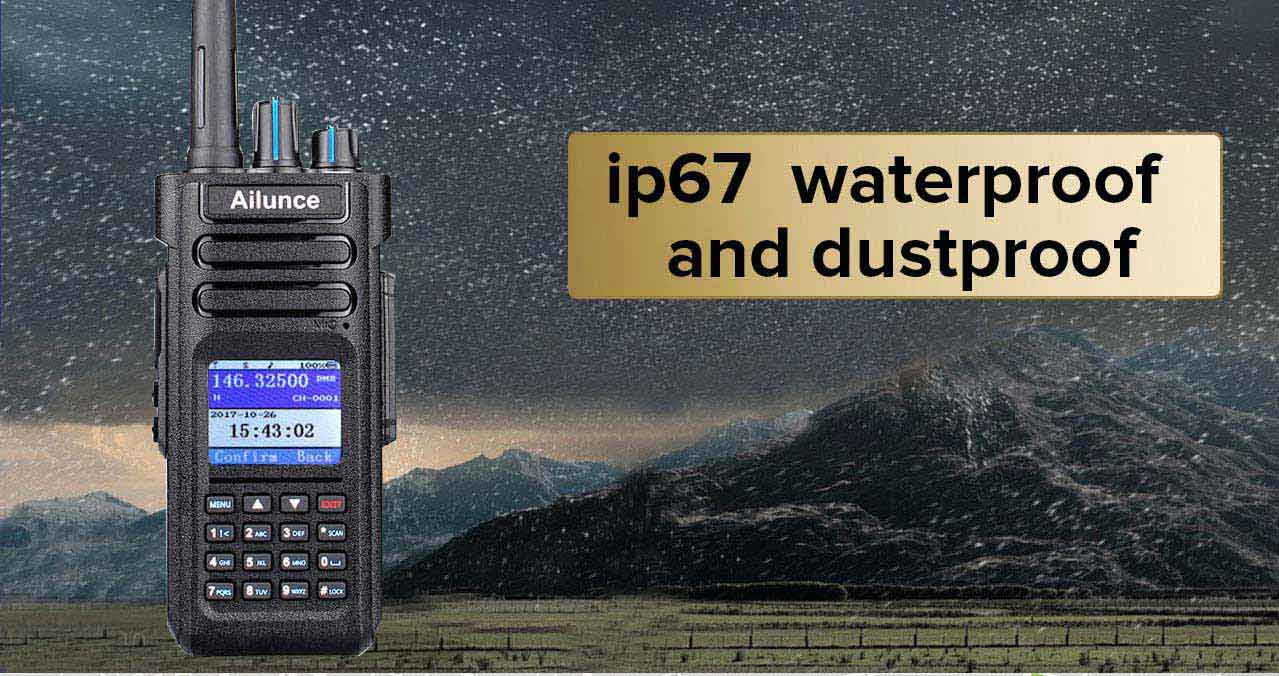 package and details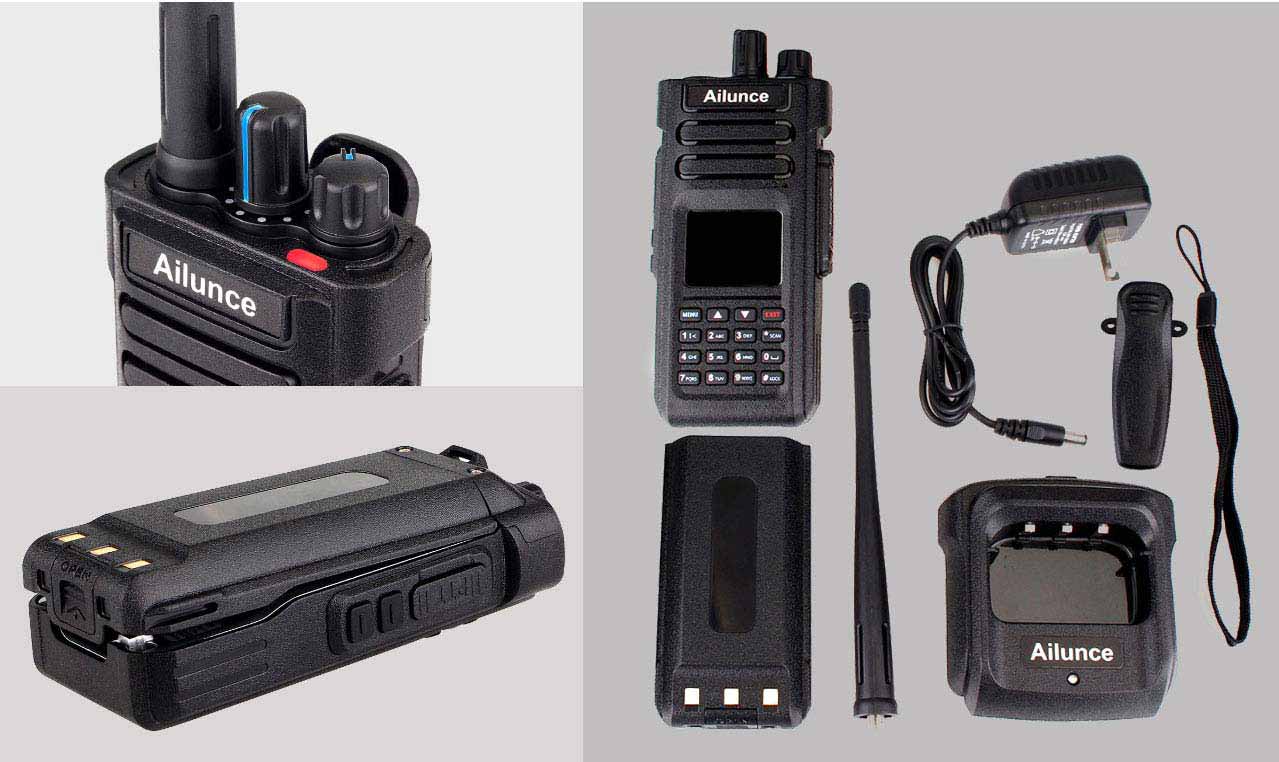 Frequency
136-174 /400-480MHz /76-107.95MHz (Receive only )
Channels
3000
Operating Temperature
-30℃~+60℃
Operating Voltage / Power supplied voltage
7.4V DC / 12V DC
Dimension / Weight / Display
150 x 64x 40mm / 360g (with battery ) / LCD Colour
Channel Spacing
Analog 25/20/12.5KHz / Digital 12.5KHz
Battery Type / Battery Capacity
Li-ion / 3200mAh
Global Position System (GPS)
TTFF – 49sec Cold start / 8sec Warm start / Horizontal accuracy ≤2.98meter
Antenna Impedance
50 Ω
Transmitter
Transmit Power/ Current
VHF 10W/5W/1W / UHF 8W/4W/1W - Selectable
Frequency Stability
+ - 1.0 ppm
FM modulation mode
12.5KHz@11K0F3E 25KHz@16K0F3E
4FSK Digital Mode
12.5KHz(data only):7K60 FXD / 12.5KHz (data and voice):7K60FXW
Modulation distortion
<5%
Vocoder
AMBE+2TM
Adjacent channel power
60dBm@12.5KHz / 70dBm@25KHz
Audio Response
+1~ -3dB
Digital Protocol
ETSI-TS102 361-1,-2,-3
Receiver
Analogue Sensitivity
0.16 uV (12dB SINAD)
Digital Sensitivity
0.14 uV (5% BER)
Inter modulation
70dB
Spurious Response
TIA603C:75dB ETSI:70dB
Audio Response
+1~-3dB
Rated Audio Distortion
≤3% (Type)
Audio Power
≥500mW
General Specifications:
GPS Function: Gives you lat long, altitude, bearing, and speed Support to text the information to another radio with the same DMR protocol.
VFO mode: Supports VFO and Channel model switch easily via EXIT key.
Group call match: Call freely without group restrictions.
Dual time slot: Supports Dual time slot and point to point
ID Setting: Supports save and edit radio ID via keypad FM Function: Support receive signal from other radios when you listening radio
Dual Band DMR Radio
Analog and Digital Combined
Compatible with Motorola Tier Ⅰ&Ⅱ
200000 Contacts
1000 Priority Contacts
Dual Time Slot for Point to Point
Firmware Upgrade-able
IP67 Waterproof
Scan:Time/Search/Carrier
Lone Worker
Single/Group/All call
Remote kill/stun/activate
Color LCD Display
Transmit/Transceiver interruption
CTCSS/DCS
Analog Monitor
Comply with Digital Protocol ETSI TS 102 361-1,-2,-3
VOX
TOT
Talk around
Squelch
Keypad Lock
LED Indicator
Password Lock
Battery Save
Voice Annunciation
long range waterproof walkie talkies
NOTE: Programming software: please click "support" to download
Order Handling Time within 3 Working days(Pre-sale products excluded).
149345 PEOPLE ARE LOOKING FOR THIS PRODUCT
What's in the Box?
1 x AILUNCE HD1 DMR Radio

1 x 3200mAh Rechargeable Battery

1 x Battery Charger

1 x Antenna

1 x Belt clip

1 x Wrist wrap

1 x UK Power Adapter

1 x English Manual
Product Reviews
---

Urban Fredriksson

great and practical radio

The radio feels great. I use it as an amateurradio.Very easy to program. Almost all functions can be changed via the keyboard,which I find very practical.

Eric Anderson

rugged and good battery life.

Ease of front panel programming Ability to use radio in EMCOMM Ops (Emergency Communications) Radio is programmed in a wide range of frequencies for both U.S. Amateur and NIFOG (National Interoperability Field Operations) HD 1 is rugged and good battery life. It is also $ 4000-$6000 less expensive per unit than Motorola APX series. HD 1 is being used by several private public safety organizations and has held up quite well. It is an advantage to have marine frequencies available on the Atlantic Coast.

The 2 HD1's that i bought are very nice, i like the sturdiness of the build and the size, the features are also good. We use the radios when driving to communicate between cars and the DMR ability is very nice for that case. The features we like are the Talk permit tone when you push the PTT. It is good to know when you are talking, However if i would make a change i would allow the ability to make it louder and also put in a custom tone than the built in one, to be able to hear it better. Additionally the GPS is nice to know where the other person is. The range is quite nice and goes much further than our previous radios. We currently have a Retevis RT95 in one of our vehicles with a roof mounted antenna, but after buying these new radios we are unable to use it because they are DMR and the mobile is not. So in the future i might look into buying a DMR mobile radio to mount in the vehicle if there was a good promotion or something.

Siah

Overall gd performer

Skeptical but decided tp give it a try compared to popular A*nyto*e radio. Customer service over whatsapp is helpful. Radio wrks ok for FM amd DMR. Only feedback is programing via radio or PC software can be further made more User friendly.

Radio works great, everyday at work, it is very loud, which is a hard thing to find

Catargiu Madalin

Great dmr!!

This is a great DMR radio. I have other HTs like the Kenwood TH-d74 and some Beofungs. This is built very tough and resilient. Feels weighty. Overall operationally it works very well. It is loud and clear on DMR and analogue. It has 10W output on 2m which is a great benefit when you are at the edge of repeaters like myself. I ordered this through Amazon but you can order it direct from Retevis the manufacturer. The DMR market has a lot of innovation going on and this is a great solid radio.

Keith Flesser

good quality

I am extremely happy with the service that RETEVIS have provided me with. So much so that I don't bother looking elsewhere for my radio needs, the products that I have purchased are of extremely good quality and I have been recommending them to my friends. Once I have my HD1 I will be promoting this radio to my fellow amateur radio operators.

After 3 years of use, my HD1 is still my main portable radio.

Reviewed in United States

on

Apr 16,2021

I have two Retevis/Ailunce branded radios, an RT82 and the HD1 (now I planning to buy an RT52), I have bought them by my own, they have not been supplied by Retevis, and this is not a fake review sponsored by anyone, it's my personal opinion! I would start first by saying that this company is the only one I know that has invested so much for been so close to its customers, and they has also made notable efforts to listen to us, like no other brand has done before as I know. I appreciate that! I have had my HD1 for more than three years, the radio is still my favorite handy talky. I have American and Japanese rigs, but the simplicity of operation of this handy is unrivaled. Its build quality is excellent, mine took a big unintended drop at the first day I received, never even had a symptom of failure after that. The good quality details in its cabinet, in its weather seals, and all accessories are pretty good. The sensitivity is excellent even exceeding the factory specs, the both antennas work perfect (long and short), this have enough gain to hear weak stations quite easily. The battery and its duration is a separate chapter (like none of my other radios), the battery after more than three years, haven't had a perceptible drop in their autonomy, the HD1 exceeds any of my other equipment in autonomy no matter the time passed. Reaching today the HD1 more than two days in receiving mode and occasional transmission, without turning it off. Digital modulation has become excellent

Reviewed in United States

on

Feb 18,2021

I have a number of DMR radios for ham use. I needed a waterproof HT for an upcoming cross country motorcycle trip (none of my other ones are IP67 waterproof). This is BY FAR the easiest to program from the keypad DMR radio I have used. The CPS software is usable and being able to import/export CSV files makes editing a breeze. Not all tables can be exported to CSV files. For example, zone information must be entered/updated via the software. A minor inconvenience. The battery life is fantastic...better than any other HT I've used. I ordered directly from Retevis and got the radio from China to the US in a week, which is amazing. The bundle price was great compared to what is available on Amazon. The antennas (short and long in bundle) are adequate, but typical performance. I use a Diamond SRH77CA instead of the bundled antennas, which is far superior. Bottom line - I am very happy and would buy it again.

Ailunce HD1 Review Part 7

Reviewed in United States

on

Jan 08,2021

I simply defaulted the radio and reinstalled the codeplug. I was unable to reproduce the problem and it only occurred on the one radio the one time. We programmed the two side buttons for short press "zone up - zone down", but they seem sluggish. In other words, no matter how fast you press the buttons, the zones only change at a certain rate. IF you have a LOT of zones programmed, it can take quite some time to find the correct zone. Also, the zone names only appear visible as you cycle through them for a very brief time. Sometimes it's not long enough to get a good look at. Our summary is that the Ailunce HD1 is a GOOD value for the money. It's versatile, tough, performs well in analog and DMR modes, has standard interface connections (SMA-M radio, and M-5 accessory connector), and in spite of that paragraphs of "gripes" above, we would indeed buy more of these radios and would recommend them to others. In addition, Ailunce customer service is RESPONSIVE, which is more than I can say about many, MANY retailers. I had more than few questions prior to our purchasing these radios and Nancy at Ailunce was always prompt in getting me an answer. Good customer service is difficult to find, and Ailunce seems to being a better than average job in this area.