RB39 small and portable license-free two way radio
US$ 39.99
Free shipping on orders over $50
US$ 20.00
-33%
License-free radio, work out of the box;
17mm thick, Portable and Simple Walkie Talkie;
OverView
1, RB39 ultra-thin licnese-free two way radio
RB39 17mm ultra-thin radio,small and portable radio, Typc-C charging,and menu key, you can set the emergency alarm function, monitor functiojn, beep, the radio is very suitable for small business areas.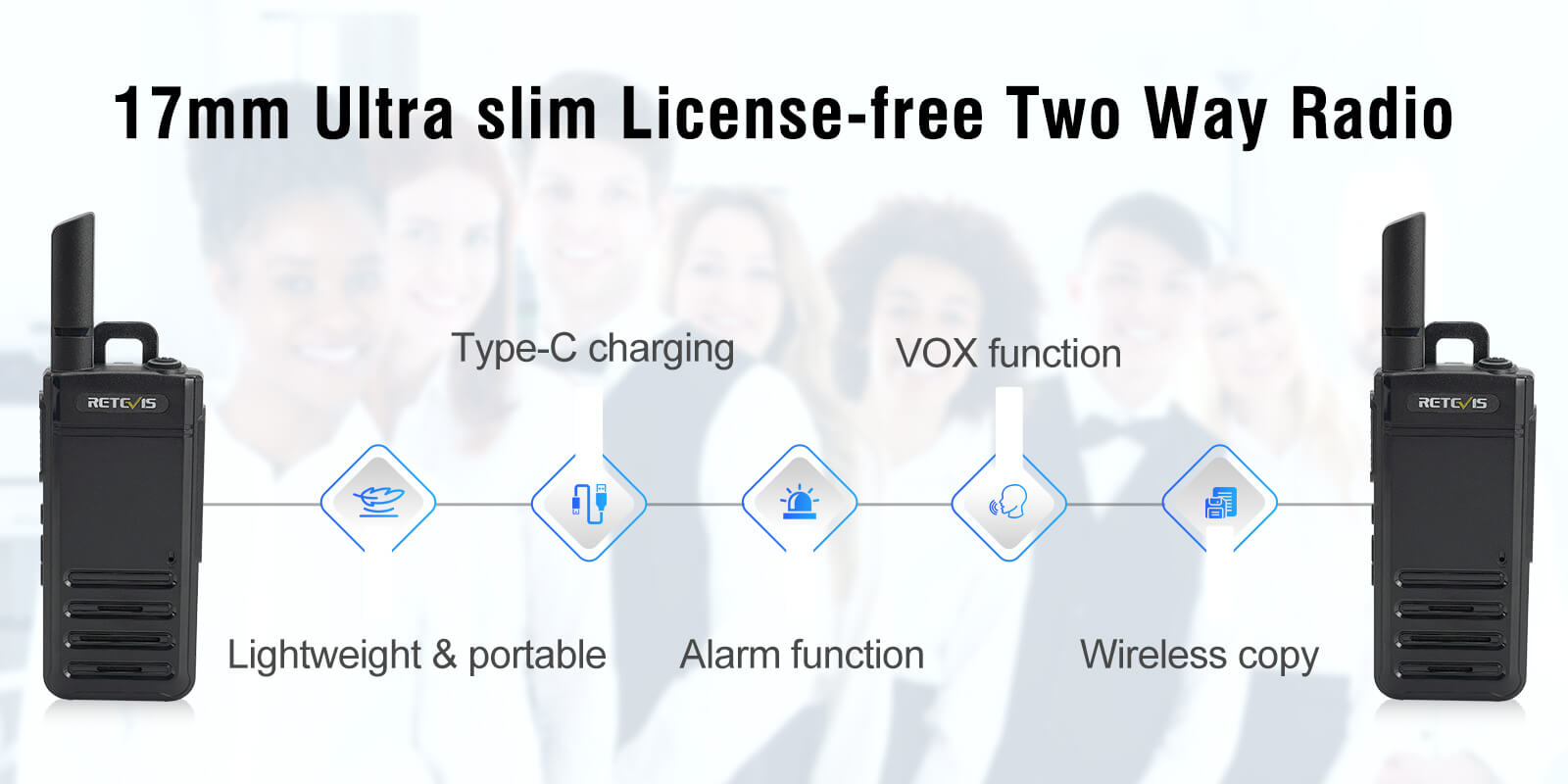 2, portable radio
The thickness of the walkie talkie is 17mm and the weight is 106g. You can easily hold it in your hands or put it in your pocket. and hotels,schools, restaurants and other business areas.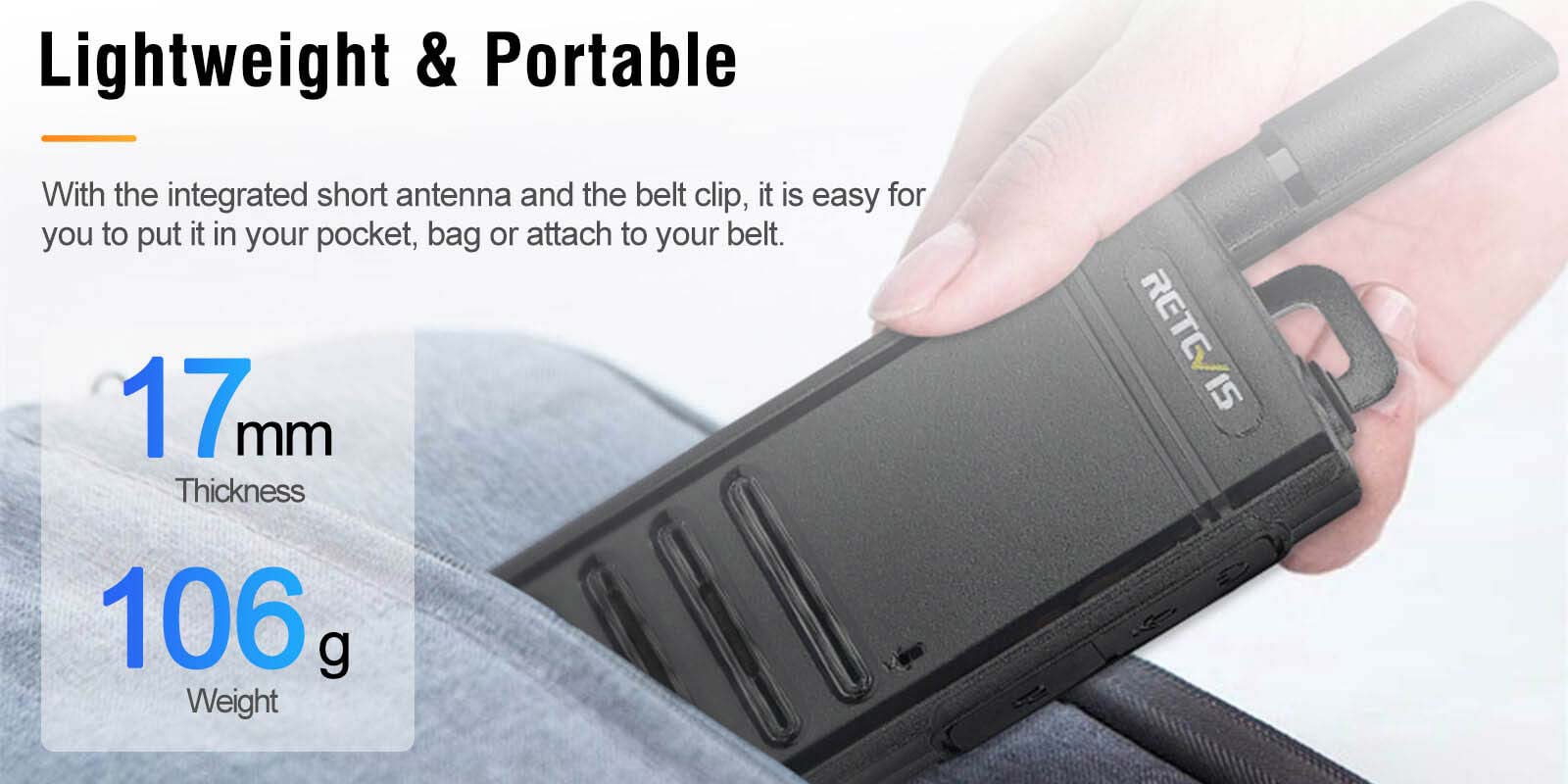 3, Emergency alarm



hen you encounter an emergency, you can activate the alarm function to seek help from your colleagues. After the alarm tone ends, you can send a message to your colleagues directly without pressing PTT to solve the problem more quickly and effectively.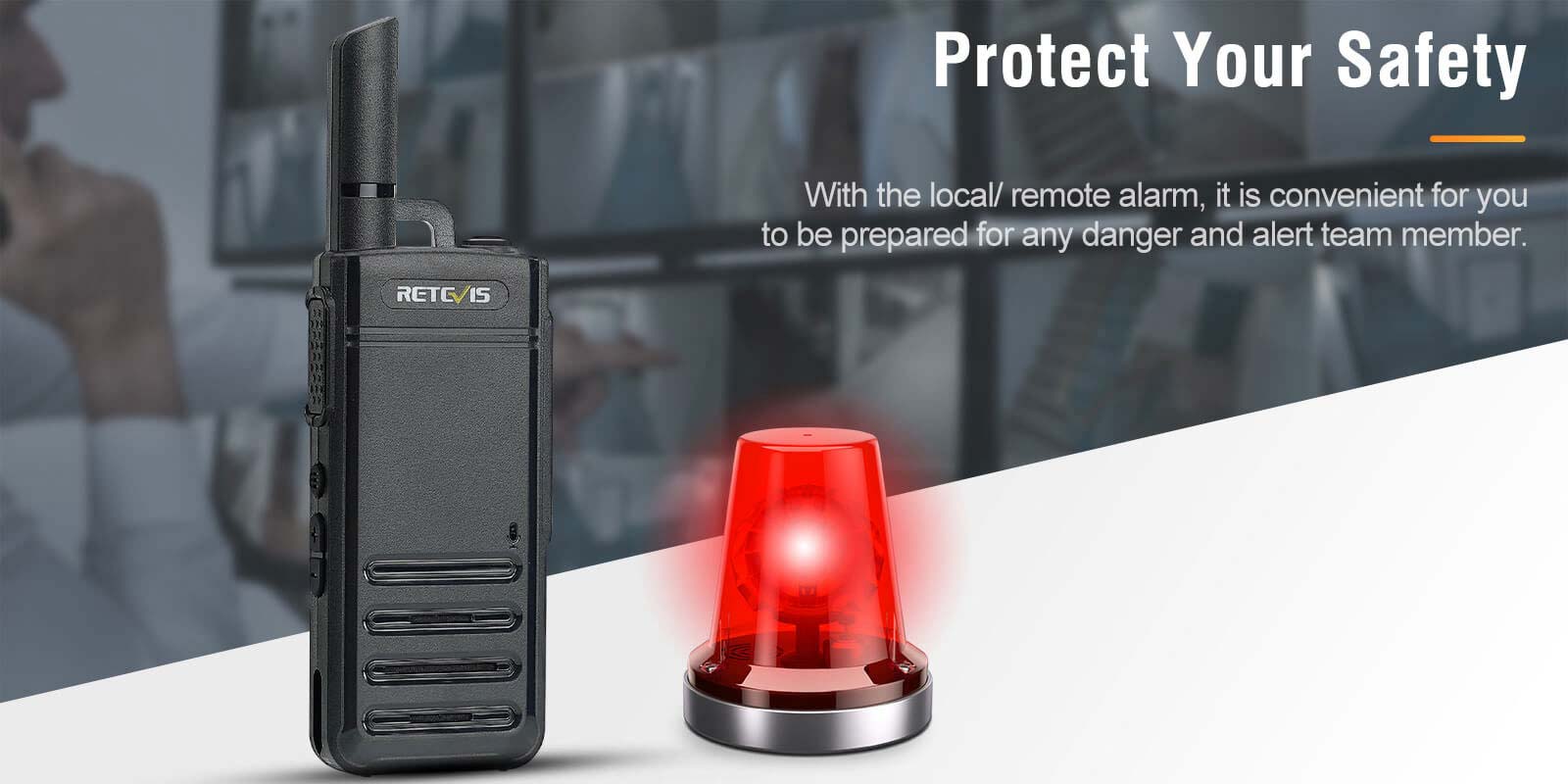 4,

Multi-charging Methods
The Type-C interface supports reverse insertion and the walkie talkie can be conveniently charged. With the 2 in 1 charging cable, you can charge two walkie talkies simultaneously, which has a higher charging efficiency. Also USB port supports wall charging, mobile power charging, car charging and computer.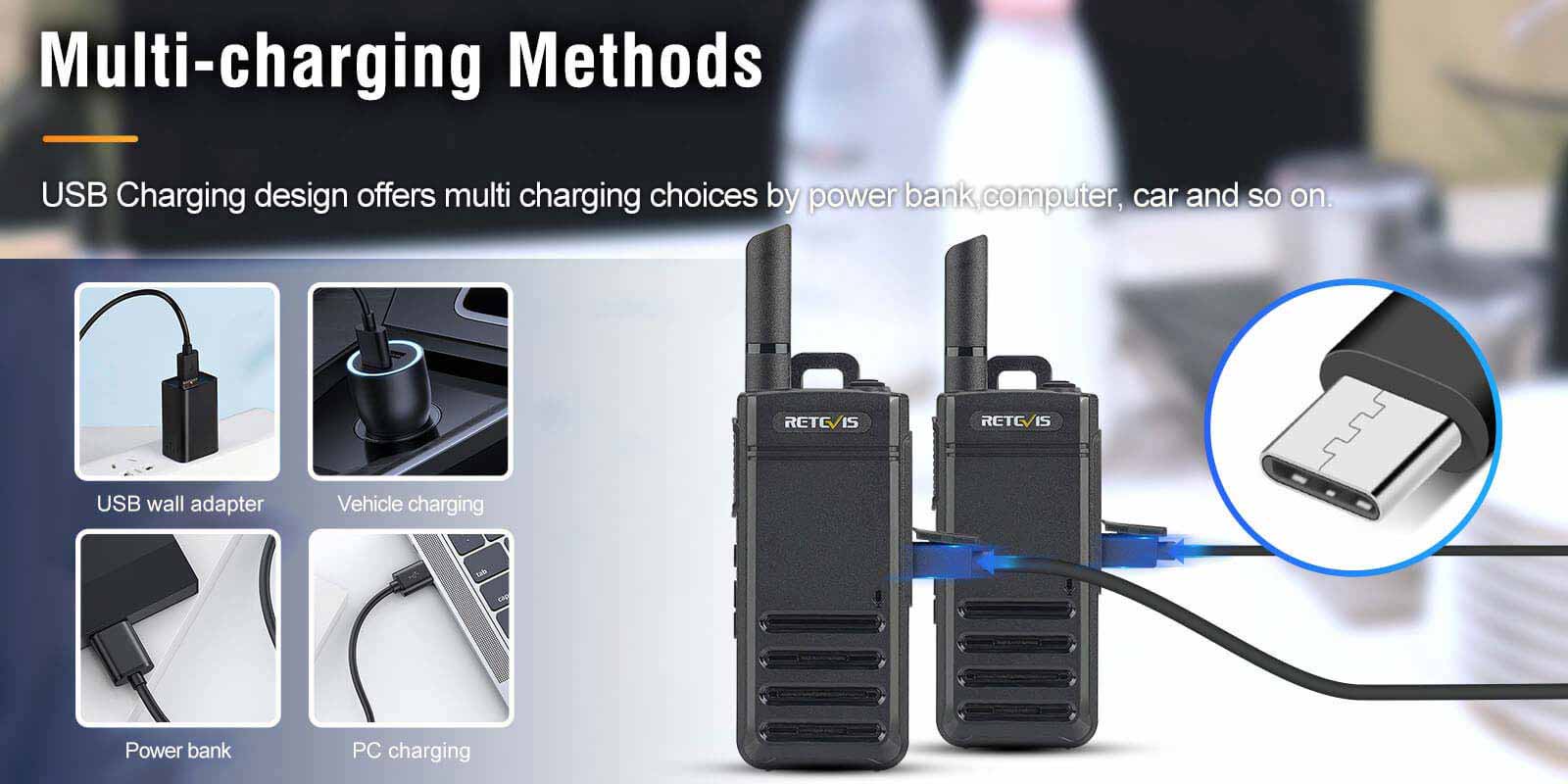 5, Vox function
The VOX function provides great convenience for efficient communication without pressing the PTT button. Additionally, the VOX function can be activated and deactivated with the menu key, which is very convenient.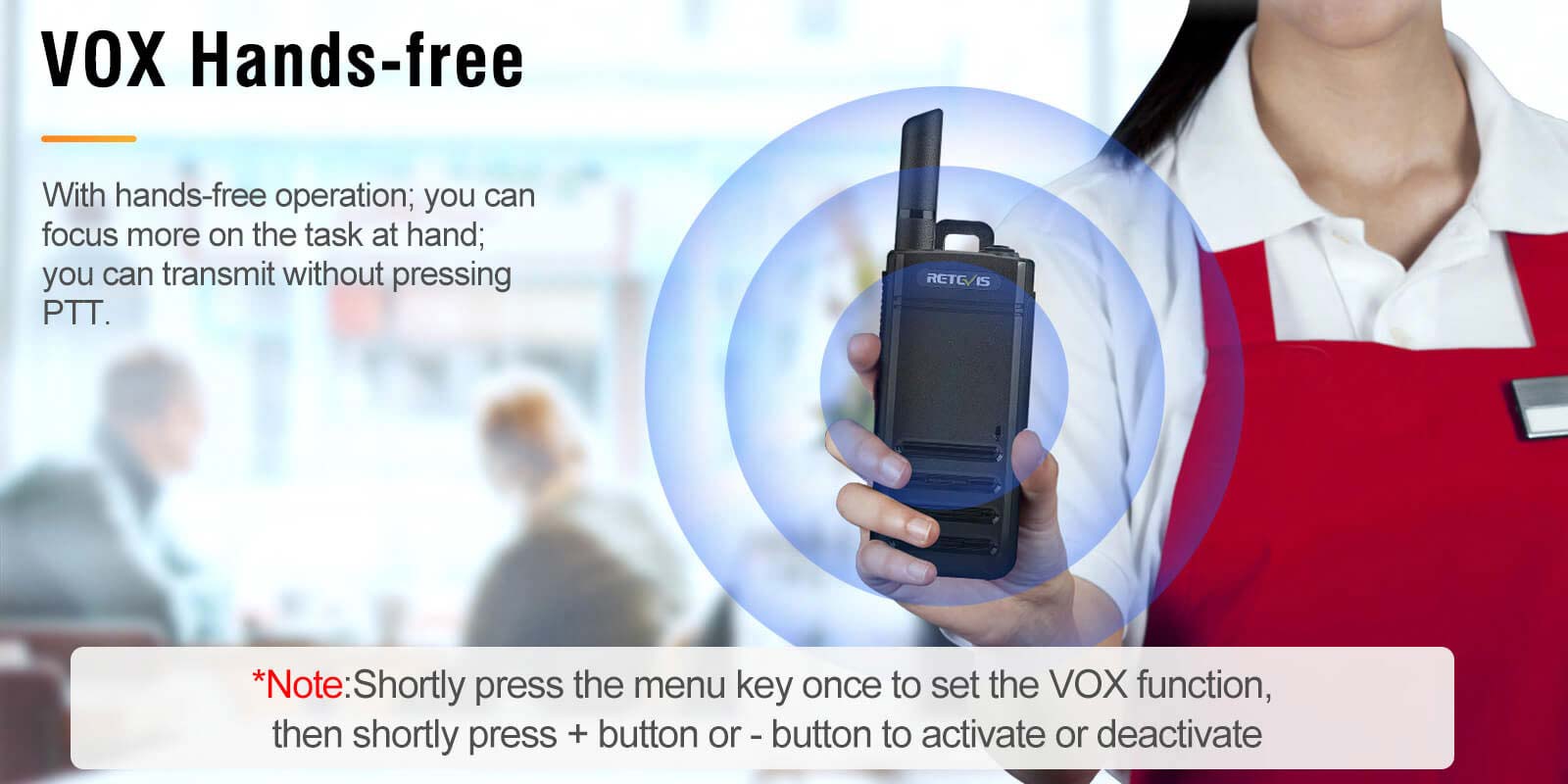 6, Navigation Menu key Mode
In addition to the VOX function, you can set other functions with the menu key. Scan function and alarm function can be activated with the+ button and - button, which is very convenient and efficient.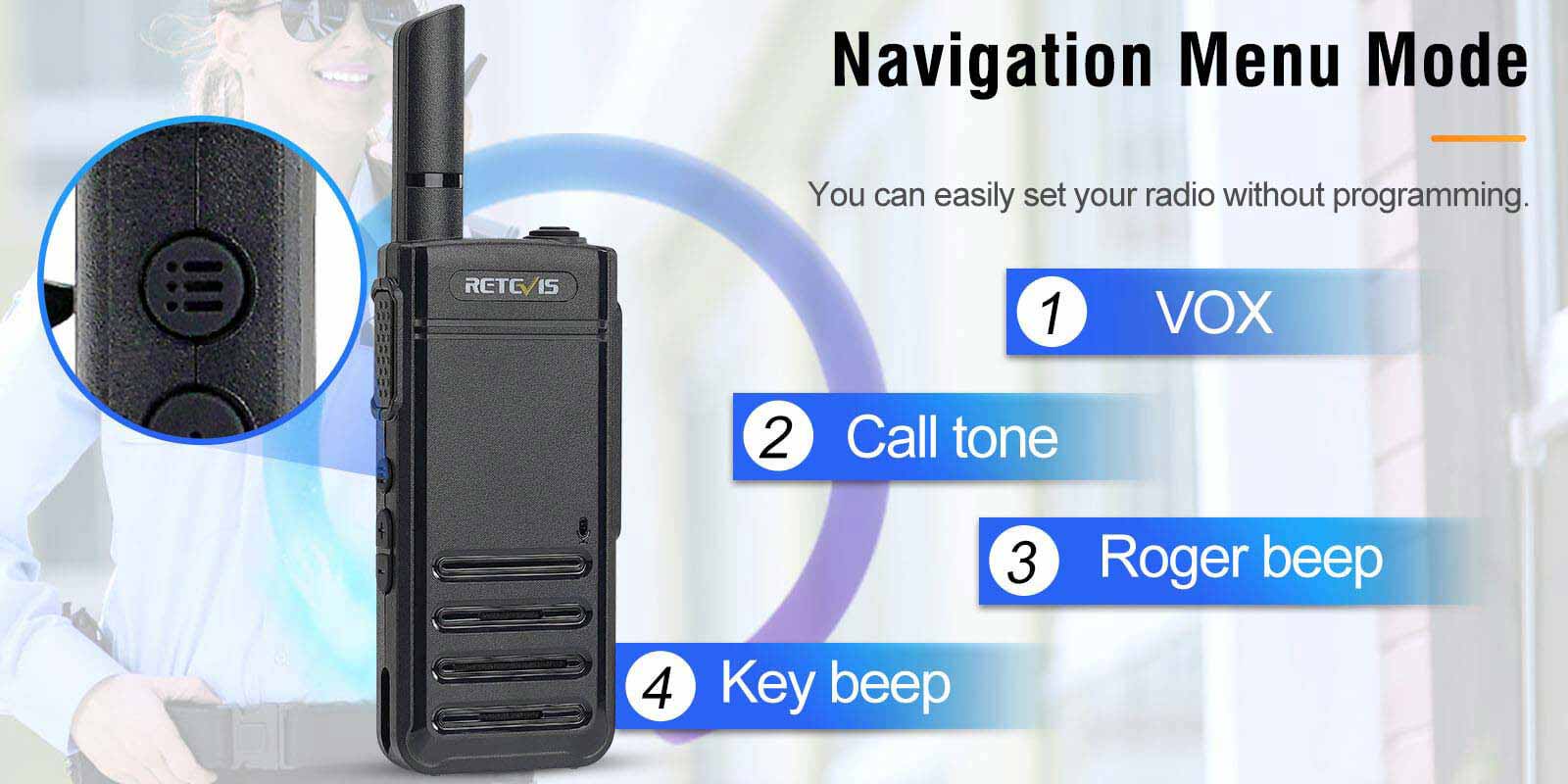 7,

Wireless Copy
The daily running of a hotel involves a number of different staff and departments. Thus, effective communication is crucial. The wireless copy function allows you to easily copy the frequency without programming, which saves time and improves work efficiency.
Receiver:
1. Under the same channel, press the menu and + button for 3 seconds simultaneously.
After a beep is heard, the radio enters the receive mode and the green indicator flashes;
Transmitter:
1. Under the same channel, press the menu and + button for 5 seconds simultaneously.
2.After two beeps are heard, the radio enters the transmission mode and the red indicator flashes;
After completion, the radios exit the wireless copy mode and the channel information will remain the same.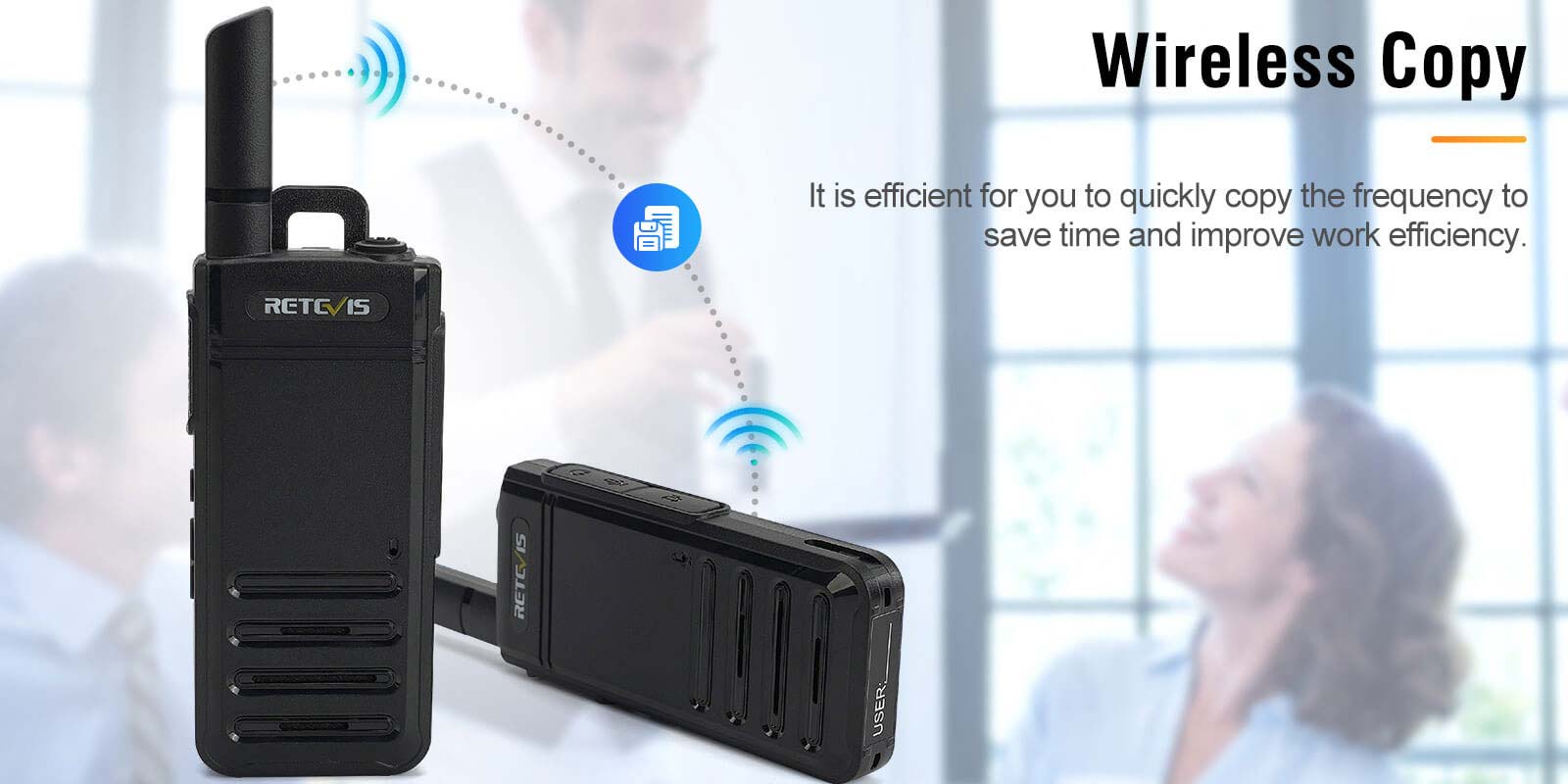 8, High battery capacity
Equipped with a 1000mAh battery, the walkie talkie can continually work for 11 hours and without the hassle of frequent charging, which is very efficient.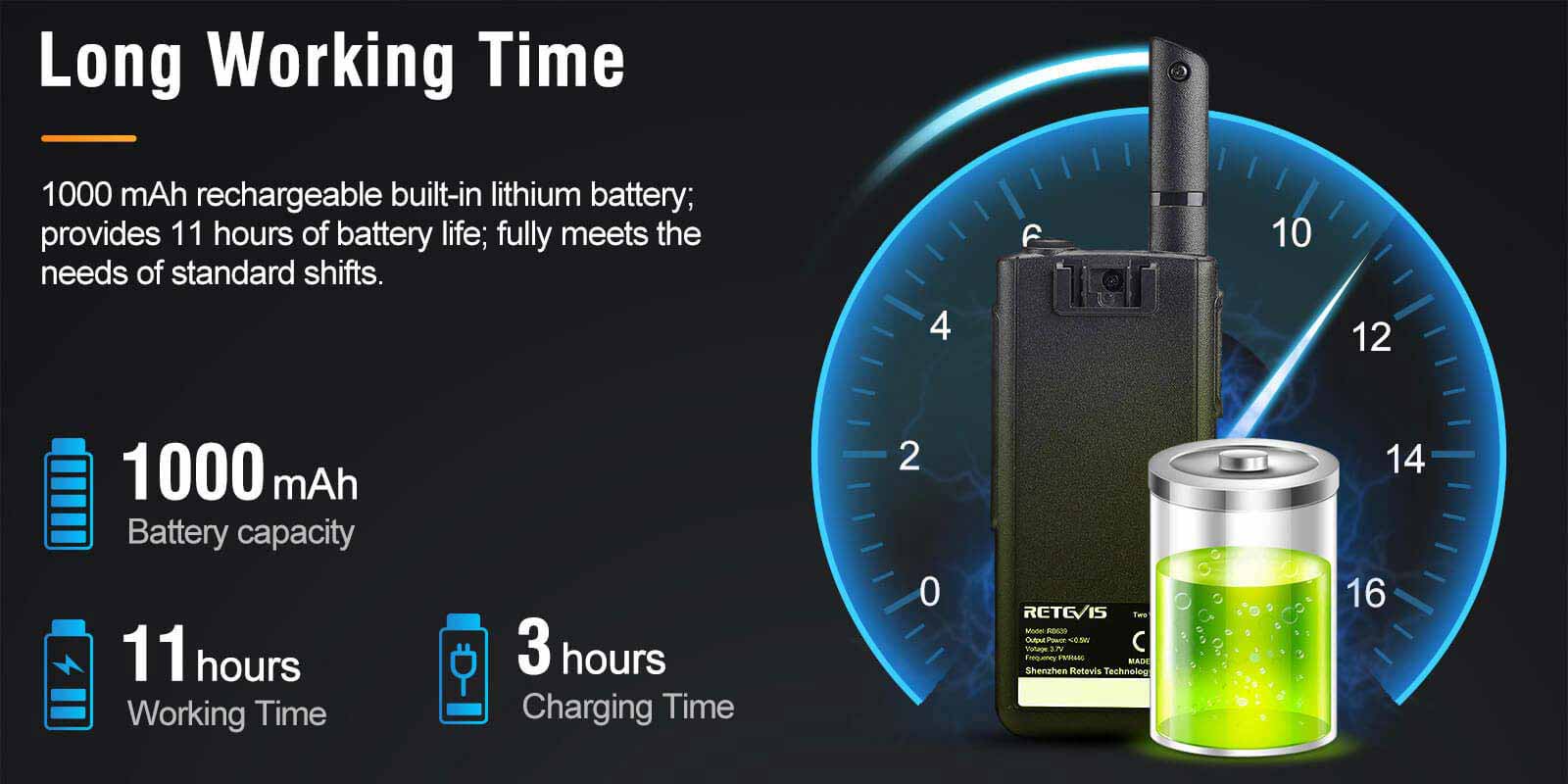 9,
Long Distance radio
With 1.4km-1.6km call distance, a strong penetration and a wide coverage area, the walkie talkie can improve communication efficiency and is more efficient.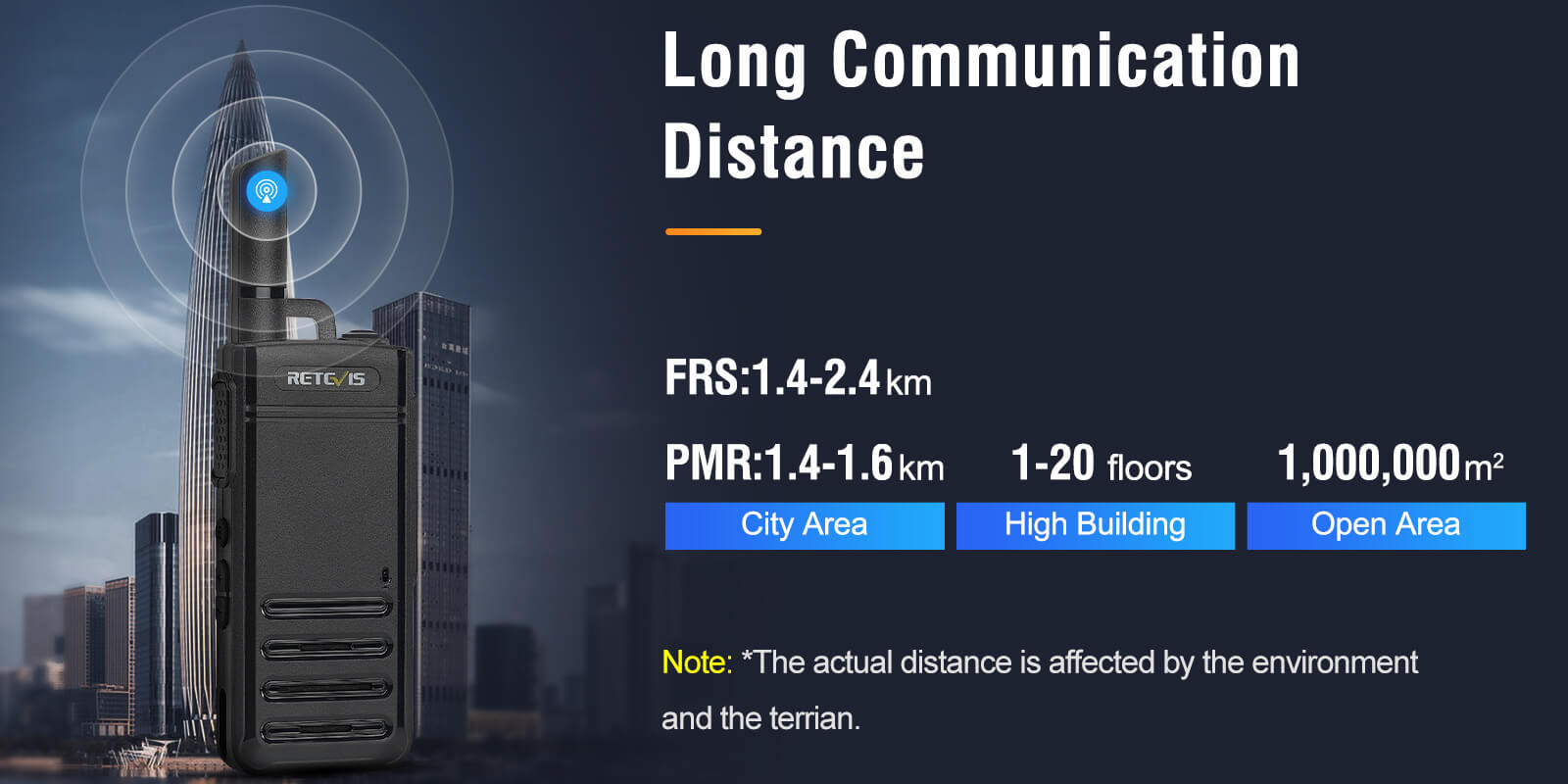 10. RB39 ultra-thin Radio function detail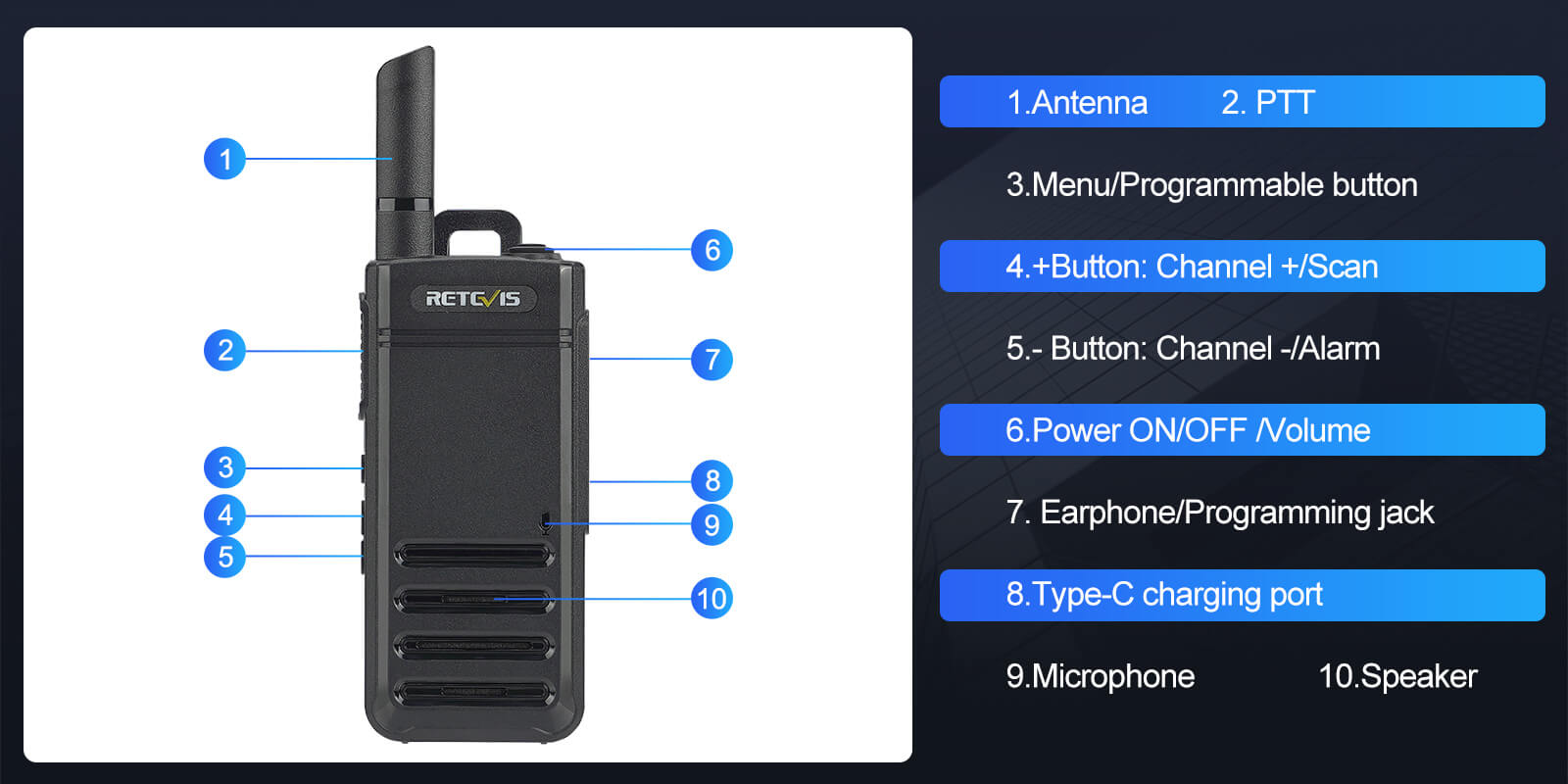 11.
RB39 ultra-thin Radio
specifcation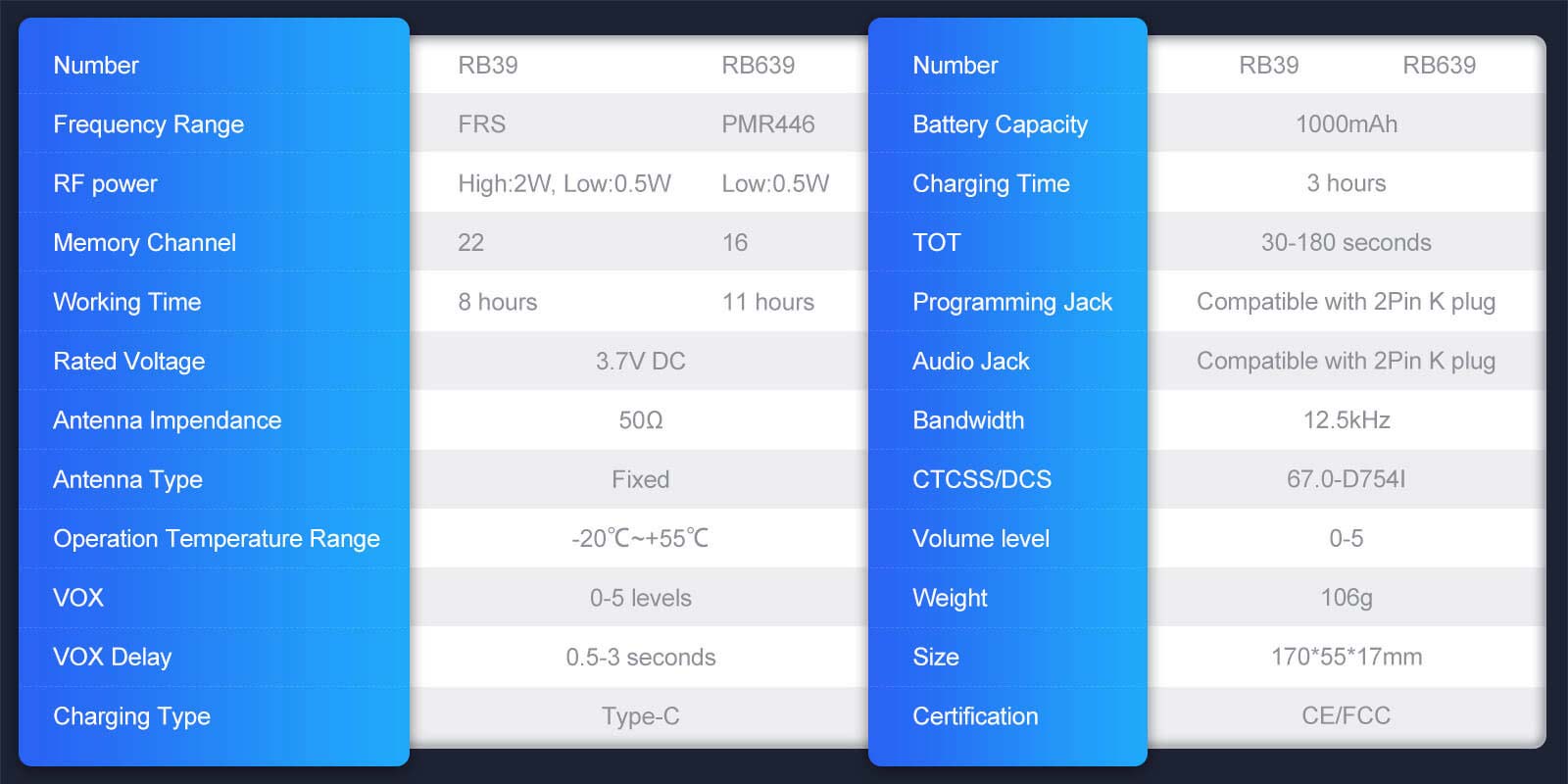 12.
RB39 package detail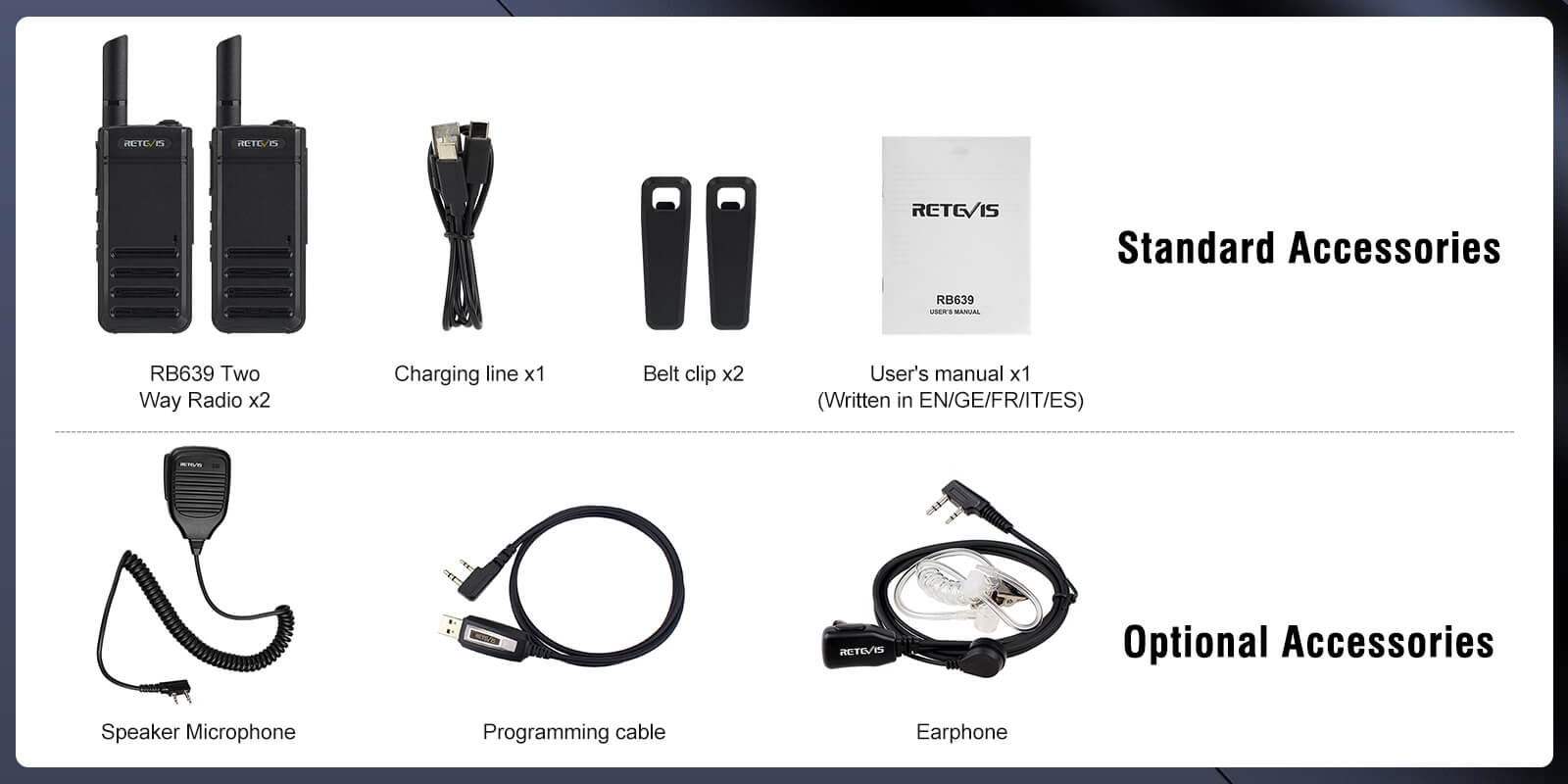 What's in the Box?
Standard Accessories:

RB39/RB639 Two Way Radio x2

Li-ion battery x2

Charging line x1

Belt clip x2

User manual x1
Feature
Function:
● 22 FRS/16 PMR446 Channels
● H/L Power
● Scan
● Monitor
● Squelch
● BCL
● 50 CTCSS codes/210 DCS codes
● VOX
● Call Tone
● Battery save
● Key Lock
● Key beep
● Low Battery Audible Alert
● Roger beep
● TOT
● Audio companding
● Voice Announcements
● Alarm