Retevis RA19 Bluetooth Rechargeable Walkie Talkies With Wireless Headset
No need Cable. Allows to pair Bluetooth headset and free your hand from holding walkie talkie while using. It is perfect for outdoor family or group activities. Keep in touch and ensure safety. Retevis RA19 is the durable, pocket-size and simple to use outdoor skiing camping walkie talkie. The best Bluetooth Walkie Talkies.
RA19 is the license-free two way radio, no need to program, no more extra fee, easy skiing or other outdoor adventure.
RA19 supports Bluetooth and comes with a Bluetooth headset.

Easy to pair with the headset with one button. Comes with the Bluetooth two way radio headset, No matter skiing or bicycling, Retevis RA19 Bluetooth walkie talkie makes communication easily.
Wireless copy

RA19 Bluetooth Walkie talkies with the Wireless Copy Function, no need the computer, it will Help you easy to copy another radio's settings without the programming software.
Blue Display

Black LCD display with the Blue Font, easy to read the radio when you are out. No matter skiing or bicycling.
RA19 has a local alarm and remote alarm function. When you meet the emergency, you can activate the alarm button to send out an alarm to remind your teammates when outdoor adventure.






Built-in Flashlight will help you light when you are in a dark or poorly light environment.



Dual watch feature helps you standby two channels at the same time.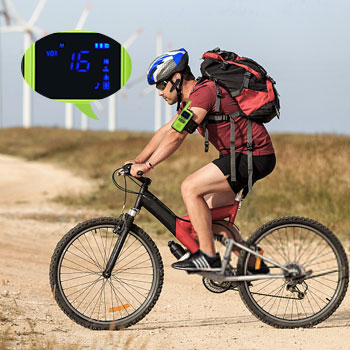 VOX( Hands-free)




Free your hands by VOX. RA19 has 9 VOX levels, the higher the level, the more sensitive the VOX response will be.



USB charger




Micro USB charger, no matter indoor or outdoor, charger easily.
Li-ion/AA battery




Equipped with a 1400 mAh Li-ion battery, also you can easy to find the AA battery to replace it.
Choose RA19 Bluetooth walkie talkie, Make your outdoor adventure smoothly and easily.

Go Skiing, bicycling, climbing and hiking with Bluetooth walkie talkie RA19.

General
Model
RA19
Frequency range
FRS: 462.5500-467.7125MHz
Channel number
22CH
Channel spacing
12.5KHz
Standby current
≤8mA
Operating temperature range
-10℃~+50℃
The antenna impedance
50Ω
Rated Voltage
3.7V
Transmitter
RF Power
≤2W
Modulation restriction
≤2.5kH
Adjacent channel selectivity
≥60dB
Spurious radio frequency
≤7.5µW
Emission current
≤1.3A
RECEIVER
Reference sensitivity
≤0.25uV
Audio power
≥300mW
Waiting current
≤8mA
Turn on sensitivity
≤0.20uV
Receive current
≤310 mA
Features:
Radio Buit-in Bluetooth
Bluetooth two way radio headset
Vibration function
Non-magnetic speaker
Torch Light
Monitor
Alarm function
VOX
VOX delay function
Key locks
Scan
TOT
Micro USB charger
Wireless copy: Wireless data transmission between walkie-talkies without Programming Software.
Description:
Wireless Bluetooth two-way connection easy to talk.
Bluetooth headset call range: ≤10M; Working time: 5-8 hours.
The operation is simple and the sound quality is good.
Wireless data transmission between walkie-talkies without programming software.
Eliminate the tail tone to avoid the impact noise from the loudspeaker at the end of the call.
VOX enables normal calls without the need for PTT keys.
SQL can adjust the ideal call environment in real-time.
RA19 Bluetooth Rechargeable Walkie Talkies With Wireless Headset
Skiing Season is Coming. Choose RA19 as your communication tools
1, Bluetooth Walkie Talkies
2, Bluetooth headset

3, NOAA Weather Alert

4, Vibration Alert Function

5, NOTE: Programming software: please click "

support

" to download
Order Handling Time within 3 Working days(Pre-sale products excluded).
13622 PEOPLE ARE LOOKING FOR THIS PRODUCT
What's in the Box?
1 x Retevis RA19 Bluetooth License-free Two-way Radio
1 x Li-ion Battery
1 x Bluetooth headset
1 x Micro USB charging cable
1 x Manual
1 x Dock charger
1 x Battery cover
Product Reviews
---

Raffaele Lonoce

Rechargeable walkie-talkie

Rechargeable walkie-talkie, battery-mountable walkie-talkie, ideal for outdoor use

maxfolgorino

walkie talkie with bluetooth

This is a walkie-talkie with bluetooth, it's great for cycling, my son and I will choose this one for the weekend bike ride

Massimo Coletta

easy to use

There is no need to use the wire to write the frequency, and the channel information of other walkie-talkies can be copied wirelessly, which is very convenient for outdoor use.

Explorer Wolf

Wireless copy walkie talkie

My friend and I went out to climb the mountain, we have a leader's walkie-talkie, you can set the same information by turning on the wireless copy, it is very convenient and a great product.

Louis p

Bluetooth walkie talkie

great product, easy to carry, on the side there is also a micro USB, integrated with Bluetooth technology. Useful products to use in the camper when traveling 👍👍👍👍👍

Reviewed in United States

on

May 23,2021

Absolutely love the set I have! Haven't had any issues, Bluetooth ear bud works very well! The volume/ clarity in the audio is impressive!