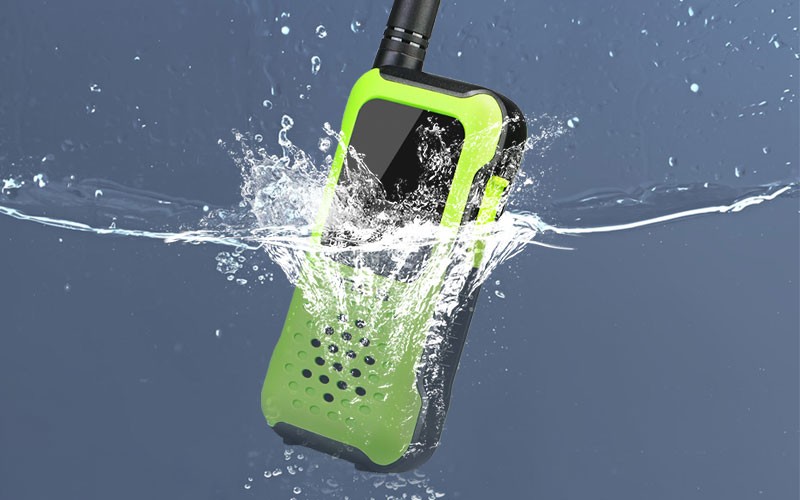 RT49P- The best waterproof walkie talkies for kayaking
Retevis RT49P IP67 waterproof walkie talkie help you to keep you connected whether on land adventure or water sports adventures.
With its IP67 rating, Retevis RT49P withstands constant submersion of up to 1m for 30 minutes and repels the heaviest rain.
Floats design with Water-activated Flashlight
RT49P floating radio can float on the water surface. And with the water-activated flashlight, even easier to find.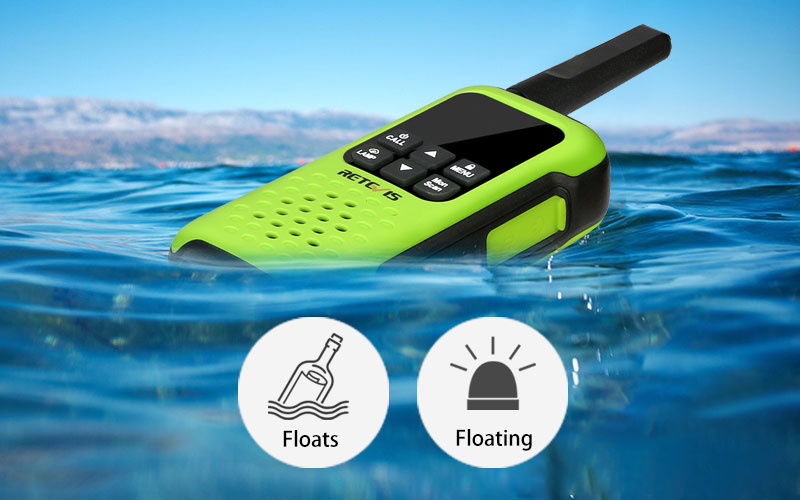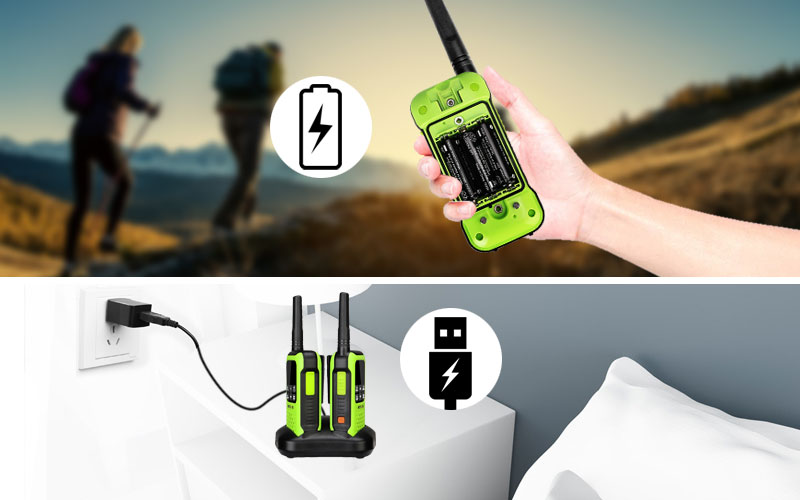 Rechargable and Replaceable batteries -Enjoy your adventures
A. Micro-USB Charging, Insure full charges of radios using a portable solar unit or portable charger.
B. RT49P use Standard NiMH rechargeable batteries for up to 13 hours(5-5-90),
C. Choose 3 AA Batteries as the replace batteries, you could buy them easily.
Dual Watch
Standby two channels at the same time.
Set another monitor channel by hand and start Dual Watch, one channel displays while you could monitor two channels at once.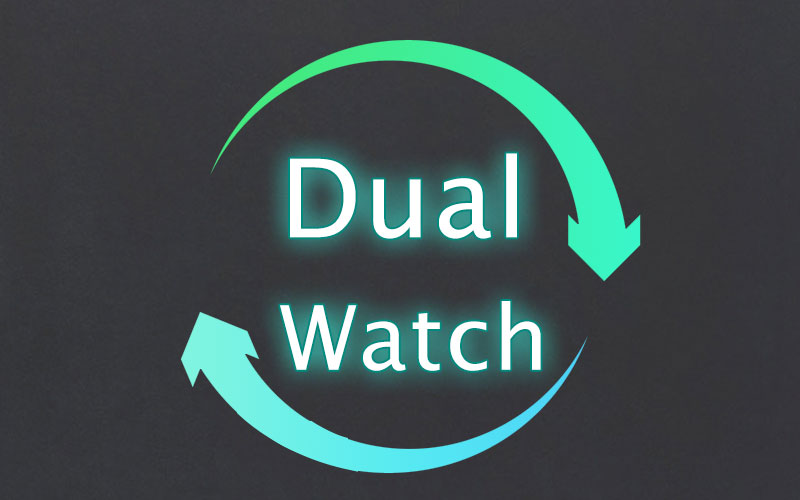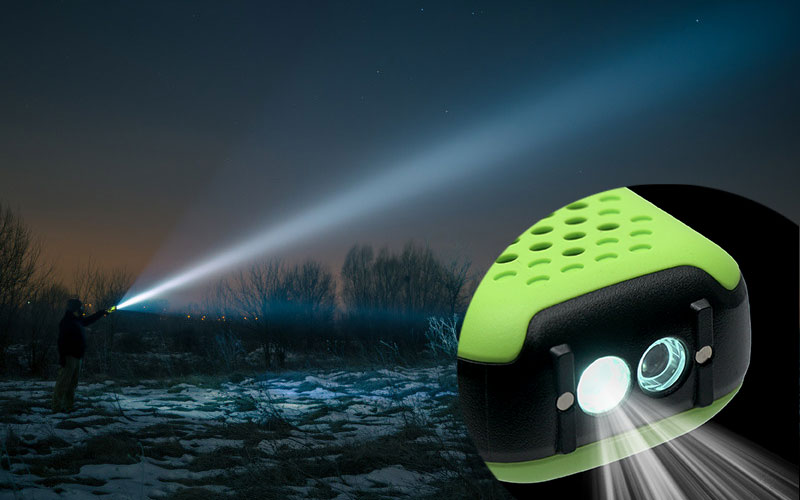 LAMP-Built-in Flashlight with White LED / SOS with Red LED
Select the built-in-flashlight walkie-talkies, light your way during evening activities, unexpected emergencies, or power outages. No matter hunting or fishing at night.
NOAA feature for FRS license-free walkie talkies
With 11 Weather Channels, easy to choose the right channel to get weather reports in advance.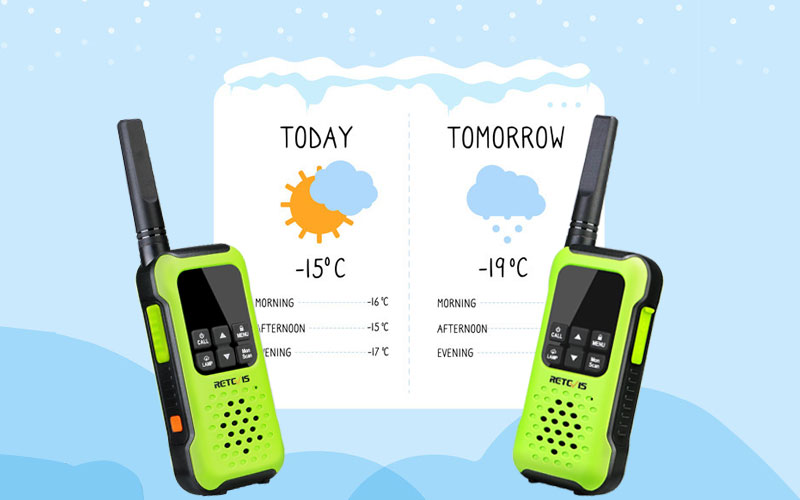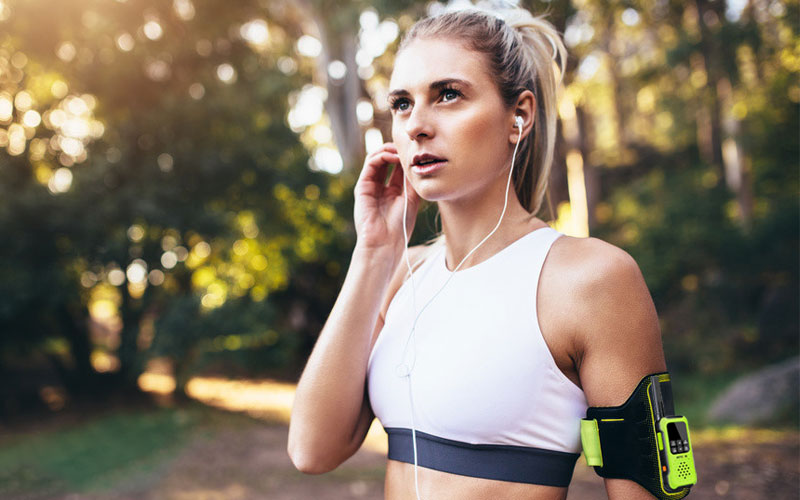 Hands-free operation-VOX function
It will automatically begin transmitting and Keep your hands free.(No need press PTT button to talk).
VOX means "voice-operated exchanged" or" voice activated transmission".
Hands-free communication, you can keep on moving without stopping to answer a call.
Keypad lock
it prevents your personalized settings from being inadvertently changed.
Keep standby in the right channel.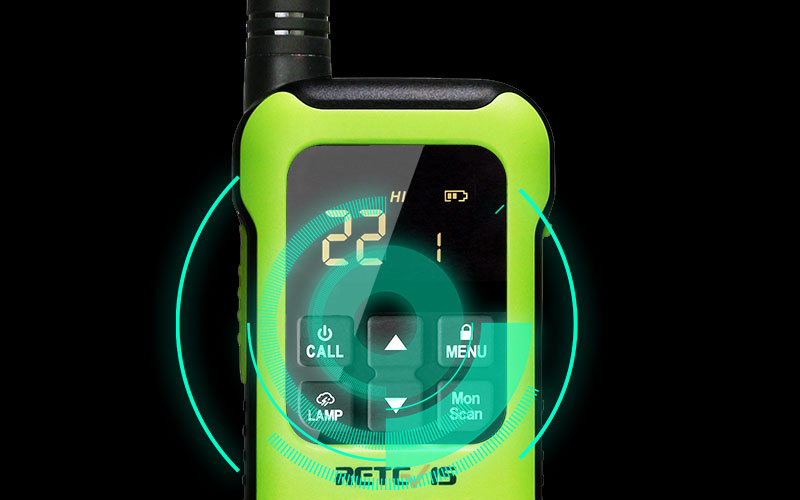 Retevis RT49P waterproof floating walkie talkies 2 pack, the Long range waterproof two-way radios, also the floating portable two way radio, NOAA weather channels, SOS emgergency Alarm and water-activated flashlight. The rechargerable 2 way radio for adult.
Function:
Backlit Display: so you can easily read the display information.
Roger Beep: it indicates the end of transmission.
10 Call Tones: Transmit different call tones to other radios, so you can alert them that you want to talk. Meantimes, you could also hear.
Keypad Tones:You could turn it off alternatively according to different time & environments.
Low battery alert: it reminds you batteries are running lowly
Monitor: When activated, it allows the receiver to hear what's happening on the channle frequency.
Scanning:It continuously scans all channels for activity , to detect a channel avaliable during the scanning process.
180s TOT(Timeout Timer): If the "TALK" button is held down for too long, the radio will automatically stop transmitting.
It is intended to prevent accidental transmissions and to save battery life.
They are there to protect the radio, and to protect resources like repeaters and public frequency.
Power Battery Saver automatically: when it has a "low power" mode, it will switch to automatically after being left unused for a certain amount of time.
Squelch: it is to suppress the annoying sound of channel noise when the radio is not receiving a transmission.
With 22 or 16 channels optional, Each with 121 Privacy Codes: 2,662 or 1936 combinations in total, it's easy to find an available channel nearby;
Compatible with others: Make sure all has the same frequency and privacy codes (CCTCS/DCS), so they could talk with each other
General
Frequency Rangefrs:
FRS: 462.5500-467.7125(NOAA161.6500-162.5500MHz)
Memory Channel
22CH (FRS)
Operation Voltage
DC 3.6V / DC4.5V
Battery Capacity
1200mAh
Operating Temperature
-20℃-+60℃
Antenna Impedance
50Ω
Transmitter
RF Output Power
FRS: 2.0W/0.5W(Hi/Low)
Spurious Emission
≤-13dBm
Transmission current
≤1.3A
Receiver
Receive Sensitivity
-125dBm
Adjacent Channel Selectivity
-125dBm
Inter Modulation and Rejection
≥60dB
Rated Audio Power Output
≥450mW (4.5V)
Rated Audio Distortion
≤5% (60% volume)
Receive Current
≤300mA
Retevis RT49P

Waterproof floating walkie talkies
Portable Two Way Radios for outdoor
Floating waterproof design, keeps you connected with family and friends no matter during your wildest adventures or Water Sports like kayaking.
1, IP67 waterproofing withstands constant submersion of up to 1m for 30 minutes and repels rain
2, Floats face up if dropped overboard
3, A water-activated flashlight makes the radio easy to find in water
4, Hands-free communication is provided by VOX, which acts like a speakerphone
5, NOAA weather radio keeps you updated with real-time weather
RETEVIS RT49P the best floatable waterproof walkie talkie for fishing, kayaking, hiking and other outdoor adventures.
1, RT49P, the Effective IP67 waterproof walkie-talkie for water sports or extreme sports.
2, Floats and with Water-Activated Flashlight.
3, Great for teaching, or keeping in touch. Compatible to other UHF FRS radio units.
4, Built-in Flashlight with White LED Light
Order Handling Time within 3 Working days(Pre-sale products excluded).
31264 PEOPLE ARE LOOKING FOR THIS PRODUCT
What's in the Box?
2 x RT49P Waterproof floating walkie talkies

6 x NiMH Rechargeable Batteries

2 x Belt Clip

1 x USB charging Cable

1 x Drop-in charging tray

1 x Adapter

1 x User Manual
Product Reviews
---

Bob

Very happy with the product

We purchase these two walkie talkies for an upcoming cruise. So far testing them out has been great. Our grandkids really tested them out last weekend and wanted to keep them

This product works great, clear sound and far range of use. Amazing that they are waterproof given we used them in the snow, and still worked without any issues. Would buy again.

We love them we take them out on the jet skis and there amazing very clear sound and water proof!

Unrisesay

Cool walkie-talkie, recommending

Great radio, I'm happy with it 100%. Waterproofed with IP67, solid built, AA replaceable batteries - it's cool for emergency backpack to keep contact with neighbors and for tourism and water sport. 5 stars ⭐

Eamonn O'Connell

Great Family Comms

Reviewed in France

on

Aug 12,2021

They were a gift for my kids. I didn't want some cheap kid type walkie-talkies with a disney cartoon printed on them that don't work so well. I was looking for good build quality, and good reliable reception. I also had the vision that they could come in handy in outdoor situations such as skiing and biking. I had looked at some bigger brand equivalents, but I came across very positive reviews Retevis on YouTube. My kids have had great fun with them on hikes with one running ahead out of sight - at least until the novelty wore off as it always does. They have even been useful when working from home during the pandemic. The kids have one walkie-talkie with them while outside, and I keep the other beside me on my desk. There is great peace of mind in knowing we can reach each other in an instant. That same sense of peace of mind can extend to other situations such as being when on holidays. A mobile phone could provide similar peace of mind, but for children not old enough to have their own phone, or for parents who don't want to pay a monthly subscription for a sim card for their child, good quality walkie-talkies like yours can fill some of the gap. We have not had an occasion to really make use of the torch, I even forget it is there. Perhaps when we go camping they will be a handy set of auxiliary torches. I very much like the charging station. Micro usb is not bad, but usb-c would be even better.

Great waterproof FRS radios

Reviewed in United States

on

Feb 22,2021

I needed some waterproof FRS radios to use when I take groups of people on kayaking trips. These units are perfect for that. I have been able to communicate with them for over 2 kilometers. They have worked seamlessly with my older FRS radios. And they even meet a Coast Guard requirement for paddling along the coast at night by providing an automatic beacon flashing the SOS distress code. They appear to be study units, and can be charged by using a USB charging brick or, in an emergency, can be powered by AA batteries. They fit my needs perfectly.

Reviewed in United States

on

Jan 16,2021

Great online experience. Customer Support ensured that the correct type of product was purchased and delivery was quick. Product was exactly as advertised! I consider these to be excellent value for the price.

Reviewed in United States

on

Jan 12,2021

It's very compatible with Motorola however more affordable without losing any features of Motorola it's a great idea and thankful for trying the RT49P thank you Retevis

Reviewed in United States

on

Jan 10,2021

My Family ordered the waterproof RT49P model and we love using them. The Retevis customer support was fantastic in helping to select the correct product for use in our area of the world. Delivery of product was quick and product completely as expected.

Reviewed in United States

on

Oct 15,2020

Excellent