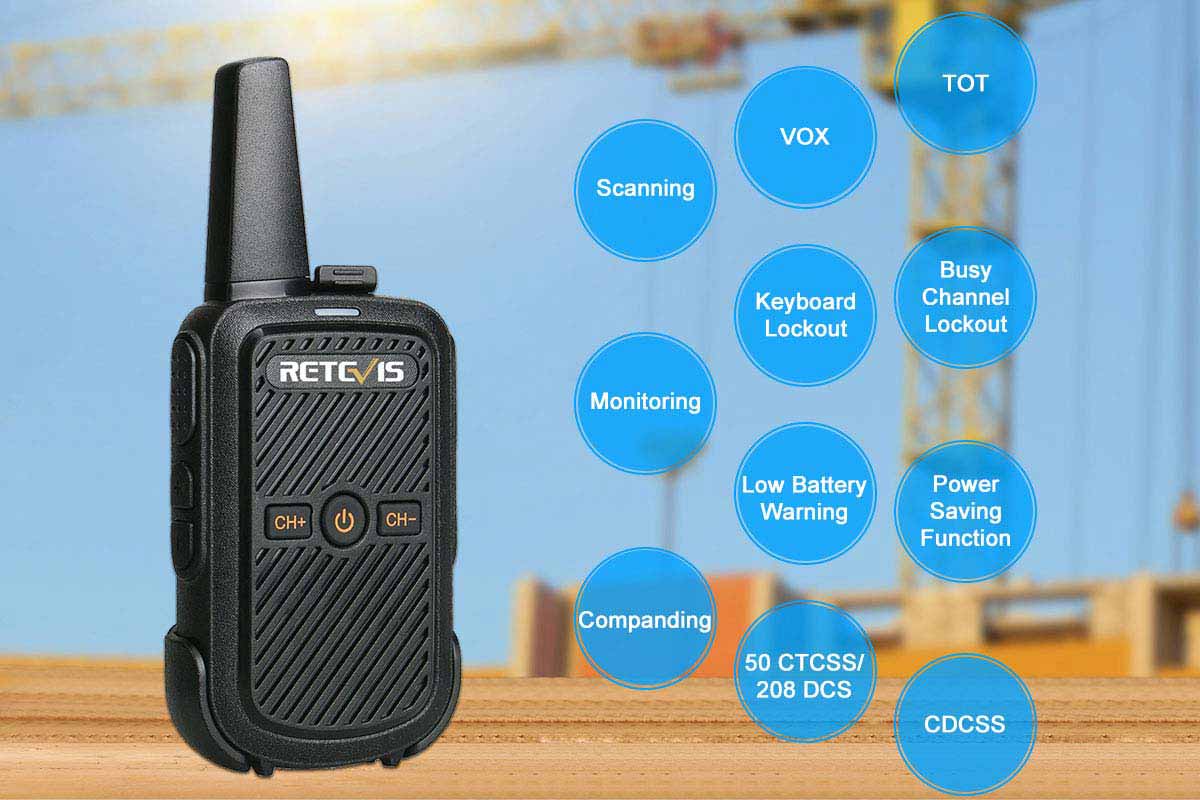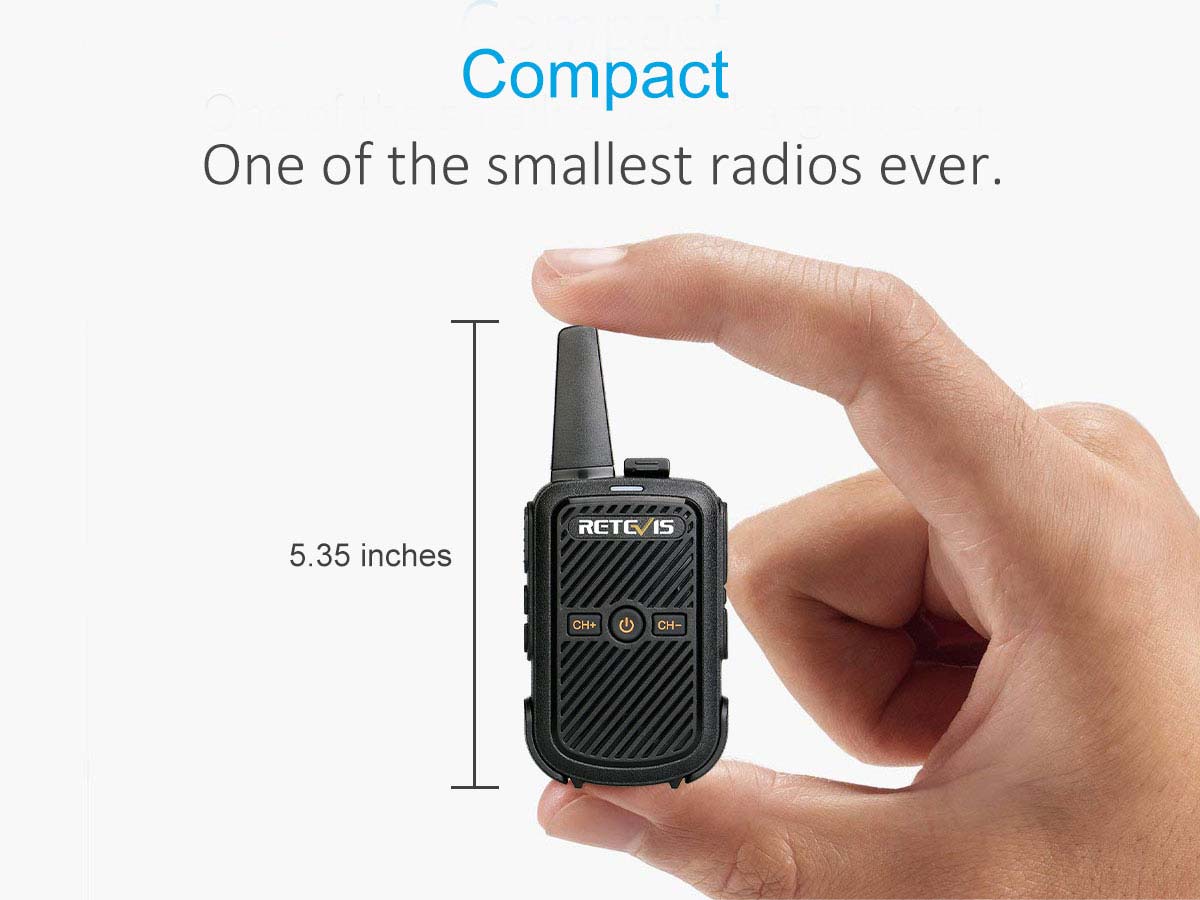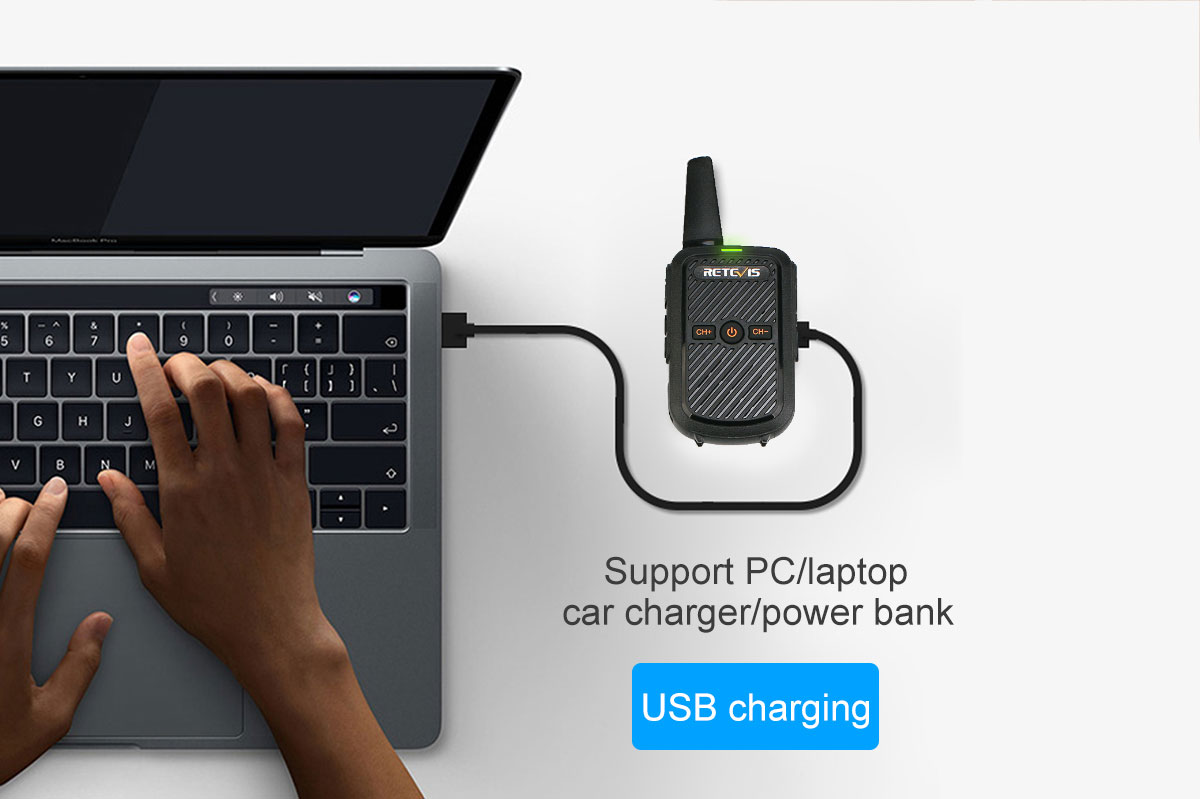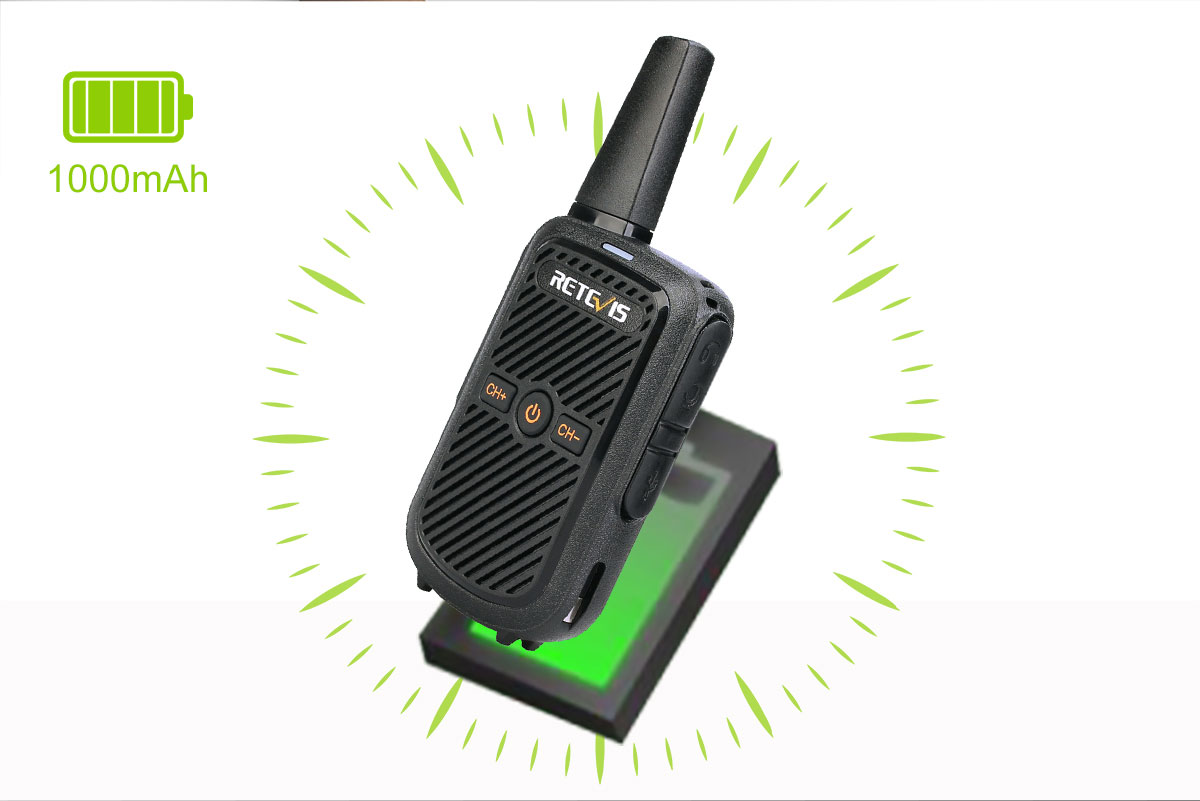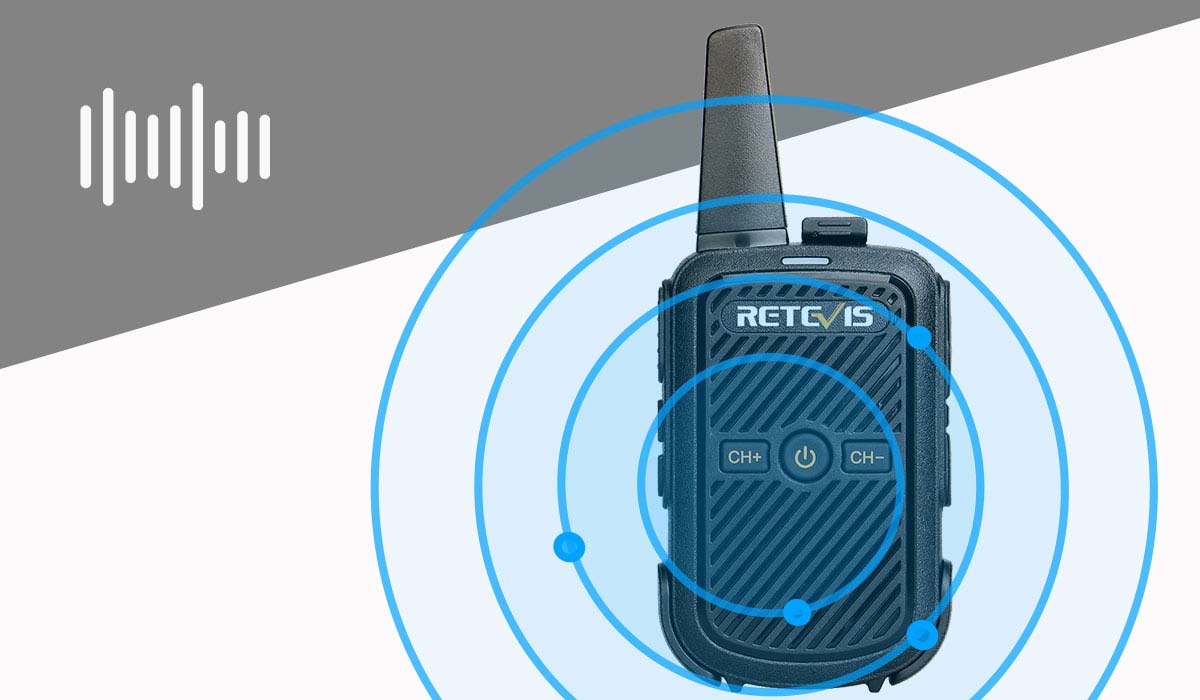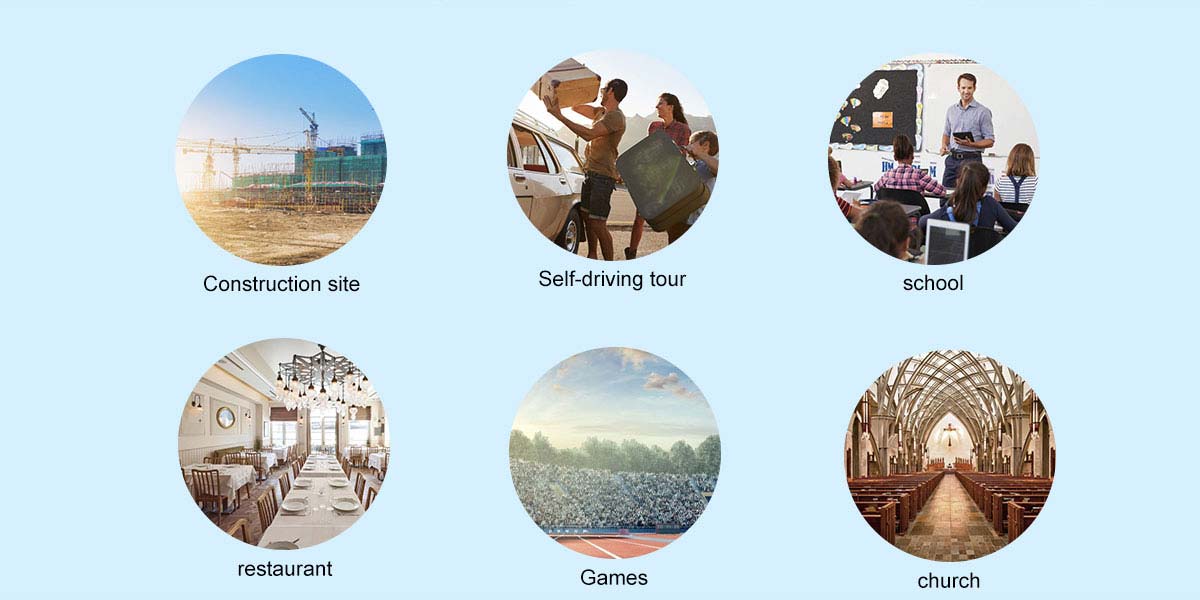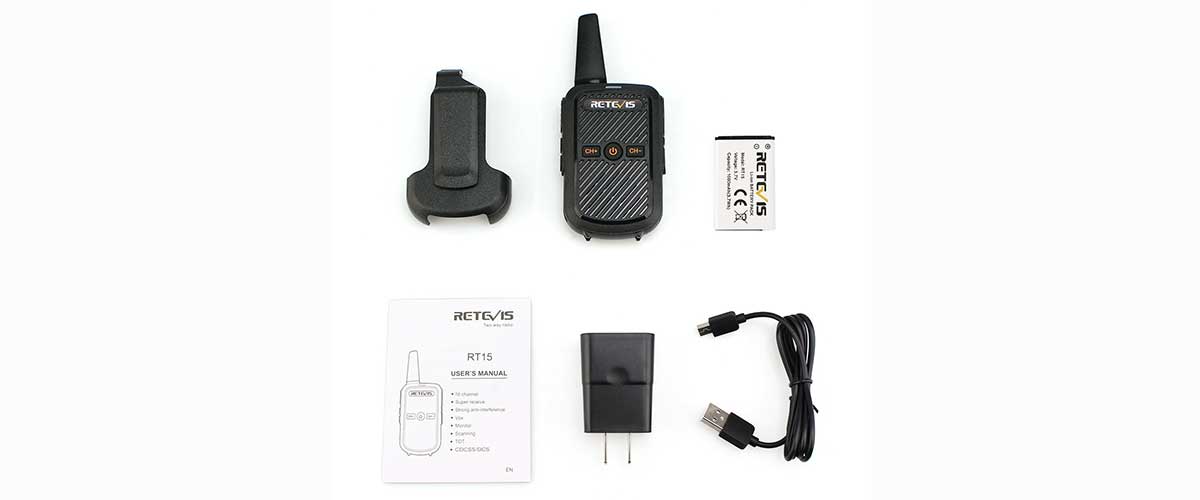 Technical parameters:
SPECIFICATIONS
Frequency Range
FRS-PMR446
Supply Power
DC3.7V
Memory Channel
16
Antenna Configuration
Integrated Antenna
Dimension
136x59x21mm
TRANSMITTER
Output Power
≤2W
Modulation Mode
F3E
Max. Frequency Deviation
≤±5KHz
Sparious Radiation
≤7.5uW
Preemphasis Character
Per Octave 6dB
Emission Current
≤1000mA
RECEIVER
Sensitivity
<0.16uV(12dB SINAD)
Audio Power
≥300mW
Audio Distortion
<5%
Intermodulation interference resistance
≥60dB
Receiving Current
≤300mA
Standby Current
≤20mA
Retevis RT15 Mini Lightweight FRS for Business Radio
Description:
Small and light, compact, easy one-handed operation

High-quality batteries for long time calls

USB Type-C jack, support multiple charging methods

Multiple functions, keystrokes easy, convenience
Feature:
Scanning

VOX

TOT

Monitoring

Keyboard Lockout

Busy Channel Lockout

Low Battery Warning

Power Saving Function

Companding Function

Special Signaling

50 CTCSS/208 DCS
Package includes:
1 x RT15 two way radio

1 x USB cable

1 x Belt Clip

1 x User manual

1 x Adapter(Optional US/EU)
Firmware/Software
---
win11-DriverInstaller

The win11 driver is compatible with win10, win8 and win7 systems.
Accreditations
---
Accreditations
RT15-FCC-Certificate
RT15-IC-Certificate
RT15-UL62368-Certificate
---
RT15 is a license-free walkie talkie for most people.
RT15 is small and lightweight for business radio.
The programming cable is

C9018A

NOTE: Programming software: please click "

support

" to download
Order Handling Time within 3 Working days(Pre-sale products excluded).
36370 PEOPLE ARE LOOKING FOR THIS PRODUCT
Product Reviews
---

Travel Nurse. They use this in the ER at my current contract and they work wonderful. was able to hear traffic on 7th floor and if you know anything about hospital interference, you know that speaks for itself! Very useful for the department so just imagine what it can do for a business that has frequent comm needs! Got mine on Amazon before I thought to come to the site because that's where I was told hospital ordered from.

We use for communication at church, works well , lightweight and compact, for the money, I would defiantly purchase again if needed...

Jason

Great Compact Radio!

Reviewed in United States

on

Jan 16,2019

I recently got to review the RT-15, I have to say I a so impressed! I was using the RT-15 with a Motorola Talkabout radio as a comparison. If you just look at the price along the RT-15 is a awesome deal, but there is so much more. The unit comes pre-programmed with the FRS/GMRS channels so out of the box you can use it with your off the shelf family radio's. Even better the radio has a frequency range from 400-470 Mhz so you can use it on ham band or program it to match your current radios. Another great feature is there is no off the shelf FRS/GMRS radio that you can program to use voice scrambling for security! So many features to list. You wont be disappointment with these units.

Reviewed in United States

on

Nov 23,2018

Bought these for my son's 6th birthday. He can go play out on the land and call me when he needs me, or vice versa. Our property is 3 acres and we can communicate perfectly from anywhere. Easy enough for him to use right out of the box.

Blanche Hart

They work great

Reviewed in United States

on

Nov 23,2018

Got a deal on these and they came today. So far no complaints. We all love them. Great when the kids are at there friends and i want them home for dinner or whatnot

ennifer

AWESOME walkie talkies for my kids!

Reviewed in United States

on

Nov 23,2018

Just received these in the mail and my kids are already having so much fun playing with them! Radios work great and looks exactly like description! Easy to use and we love the small radios,Received it faster than what I thought I would! Love the product! Thank you so much!!!

Jorge Gomez

WOW these are good!

Reviewed in United States

on

Nov 23,2018

WOW these are good. Really clear, easy to use, sturdy. I use with my 6 year old when he wants to play outside in the yard and I am in house. They are perfect!

Bill

The Price is the best atribute

Reviewed in United States

on

Nov 23,2018

Another great product and great price. You cannot go wrong with this purchase.

Reviewed in United States

on

Oct 24,2018

Excellent for my kids in the neighborhood. Works well from inside one home and reaching inside another home 400 yards away. Distance has not been determined, but no interference issues from buildings or homes.

Mark M.

Solid, Small, USB Charging

Reviewed in United States

on

Oct 24,2018

Great little radios, to include with my collection. I bought these because of the fixed antennas as other radios with the removable antennas get lost or broken. They work better than expected, side by side with another brand of the same power I made contact with these that the other brand with non fixed antennas could not, and I prefer the clearer Male voice alerts on power up and channel changes over the female voice of the other radios on the market though the number 12 voice is off for that channel, not sure what it is saying. For the price you cannot go wrong, NOTE: these come pre program with commercial frequency's that need a licence in all channels and will need changed via computer programing, Not out of box good to use.