RT21V Murs Business Radio
US$73.99
Free shipping on orders over $50
US$ 73.99
-100%
NOTE: Programming software: please click "support" to download
Order Handling Time within 3 Working days(Pre-sale products excluded).
13701 PEOPLE ARE LOOKING FOR THIS PRODUCT
OverView
1. RETEVIS RT21V rechargeable walkie talkies, 2W, 1100mAh battery capacity.The two way radio is suitable for the storage, wharf, construction site, tourism, hotel, logistics, factory, etc.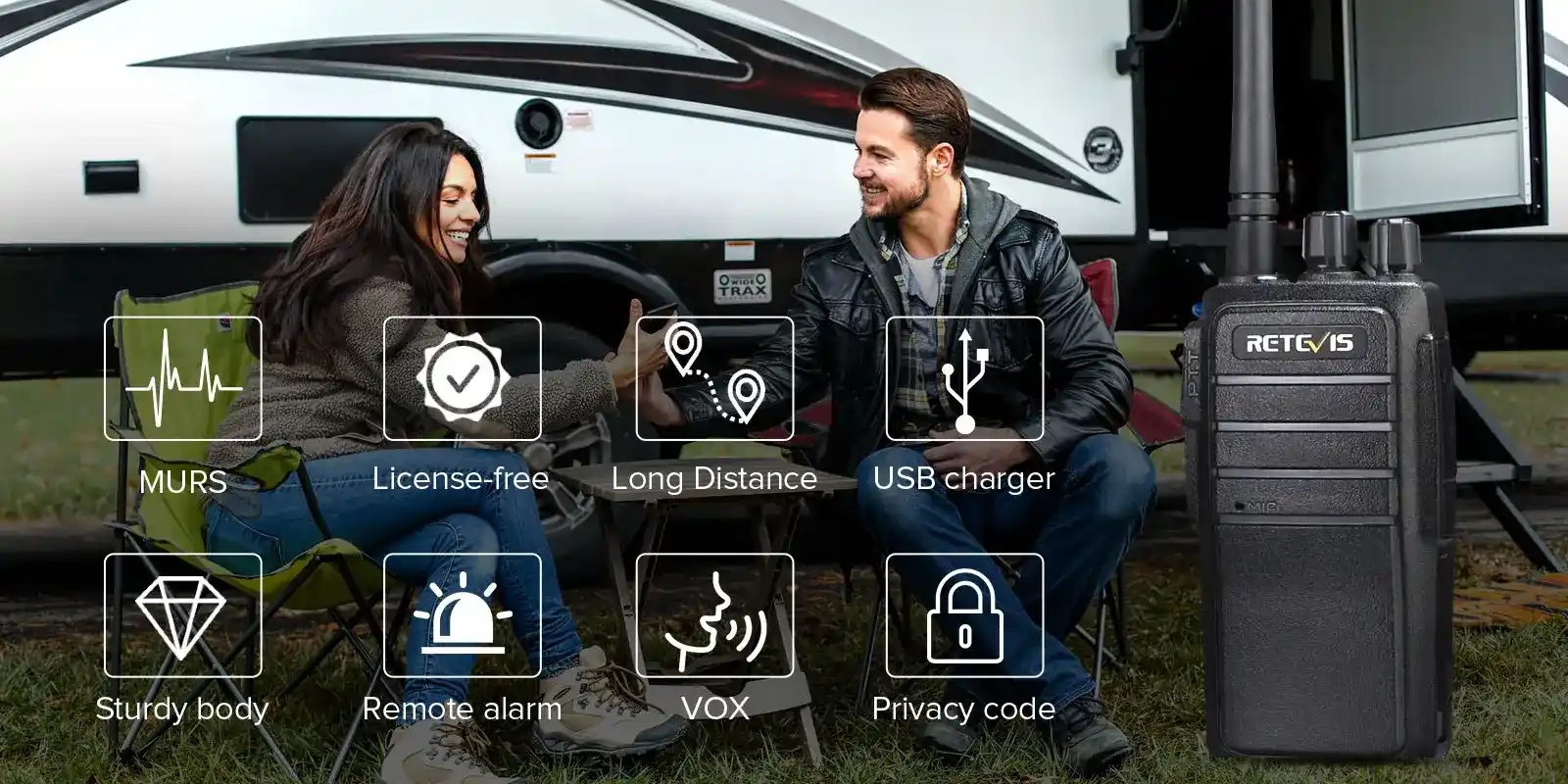 2. RT21V long range radio
With the detachable antenna, the walkie talkie can be replaced with high gain for a wider range. (Note:Only equipped with detachable antenna).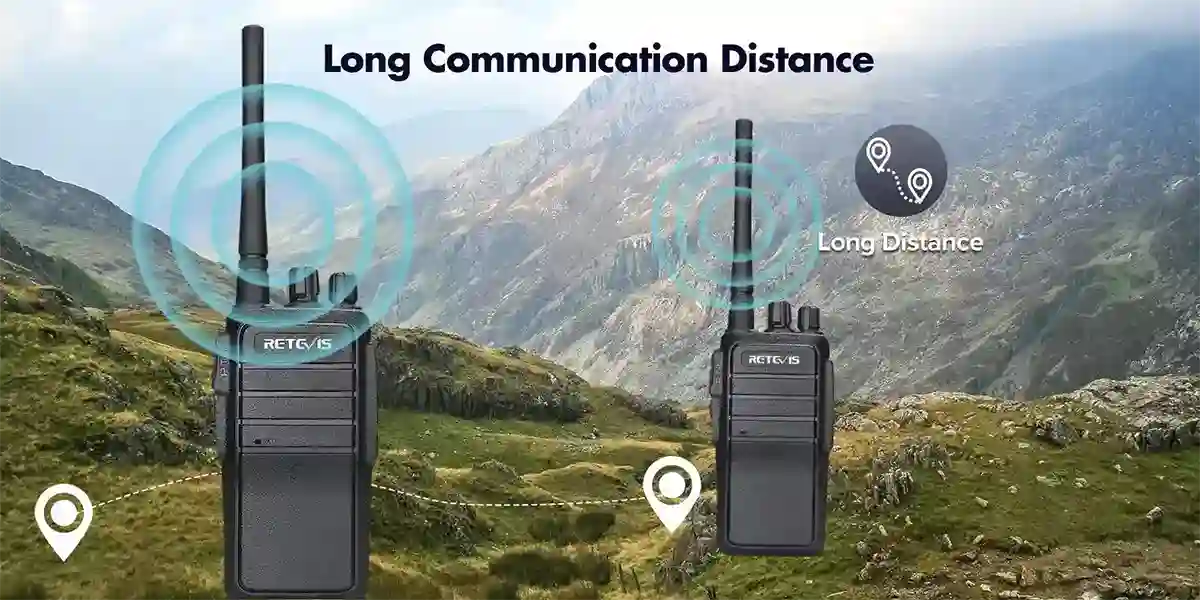 3.RT21V MURS Radio Long Battery Life
For outdoor activities, the walkie talkie need to be used for a long time. With 1100mAh Li-ion battery, the walkie talkie can be used for 10-12h on one signal charge, supporting daily use.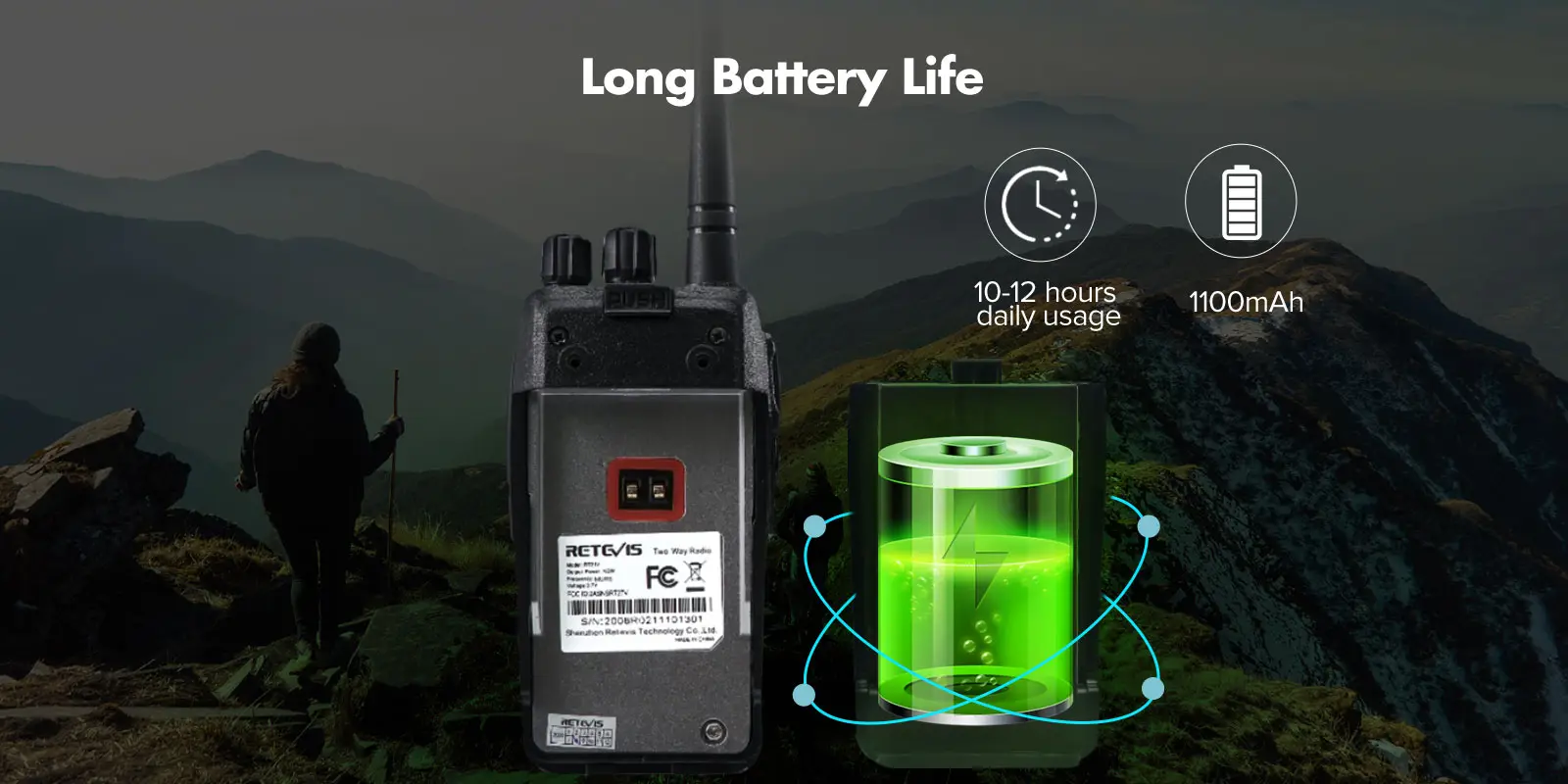 4. RT21V USB charging
Equipped with a USB charger, it gives you more charging options, especially when you are on the go. You can charge your walkie talkie through a power bank, computer or car charger, very convenient.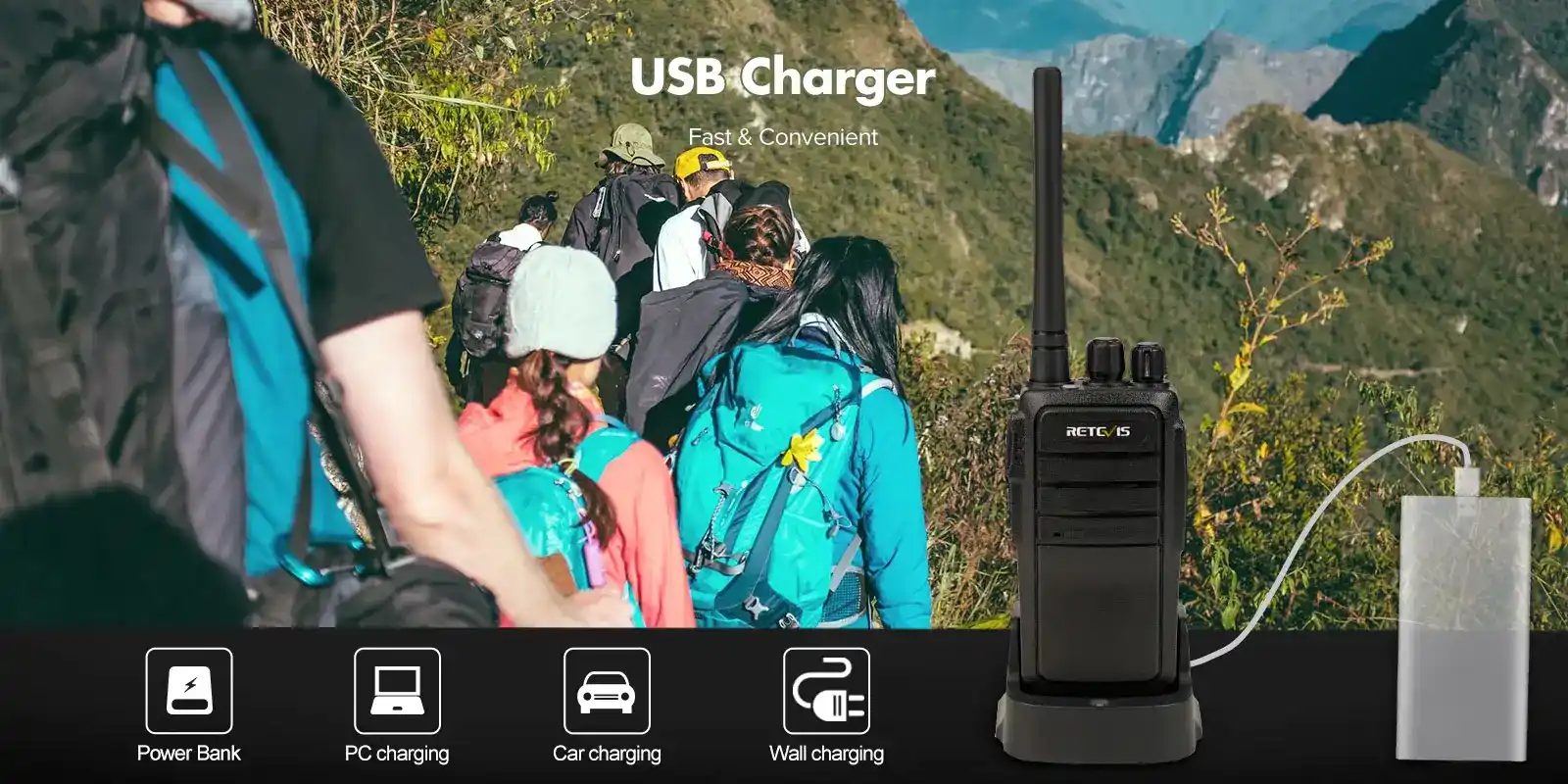 5.RT21V Emergency alarm
Outdoors, you can face many problems and even dangers. The remote alarm signals others through the loudest sound and helps you out of trouble.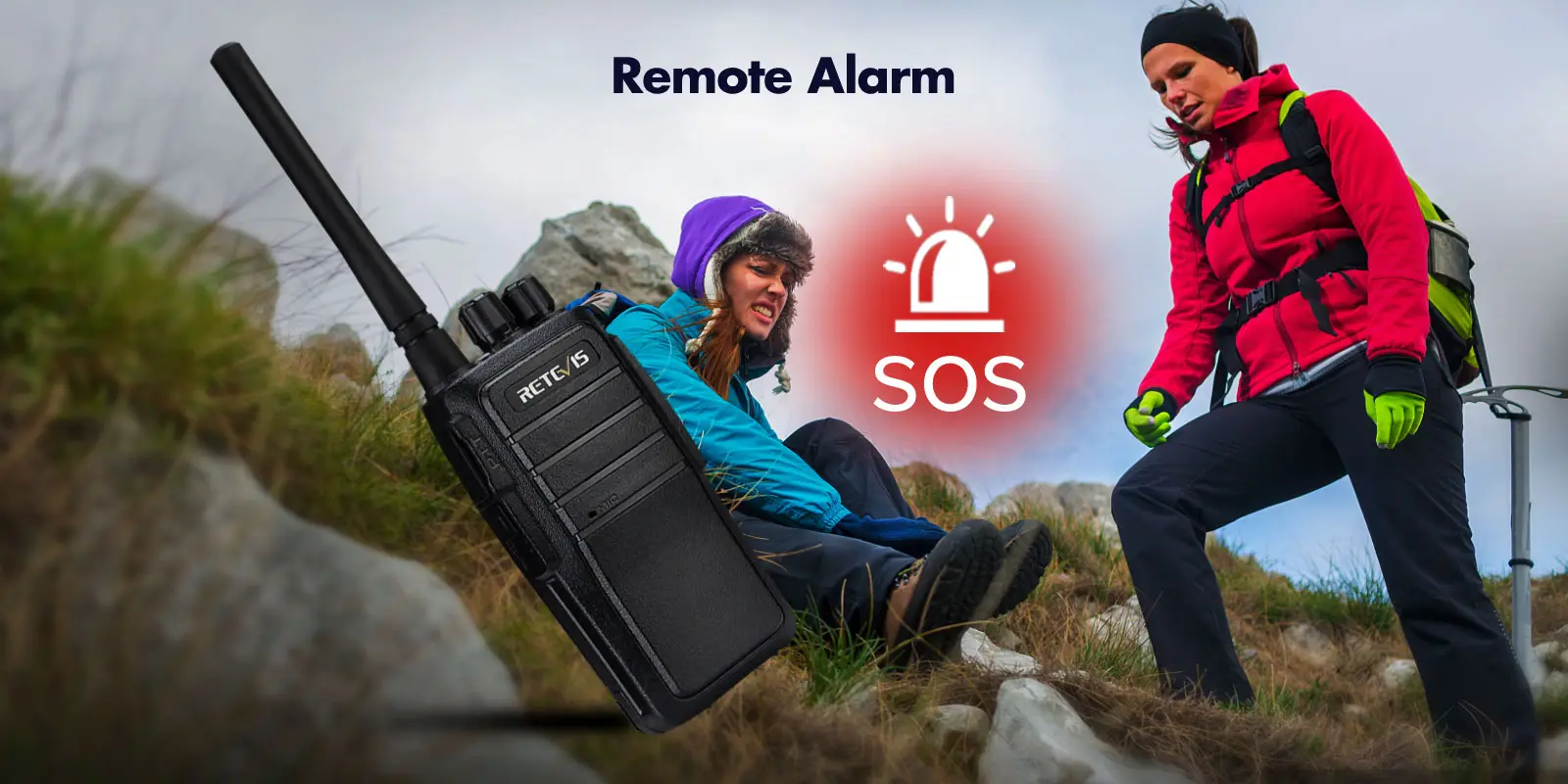 6. RT21V Sturdy Body
When hiking, the environment can be varied and changeable. The stability of the walkie talkie is an important factor. With durable materials, the walkie talkie is able to withstand the shocks and vibrations in different environments.
7. RT21V small radio
Small design, lightweight. With belt clip, the walkie talkie is easy to carry and saves space. Easy to operate, convenient to use.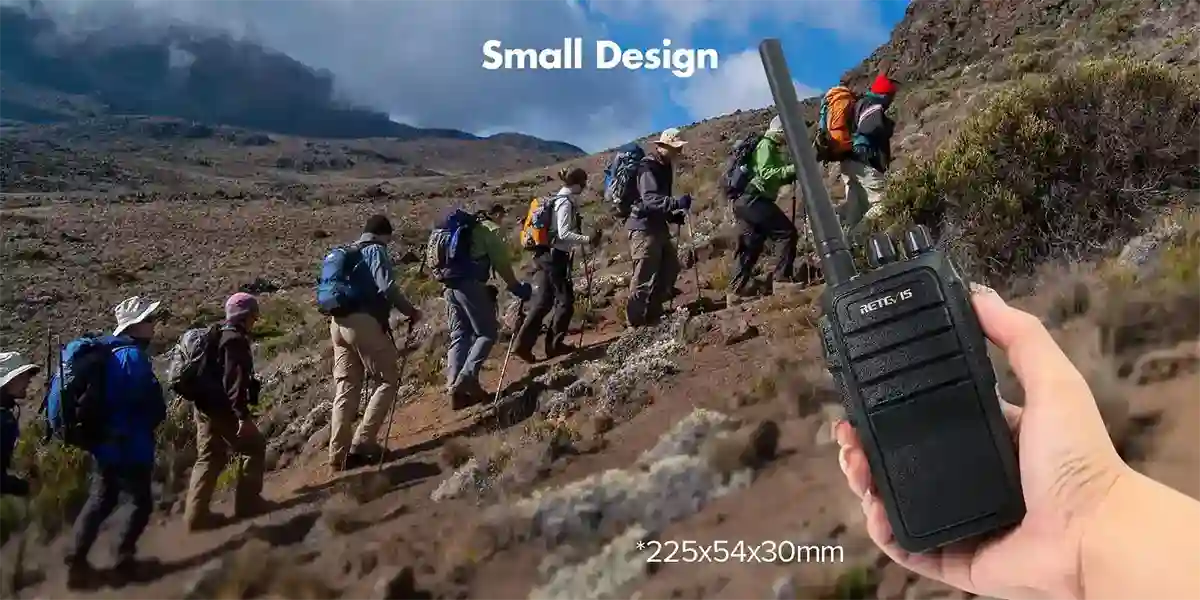 8. Privacy code
The privacy code eliminates interference on a channel. You can create a private channel to communicate with your friends by setting a privacy code. Lower interference, clearer communication.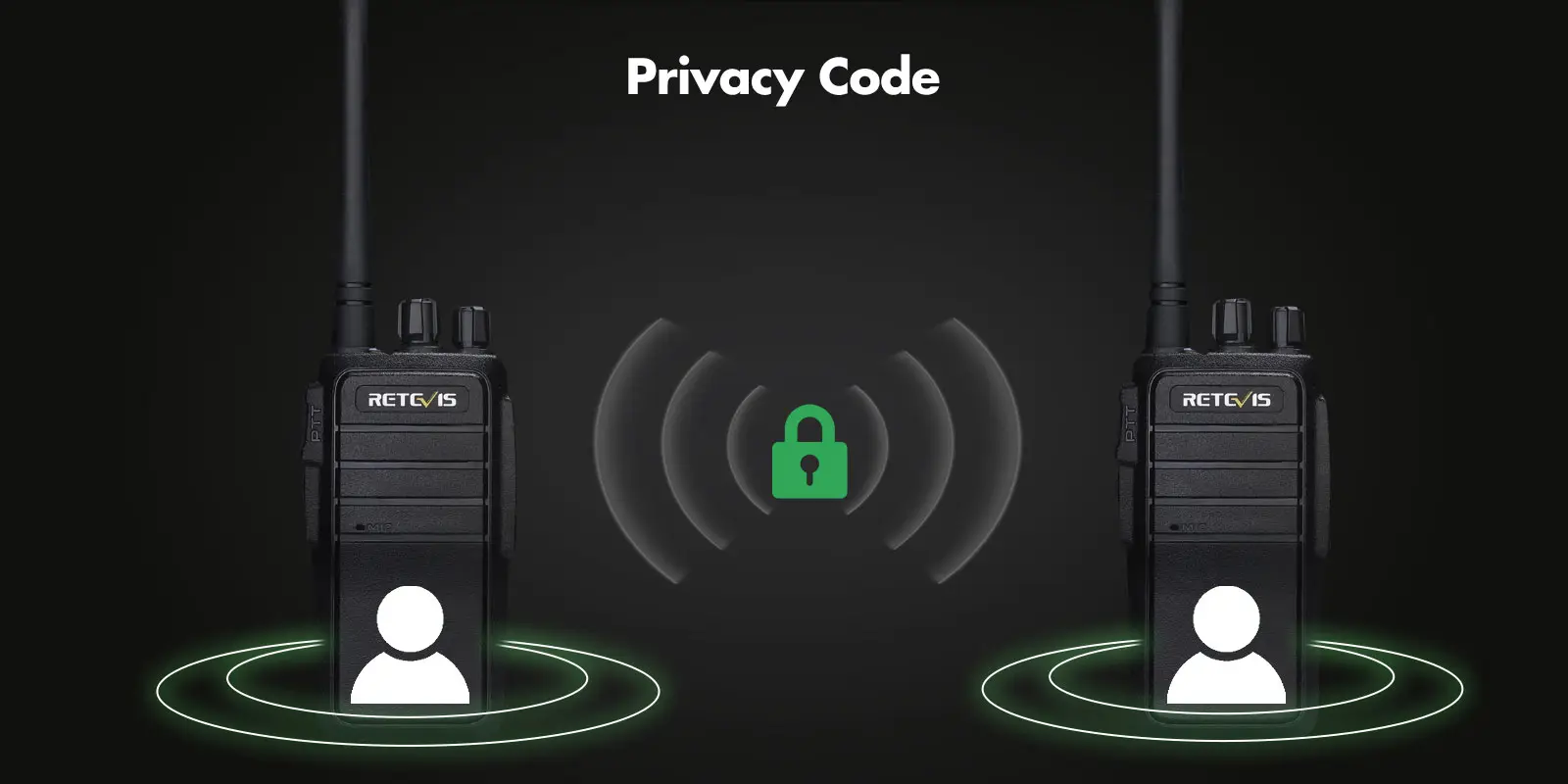 9. Application
RT21V suitable for the storage, wharf, construction site, tourism, hotel, logistics, factory, etc.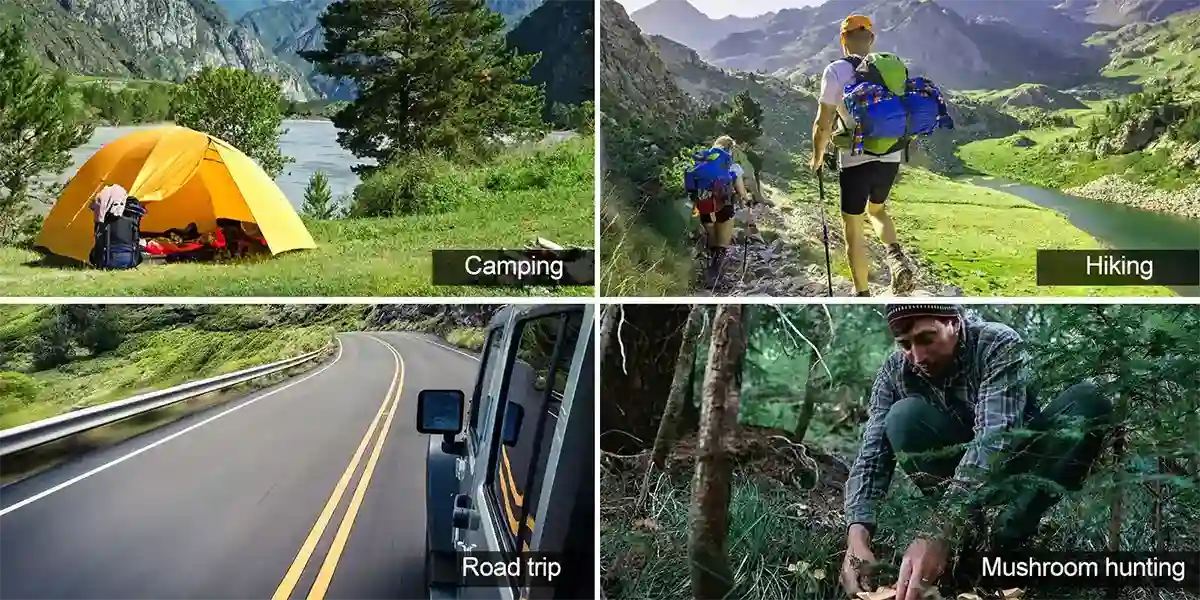 10. RT21V funtction detail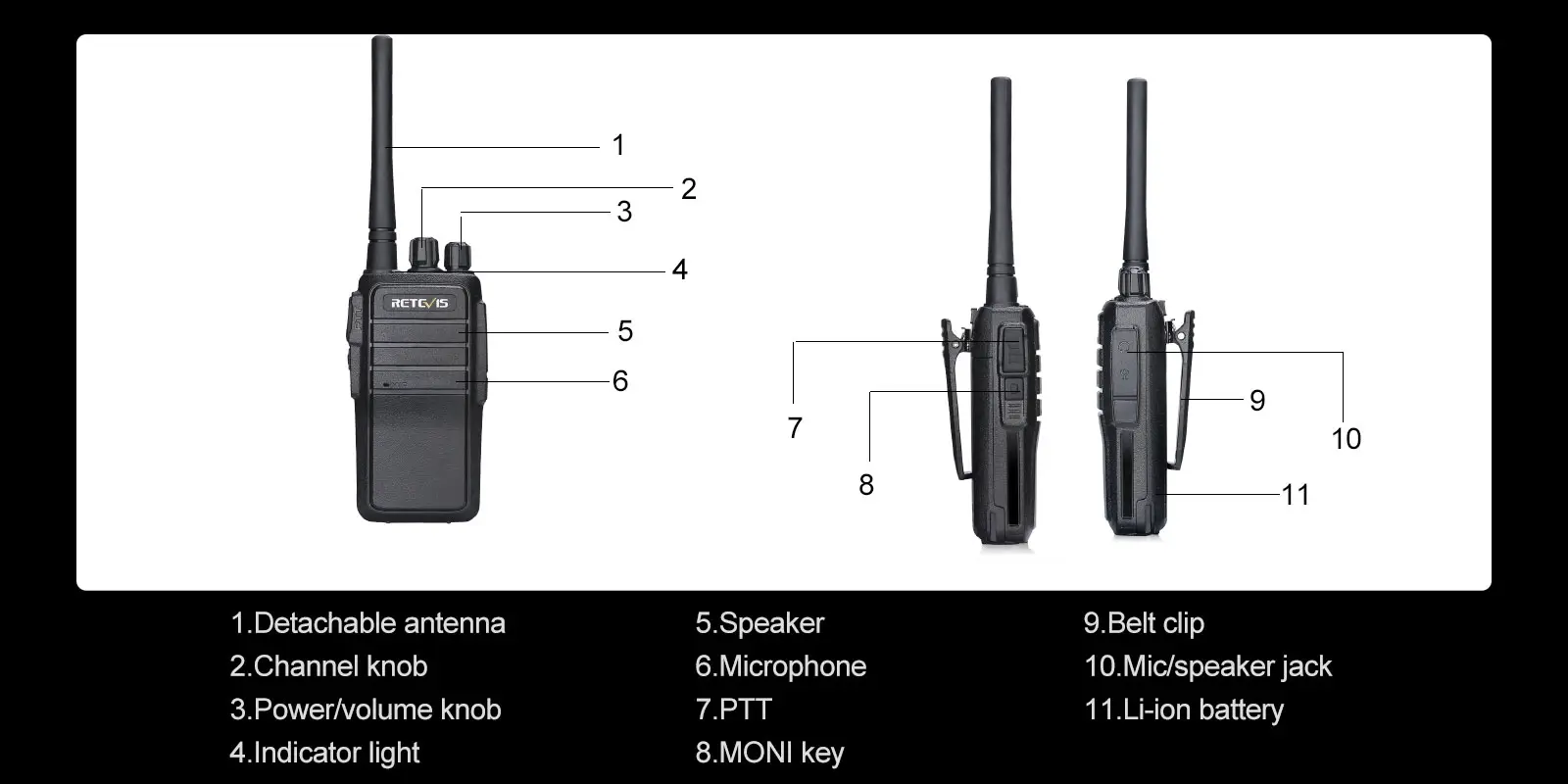 11. RT21V package detail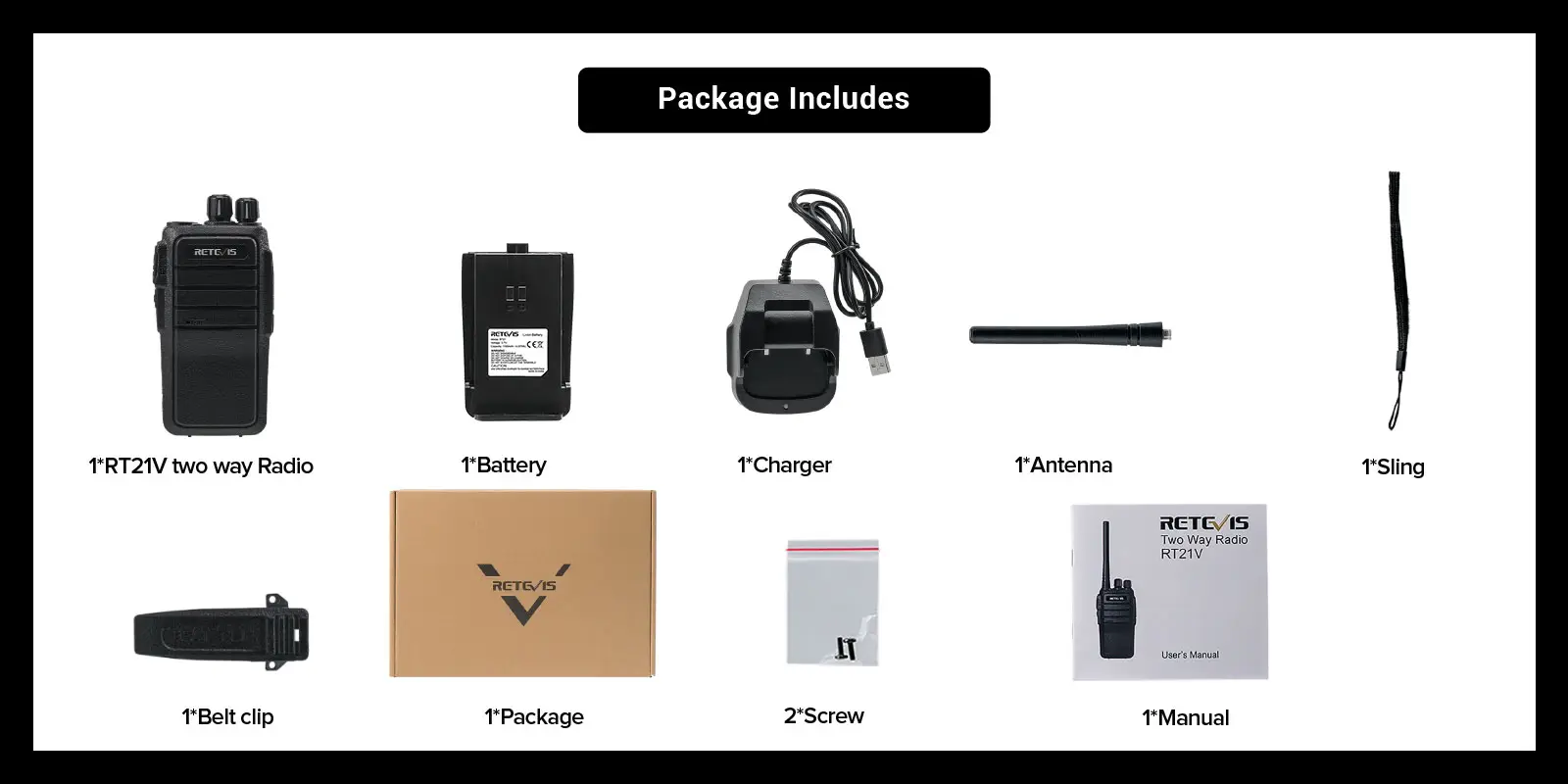 What's in the Box?
Package Details

2 X RT21V MURS Radios

2 X 1100mAh Li-ion Battery

2 X Charger

2X Belt Clip

2 X Sling

1 X English User Manual
Spec
General Specification
Frequency Range
MURS:151.820MHz-154.600MHz
Power
2W
ChannelCapacity
MURS:5
Battery capacity
Li-ion 1100mAh
Working Voltage
DC 3.7V
Working Temperature
-10°C~50°C
Antenna Impendence
50Ω
Weight (with battery)
195g
Size
225x54x30mm
Receiver
Sensitivity
≤0.2μV
Occupied Bandwidth
≤16KHz
Selectivity
≥65dB
Intermediation
≥55dB
Audio Power
1W
Audio Distortion
≤5%
Frequency Stability
5ppm
Current
80mA(when standby)220mA(when working)
Audio Response
+7~-12.5dB
Transmitter
Modulation Mode
16KFΦ3E
Spurious Radiation
≤7.5μW
Modulation Noise
<-40dB
Modulation Distortion
≤5%
Frequency Stability
5ppm
Maximum Deviation
≤±5KHz
Current
≤2300mA
Audio Response(300-3000Hz)
+6.5~-14dB
Adjacent Ch.power
≥65dB
Intermediation Sensitivity
8~12mV
Feature
Feature:
Emergency Alarm

Scanning

Busy Channel Lock

Wide/Narrow Bandwidth Selection (25 KHz/12.5KHz)

TOT(Time-out Timer)

Squelch

VOX Function

High/ Low Power Selectable

CTCSS&DCS Encode/Decode

Battery Save Function

Function

English/Chinese Voice Prompt

Low Battery Prompt

Power Protection Function

High Quality, Strong Shell, Strong Sense Of Texture
Support
Firmware/Software
---
Firmware/Software
---
win11-DriverInstaller

The win11 driver is compatible with win10, win8 and win7 systems.