RT22 Small
The RT22 portable walkie talkie restaurant two-way radio gives you instant communication—without the bulky look and feel of a traditional radio. At just 13mm, it fits easily in your hand, or discreetly in a suit jacket or pants pocket. At only 109g, you can move freely and comfortably without being weighed down. Sleek and attractive, the it blends with business attire and enhances your professional look.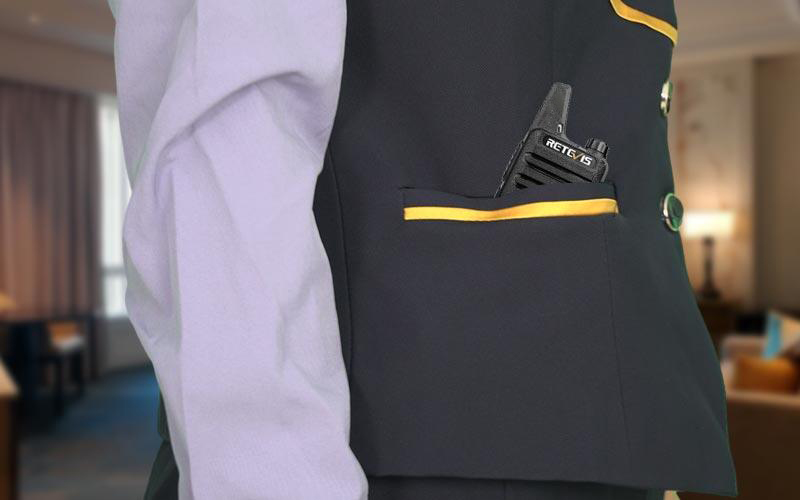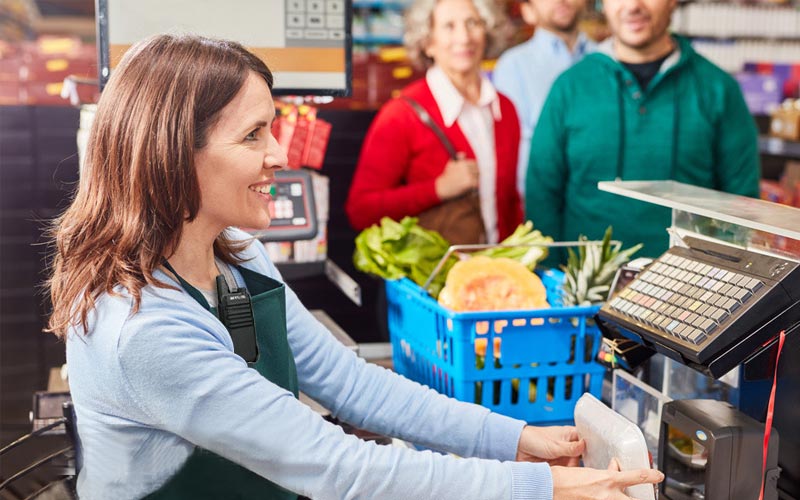 RT22 Good sound quality
The sound of RT22 is very clean and the content is clear. Let you communicate without barriers at work.
RT22 Easy to wear
Jacket-style back clip, securely installed and easy to remove. The RT22 is separated from the back clip after it is removed, and the RT22 remains thin and light without being dragged by the back clip.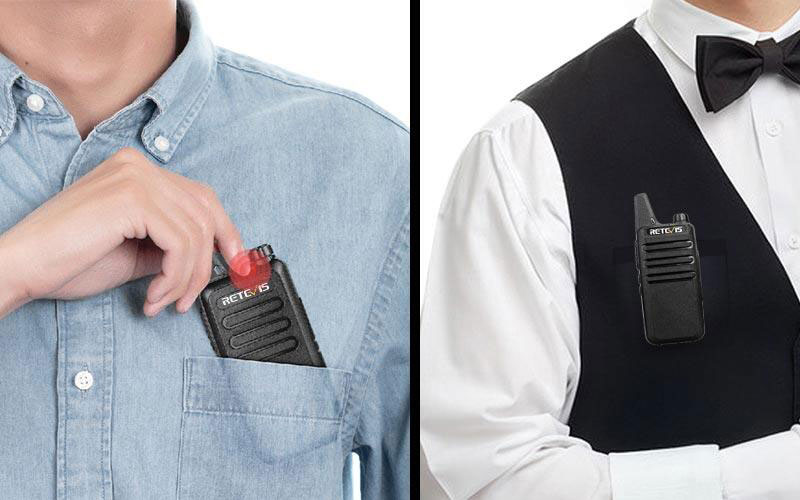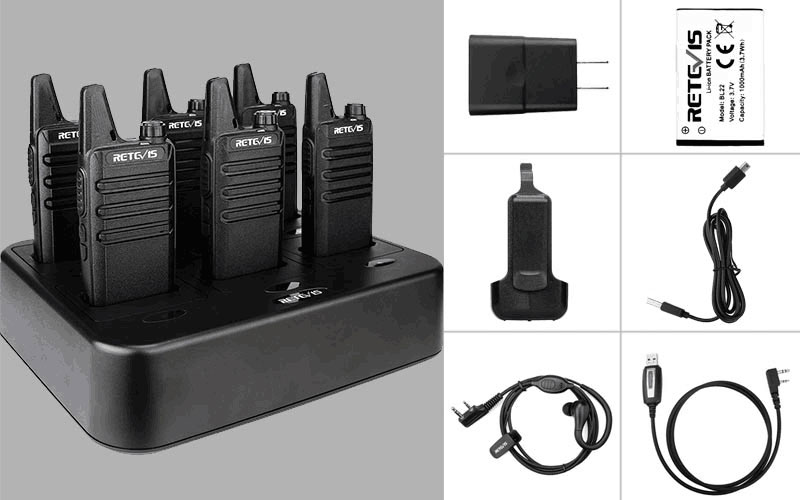 Package details
RT22 has 15 kinds of accessories such as charger, writing frequency cable, 6-way charger, earphone, back clip, hand microphone, battery, etc., which can meet your different needs in different work scenarios.
Note: When you receive the walkie-talkie, please remove the plastic of the battery frstly then start use.
General
Model Number
RT22
Frequency Range
FRS
Power
2W
Color
Black
Channel Capacity
16
Battery Capacity
Li-ion 1000mAh
Working Voltage
DC 3.7V
Antenna Impendence
50Ω
Weight (Include battery)
113g/3.99oz
Size(Include antenna)
136x56x21mm/5.35x2.2x0.83in
Transmitter
Output Power
2W/1W
The Maximum Deviation
≤5KHz
Residual Radiation
<60dB
Current
≤1000mA
Audio Response
+7~-12.5dB
Receiver
Sensitivity
≤0.16μV(12dB SINAD)
Squelch Sensitivity
<0.2μV
Intermodulation
50dB
Audio Power
≥300mW
Current
≤100mA
Squelch Current
20mA
1, Easy to use and Easy to Carry
Retevis RT22 comes with the FRS band License-free radio, no need to program. With the pocket size, lightweight and thin. Portable and convenient
2, Clear communication
With the High-quality Audio design, make Retevis RT22 with the clear and long-range distance.
3, USB charging
Includes USB charging cable and dual port, the USB cable can charger Retevis RT22 with 2pcs at the same time.
4, The best Radios for Business and family

With the affordable price, will save much money for your business or family outdoor or indoor use. The best Low-Cost communication solution.
Firmware/Software
---
win11-DriverInstaller

The win11 driver is compatible with win10, win8 and win7 systems.
Accreditations
---
---
RT22 FCC Certificate
RT22 IC Certificate
The Mini, Thin, Lightweight License-free Radio
NOTE: Programming software: please click "support" to download
Order Handling Time within 3 Working days(Pre-sale products excluded).
110123 PEOPLE ARE LOOKING FOR THIS PRODUCT
What's in the Box?
2 x RT22 Mini and lightweight License-free Two Way Radios
2 x Battery
2 x Belt Clip
1 x Adapter
2 x USB charging cable
1 x User manual
Product Reviews
---

Came with belt clips and a programming cable. Works well with CHIRP. Radios has FRS frequencies pre-populated. All 4 radios talk to each other fine. Very lightweight and audio quality is impressive for this small radio.

Yes them for work, the are good for short rang Communication both in and out side and with in loud environments I would suggest getting the shoulder Mike or earpiece to use alongside this device(s).

I have other brands of inexpensive Chinese radios and I bought 2 pair of this radio. After Christmas they all worked perfectly and all of a sudden one stopped working. I contacted the seller directlyand they went through the steps making sure I didn't forget something. Needless to say they are sending me a replacement. I'm more then happy with this radio. It sounds unbelievably good for it's size. Better than my beofeng uv-82hp. It says two watts and one on low, I believe that's probably right but expect to see about a mile range out of it because of the antenna. The price to pay for compact radios. It's better than bubble pack radios which are a complete waste of money.

There are a number of "clones" to the Retevis RT-22 and I also bought the WLAN KD-C1. The front is obviously different, but the back cover is identical, down to the textured pattern. The Retevis comes programmed to US legal FRS channels 1-8 and 15-22 while the WLAN and other models are programmed to some unauthorized channels. Otherwise they appear to behave the same. The programming software can be downloaded off the Retevis website and works fine with the WLAN also.small radio,very to use

Hi, I bought these to use on my cruise. I was on the Carnival Magic and my party and I were able to use them very well. They even worked in the elevator. We only had to switch channels one ore two times due to someone else being on the same frequency. The walkie talkies worked all over the boat, even when one was on the 2nd level and the other was on the top. I recommend this product. It is sleek it charges fast the sound is clear. No complaints at all

Carolyn Dowell

great radio

This product is used in our afterschool program to notify playground supervisors to summon students from the various activity stations to report to the office where parents are waiting to pick them up afterschool. This has been very effective in communicating with teachers and staff throughout the day, especially in emergency situations for immediate response, for safety reasons for the entire school community. We have been using this product for 2 years now, and truly appreciate the value of its use.

We bought these to keep in touch in on a very large cruise ship. They were so helpful! There were times when the metal of the walls and decks blocked the signal but as long as you were relatively close to an elevator shaft you could communicate through the entire ship. At port they worked easily to talk with members of our group 2 miles away back on the deck of the ship while others explored. It was great to be able to save hundreds of dollars by not having to get the rip off internet package. We also love these to keep tabs on our kids while spread out across the mountain while skiing. It's great that you don't need to take your mittens off on bitter days in order to use them as you would with a phone. They are also way more durable than a phone. We love them.

We bought them for camping and tried them out with our three oldest grandkids. Since they are of the age that we try to keep them in sight, I can't address the range. I can say that they were a huge hit! And, when on a hike and the front and back of the line were not within view of each other, they were very helpful. Volume was great, they are easy to use, and the price was right. I especially like that they were easy to recharge. The only 'con' is that the solid black color may be professional, but that makes them harder to find if they are put down. A bit of bright orange duck tape solved that.

Kindle Customer

work great

We use these for church security. They work great and with a programming cable you set the privacy codes. We have two buildings and we can have good enough range for building to building even through multiple floors.

Bought 4 of these for use on our 25 acre heavily wooded mountain property. So far they have worked great . Sound is clear and they are easy to use. Good reception/transmission up to 1 mile away in heavy woods.