RT22 Small
The RT22 portable walkie talkie restaurant two-way radio gives you instant communication—without the bulky look and feel of a traditional radio. At just 13mm, it fits easily in your hand, or discreetly in a suit jacket or pants pocket. At only 109g, you can move freely and comfortably without being weighed down. Sleek and attractive, the it blends with business attire and enhances your professional look.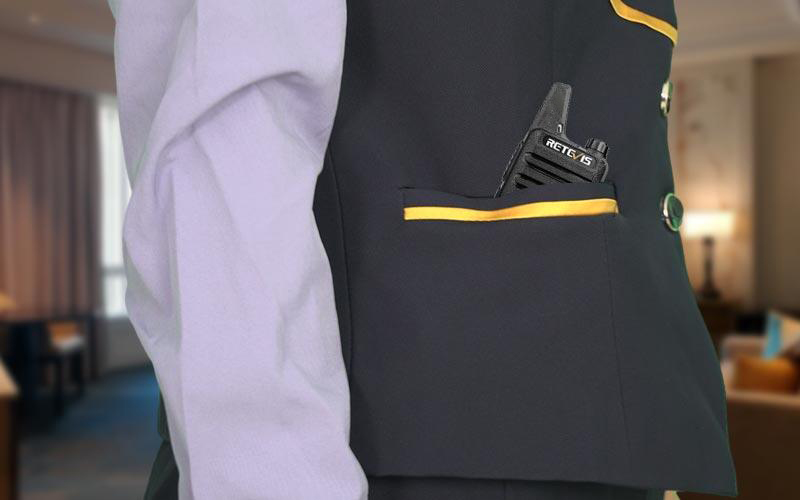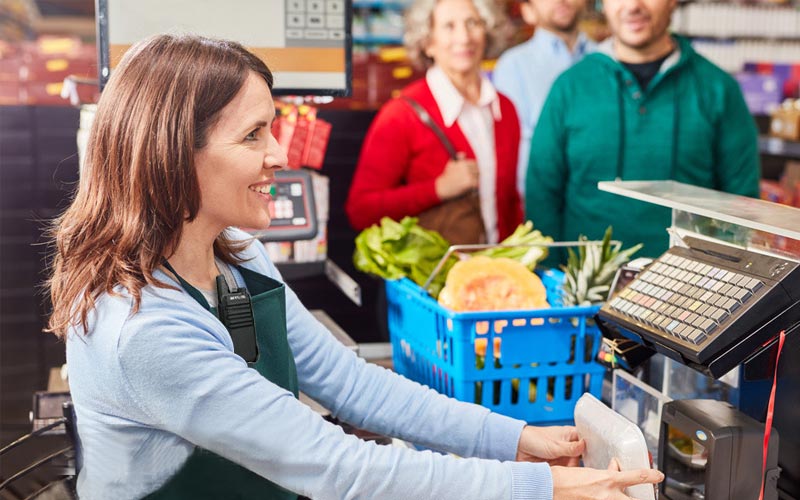 RT22 Good sound quality
The sound of RT22 is very clean and the content is clear. Let you communicate without barriers at work.
RT22 Easy to wear
Jacket-style back clip, securely installed and easy to remove. The RT22 is separated from the back clip after it is removed, and the RT22 remains thin and light without being dragged by the back clip.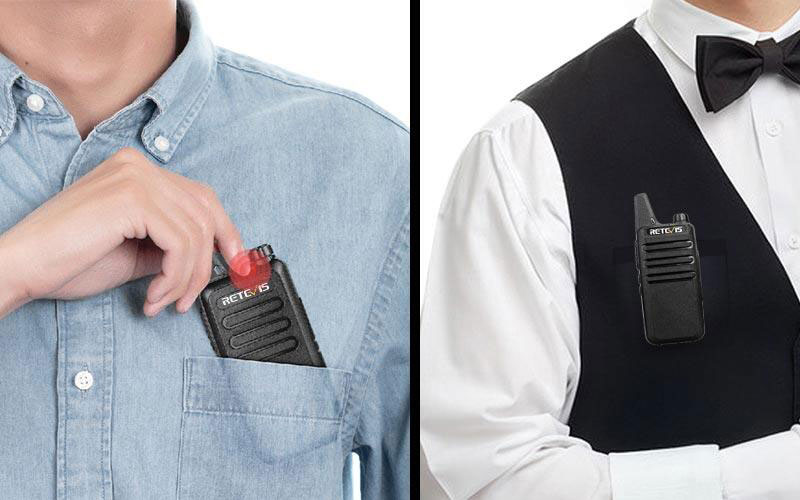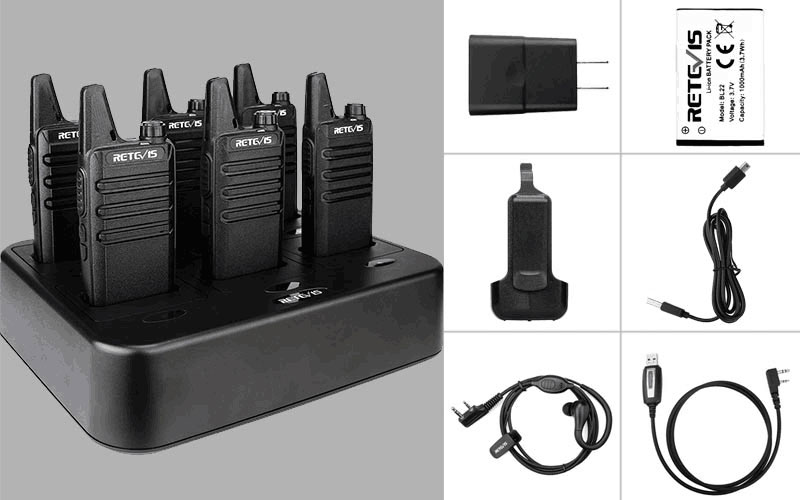 Package details
RT22 has 15 kinds of accessories such as charger, writing frequency cable, 6-way charger, earphone, back clip, hand microphone, battery, etc., which can meet your different needs in different work scenarios.
Note: When you receive the walkie-talkie, please remove the plastic of the battery frstly then start use.
General
Model Number
RT22
Frequency Range
FRS
Power
2W
Color
Black
Channel Capacity
16
Battery Capacity
Li-ion 1000mAh
Working Voltage
DC 3.7V
Antenna Impendence
50Ω
Weight (Include battery)
113g/3.99oz
Size(Include antenna)
136x56x21mm/5.35x2.2x0.83in
Transmitter
Output Power
2W/1W
The Maximum Deviation
≤5KHz
Residual Radiation
<60dB
Current
≤1000mA
Audio Response
+7~-12.5dB
Receiver
Sensitivity
≤0.16μV(12dB SINAD)
Squelch Sensitivity
<0.2μV
Intermodulation
50dB
Audio Power
≥300mW
Current
≤100mA
Squelch Current
20mA
1, Easy to use and Easy to Carry
Retevis RT22 comes with the FRS band License-free radio, no need to program. With the pocket size, lightweight and thin. Portable and convenient
2, Clear communication
With the High-quality Audio design, make Retevis RT22 with the clear and long-range distance.
3, USB charging
Includes USB charging cable and dual port, the USB cable can charger Retevis RT22 with 2pcs at the same time.
4, The best Radios for Business and family

With the affordable price, will save much money for your business or family outdoor or indoor use. The best Low-Cost communication solution.
Firmware/Software
---
win11-DriverInstaller

The win11 driver is compatible with win10, win8 and win7 systems.
Accreditations
---
---
RT22 FCC Certificate
RT22 IC Certificate
The Mini, Thin, Lightweight License-free Radio
NOTE: Programming software: please click "support" to download
Order Handling Time within 3 Working days(Pre-sale products excluded).
110233 PEOPLE ARE LOOKING FOR THIS PRODUCT
What's in the Box?
2 x RT22 Mini and lightweight License-free Two Way Radios
2 x Battery
2 x Belt Clip
1 x Adapter
2 x USB charging cable
1 x User manual
Product Reviews
---

Sarah C.

good sound quality

Rather than running up and down three stories to tell the dogs to lay down, I put one of these in the basement when I put the dogs in their kennels to sleep. Usually the sound of my voice and just telling them to lay down is enough to get them to calm down. Sound quality is very clear. Find a channel not in use nearby. They pick up other walkies chatter.

Great sounds and battery life can use all week as long as I turn it off at the end of the day

The battery was fully charged but only lasted a few hours when its supposed to be 12 hours. The sound is often staticky, even when the radios are within 1-3 feet.

We bought the radios about 2 months ago. We have been using them when the kids go down the neighborhood. They have worked great. They go about 1/2 mile down the street and we can talk clearly. We also took them to Disney world and we wear able to talk to each other around the park. I would recommend these radios. We are very happy with this purchase.

Came with belt clips and a programming cable. Works well with CHIRP. Radios has FRS frequencies pre-populated. All 4 radios talk to each other fine. Very lightweight and audio quality is impressive for this small radio.

Yes them for work, the are good for short rang Communication both in and out side and with in loud environments I would suggest getting the shoulder Mike or earpiece to use alongside this device(s).

StarWolf

long range radio

Yes them for work, the are good for short rang Communication both in and out side and with in loud environments I would suggest getting the shoulder Mike or earpiece to use alongside this device(s).

All the radios did come pre-programmed for FRS frequencies, so they were immediately usable out of the box. I also especially like that the radios use a Lithium-Ion battery and can be charged with a standard micro-USB adapter. I might wonder why they weren't designed to be programmed over the USB port, but since they include a USB-to-audio jack adapter cable for programming, it's not an issue.

The radio has no display or programming keypad (which helps keep the costs down and makes the radios simple), however they are fully programmable from a computer. easy to use

These are great little radios--inexpensive, small, lightweight, excellent sound quality and good range. They are also very easy to use because you can't adjust anything other than channel and volume using the radio itself and you can also lock it so even the channel can't be changed.