RT22 Small
The RT22 portable walkie talkie restaurant two-way radio gives you instant communication—without the bulky look and feel of a traditional radio. At just 13mm, it fits easily in your hand, or discreetly in a suit jacket or pants pocket. At only 109g, you can move freely and comfortably without being weighed down. Sleek and attractive, the it blends with business attire and enhances your professional look.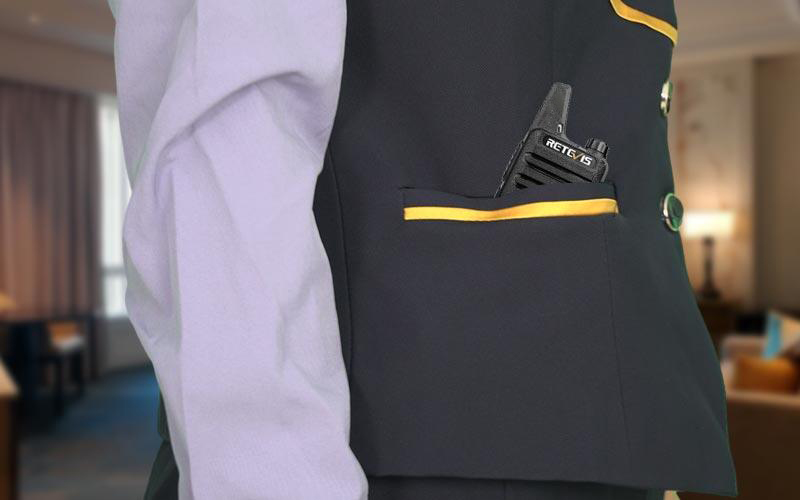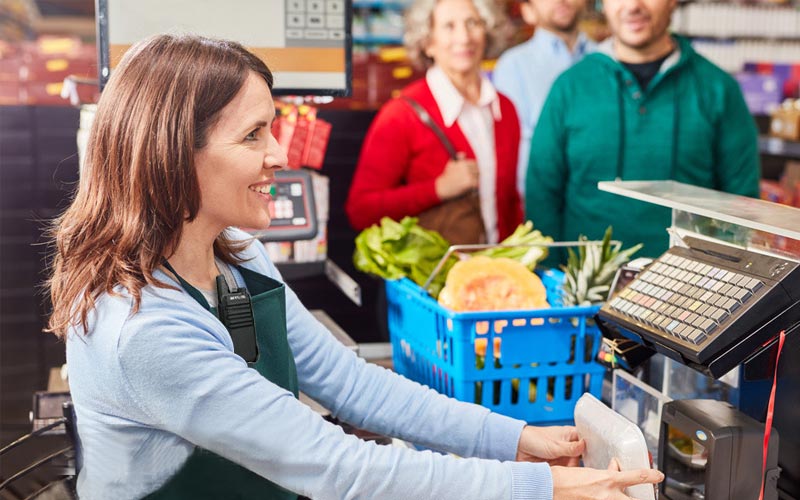 RT22 Good sound quality
The sound of RT22 is very clean and the content is clear. Let you communicate without barriers at work.
RT22 Easy to wear
Jacket-style back clip, securely installed and easy to remove. The RT22 is separated from the back clip after it is removed, and the RT22 remains thin and light without being dragged by the back clip.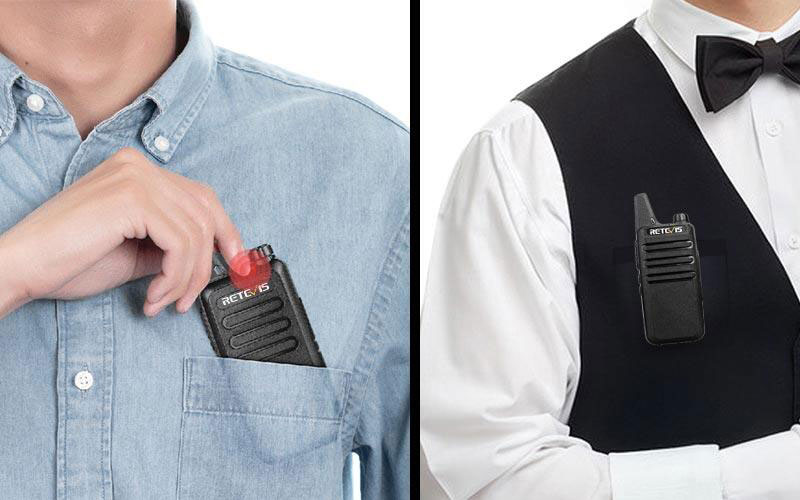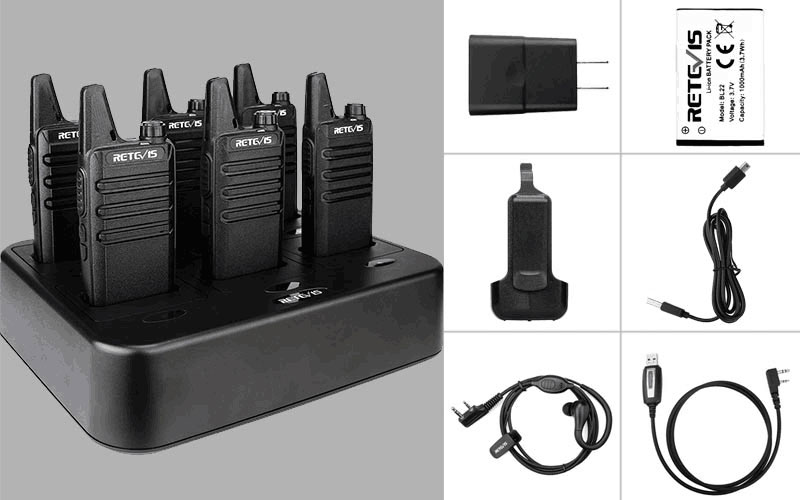 Package details
RT22 has 15 kinds of accessories such as charger, writing frequency cable, 6-way charger, earphone, back clip, hand microphone, battery, etc., which can meet your different needs in different work scenarios.
General
Model Number
RT22
Frequency Range
FRS
Power
2W
Color
Black
Channel Capacity
16
Battery Capacity
Li-ion 1000mAh
Working Voltage
DC 3.7V
Antenna Impendence
50Ω
Weight (Include battery)
113g/3.99oz
Size(Include antenna)
136x56x21mm/5.35x2.2x0.83in
Transmitter
Output Power
2W/1W
The Maximum Deviation
≤5KHz
Residual Radiation
<60dB
Current
≤1000mA
Audio Response
+7~-12.5dB
Receiver
Sensitivity
≤0.16μV(12dB SINAD)
Squelch Sensitivity
<0.2μV
Intermodulation
50dB
Audio Power
≥300mW
Current
≤100mA
Squelch Current
20mA
1, Easy to use and Easy to Carry
Retevis RT22 comes with the FRS band License-free radio, no need to program. With the pocket size, lightweight and thin. Portable and convenient
2, Clear communication
With the High-quality Audio design, make Retevis RT22 with the clear and long-range distance.
3, USB charging
Includes USB charging cable and dual port, the USB cable can charger Retevis RT22 with 2pcs at the same time.
4, The best Radios for Business and family

With the affordable price, will save much money for your business or family outdoor or indoor use. The best Low-Cost communication solution.
Firmware/Software
---
win11-DriverInstaller

The win11 driver is compatible with win10, win8 and win7 systems.
Accreditations
---
---
RT22 FCC Certificate
RT22 IC Certificate
The Mini, Thin, Lightweight License-free Radio
Order Handling Time within 3 Working days(Pre-sale products excluded).
103065 PEOPLE ARE LOOKING FOR THIS PRODUCT
What's in the Box?
2 x RT22 Mini and lightweight License-free Two Way Radios
2 x Battery
2 x Belt Clip
1 x Adapter
2 x USB charging cable
1 x User manual
Product Reviews
---

Pleased is an Understatement

Reviewed in United States

on

May 01,2020

Completely satisfied with my purchase. Using radios in & outdoors. On the job & on Scouting Adventures. Compact, powerful, crisp clean sound and charge has been lasting upwards of 12 hours. Flexibility of charging via the USB a definite bonus! Highly recommend

Reviewed in United States

on

Nov 02,2019

had these for a while now and they work flawlessly. small compact and good to stash in a pocket . i use speaker mics on them and they work well with the radio in the pocket (may cut down the range) with the speaker mic on the strap of my rucksack when hunting . easy to programme the channels with a cable and pc. you wont be disappointed if you were to buy these . I first saw them on youtube on the Ringway Manchester channel. Lewis did a good review of the radios.

KEEPERS!!!

Lotta Bang for the Buck!

Reviewed in United States

on

May 23,2019

These radios work great and the earbuds make communicating that much easier. Exceptional distance for a small radio. (low wattage) I'm glad I purchased my radios and I highly recommend them. Mark Woodruff Texas

Reviewed in United States

on

Jan 24,2019

The quality is outstanding, the range is superb. These little radios are far better than other radios 3x the cost in all aspects. I'm extremely happy with the purchase and I really recommend. They come FCC part 95 and IC registered making them legal in USA and Canada for GMRS.

Armando

It was a great item to have for keeping in touch.

Reviewed in United States

on

Jan 14,2019

It arrived in good shape and was great for camping and hiking. good thing to have on hand at alll time.

tim Underwood

These are outstanding radios. We take them on trips ...

Reviewed in United States

on

Jan 14,2019

These are outstanding radios. We take them on trips when we have two or more vehicle. They allow us to communicate with the other vehicles. They are heavy duty. Shipping was as expected. I would definitely purchase this product.

jcinbe

Excellent range and easy to use

Reviewed in United States

on

Jan 14,2019

The whole system was easy to get up and running and it came with rechargeable batteries and the option of using regular batteries too.

jxmai

Okay to have around

Reviewed in United States

on

Jan 14,2019

My son said that it worked okay, sometimes have some interfere with this product but it is just okay to use.

Brian Nix

About 3 miles clean while driving!

Reviewed in United States

on

Jan 14,2019

Tested up to about 3 miles with my friend and I driving in our cars in opposite directions until we lost signal! Really clear!

Ken Sabosik

Really good radios !

Reviewed in United States

on

Jan 14,2019

The quality is what I expected and I'm not dissappointed. Really good set of radios. I live in a coastal area that sometimes floods during a bad storm. I needed radios that I could depend on in an emergency. That's why I choose it.