High Power
High
Gain
Emerency Alarm
CTCSS
/DCS
Squelch
Vox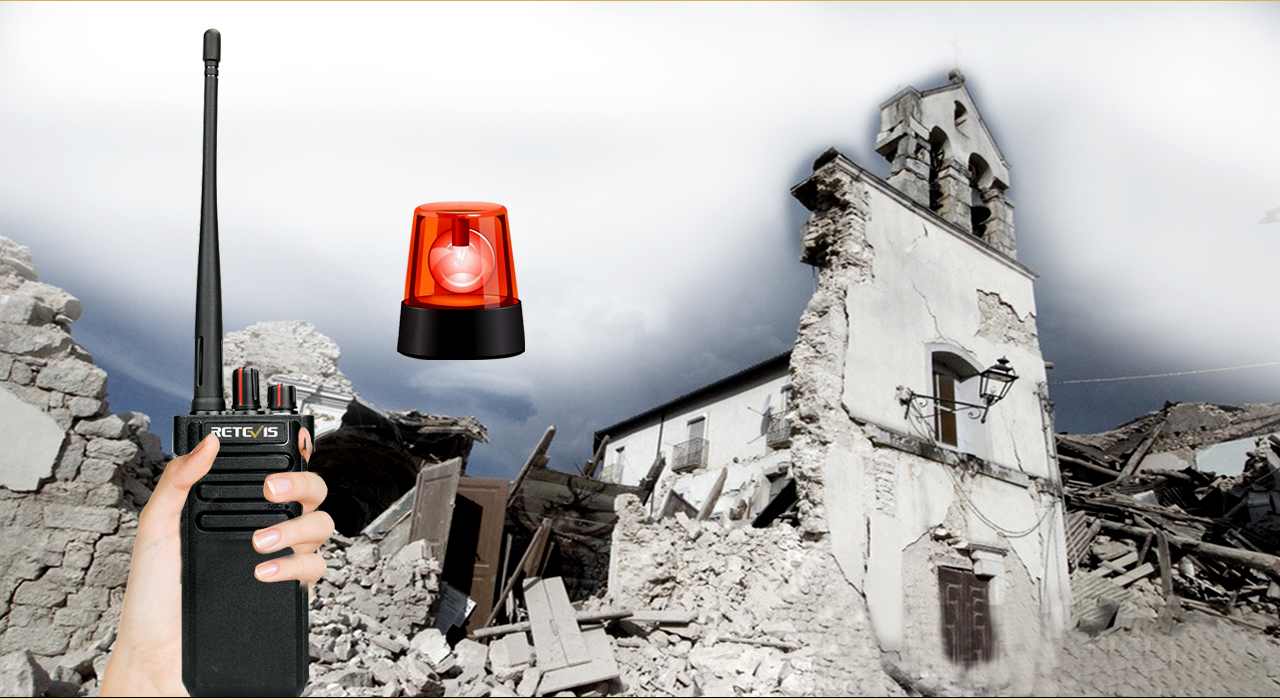 Emerency Alarm
Press the alarm button, and the radio will emit alarm sound or give alarm to other walkie-talkies with maximum sound.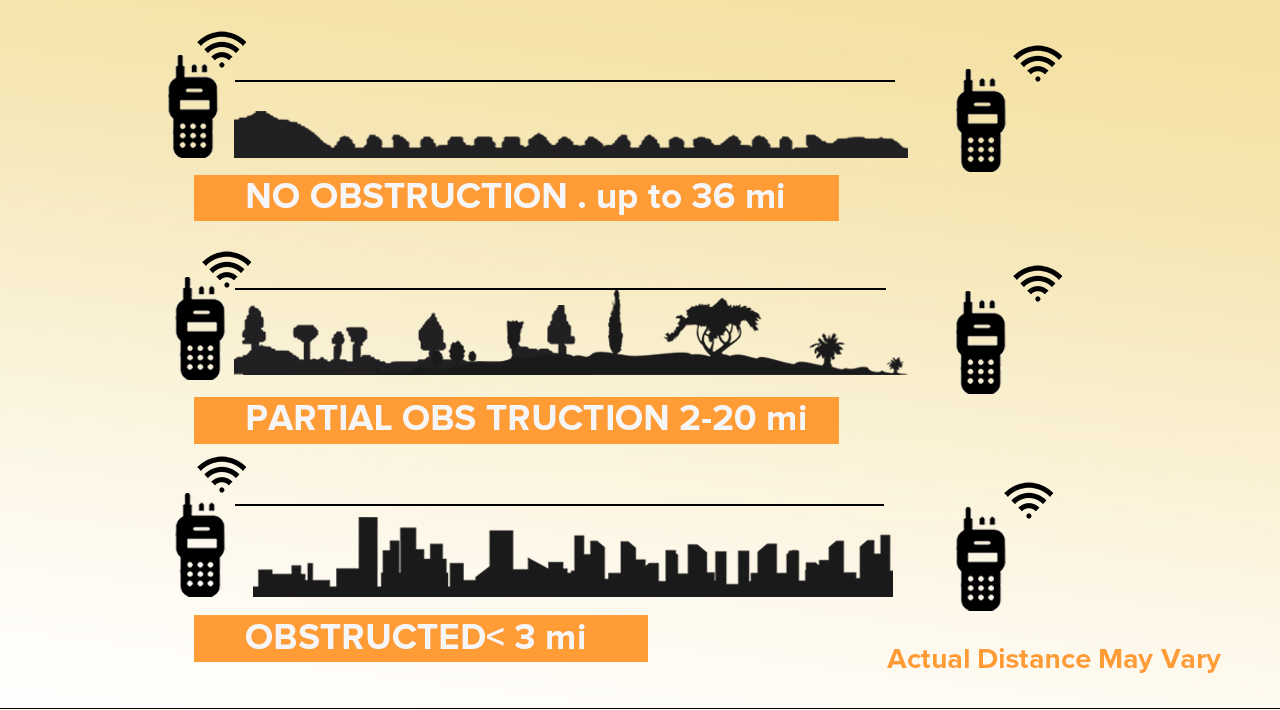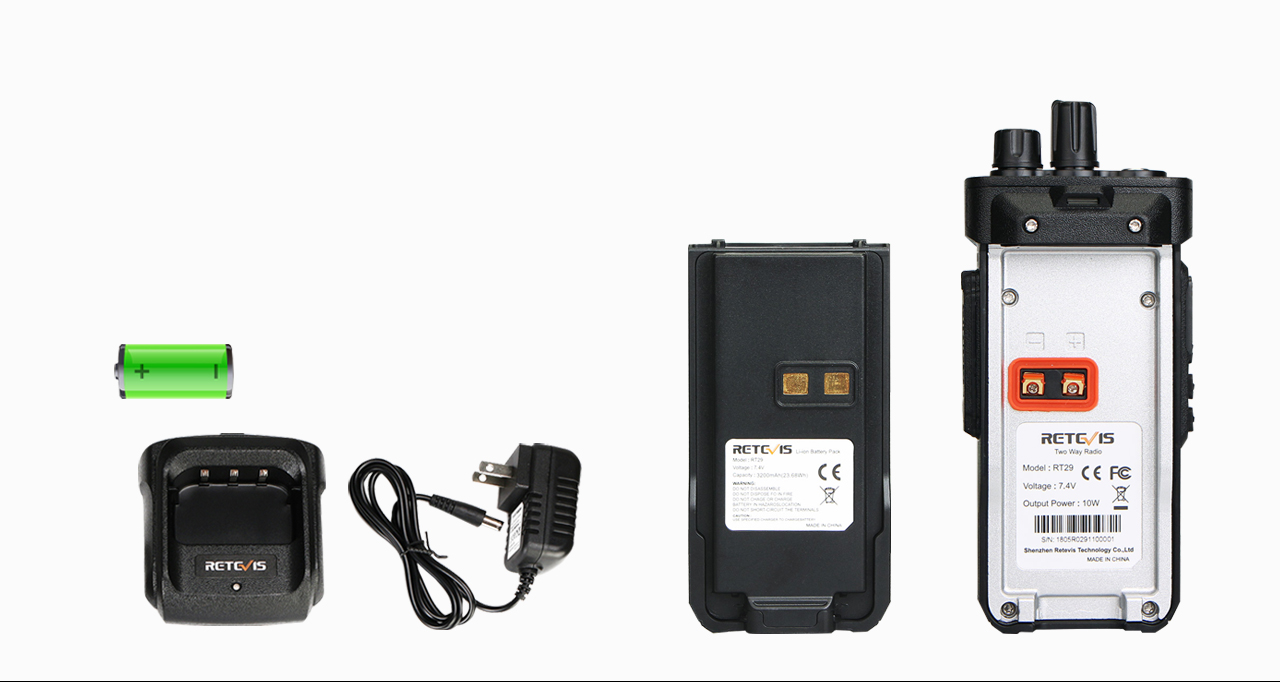 3200 mAh
Li-ion high-capacity rechargeable battery for over 24 hours daily usage and last 250 hours standby time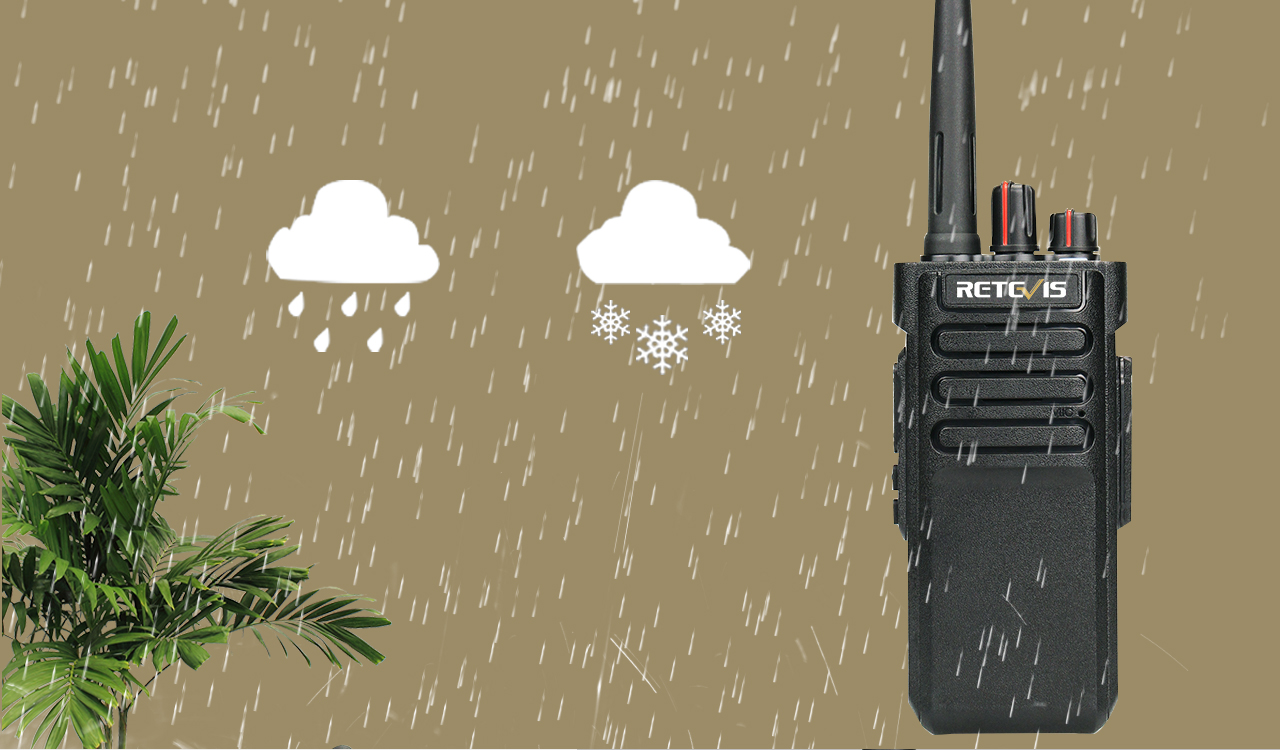 IP67 waterproof two way radio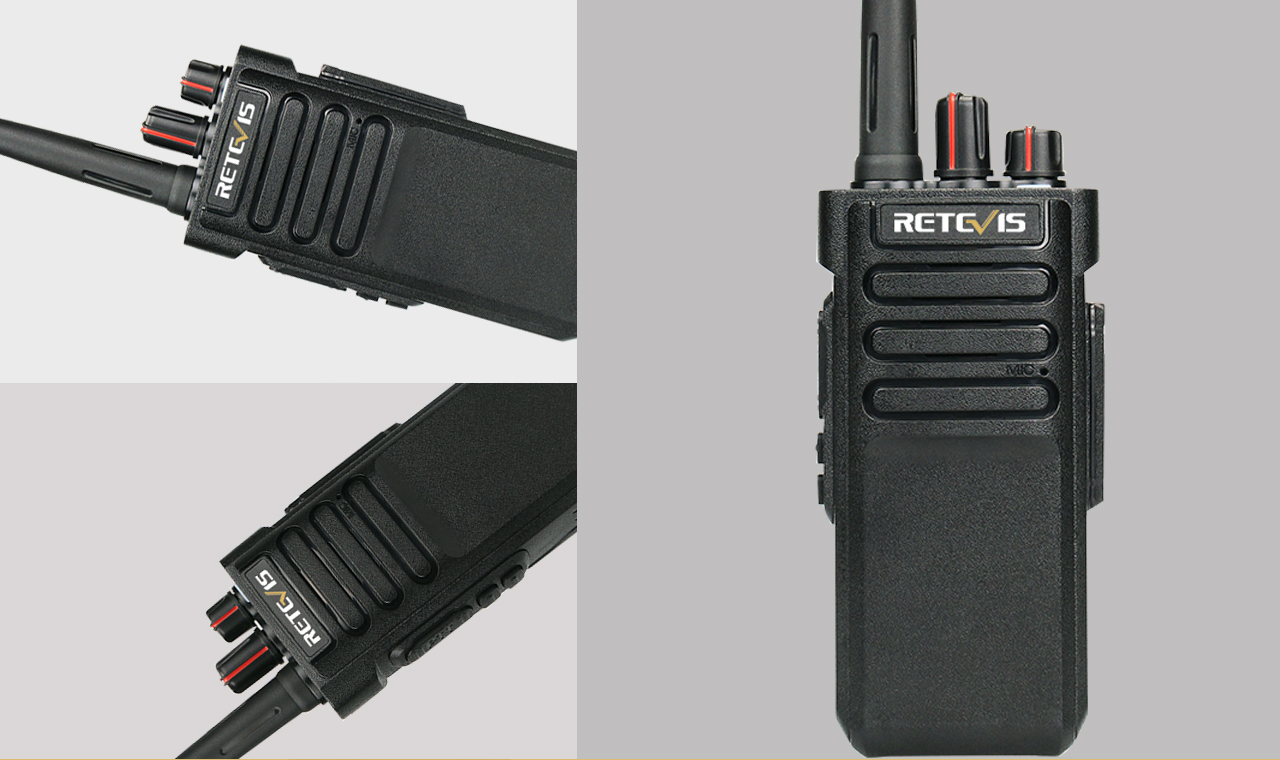 Technical specification:
| | |
| --- | --- |
| Frequency Range | UHF:400-480MHz |
| Channel Number | 16 |
| Output power | 10W |
| Working voltage | 7.4V DC |
| Battery capacity | 3200mAh(Li-ion) |
| Dimension(with battery, without antenna) | 151x58x38mm(5.9x2.3x1.5in) |
| Weight(With battery&antenna) | 335g(11.8oz) |
| Audio distortion | <5% |
| Frequency stability | ±2.5ppm |
| Max frequency deviation | ≤2.5KHz |
| Spurious emission | ≤7uW |
| Modulation mode | 11KΦF3E |
| Reference sensibility | ≤0.3uV |
| Squelch on sensibility | ≤0.25uV |
| Adjacent channel selectivity | ≥65dB |
| Spurious response | ≥55dB |
| International | ≥60dB |
| Current | ≤1.5A |
1, Long standby two way radio
3200mAh Li-ion high-capacity rechargeable battery for over 12 hours daily usage and last 250 hours standby time
2, High power and high gain antenna
Comes with the high power and high gain antenna, help the RT29 communication range longer.
3, Waterproof version
Retevis RT29 offers the Waterproof Version, with the grade IP67, make RT29 waterproof version no harm when meet the rainy day outdoor.
4, Clear sound quality
The high-quality walkie-talkie microphone provides clear transmission, and the automatic squelch function eliminates background noise, providing clear sound even in crowded places.
Other functions like Monitor, VOX, scan,alarm, TOT and so on
Accreditations
---
Accreditations
---
RT29 CE Certificate
RT29 FCC Certificate
High-power, long distance wakie talkies for business and outdoor.
High-capacity battery with long standby time and long working time.
RT29 can be used in dust and wet environments.
The programming cable is

J9131P
Order Handling Time within 3 Working days(Pre-sale products excluded).
150557 PEOPLE ARE LOOKING FOR THIS PRODUCT
What's in the Box?
Package includes

1 x Retevis RT29 Long range two way radio
1 x Antenna
1 x Battery
1 x Adapter
1 x Charger
1 x Belt Clip
1 x Hand Strap
1 x User Manual
Product Reviews
---

Christopher Busenbark

Good Radios

Reviewed in United States

on

Jul 26,2020

I have close to 100 of these radios in use everyday and i am really happy with the power and their ability to handle a lot of traffic. I am running into a problem now though with connections and wondering if i need to purchase a repeater. Other than that good purchase.

Heavy Duty Radio, Powerful 10 watts

Reviewed in United States

on

Jul 09,2020

I purchased a pair of VHF IP67 radios. Programming was very easy. The RT29 is not a small radio. It is extremely durable and can withstand everyday use in any environment. I was very impressed with the power (true 10 watts) and it's durability. It comes with a nice antenna. You can replace it with a high gain antenna but it would not be practical in a work environment. You can program an offset for access to a repeater and also program tone codes. You can even use tone squelch so that no one can interrupt your conversation. For most business applications like schools, hotels, hardware stores 16 channels are more than enough to address the needs of the organization. It also has a scramble mode which is a voice inversion for privacy. The outside of the radio is laid out very simple. There are two programmable buttons near the PTT button. If you are working in a crowd the audio on the RT-29 can be turned up extremely loud. The radio is made in a UHF version also that would work well in a multi-story building. In my opinion, this radio at the price point is the best you can buy. I really like the RT-29 and I have close to 20 handheld radios.

Reviewed in United States

on

Jul 08,2020

We work on large construction sites and communication between teams of workers is essential. The product you offer provides quality sounbd at a very attractive price.

JohnNWI

Great Radio - Outstanding Service

Reviewed in United States

on

Sep 11,2019

I purchased this radio as a backup radio for EMS (Emergency Medical Service) use. Programming with the software downloaded from the Retivis website took less than 30 minutes. The programming cable does not come with this radio and must be ordered separately. The radio feels solid and well built. The audio quality on this radio even with the external microphone is fantastic. No crackly tinny sounding speakers here. I have been able to call back to our dispatch from 5 miles away with out issue (175ft tower at base). Battery life has been excellent but I ordered a second battery for this radio. It uses the same as the Ailunce HD1 battery. The battery arrived and appeared to have been used. I contacted Angela in customer support via email and she sent a replacement battery which arrived in about 72 hours. I also received an update email from Angela every day in between. For the price of this radio it is worth a try. I have used it every day since receiving it and it has been problem free.

Regina Philangie

GREAT RADIOS!!!!!

Reviewed in United States

on

Sep 07,2019

GREAT!!!

Reviewed in United States

on

Aug 28,2019

The radio is solid for commercial use, easy to program with the right cable driver (not the one for HD1). The only bad is that you can't control the power from a side key, only from software. Besides that i am happy with the purchase.

Elfnet

Decent radio however-

Reviewed in United States

on

Jul 19,2019

before you decide to buy be aware that In the US you will either need a tech class ham license or a commercial license to operate these legally. These are NOT FRS, MURS or GMRS radios.

Reviewed in United States

on

May 23,2019

I bought (5) of these radios. They are so awesome that I actually gave 2 to a close friend who lives in the country and cell service isn't always reliable there. He loves them! My girlfriend and I are planning on buying some more! Thanks Retevis, for making a durable, long-lasting product that stands up to the toughest conditions and works fantastic. Mark Woodruff

VK2ZCD

Great value radio, high power tx, easy to program

Reviewed in United States

on

May 16,2019

Bought this radio after perchasing my second HD1, just as good as the HD1 for build quality, accessories are all interchangable. Analogue only, but if you want a HT for your loacal repeaters and simplex this is great value for your money.

Baconeatus

Outstanding Radios

Reviewed in United States

on

Mar 16,2019

I purchased these radios (RT29-IP67) for business use and I couldn't be happier with the performance. They get used in the rain and in situations where they might get dropped or knocked around with absolutely no issues. We use them in very large buildings and across town (in simplex and repeater setup, respectively) and get crisp, clear sound. I use the Nagoya 701C antennas with great results, but the supplied antenna works very well,also. If I were to find any fault at all with these radios, it would be the speaker. It is a little high pitched and in a moderately loud environment it can be a little hard to hear without having it close to your ear. The IP67 speaker/mic makes up for that, easily, but there are times when it is not easy to work with the speaker/mic attached. Other than that one suggestion, I have neither had nor found any problems or actual issues at all. I highly recommend these radios (as well as the speaker/mic).