RT3S dual band digital ham radio uses Digital Mobile Radio (DMR) Tier 2 Standard protocol. It is compatible with the popular MOTO TRBO series Tier I and II using standard encryption, It is also compatible with any existing analog two-way radio operating on the supported UHF and VHF frequencies for easy migration to digital technology.
It is compatible with the popular MOTO TRBO series Tier I and II using standard encryption, as well as other makes and models of DMR supported radios.
Up to 3000 channels ,for extremely complex organizational communications.
lone worker is an employee who performs an activity that is carried out in isolation from other workers without close or direct supervision.Helping people minimize risk and injury.
GPS gives you a clear idea of your location even in the wild. Use it to find your way or to help others find you.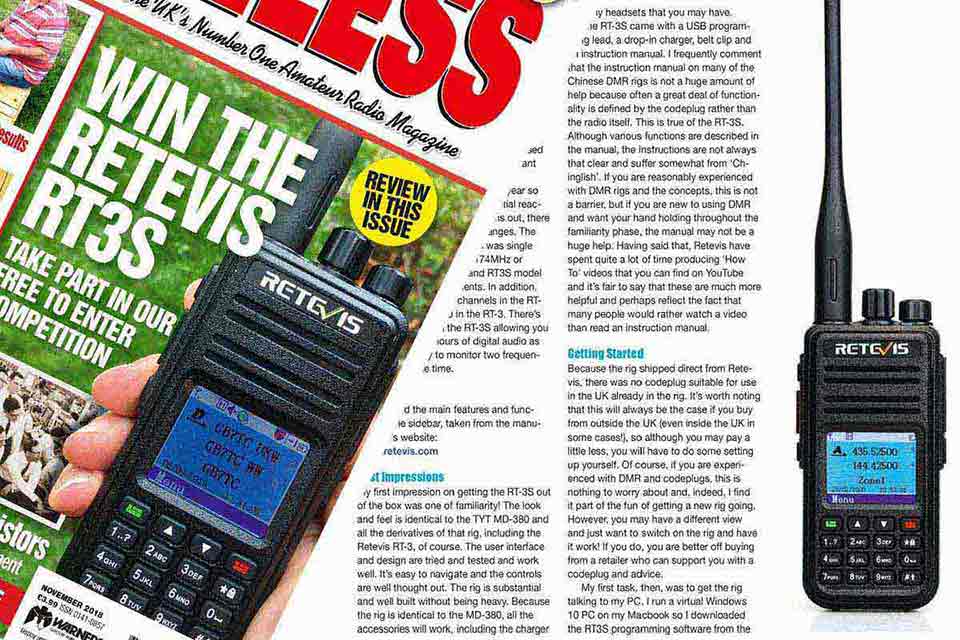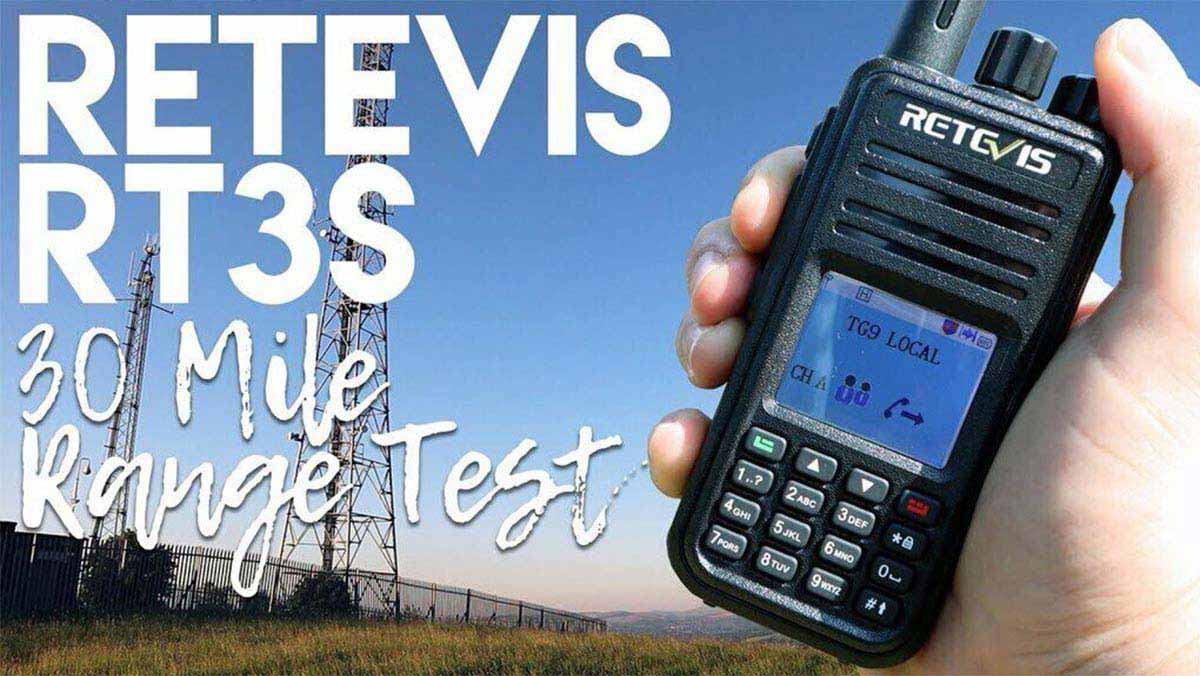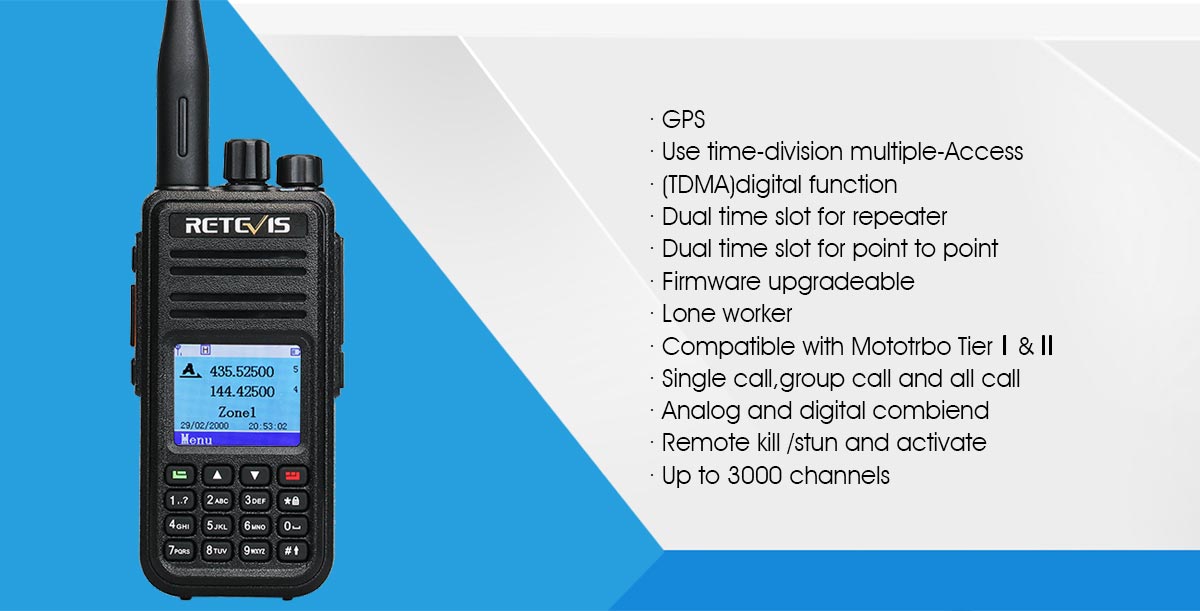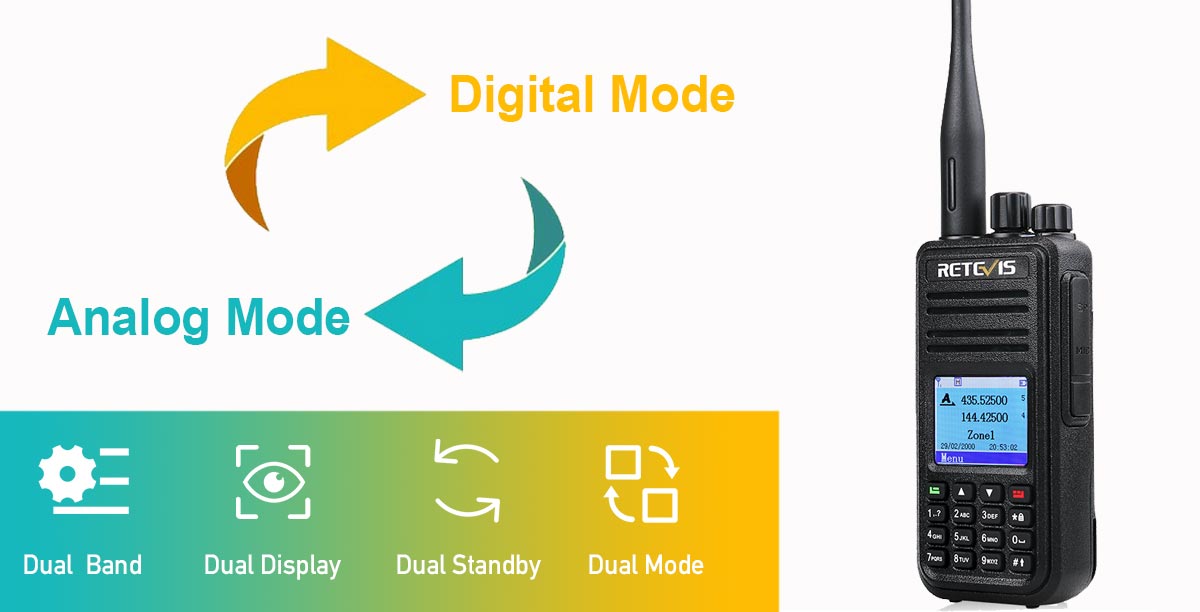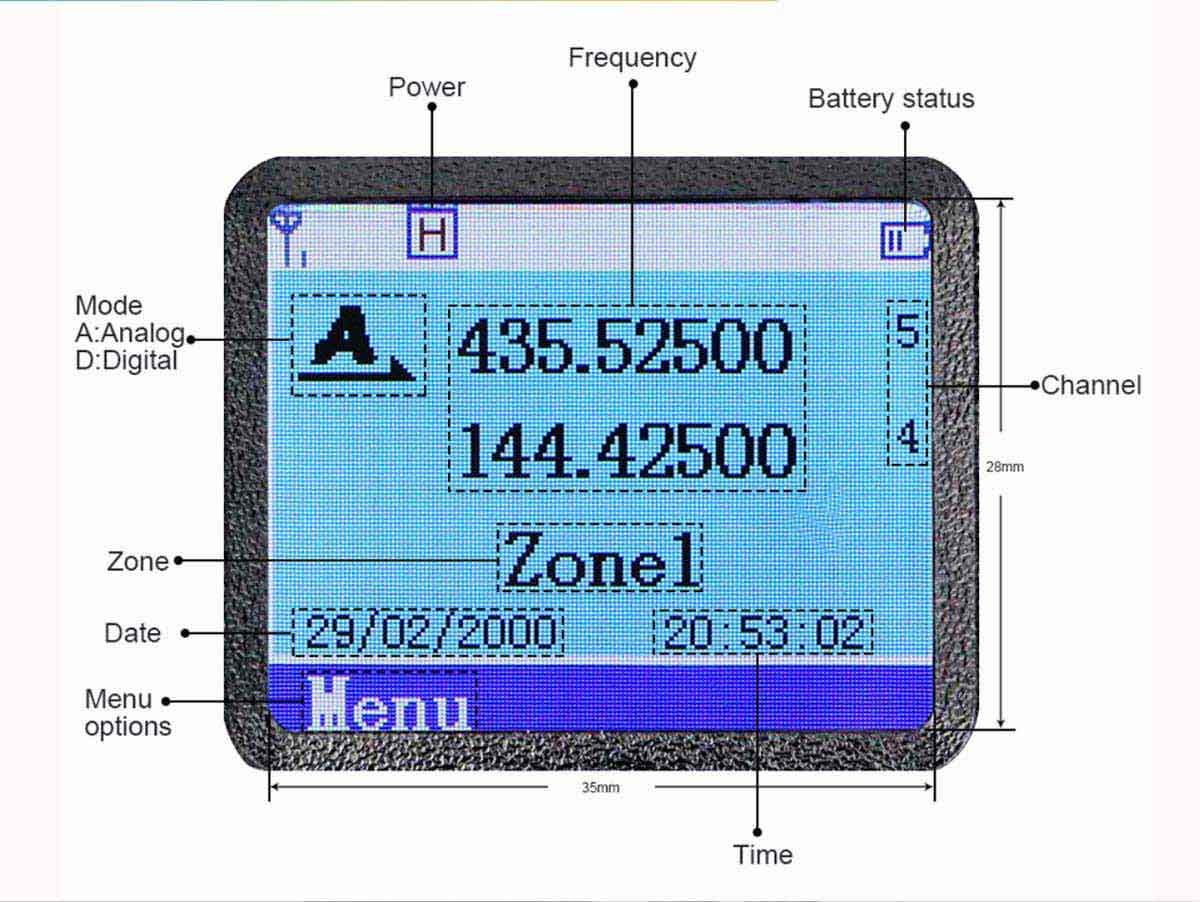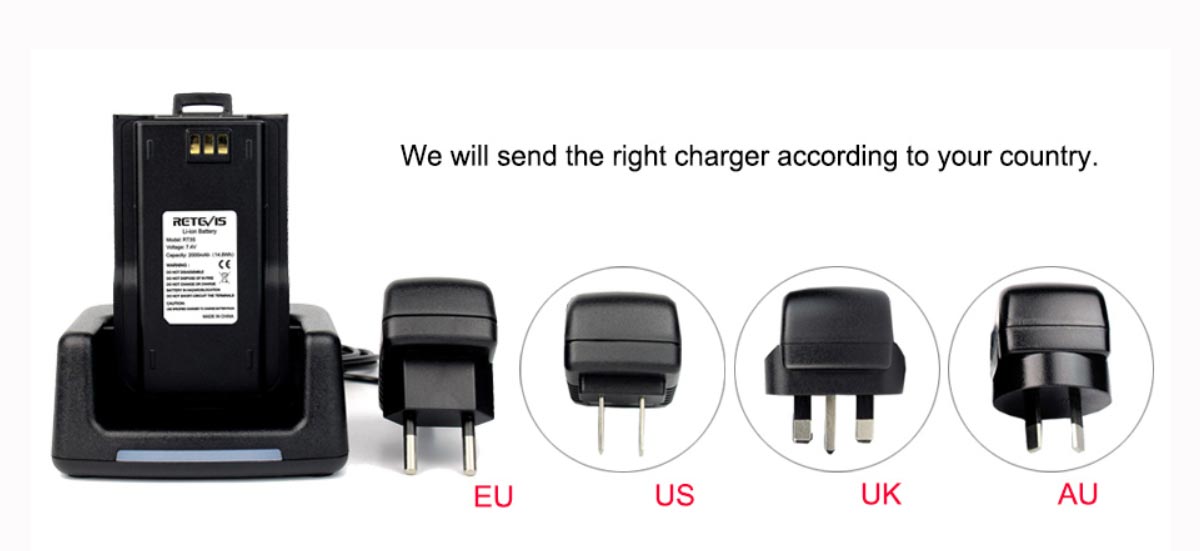 General specifications
Frequency
136-174&400-480MHz
Channels
3000
Frequency Stability
±1ppm
Operating Temperature
-30℃~+60℃
Operating Voltage
7.4V DC
Dimension
131 x 61 x 36mm
Weight
258g (with battery)
Battery Type
Li-ion
Battery Capacity
2000mAh
Antenna Impedance
50Ω
Audio Impedance
1W@16Ω
Channel Spacing
12.5KHz
Vocoder
AMBE+2™
Transmitter
Power
High≤5W, Low≤1W
Frequency Stability
±1.0ppm
Adjacent Channel Power
≤-60dB
Free Time Slot Power
TDMA:≤57dBm
Hum and noise
-40dB@12.5KHz
Spurious radiation
Antenna:9KHz-1GHz ≤-36dBm 1GHz-12.75GHz ≤-30dBm
FM modulation mode
11K0F3E@12.5KHz
4FSK digital mode
12.5KHz(data only):7K60FXD12.5KHz(data and voice):7K60FXW
Modulation maximum deviation
2.5KHz@12.5KHz
Nonactive slot power
-57dBm
Digital Protocol
ETSI-TS102 361-1,-2,-3
Audio Response
+1~-3dB
Modulation BER(bit error rate)
≤5%
Receiver
Analog Sensibility
0.2µV@12dB SINAD
Digital Sensibility
0.25µV(BER:5%)
Adjacent Channel Selectivity
≤-60dB@12.5KHz
Intermodulation
≤60dB
Spurious Response
≥70dB
Audio Response
+1~-3dB
Rated Audio Distortion
<5%
Rated Audio Power
1W
Modulation
≥45dB@25KHz≥40dB@12.5KHz
GPS
Use time-division multiple-Access
(TDMA)digital function
Dual time slot for repeater
Dual time slot for point to point
Firmware upgradeable
Lone worker
Encryption function
Compatible with Mototrbo TierⅠ&Ⅱ
Single call,group call and all call
Analog and digital combiend
Remote kill /stun and activate
Up to 3000 channels
Transmit interruption
Group call match(promiscuous)
Private call match(promiscuous)
Record
Emergency Alarm
VOX
TOT
---
What's in the Box?
1 x RT3S GPS two way radio
1 x Battery
1 x Antenna
1 x Adapter
1 x Charger
1 x User's manual
1 x Belt clip
1 x Sling
Product Reviews
---

Mern Scheidl

LITTLE RADIO WITH BIG PERFORMANCE

I bought the RT3S for analog and digital use. The radio is very easy to program and operate. The body is sturdy and solid, battery mount is solid and the knobs feel secure. It is a pleasure to use as the buttons are large enough for ease of use and the backlight of the screen is bright even in sunny days. I would highly recommend the Retevis line of radios. I know the next Handie-Talkie I buy will be a Retevis.

Joy Barai

Promising Quality

Reviewed in Canada

on

Aug 14,2021

I was new to the DMR functionality when I purchased the radio and it has since helped me learn more about digital radio operations. First of all, I am pleased that my RT3s came with no programming issue since the Youtube tutorials & programming software were fairly easy to follow. The voice clarity is definitely better than analogue radios and the built quality is almost similar to other major radio retailers. My only issue is that the channel changing knobs and PTT button seems very light to press. Wish it was a bit firm so that accidental transmissions can be eliminated, then again it's my personal opinion. The IP64 mic is very durable and compliments RT3s in nearly all professional fields. If you're a business/new to DMR operations, I'd obviously recommend RT3s.

Quality build with great audio reports

Reviewed in United States

on

Mar 26,2021

The RT3S has been straightforward to use and I am impressed with the audio reports I've received - both through Analogue repeater use and via DMR. From north London I've got into digital repeaters at S9 with clear signal and working with my hotspot at home has been easy! Battery life has been great so far. What I also like is the antenna connector is compatible with other SMA to N-type adaptors, so I can connect to an external antenna at home.

Powerful performance, good user interface

Reviewed in United States

on

Dec 17,2020

Got the radio charged and on the air the same day I received it. Analog performance with the included stock antenna is better than any other handheld unit I own. This is my first digital radio but it seems to reliably make connections to a repeater I wouldn't have expected. Free software for programming works flawlessly. Very happy with the purchase and looking forward to making more use of this radio.

Reviewed in United States

on

Dec 15,2020

Há um ano estou usando e sempre com muito sucesso, excelente transceptor.

Reviewed in United States

on

Oct 30,2020

comprei esse radio

Reviewed in United States

on

Sep 19,2020

Been working with Mototrbo since 2007 for work, but now have this Retevis RT3S and it is really wonderful. So many channels, talkgroups and contacts... Battery could last a bit longer but hey, for the price, simply amazing. Thanks Retevis for another awesome product

Reviewed in United States

on

Sep 03,2020

Have had the radio for about 3 months. work very well. good radio for the money.

ze manel dias

RETEVIS RT3S

RADIO MUITO BOM

Nathan BERNARD

Very good dual band radio

Reviewed in France

on

Jul 27,2020

This radio works in analogue and digital mode. It allows QSO on VHF and UHF strips. Its use is easy after a grip. Three power modes are offered: 1 W, 2,5 W and 5 W. This unit is perfect for radio fans.