RT49 NOAA Rechargeable FRS Walkie Talkie 2Pack
US$ 56.99
Free shipping on orders over $50
US$ 12.00
-17%
1, Waterproof License-free FRS band Two-Way Radios
2, Standard package with 2 pack radio
3, NOAA weather channels
4, Rechargeable and replaceable batteries
Order Handling Time within 3 Working days(Pre-sale products excluded).
15908 PEOPLE ARE LOOKING FOR THIS PRODUCT
OverView
1.

RT49

FRS License-free Two Way Radio
The Retevis RT49 FRS License-free Radio, IP65 Waterproof, USB Charging, Dual Standby, Long Range radio, suitable for outdoor activities.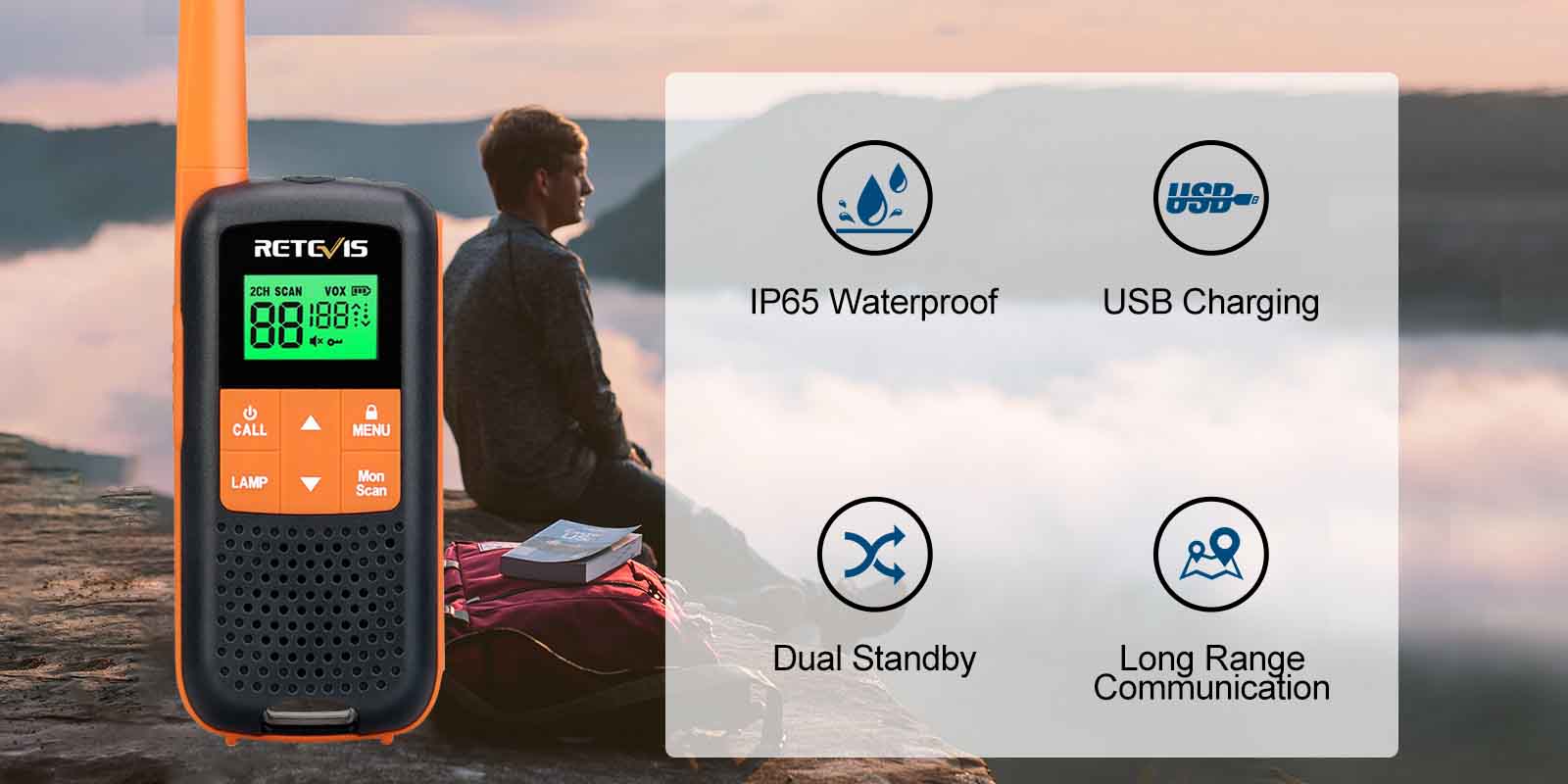 2. RT49 IP65 Waterproof radio
With IP65 waterproof rating, the walkie talkie can be used for outdoor activities like hiking, fishing, and skiing without worrying about being damage walkie talkie from water and solid particles.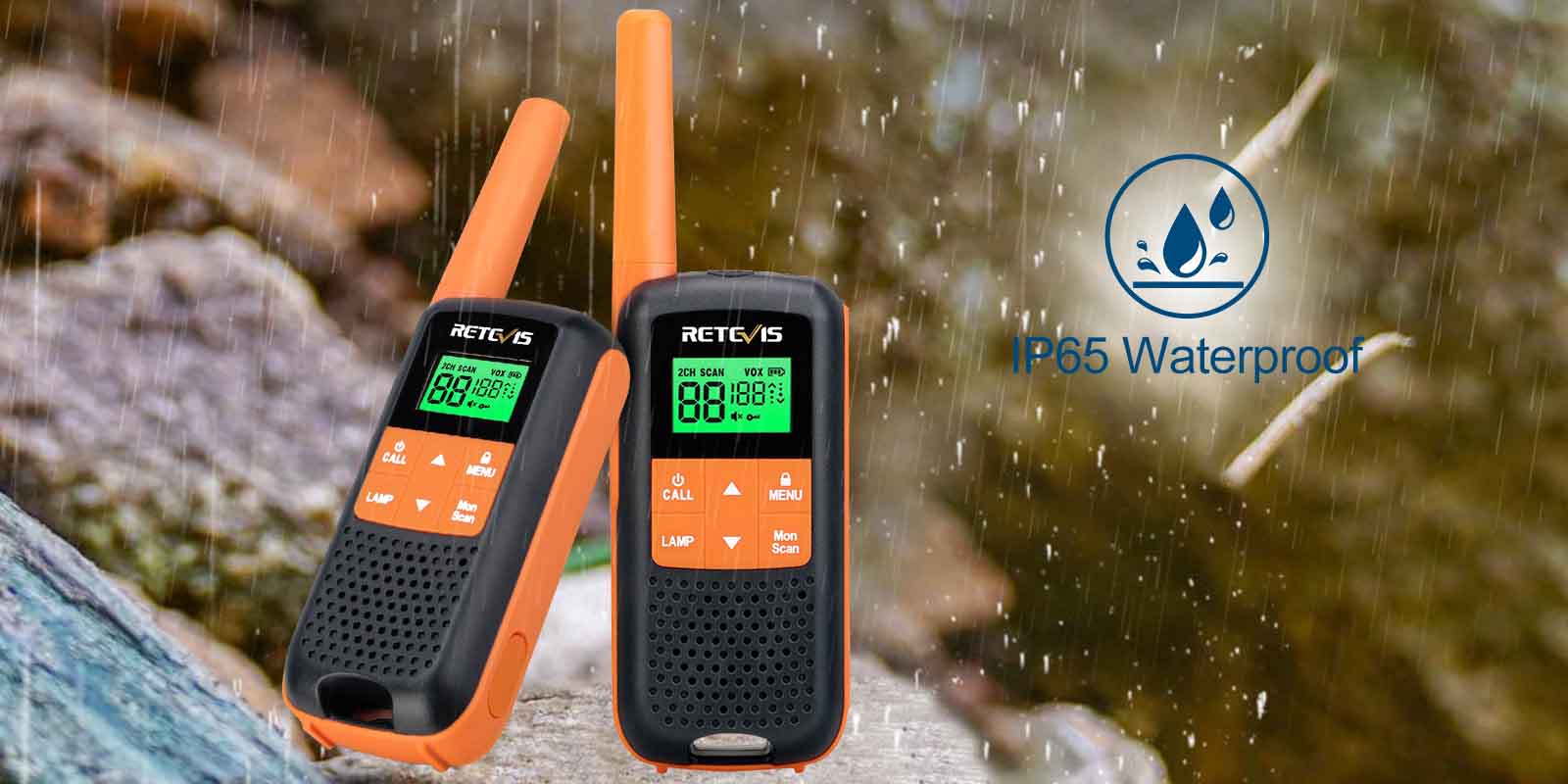 3. NOAA Weather Alarm
11 NOAA weather channels help you receive emergency weather forecasts and emergency news broadcasts from NOAA to make your travels more exciting and safe.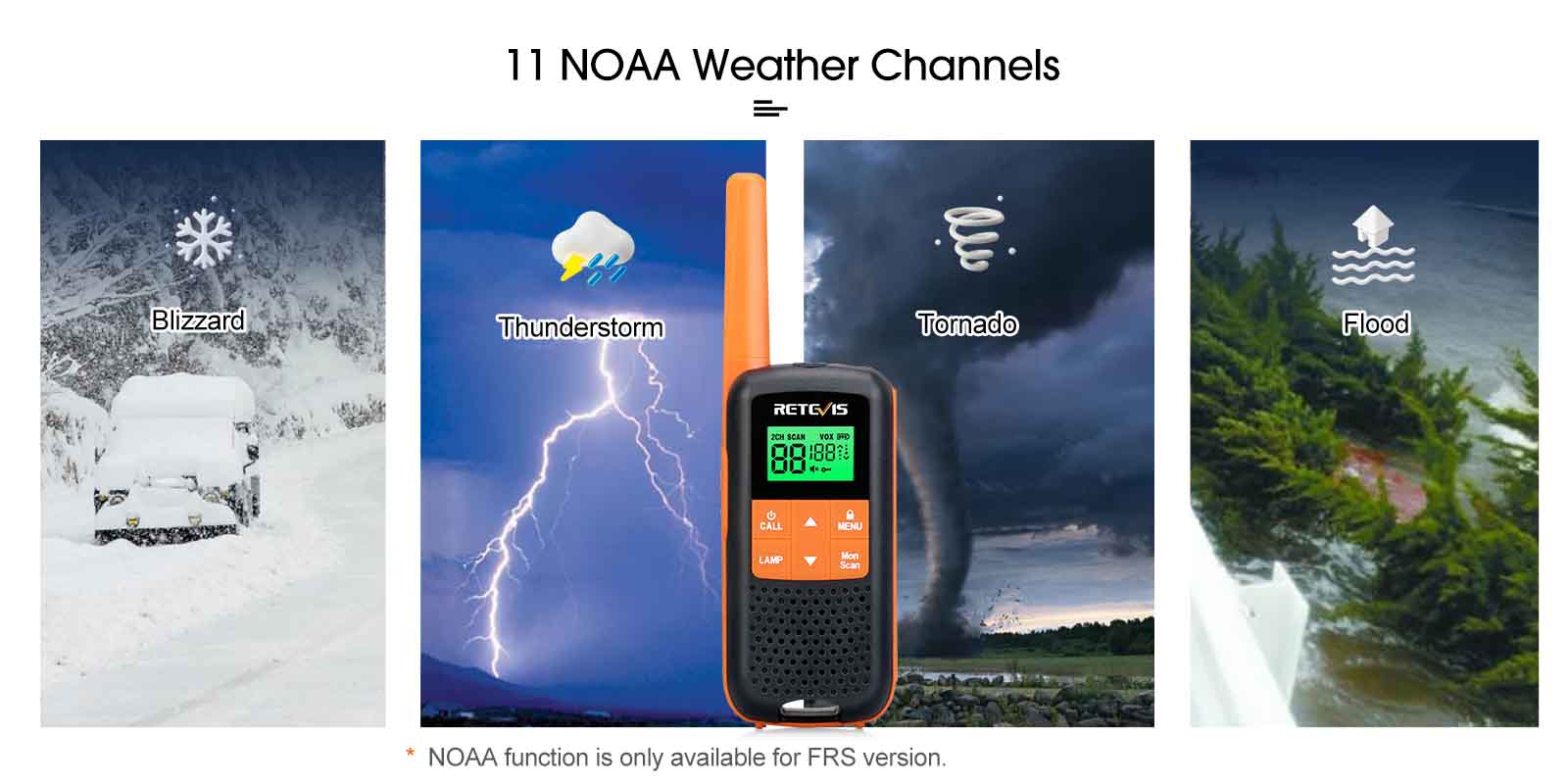 4. RT49 Long Range Radio
Communication range reaches up to 1~3km. The actual communication range depends on the current environment.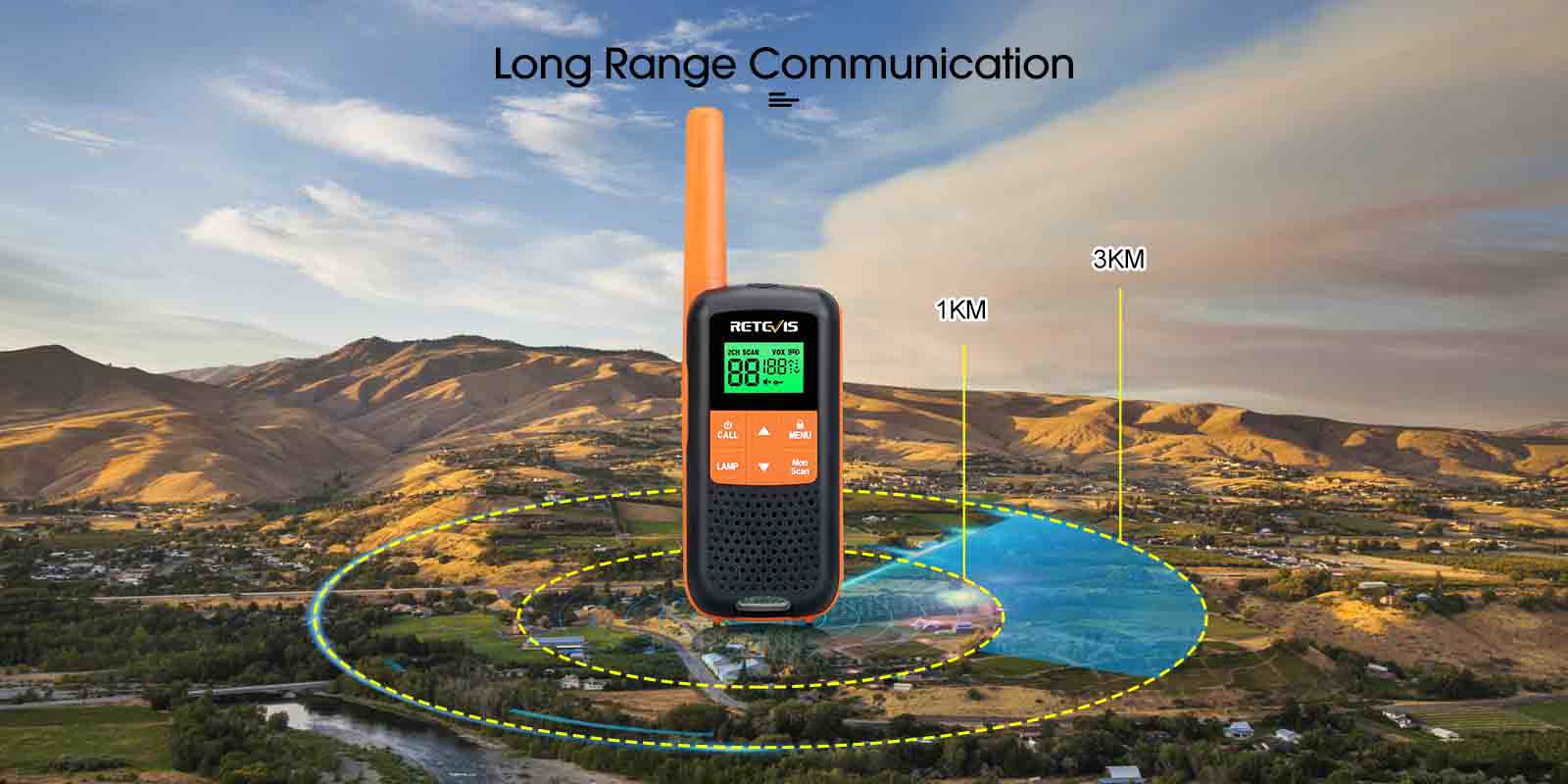 5. RT49 Rechargeable Walkie Talkies
Comes with NIMH rechargeable batteries, and the batteries can be replaced. Equipped with a USB charging base, you can charge the two walkie talkies simultaneously. In addition, there is a micro-USB charging port on body, you can directly charge the walkie talkie through a power bank, computer, etc.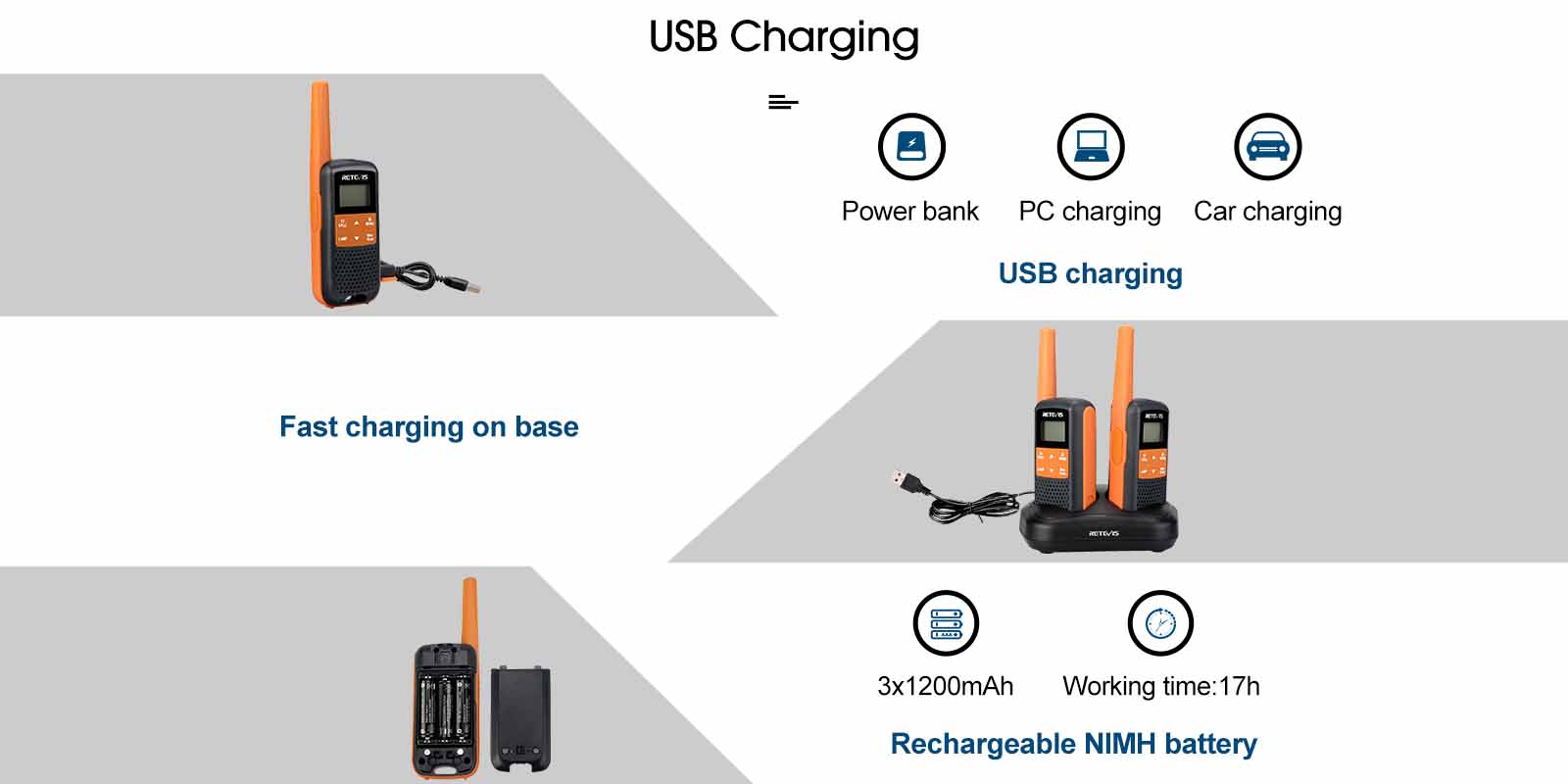 6.

VOX function



Voice-activated transmission function (VOX) with 3 sensitivity levels for hands-free operation. When climbing, cycling or driving, turn on your hands-free to ensure safety.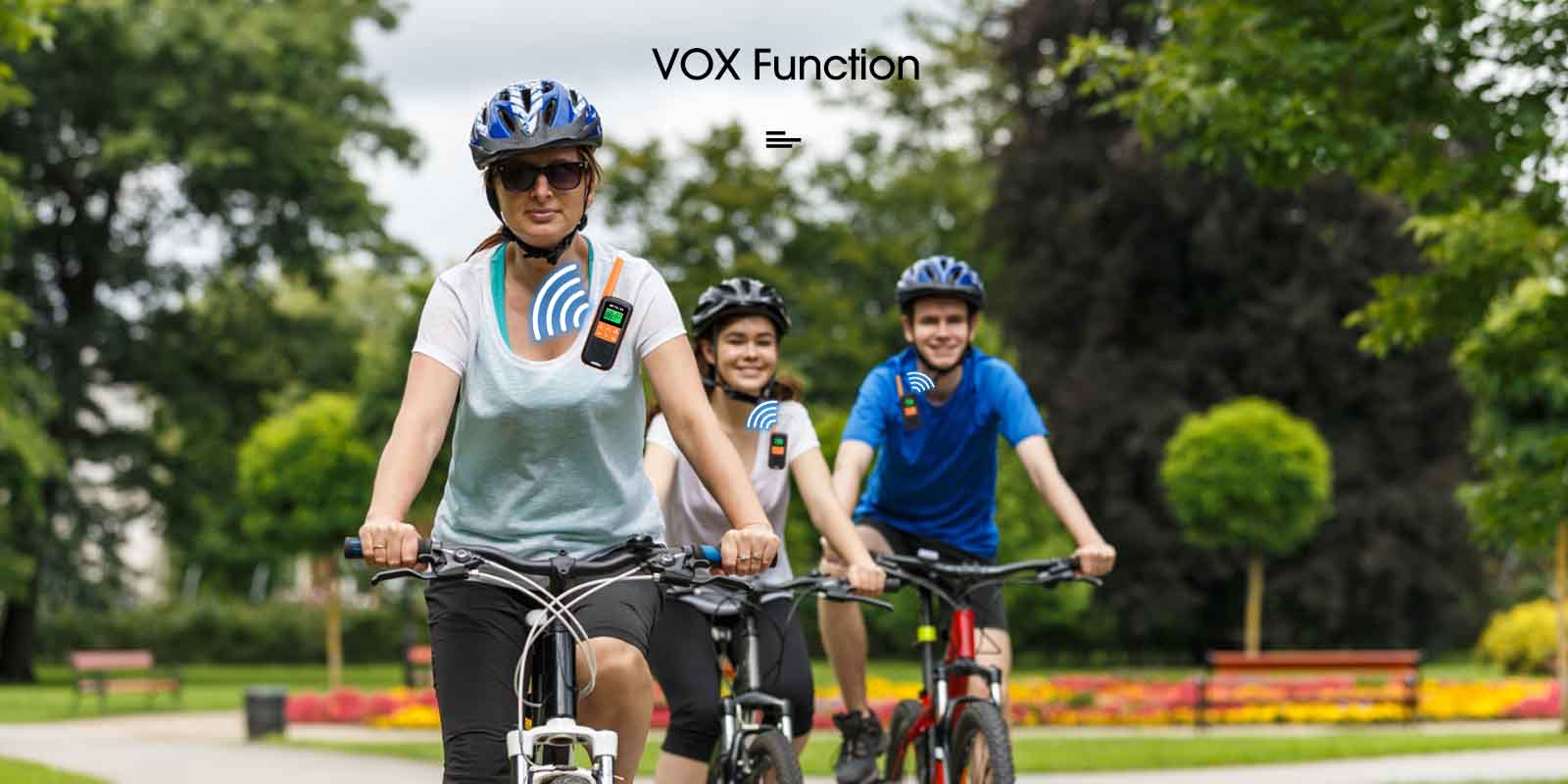 7.

LCD Screen & Multi-function Keyboard
Large LCD screen for clear vision, and multi-function keyboard for convenient operation. This walkie talkie is your perfect choice.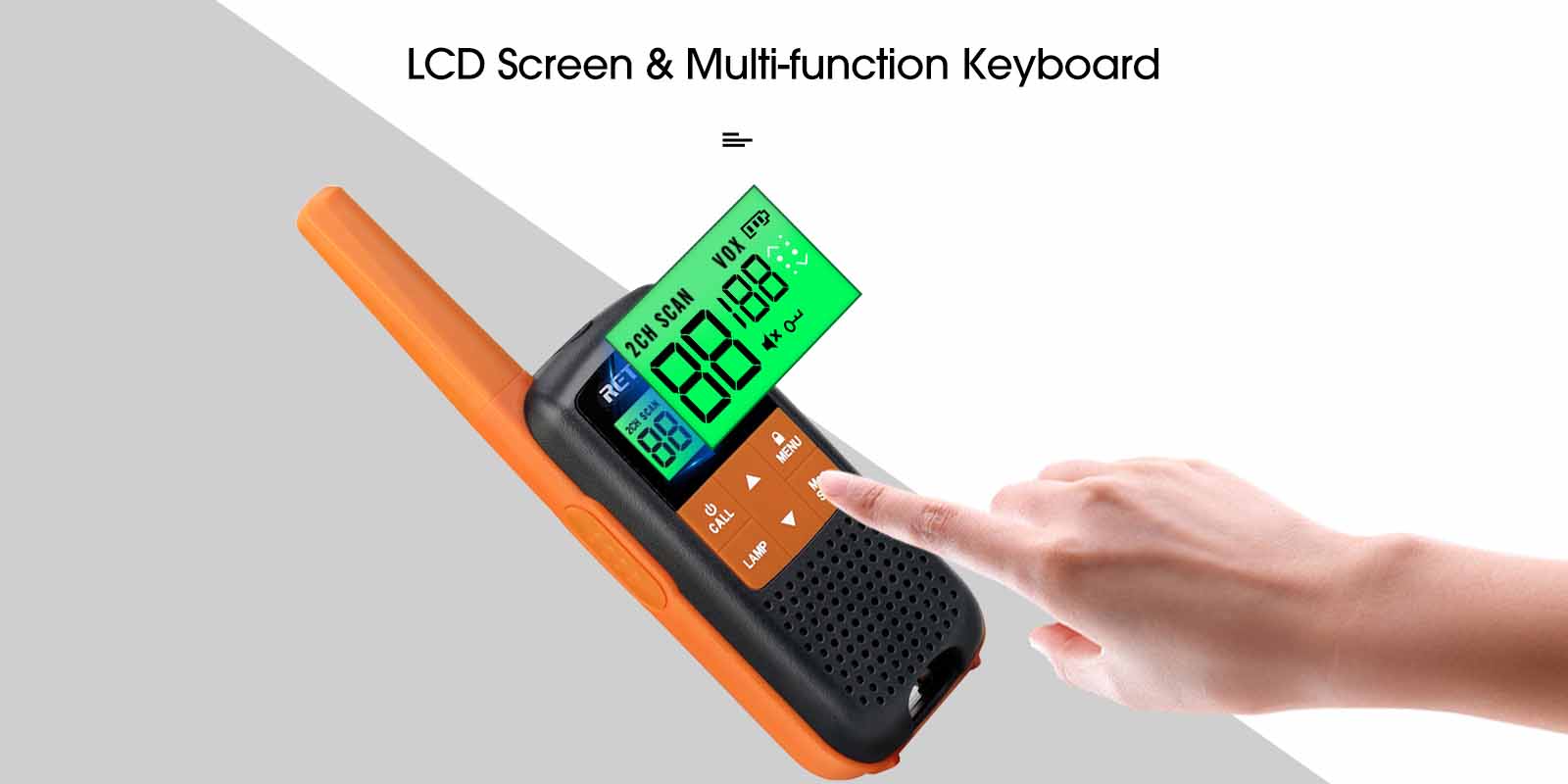 8.

LED Flashlight
Built-in LED flashlight, the walkie talkie helps to light your way during evening activities and ensure your safety.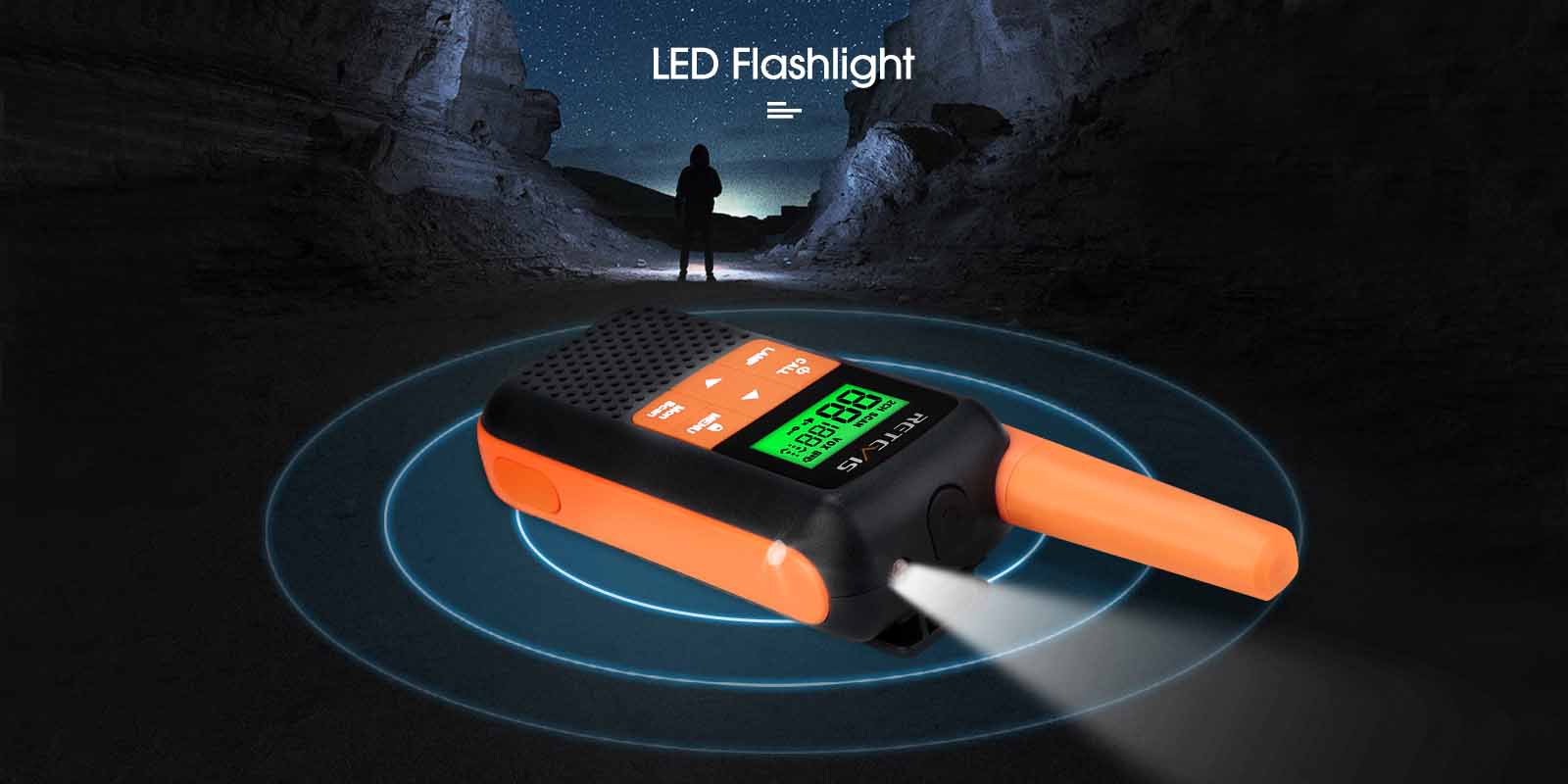 9. Dual Standby time

The dual standby function can monitor two channels at the same time, ensuring that you will not miss any calls.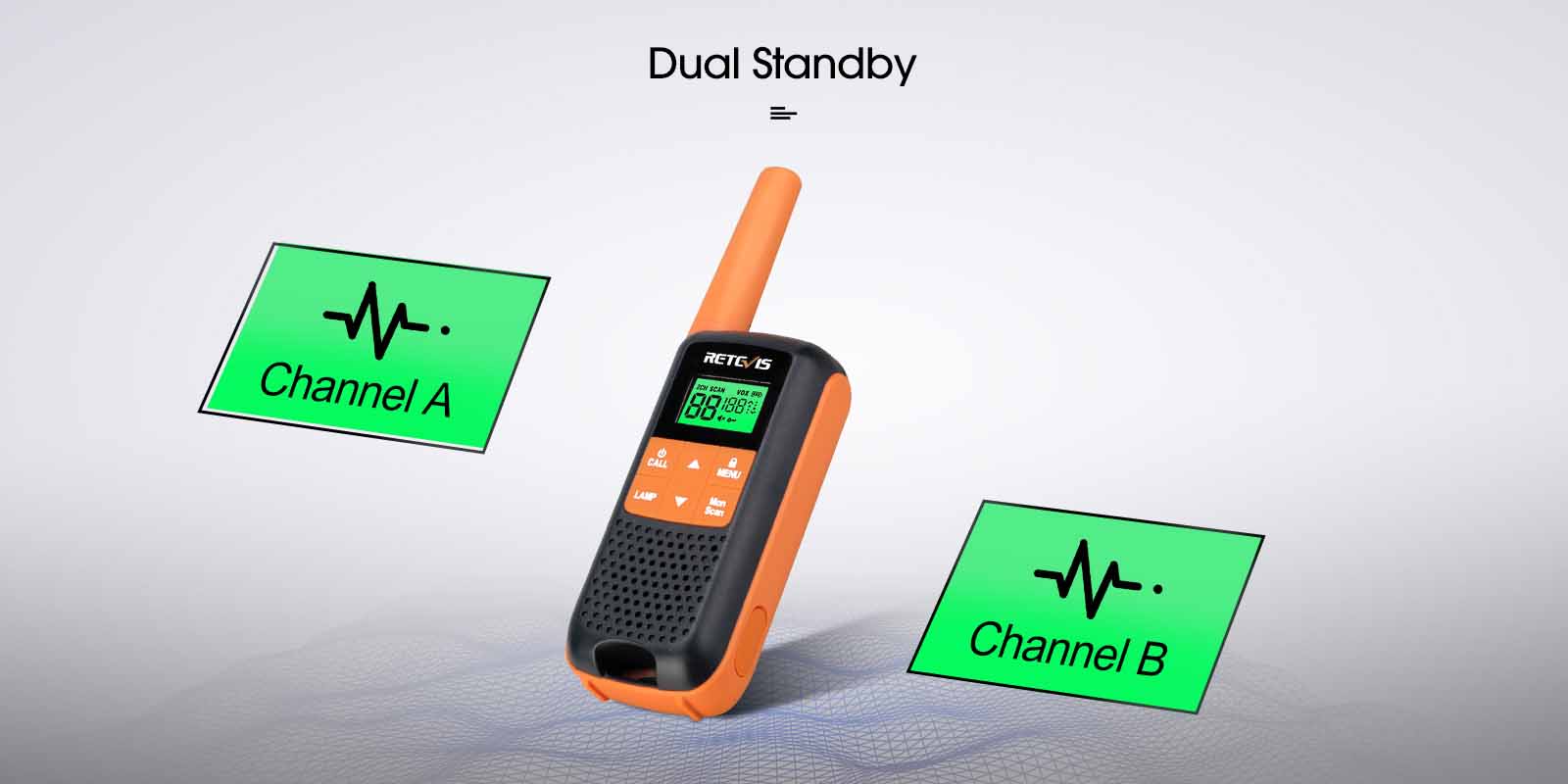 10. privacy codes-interference eliminator
When the number of available channels is limited, you can set the privacy code function to set up a special call area, and at the same time, setting the privacy code can eliminate unnecessary interference.
11. RT49 Clear and Crisp Sound

Possessing auto squelch function, the walkie talkies eliminate unwanted noise, ensuring clear sound quality.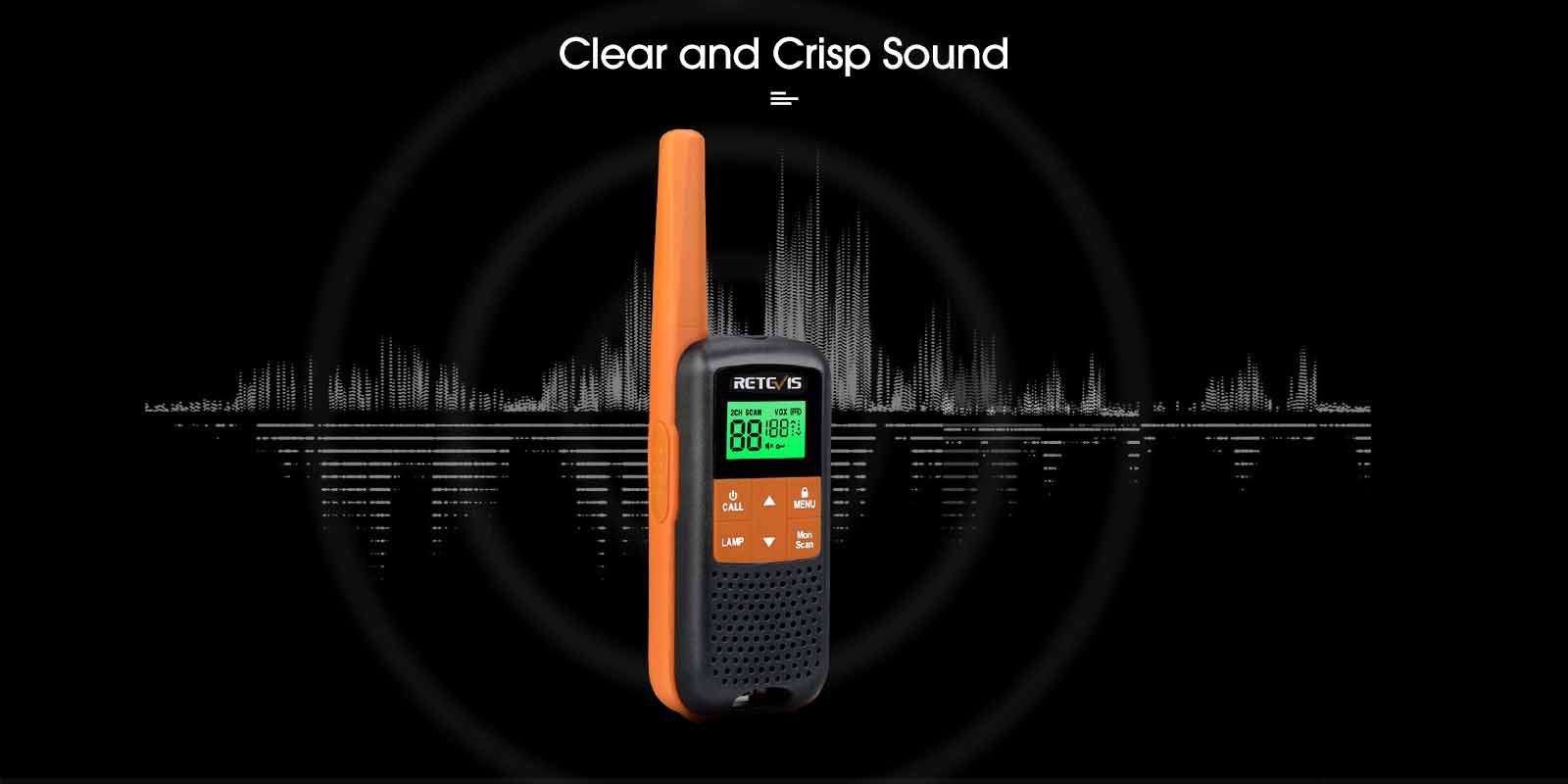 12.

RT49 Durable and sturdy radio



The walkie talkies are made of sturdy ABS material to reduce the damage caused by falling.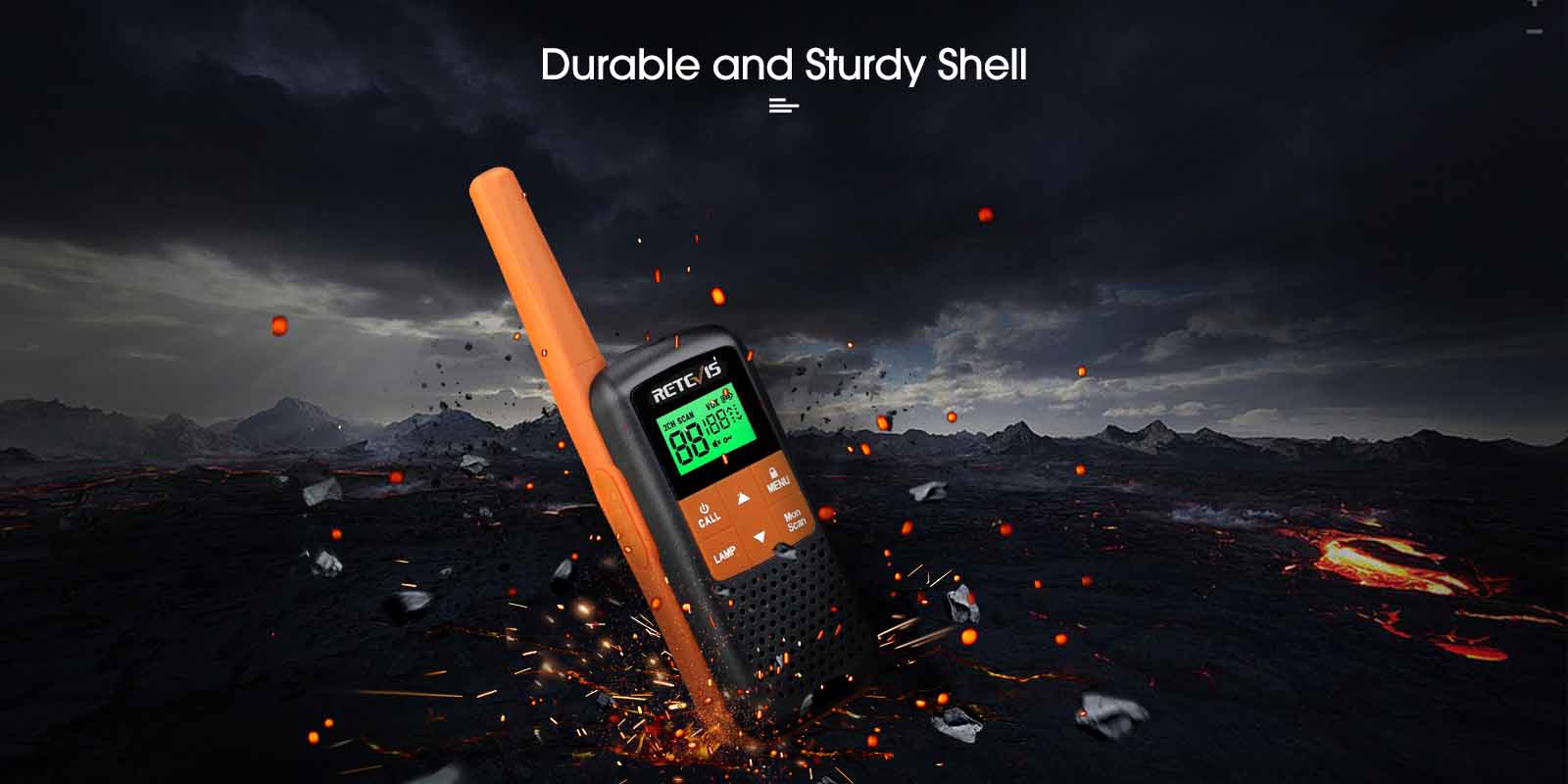 13. RT49 license-free radio

, the best two way radio for camping, hunting, and outdoor activities.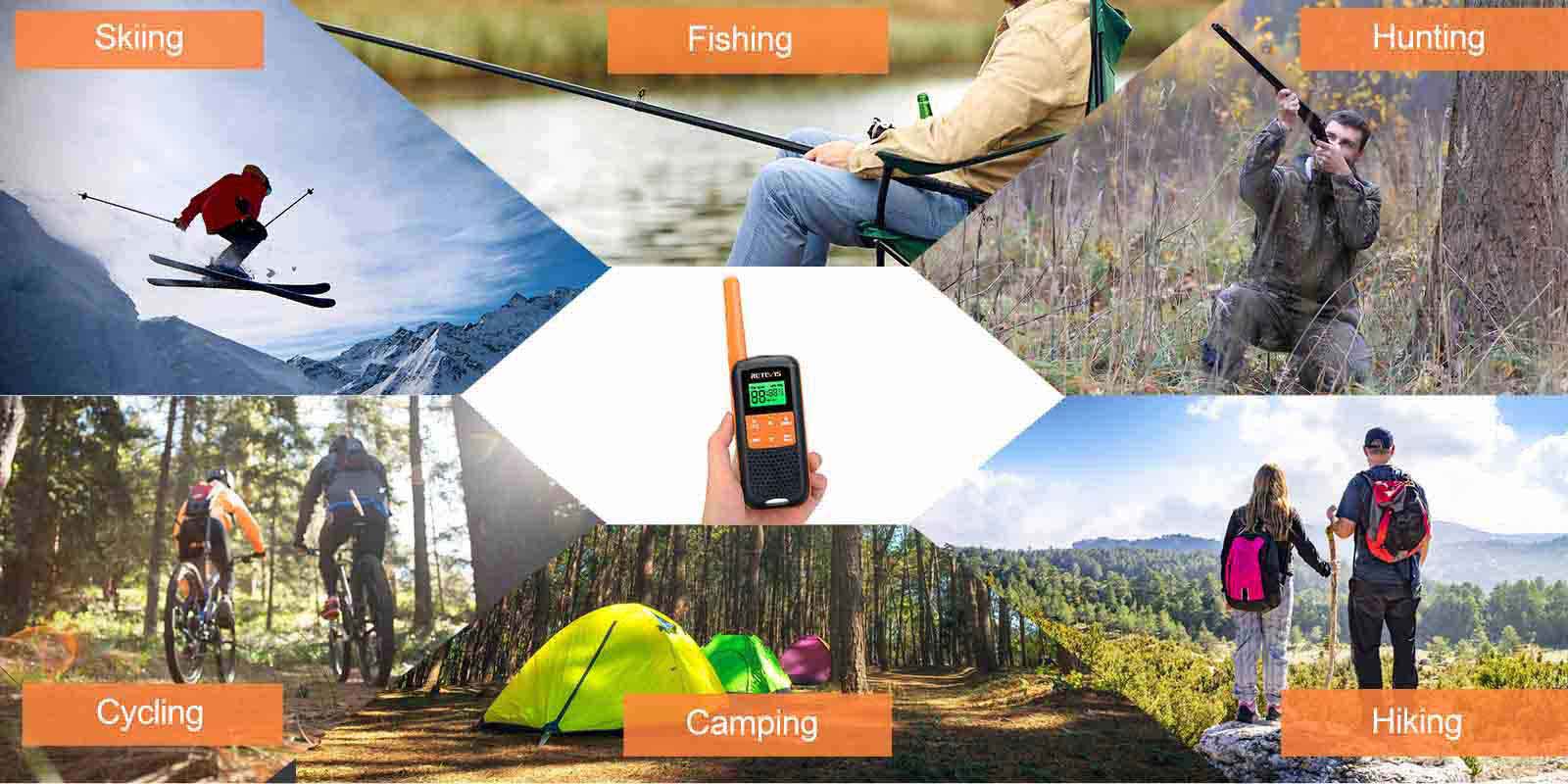 14. RT49 license-free radio

Function detail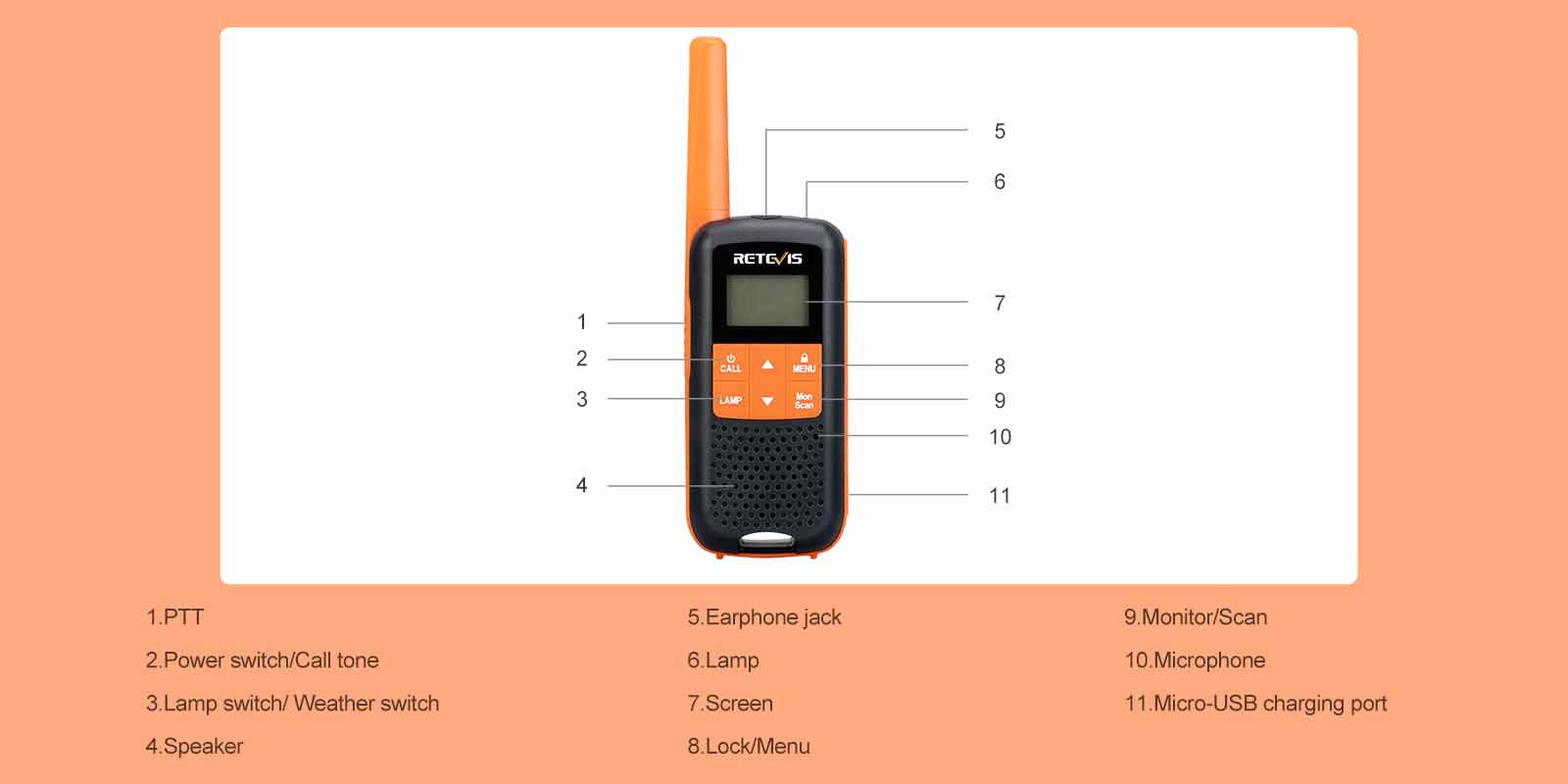 15. RT49 license-free radio General Specifications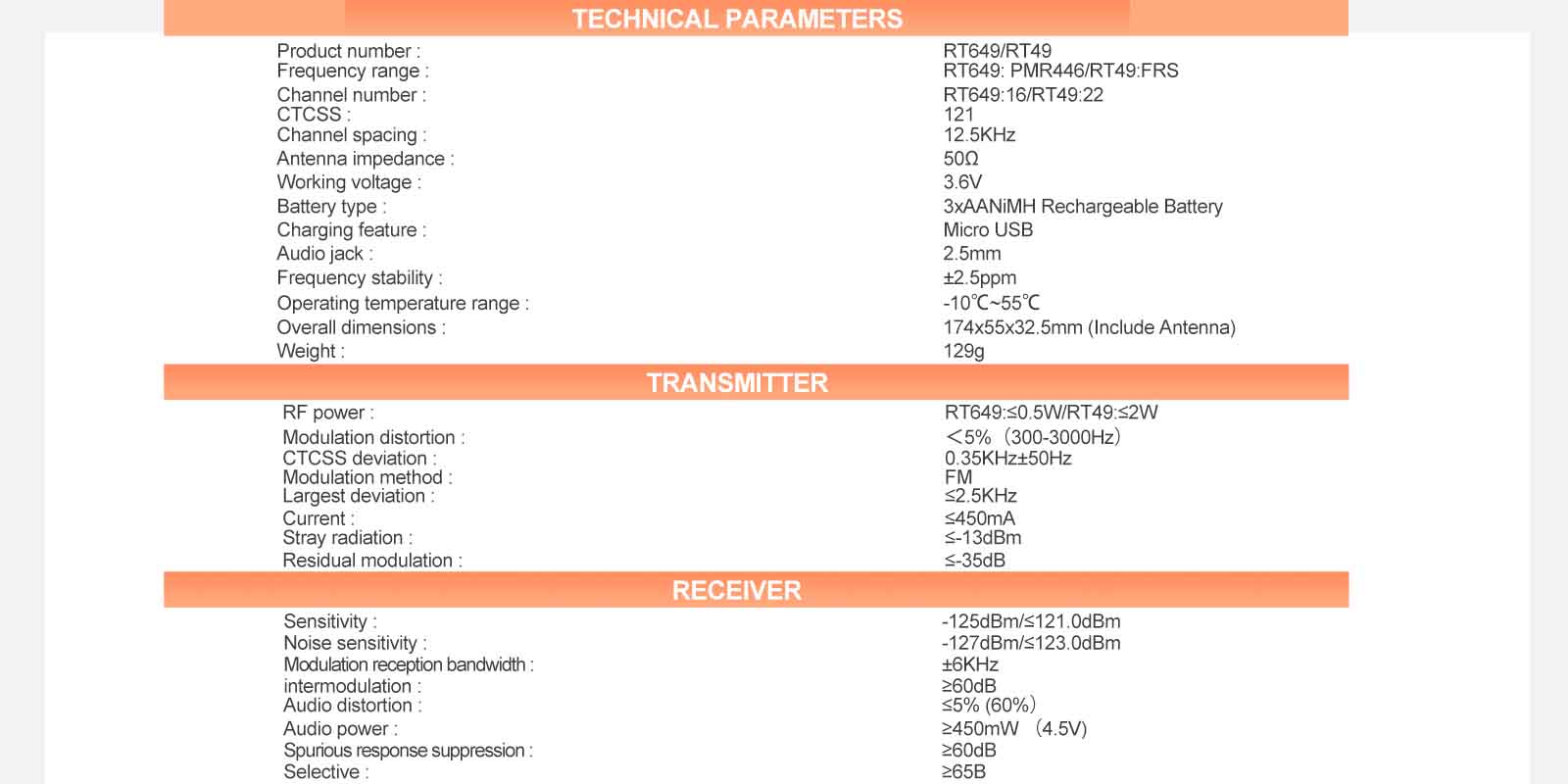 16. RT49 license-free radio package details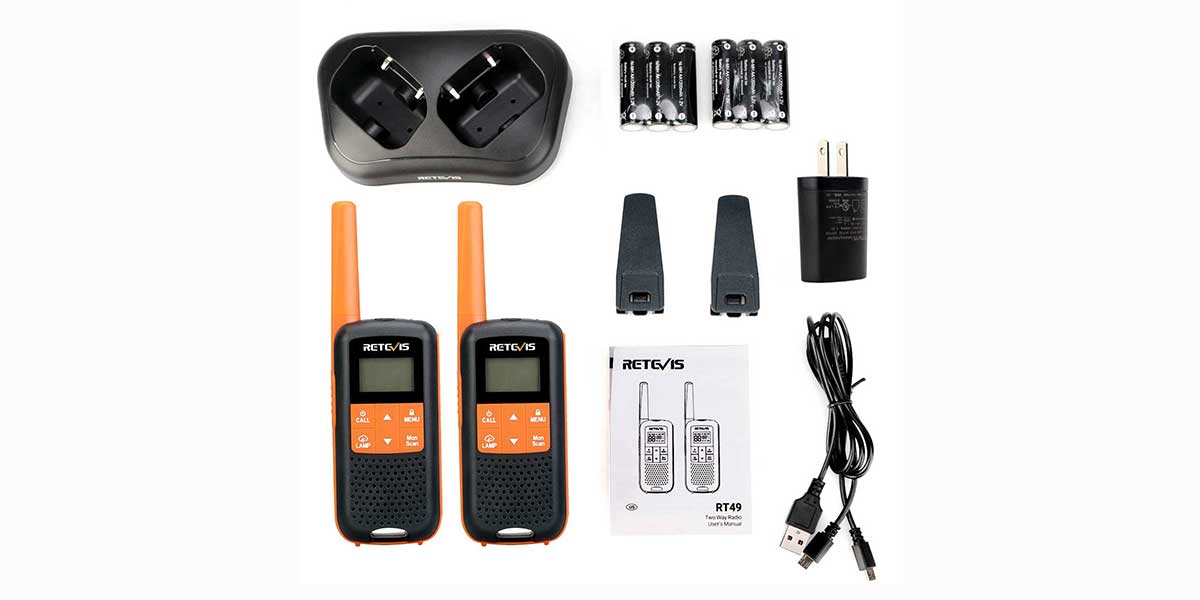 What's in the Box?
2 x Retevis RT49 Waterproof Walkie Talkies
6 x AA NiMH Rechargeable Battery
2 x Belt Clip
1 x Desktop charger
1 x Micro-USB cable
1 x User Manual
Spec
Technical parameters:
TECHNICAL PARAMETERS
Product Model
RT49
Product Type
FRS
Frequency Range
462.5500~467.7125MHz
Channel number
22
CTCSS
121
Channel spacing
12.5KHz
The antenna impedance
50Ω
Working voltage
3.6V
Battery Type
3xAANiMH Rechargeable Battery
Charging feature
Micro USB
Audio Jack
2.5mm
Frequency stability
±2.5ppm
Operating temperature range
-10℃~55℃
Overall dimensions
174x55x32.5mm (Include Antenna)
Weight
129g
TRANSMITTER
RF power
2.0W
Modulation distortion
<5%(300-3000Hz)
CTCSS deviation
0.35KHz±50Hz
Modulation method
FM
Largest deviation
≤2.5KHz
current
≤1.3A
Stray radiation
≤-13dBm
Residual modulation
≤-35dB
RECEIVER
The sensitivity
-125dBm/≤121.0dBm
Noise sensitivity
-127dBm/≤123.0dBm
Modulation reception bandwidth
±6KHz
intermodulation
≥60dB
Audio distortion
≤5% (60%)
Audio power
≥450mW (4.5V)
Spurious response suppression
≥60dB
selective
≥65B
Feature
Retevis RT49 FRS License-free 22 Channel Two Way Radio
1, Retevis walkie talkies with 22 FRS channels, No need license and usage fees.
2, 11 NOAA alert channel can help you get the latest weather and a alarm of severe weather; and locks onto the strongest weather channel to alert you of severe weather updates
Features:
Roger Beep Tone
Auto Squelch
Voice Operated Transmission (VOX)
Low battery alert
Keypad Tone
Call Tones
Keypad lock
Channel Scan
Monitor Function
Time-out timer
Dual Watch/Dual Channel Monitor
Display Backlight
Battery Meter
Flashlight
Automatic power save feature
Features:

Roger Beep Tone
Auto Squelch
Voice Operated Transmission (VOX)
Low battery alert
Keypad Tone
Call Tones
Keypad lock
Channel Scan
Monitor Function
Time-out timer
Dual Watch/Dual Channel Monitor
Display Backlight
Battery Meter
Flashlight
Automatic power save feature
Support
Accreditations
---
Accreditations
---
RT49-FCC-Certificate
RT49-IC-Certificate
RT649-CE-Certificate