RT22 Small
The RT22 portable two-way radio gives you instant communication—without the bulky look and feel of a traditional radio. At just 13mm, it fits easily in your hand, or discreetly in a suit jacket or pants pocket. At only 109g, you can move freely and comfortably without being weighed down. Sleek and attractive, the it blends with business attire and enhances your professional look.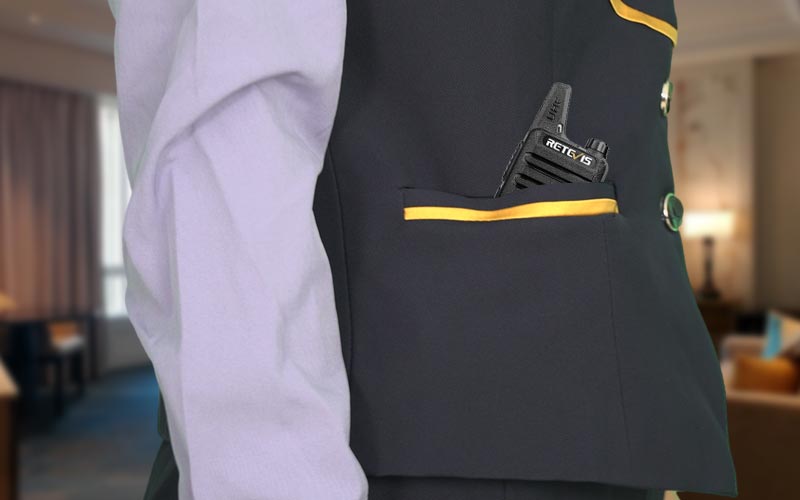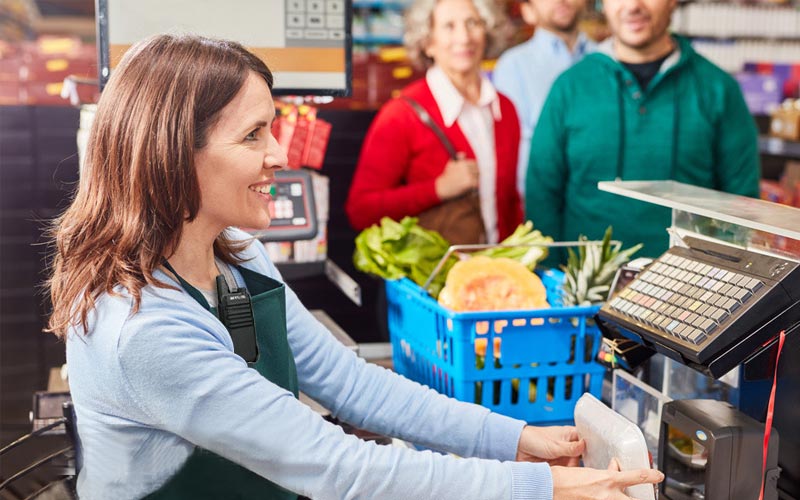 RT22 Good sound quality
The sound of RT22 is very clean and the content is clear. Let you communicate without barriers at work.
RT22 Easy to wear
Jacket-style back clip, securely installed and easy to remove. The RT22 is separated from the back clip after it is removed, and the RT22 remains thin and light without being dragged by the back clip.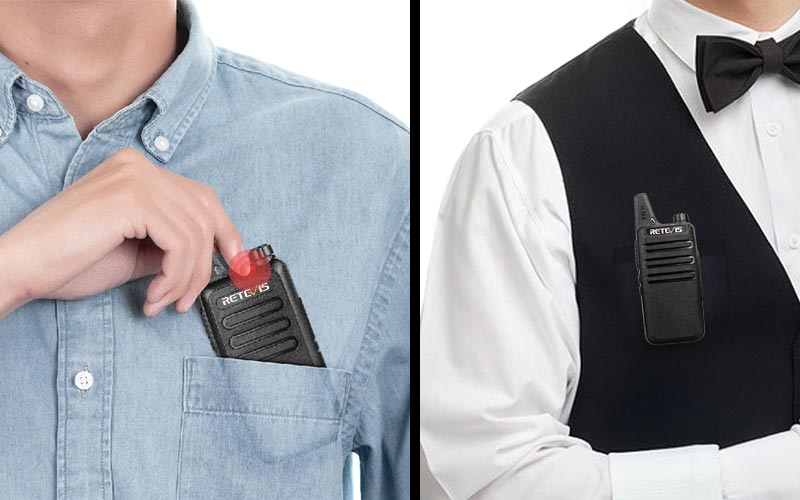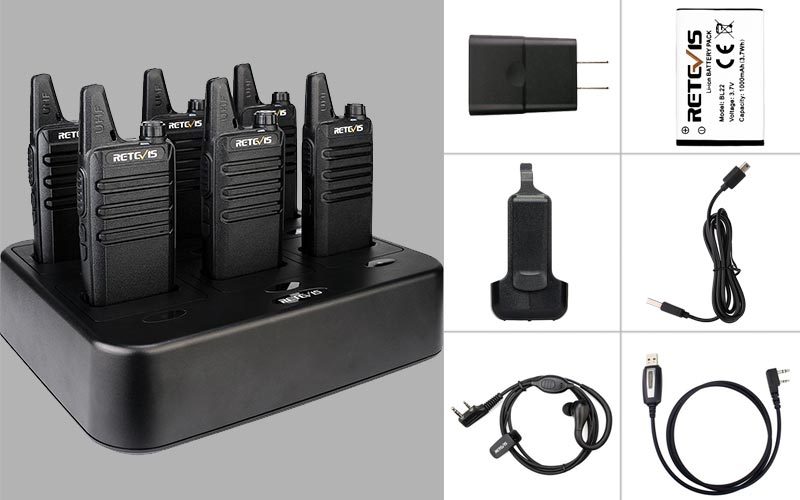 Package details
RT22 has 15 kinds of accessories such as charger, writing frequency cable, 6-way charger, earphone, back clip, hand microphone, battery, etc., which can meet your different needs in different work scenarios.
General

Model Number
RT22
Frequency Range
FRS
Power
2W
Color
Black
Channel Capacity
16
Battery Capacity
Li-ion 1000mAh
Working Voltage
DC 3.7V
Antenna Impendence
50Ω
Weight (Include battery)
113g/3.99oz
Size(Include antenna)
136x56x21mm/5.35x2.2x0.83in

Transmitter

Output Power
2W/1W
The Maximum Deviation
≤5KHz
Residual Radiation
<60dB
Current
≤1000mA
Audio Response
+7~-12.5dB

Receiver

Sensitivity
≤0.16μV(12dB SINAD)
Squelch Sensitivity
<0.2μV
Intermodulation
50dB
Audio Power
≥300mW
Current
≤100mA
Squelch Current
20mA
1, Easy to use and Easy to Carry
Retevis RT22 comes with the FRS band License-free radio, no need to program. With the pocket size, lightweight and thin. Portable and convenient
2, Clear communication
With the High-quality Audio design, make Retevis RT22 with the clear and long-range distance.
3, USB charging
Includes USB charging cable and dual port, the USB cable can charger Retevis RT22 with 2pcs at the same time.
4, The best Radios for Business and family

With the affordable price, will save much money for your business or family outdoor or indoor use. The best Low-Cost communication solution.
Accreditations
---
---
RT22 FCC Certificate
RT22 IC Certificate
The Mini, Thin, Lightweight License-free Radio
Order Handling Time within 3 Working days(Pre-sale products excluded).
39249 PEOPLE ARE LOOKING FOR THIS PRODUCT
What's in the Box?
2 x RT22 Mini and lightweight License-free Two Way Radios
2 x Battery
2 x Belt Clip
1 x Adapter
2 x USB charging cable
1 x User manual
Product Reviews
---

these are a sturdy well built item the range and reception is very ...

A. Harris on Dec 03,2018

these are a sturdy well built item the range and reception is very good, they are kid tested and passed with flying colors! would recommend these

Compact and light but not the best range out there

JennyD on Dec 03,2018

The seller was very kind calling and following up when my order got missing. The radios are very light and the fact that you don't have to connect it to a stand to charge it helps, say for example if you are driving. The range is similar to other products in the same price range,The design with integrated antenna make the product slick and compact.

WOW!

woodsman on Dec 03,2018

I wanted some cheap small pocketable walkie talkies for my family at the ski area. All I can say is WOW! I have owned several other brands of more expensive FRS GMRS radios.These RT22 Retevis radios are smaller, better, simpler and incredibly inexpensive and high quality. After a whole day at the ski area with crystal clear usage, I am sold. And if we lose one oh well

For this price and performance I don't think there's anything out there better.

G. VALENTIN on Dec 01,2018

Bought this 4 pack on a Lightning Deal. Light, compact, and simple to use. It fits well our needs: for when cellphones are down. My wife's workplace and mine are just a bridge away from each other so she keeps one in her locker and I keep one in my office. Another in her car and the fourth unit in my car. We tested them out for this set up and performed well. Power holds for a couple of days on standby. God forbid some crises happens, we know we have a back up means of communicating. For this price and performance I don't think there's anything out there better.

Best radios ever!

aplarosa on Dec 01,2018

Best radios I have tried. I referee football and soccer. People I ref with, use these as communication to save running. I like their compact size and flawless performance. Having the programming cable makes it so you can download the software from Retevis for free and program the VOX function and change the frequencies. It is nice to program radios on frequencies not used by other commercial radios. No prying eyes.

Great clear sound and great range!

lisa stevens on Dec 01,2018

These work great! Very clear sound and great range! Definitely recommend!These were simple to charge and use! Work great for the whole family! My grandson was so excited to have then!!!

The 4 pack was perfect for range and contacting more than one person at ...

P&F Enterprises on Dec 01,2018

Just what I wanted . The 4 pack was perfect for range and contacting more than one person at a time. I can conference with three others at the same time.

Load and clear!

raul flores jr on Dec 01,2018

We purchased two pairs for our local school event coordination and have been using them almost a year. Sound quality is good and customer service is great. Since I have not tested over long distance, I cannot give helpful information for that purpose, but for normal indoor/outdoor usage, we are completely satisfied by the product.

Good quality. Good price

Dominick Wernicke on Dec 01,2018

These were rugged, easy to charge and have a great range. Good for on a road trip or camping!

Pretty happy

john on Dec 01,2018

Not bad for an inexpensive "toy" which we used to keep track of each other at a three day conference that attracted over a thousand people.