The summer has already arrived, and so is the time to get out and spend some time in the lush-green valleys and wilderness. To enjoy the great outdoors, either hunting, camping, or hiking, hassle-free, you need an effective communication device.
If you are an adventure seeker, and love to spend your time outdoors, cell phones aren't a reliable option. It can become a huge problem if something goes wrong and you are unable to contact the rest of your group. This is where the best GMRS radio comes in as an affordable and efficient option for off-grid communications.
GMRS (General Mobile Radio Service) is a licensed radio service, which primarily uses channels, located between 462 MHz and 467 MHz. The use of these channels is to cover short-distance, and two-way communications with the help of hand-held radios, also known as repeater systems and mobile radios.
How to choose the best GMRS radio, we understand how much of a hassle it can be to go through thousands of reviews when you have too many options. So, leave all your worries, check out this ultimate guide, and make a hassle-free purchase decision.
3 Best GMRS Radios Reveiws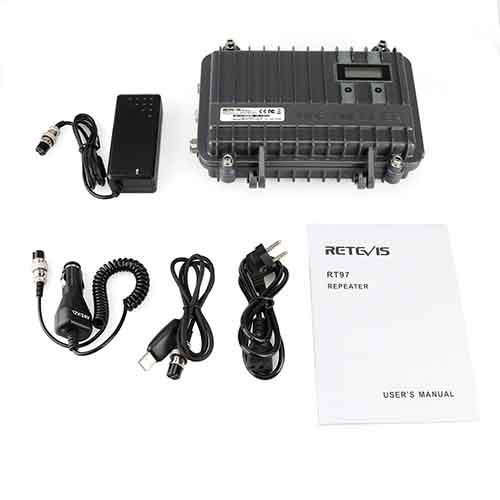 Highlighted features:
Portable repeater.

10W power output.

Strong penetration through obstacles.

Small but the audio is loud and clear.

16 Channels.
Certainly, Retevis is a brand that you did not expect to appear on this list.
But we talked so much about repeaters in this article, that we thought it would be good to include such a device.
First of all, you will notice from the very beginning how sturdy this unit actually is. This is because it was designed to face any scenario and conditions.
The power of the Retevis RT97 line amplifier is 10W. It is big enough to do its job and ensure you a good range.
What buyers appreciate most about this repeater is that it's up and running quickly, so to speak.
And despite the fact that it is portable, it is particularly durable and ensures the good audio quality.
Moreover, this unit covers normal GMRS frequency, but you can actually contact Retevis and tell them that you want custom frequency ranges before you buy one of these. They will take care of it for you.
Pros:
Excellent base station.
Comes with a car charger cable.
Great customer support.
Cons: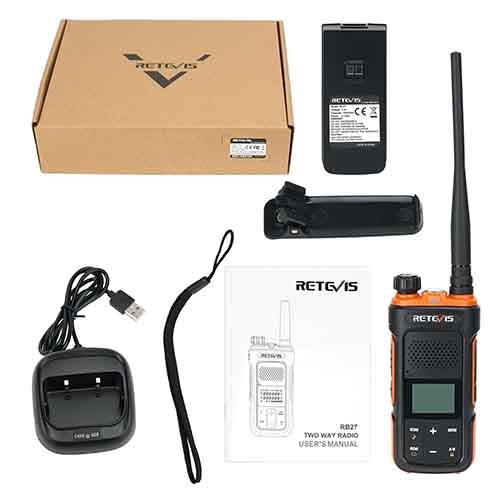 Highlighted features:
5 transceivers in one pack!

Standard 30 GMRS channels.

8-hour battery life.

VOX function.

5W power output.
Retevis RT76P is ideal for harsh environments. Their portable repeater made it clear that Retevis is a brand to be taken seriously, as they produce very good GMRS radios for many professional scenarios.
This stands true for RT76P as well. You can buy 5 transceivers in one package, which are already set on the same frequency and the same channel, so you won't have to worry too much.
Because they are made to withstand demanding jobs, such as construction sites, they are very sturdy and will withstand all kinds of drops or dust over time.
The battery will not disappoint you either. With 1400mAh, the transceivers will last for 8 hours if used non-stop. If you do not use them so intensely, you can expect the battery to last longer.
The power output is 5W. You may need a larger range, which is why we recommend that you consider the Retevis portable repeater from earlier..
Pros:
Cons:
Hard to switch the antenna.

3,

RETEVIS RB27

Highlighted features:

5W Power output.
Hands-free functions.
Illuminated screen.
NOAA Weather alert.
So far, we have included in this list products with a large number of features, of the highest quality, intended for people who need a GMRS as efficiently as possible.

Retevis RB27 is intended for another category of people. It is a much cheaper device, but it has the basic functions of a GMRS radio, perfect for those who do not have high expectations from radios.

If you belong to this category of people, then retevis RB27 might be the best choice.

Even so, they have a maximum power output of 5W, which should be enough for a range of about 3-5miles, depending on the external conditions.

It also comes bundled with a number of fairly simple features, such as FM radio access, NOAA weather alerts, CTCSS and DCS technology, as well as VOX control.

If you do not know all these functions, there is no need to be scared: they are optional, and you will be able to use a retevis RB27 without advanced knowledge..

Pros:
Very cheap.
Perfect for non-tech savvy individuals.
Repeater capable.
Long range

Cons:
Only one transceiver in the package.

Well, it isn't that hard to come across the right GMRS radios these days. I have already mentioned some of the most brilliant names in my reviews, and retevis GMRS radio seems to be best choice. Not only mine, but I have asked some of my fellow family and friends, and they all have the same thing to say.