If you need to communicate over long distances without a cell signal, a high-quality set of long-range walkie-talkies or two-way radios is necessary. It's pretty simple: two-way radios are a must when you need rapid communication, whether covering long ranges or short distances.
No matter your application — whether it be outdoors, recreation, commercial or professional — we hope you come across a product that'll hit the mark.
To cover all bases, we've included both long-range General Mobile Radio Service (GRMS) and Family Radio Service (FRS) options and some more affordable short-range devices, as well.
No, these long-range walkie-talkies aren't going to cover 100, 200, 500, or 1,000 miles like some of the more powerful radio frequencies, but they can reach up to 50 miles depending on your surroundings.
Let's dive into the best long-range walkie-talkie two-way radios of 2022.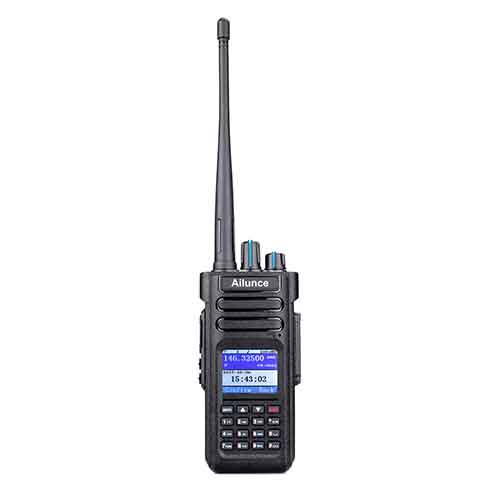 The Ailunce HD1 isn't just a good walkie talkie, it's one of the best walkie talkies, and particularly one of the best walkie talkies for long-distance communication. This is due to the fact that it's a Digital Mobile Radio, or DMR. Digital frequencies allow for clearer voice quality, longer transmission ranges, and the ability to send things like GPS data, text messages, and encrypted transmissions. The HD1 is capable of being programmed using included computer software, meaning that you can load several radios with frequency charts and contact lists to ensure 100 percent compatibility. This is a full-featured radio with many capabilities that make it, overall, the best walkie-talkie for long range use.
The water resistance is another important point for this radio, allowing you more peace of mind, especially if your journeys take you near or across the water. It's only IP67, so it's immersible in a meter of water for 30 minutes. That's not fully waterproof, but if you want to be able to pull your radio out of a waterproofing bag or box while on the water to make a call, you can do so with a bit more confidence.
The fully-digital nature of the Ailunce HD1 also means that you can store things like contacts and talk groups, rather than having to manually enter frequencies every time, and even offers a modicum of encryption to not only keep your communications private, but also ensure voice clarity. Topping this off, the HD1s full-color backlit screen and ability to swap on aftermarket high-end antennas mean that this radio can be used for more emplaced communications with much larger antennas, which is essential at lower frequencies. But more on that later.
The digital encryption on the Ailunce HD1 isn't great, and while that's not as much of an issue for some people, it's not 100 percent reliable, and it's only compatible with other Ailunce HD1s. So even though this radio is Motorola Tier I and II compatible, you won't be able to use encryption with them, and you'll have to transmit in the clear. The amount of digital contacts and talk groups that you can store is also not especially impressive, especially when you compare it to models like the Anytone 878 later on this list. It's still a lot, but eventually, you might run out of space.
Finally, the 10-watt output ought to have an asterisk next to it, because yes it can put that power out, but it doesn't mean that the HD1 is stable at that power output, with some users experiencing power fluctuation, especially on higher UHF frequencies.
Using the Ailunce HD1 for long-range communications will be contingent on taking advantage of the terrain, using VHF rather than UHF, using digital signals, using the proper antenna for the job, and making sure you know your local repeater stations, so that in the event of an emergency, you can effectively communicate with minimal hassle when seconds count.
Product Specs
Frequencies: VHF 136-174 MHz, UHF 400-480
Maximum power output: 10 watts
Battery life: 3200 mAh
Water resistance: IP67
PROS
Good water resistance
Excellent power output for long-range use
Full-color screen
CONS
Digital encryption is so-so
Not as many digital contacts as other models
Power unstable on UHF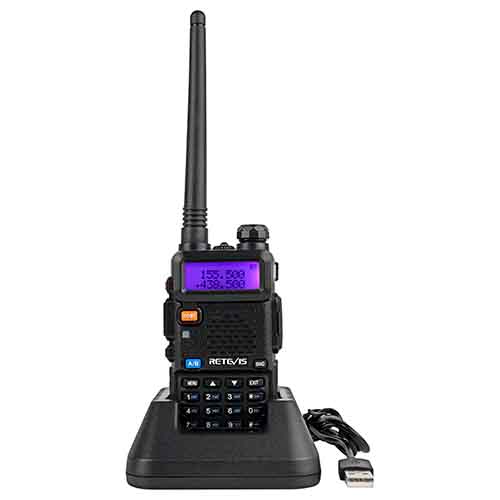 Retevis RT5R is a radio that features many of the things that more expensive handsets offer, like compatibility with high-end antennas, rechargeable batteries, and the ability to use computer software to load frequency presets onto the handset.
The Retevis RT5R is the low price point. There's a reason why they're the choice of radio for airsofters, militia weirdos, and the Russian army, and that's because the price is only $23.99, They're also popular in the modification community, so you can find extended batteries, and other kits to further enhance the utility of this super-affordable radio.
For starters, The Retevis RT5R radios are not meaningfully water-resistant or ruggedized in any way, so they're not suitable for hard use, especially as an emergency communication tool. And they are also prone to overload, which can become an issue if you're receiving strong signals. They don't offer any digital communication capabilities either, so you're stuck with analog, which makes the signal shorter range, and more prone to interference. The batteries are low capacity as well, relative to other options, giving them only roughly 18 hours of operation on max power, according to the manufacturer.
Using a Retevis RT5R for long-distance communication is less than optimal, given that you're already starting from a position of disadvantage due to the lack of digital communications capability and the temperamental radio receiver, but it can be done. 5W High power, long distance communication, The Retevis RT5R radio is a good choice in a pinch, or for beginners to familiarize themselves with radio communications past standard walkie talkies.
Product Specs
Frequencies: UHF: 420-450MHz + VHF: 144-148MHz
Maximum power output: 5W
Battery life: 1400mAh
Channel: 128
Water resistance: N/A

PROS
Affordable
Easy-to-find parts
Very simple
CONS
Prone to overload
No digital communication or encryption
Poor durability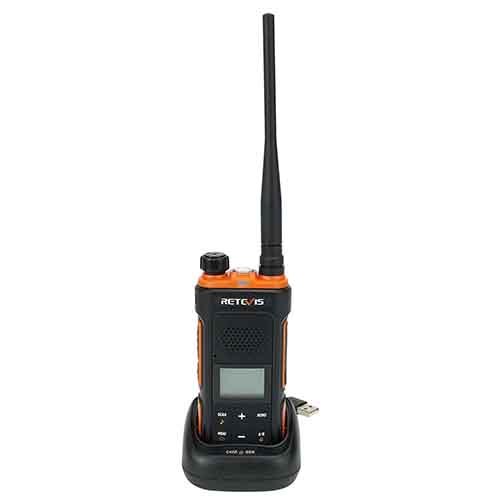 The rechargeable retevis RB27 GMRS radio is easily one of the best long-range two-way radios of 2022, and for good reason.which is great for outdoor activities like camping and hiking.This set can send and receive transmissions in open areas as far as 30 miles, which provides a massive advantage for those in open areas that need to communicate effectively.

They work great even when obstructed, but bear in mind the range will shorten. Expect about a mile of coverage in obstructed terrain and five miles in semi-obstructed landscape. Retevis priced these gmrs radios to sell, so they're an excellent value when considering their range.
These feature a VOX setting and whisper mode, which is great for hunters or security personnel who need to speak quietly into their walkie-talkie and still be heard. I found this feature particularly useful on my 2021 elk hunt.
Retevis RB27 30 channel GMRS radios also have 150 different privacy codes giving you 3,000+ channel options to keep your conversations private. 8 GMRS Repeater Channels can connect repeaters, which can expand the communication distance, 11 NOAA weather channels, They also feature NOAA weather alerts for those who need an incoming warning of inclement weather.
Product Specs
Frequencies: 462.5500-462.7125MHz
Maximum power output: 5W
Battery life: 1500mAH (Li-Ion)
Channel: 30
Water resistance: N/A
PROS
Great price
whisper mode
NOAA weather alerts
CONS
NO Water resistance