A handheld VHF radio is one of the most important safety devices any boater can have, standing just behind well-maintained life jackets. Handheld VHF marine radio design is improving with new functions added every year. We take a look at some of the best handheld marine radios on the market.
Significant improvements in a number of areas in recent years have seen handheld VHF marine radios move from being purely portable communications devices to something altogether more useful. Features now often include frequency scanning; weather reports; GPS integration; and an ability to automatically send distress signals. Most important, in the case of an emergency, some can continuously broadcast an SOS complete with your GPS coordinates beginning at the touch of a button. Though some older radios still function without digital selective calling (DSC), this functionality is required by federal law on new fixed-mount radios, and a number of high-end handhelds now also have this feature.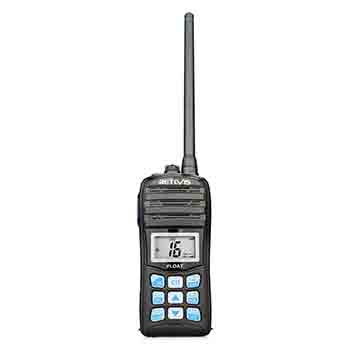 Reasons to buy
Large easy to read screen
Great value
Floating
ip67 waterproof
Reasons to avoid
No GPS
This retevis RT55 handheld VHF unit is a real workhorse.
Designed for both leisure and the commercial market, this is first felt in the housing, with a no nonsense feel and sturdy casing.
The VHF is buoyant, and when it detects water, it automatically turns the screen light on and off. When you are sailing at sea, driving your speedboat or canoe accidentally drops your VHF radio into the water,
The RT55 is rated IPX7 for water resistance (1 meter, 30 minutes), and has a battery life of 16 hours in standby (3 hours on a charge). Also worth noting is the large screen, which is easier to read than some smaller products, even though it displays more information.
This powerful, high-function unit makes it the main unit on an open sports boat, or for those who often find themselves in busy areas of commercial vessels.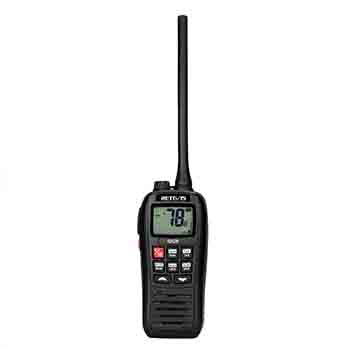 Reasons to buy
Feature-rich
Great safety features
IP67 waterproof
USB charging
The Retevis RA26 gives us a great alternative to a handheld radio at a reasonable price, weight, battery life and basic level of functionality.
USB charging is very convenient and fast, easy to plug and unplug, and at the same time safer
We like the fact that there are direct dedicated volume buttons for volume and squelch, and the menus on the RA26 are very easy to navigate.
Finding an FM radio receiver is quick and easy, so if you want to listen to the weather forecast or the next episode of The Archers, you'll be more than happy with this VHF.
IP67 waterproof rating, it can be submerged in one meter of water for 30 minutes, which is enough for daily use.
The Standard Horizon RT55 is the ideal companion to take on the tender or on your paddleboard, kayak or shore boating adventures. It can also be used as a backup and on the main vessel when away from the main unit, such as when moored or at anchor.