Walkie Talkie Radios-Range
Normal walkie-talkies just transmit directly from one radio to another. The likely range that can be expected from walkie-talkies can vary from a few hundred metres to a couple of miles or more.
The range is drastically reduced when walkie-talkies are used within buildings, or in a town or city with densely-packed streets of big houses, office blocks and other buildings.
A radio that might have a range of 2 or 3 miles in open, fairly flat countryside may only work over 500m in city streets.
All brands of walkie-talkie have basically the same power output, and therefore approximately the same range. You won't find that one brand of radio has a range twice as good than another, because they are all subject to the same basic laws of physics.
If you want unlimited distance walkie-talkie, or even want to talk across the country or the world, public network machine is the best choice
Mobile Data Network Walkie-Talkies - Potentially Unlimited Range
Retevis sell and hire a totally new type of "radio" that contains a SIM card like a mobile phone, and that transmits its signal via the mobile phone data networks. These radios get around the point-to-point range limitation of conventional walkie-talkies, and can transmit over any distance at all, provided that both ends are positioned somewhere that has a mobile phone signal. They are best suited for events in towns and cities where there is good mobile network coverage, and where "normal" walkie-talkies range is badly affected by lots of big buildings between one radio and another.
So i recommend several retevis Network walkie talkie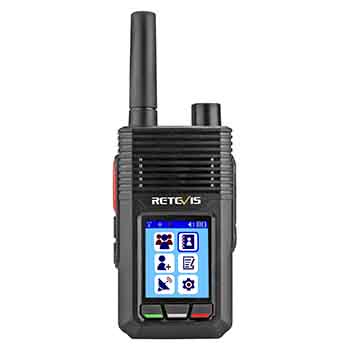 Retevis RB20 Walkie Talkie Phones,4G Network Walkie Talkies with 4000mAh Rechargeable,Long Range Walkie Talkies 1000 Miles with GPS Tracker
1, Network walkie talkies can realize nationwide calls; linux system; support 2G / 3G / 4G signal
2, Just like a mobile phone; a micro SIM card is required; as long as it is in a place with an mobile carrier's signal; it can communicate with other network walkie talkies; please note that you cannot use RB20 to communicate with analog or digital walkie talkies
3, Supports SIM cards of Verizon/AT&T/T-Mobile/Sprint mobile carriers; after inserting the SIM card; you need an account number and password to log in to the network walkie talkie system to set it up; you can refer to our manual or video to set up
4, 4000mAh battery capacity; long standby time; no need to worry about power issues
5, Group call and individual call; make the call more flexible; GPS positioning; accurately locate the location; provide adequate security
6, 1.77 inch colour screen; resolution: 128*160; more convenient operation
7, Retevis RB20 is different from other network walkie talkies; it cannot use Wi-Fi and other software except the system; more like an elder mobile phone; with simple operation and high cost performance.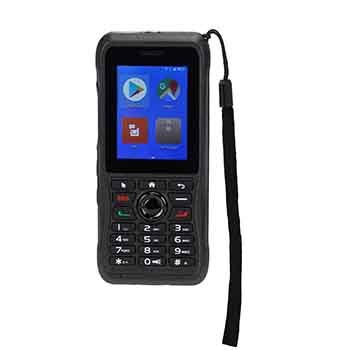 Retevis RB21 4G Unlimited Range Walkie Talkie Phones,Zello Smartphone with GPS,Bluetooth,Wi-Fi, IP54 Waterproof Network Radios with 1G+8G,2800mAh Battery
1, Network walkie talkie; unlimited by distance; use network signal; cover the whole country
2, Use micro nano-sim card; support 2G / 3G / 4G / Wi-Fi signal; can be used to make calls
3, Android system 7.1; 1 GB + 8 GB RAM; dual micro nano-sim card dual standby and additional TF card slot
Bluetooth function; can be connected to the mobile phone; making the call more convenient
4, Group call and individual call; multiple voice and text call modes; making the call more flexible
5, Support Zello software and other manual setting functions; no need to connect to a computer; you can operate and set up your walkie talkie at any time
6, GPS positioning and SOS; accurately locate the location; send emergency alarm quickly; provide adequate security
7, 2.4 inch touch screen; resolution: 240*320; more convenient operation; IP54 waterproof; avoid water droplets entering the walkie-talkie
8, 2800mAh battery capacity; long standby time; no need to worry about power issues
FAQ

1, What distance do POC radios cover?
There is no limit. As far as you have GSM/3G/4G or WiFi(Android models) signal you will be in reach. This means that you are only dependent on the cellphone carrier service, or a WiFi hotspot.

2, Why is this better compared to traditional walkie talkies?
Traditional two way radio will always be limited by distance and interference. As we work with a digital connection that relies on cellphones carriers, you will always experience loud and clear interference-free communications. Besides, you don't need to invest in expensive radio infra-structures, like repeaters, towers, antennas or leasing sites.
3, I need to cover a wide area and in multiple locations. Do I need a set of repeaters and antennas?
No. Our service uses the network of the GSM/3G/4G carriers. You don't need to invest on any network infra-structure, besides the mobile or hand-held radios.
4, Does it work on any country?
As far as you have internet access (via 3G/4G or WiFi) then you can use our system, regardless the location.
5, Can the users talk between them, if they are in different countries?
Yes. Any user can talk to any other user, regardless the location.
6, Can I use my NET work radio as a normal telephone?
All our android based radios can make and receive phone calls and SMS/texts. The non-android based models can not be used as phones
7, Can I use any SIM card?
Yes, you may use any GSM SIM Card. All our radios are SIM unlocked and compatible with any.