A General Mobile Radio Service (GMRS) provides an alternative mode of communication when a cellular signal isn't available. Whether you are on a road trip or camping in the wilderness, this is a handy tool that will help you stay connected. Not to mention, it is a must-have for staying safe and sound.
Having a reliable means of long-range communication is handy for many applications, whether it be for your business, hunting, camping trips, a cruise, prepping for emergencies, or other outdoor activities.
With the best GMRS radio, short-distance and two-way communication are possible. It is for adventure seekers who are often outdoors and looking for a reliable way to connect with others.
Choosing a GMRS radio is an overwhelming task. You will need to confront a long list of options, but they are not all the same. Below are some of the most important considerations to help you narrow down your list:
1, Range: It can vary from one model to another, but are often anywhere from five to 50 miles. Nonetheless, specific environmental conditions can affect the range. For instance, if you are in a more open space, expect a longer GMRS radio range compared to places with buildings and other obstructions.
2, Wattage: The power and performance of a GMRS radio depend on the wattage. Most beginner-friendly and affordable models will have five watts. But you can find advanced and high-end models that offer up to 50 watts.
3, Battery: Consider the type of battery that comes with the radio, as well as its average runtime and charging time. Some will come with a charging base while others can be charged using a USB port.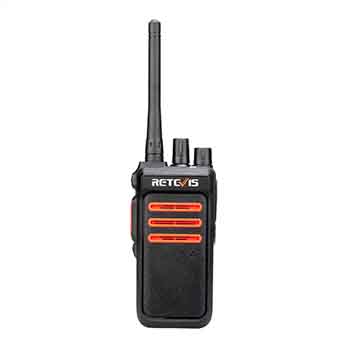 The powerful RT76 can help you receive stronger penetration and longer transmission distance. It comes with low and high power selection to help choose the right power.
You can get GMRS radios for sale, perfectly equipped with essential features. Also known as UHF radio, it comes with super audio to prevent the sounds from being distorted.
Besides, the adjustable squelch and proper CTCSS DCS will not allow irrelevant signals disturbing your connections. So, if you are looking for good transmission and reception from a GMRS radio, this one is your right choice. Also, you are going to love such a higher power clear sound approach with speaker mic.
The professional look of this product makes it suitable for multiple jobs. The rugged look of this radio can meet proficient military standards. The item is tested out to be anti-friction and incredibly durable.
Furthermore, it consists of non-slip back thread and a durable strap clip and base. There remains a USB plug to support various ways of safe and fast charging.
Users have many good things to say about its 1400mAh Li-ion battery. So, once charged, the radio can actually last for over 24 hours with its emergency alarm function still on. I couldn't ask for anything better.
Pros
Adjustable squelch and proper CTCSS DCS
Professional look that suits multiple jobs
Amazing audio quality
Easily last for 24 hours once fully charged
Helps to keep interfering signals at bay
Cons
Need a license to use this product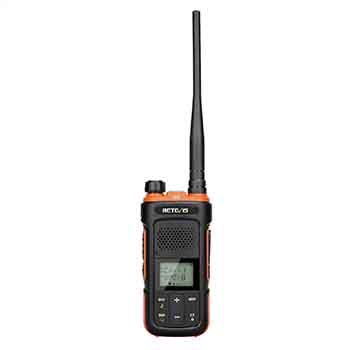 Retevis RB27 with 30 channels, High power 5W Long range radio,connect gmrs repeaters,expand communication range.
This walkie talkie is yellow and black, which is very easy to find if the walkie-talkie is accidentally dropped on the ground.
Sturdy, drop-resistant walkie talkie, The body of the retevis RB27 is very sturdy and resistant to drop, which can prevent the walkie-talkie from being damaged if it is accidentally dropped on the ground, making it suitable for working as a commercial walkie-talkie.
High power 5W Long range radio, which have long range communication distance.
Built-in LED flashlight, it can illuminate the light in dark environment, or can be used as a flashlight in the dark night outdoors.
Large LCD screen display,you can see the information of the working channel,and you can check if the battery is sufficient and prepare in advance.
30 gmrs channels, each with 154 CTCSS/DCS codes, provides excellent call protection, and privacy codes can be set up in multiple groups to avoid interference between different groups on the same channel.
11 weather channels and NOAA weather alerts will alert you to the risk of severe weather in your area, helping you prepare ahead of time with weather conditions.
1500mAh lithium-ion battery, long standby time, can be used for 8-10 hours. Support USB charging. Support Type-C direct charging and charging stand. It is very convenient to charge your RB27 when the battery is low.ALSO with vox function,free your hands,dual watch function,can be monitored the information of two channels at the same time.
Pros
High power 5W Long range radio
Built-in LED flashlight
NOAA weather alerts
large LCD screen
Cons
NO waterproof