RT76 Handheld GMRS Radio for long distance communication
US$67.99
Free shipping on orders over $50
US$ 67.99
-100%
Retevis RT76 Handheld GMRS Long Range Walkie Talkies.
GMRS Two-Way radios.
GMRS Repeater Capable.

the best and most capable GMRS radio available.

NOTE: Programming software: please click "

support

" to download
Order Handling Time within 3 Working days(Pre-sale products excluded).
19845 PEOPLE ARE LOOKING FOR THIS PRODUCT
OverView
Retevis RT76 GMRS Walkie Talkie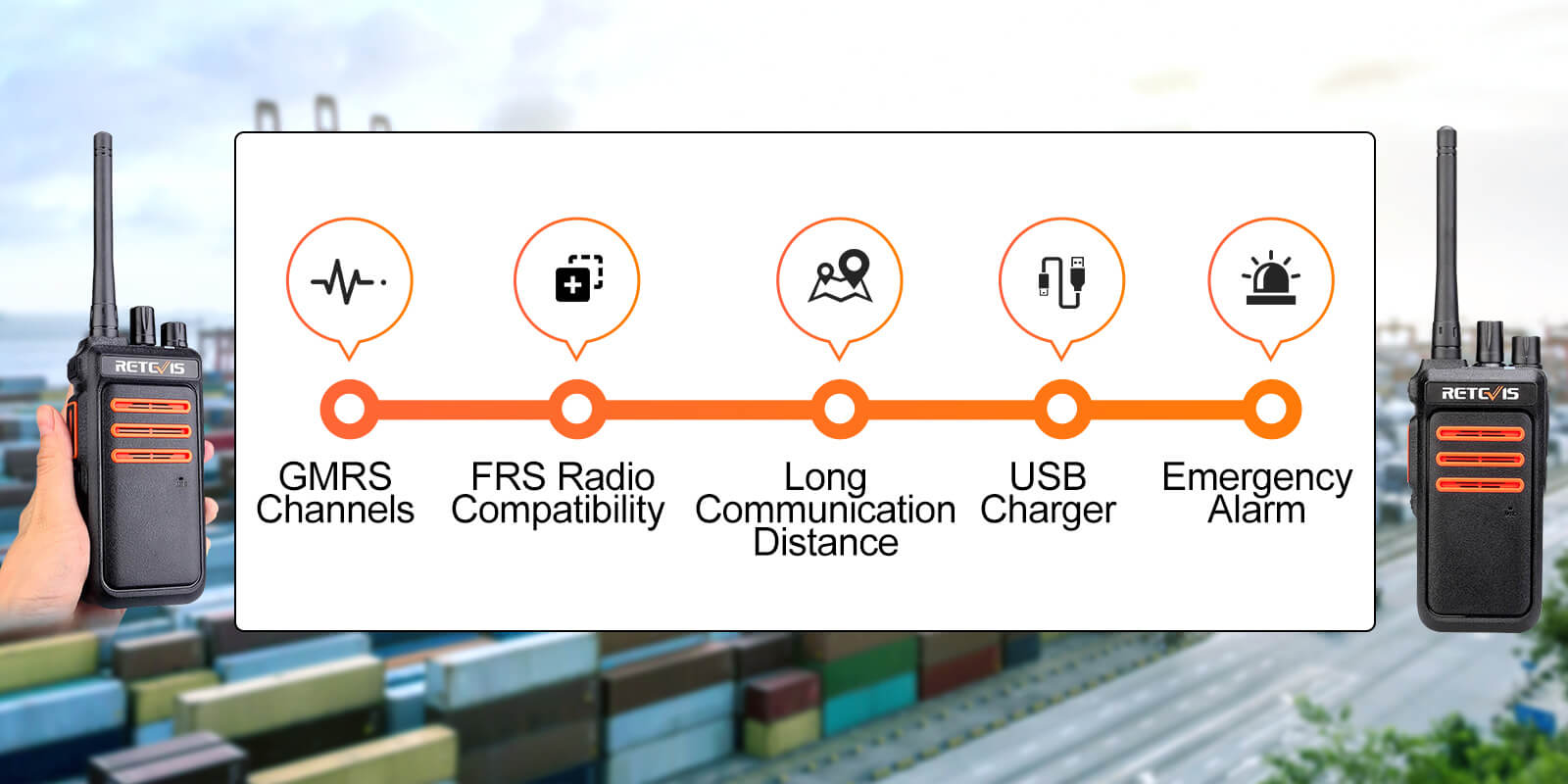 Multiple Functions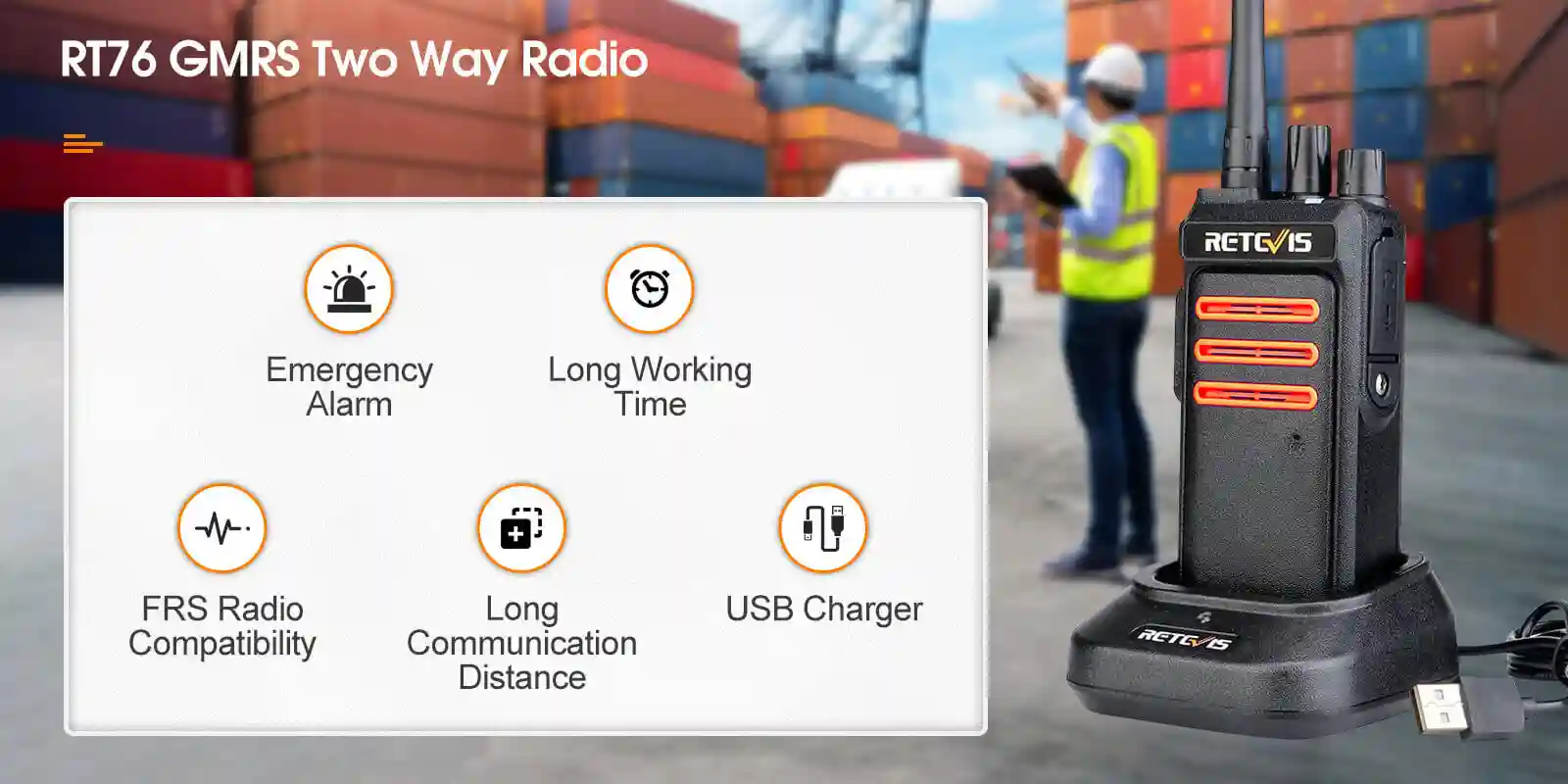 Long Communication Distance
It is beneficial for logging workers to choose a walkie talkie with a long call distance. With 5W high power, the walkie talkie has a wider range and a stronger signal. Additionally, with 8 repeater channels, the walkie talkie can be easily connected to the repeater to extend call distance.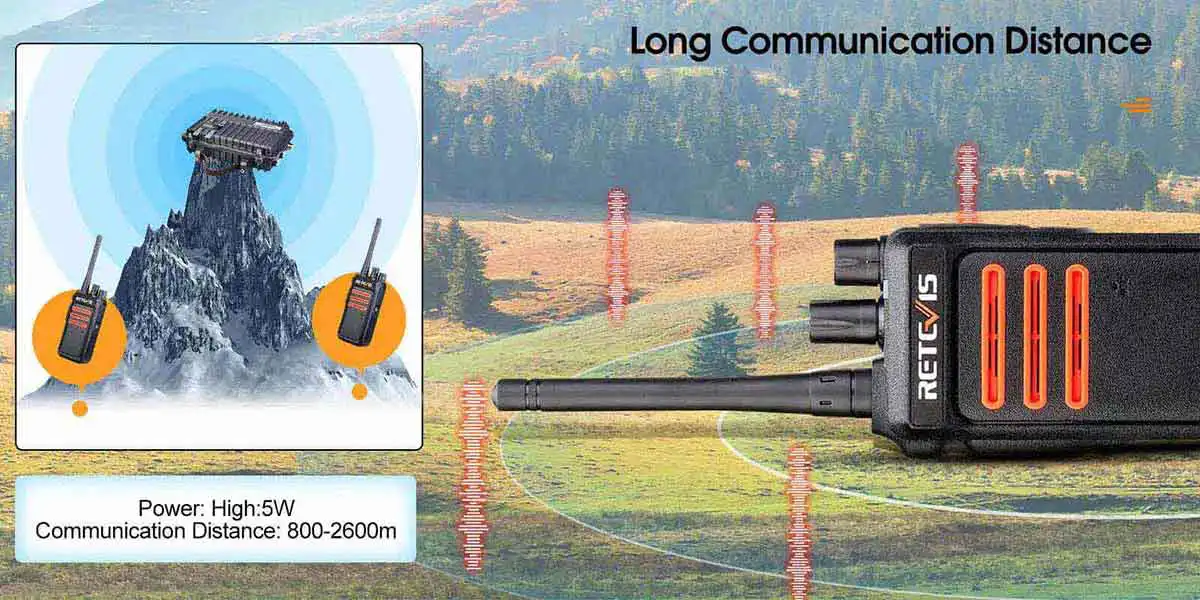 USB Charger
Transportation in logistics is always on the road, so the charging method is a important consideration when choosing walkie talkies. Equipped with a USB charger, you can charge the walkie talkie via a power bank, a computer or a car, which is more convenient.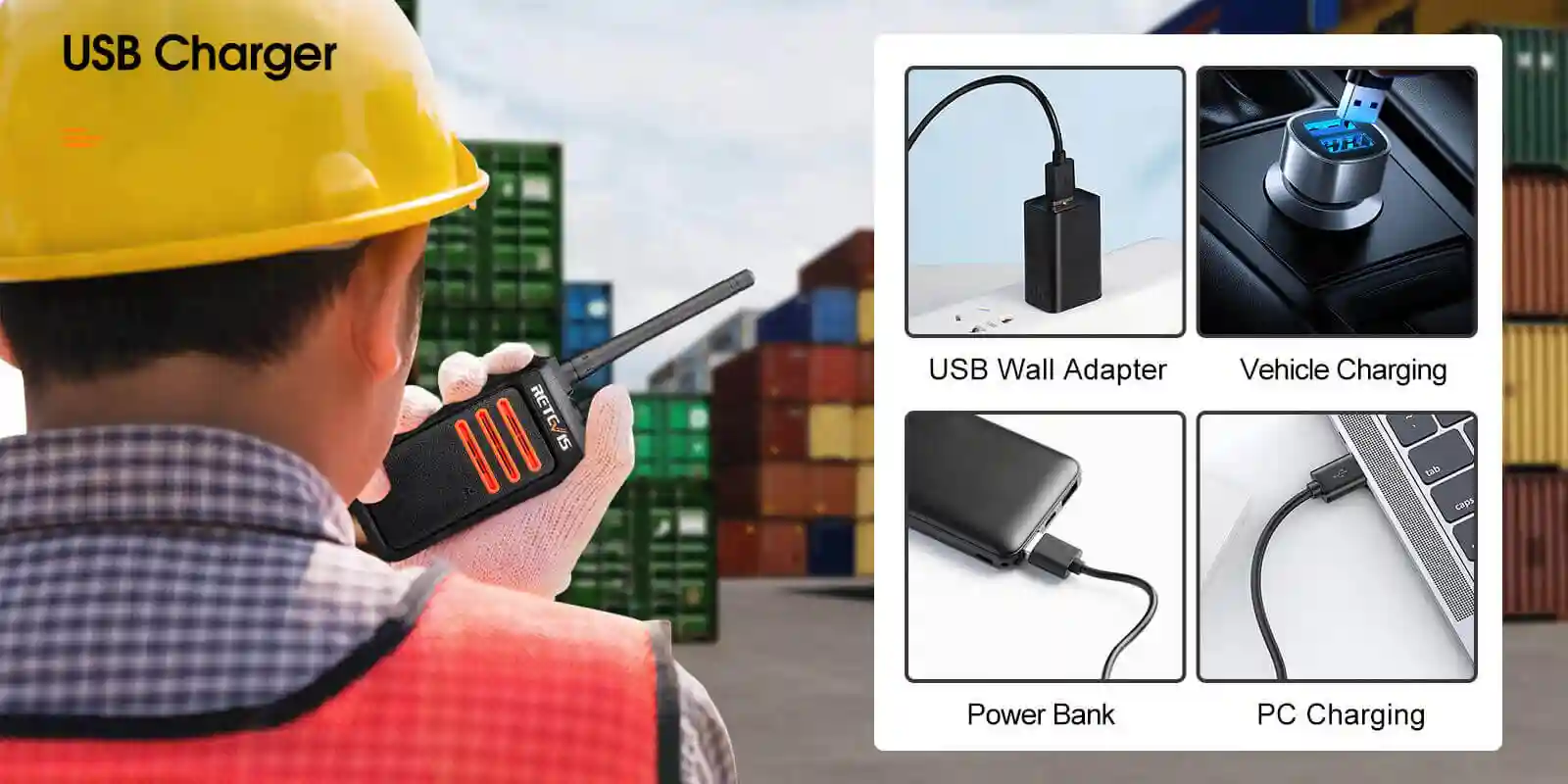 Emergency Alarm
Logging requires workers to go to forests in the process of cutting, where the environment is changeable and dangerous. When emergency happens, it is convenient for you to call for help via the emergency alarm.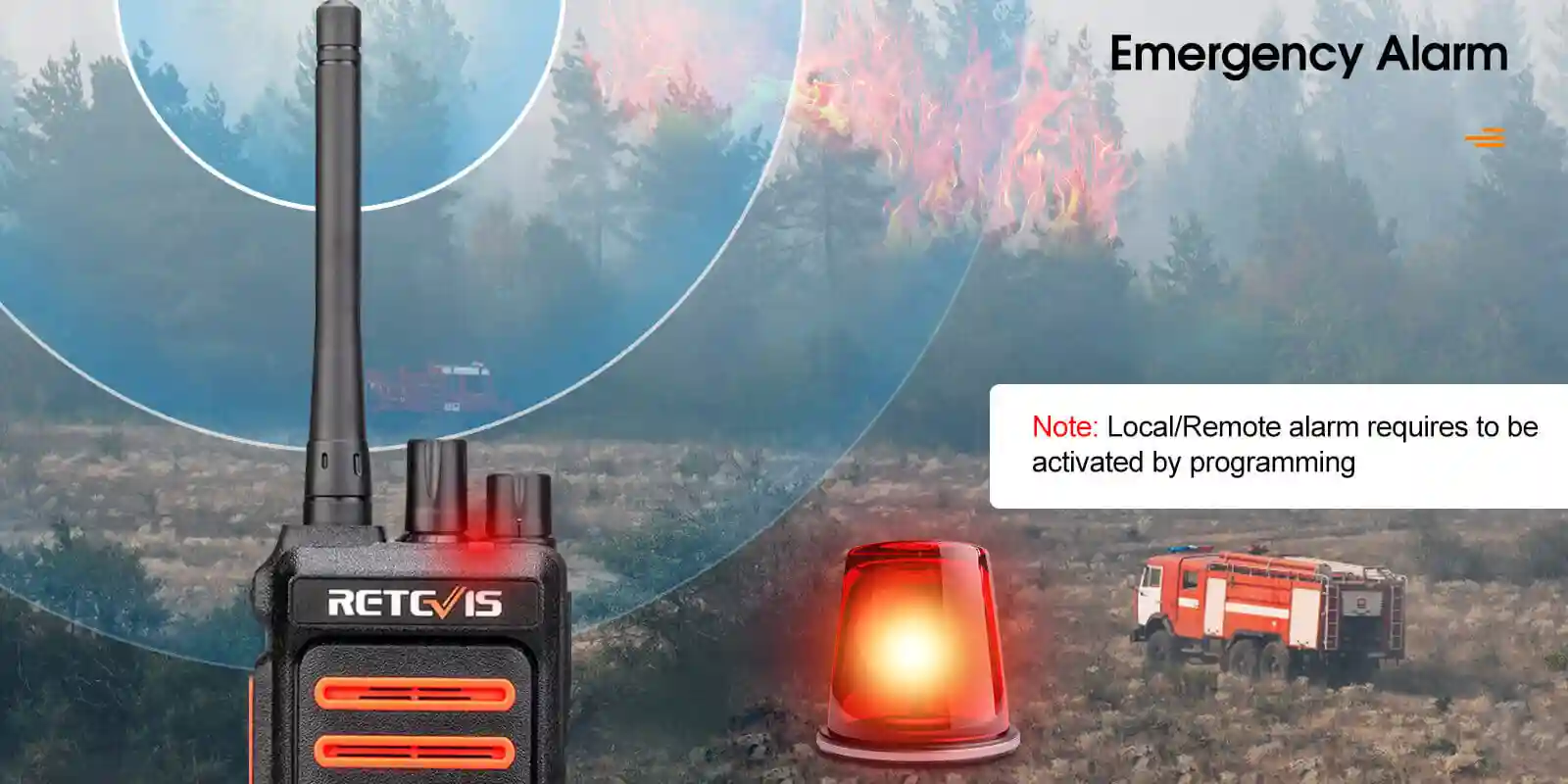 Long Battery Life
The walkie talkie needs to support a-whole-day use in warehouses. It is better to choose a walkie talkie with long working time. Equipped with a 1400mAh rechargeable battery, the walkie-talkie can be used continually for 10-12 hours, without the hassle of frequent charging, which is more convenient.

Applications
Specification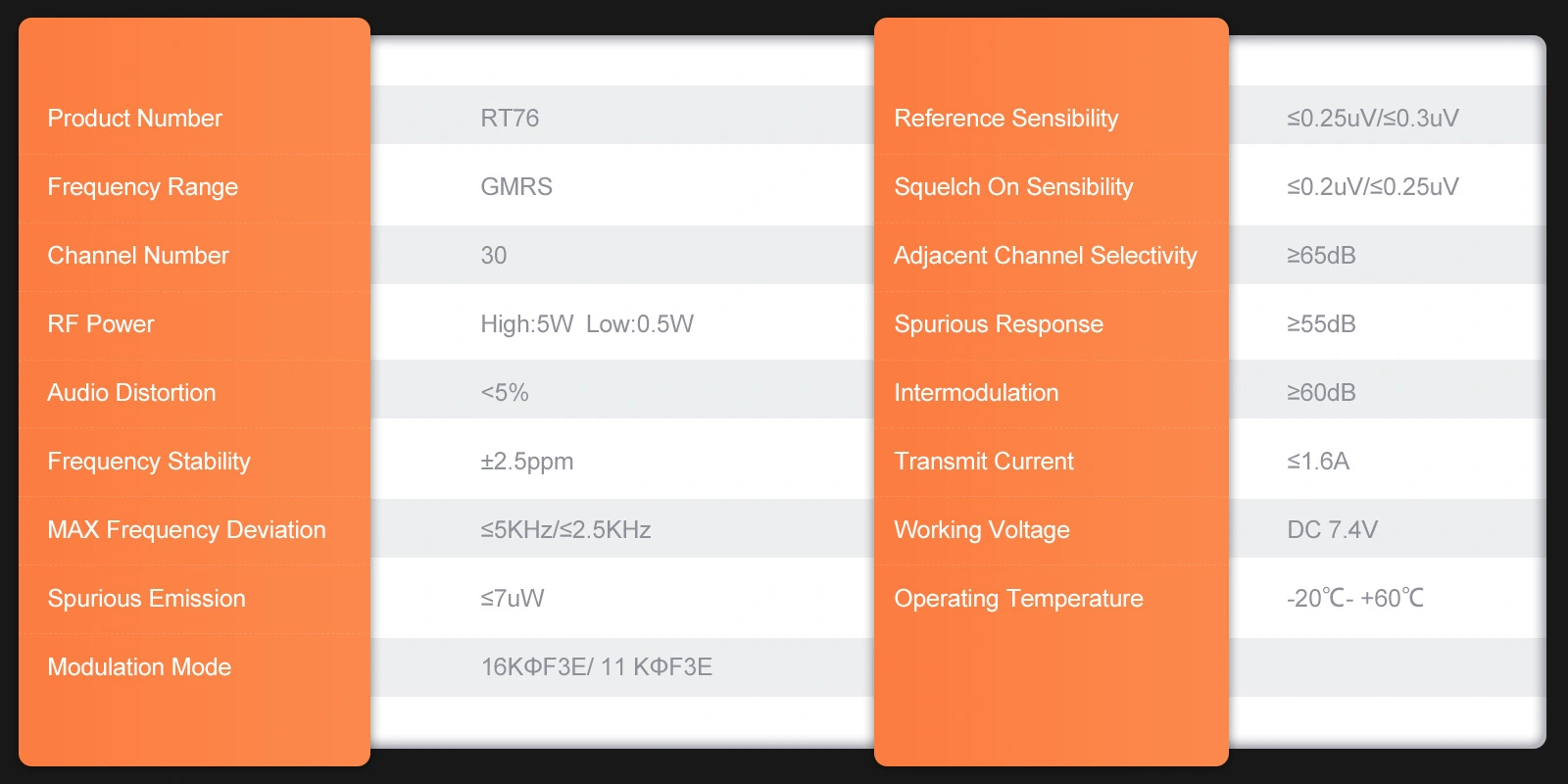 Package Includes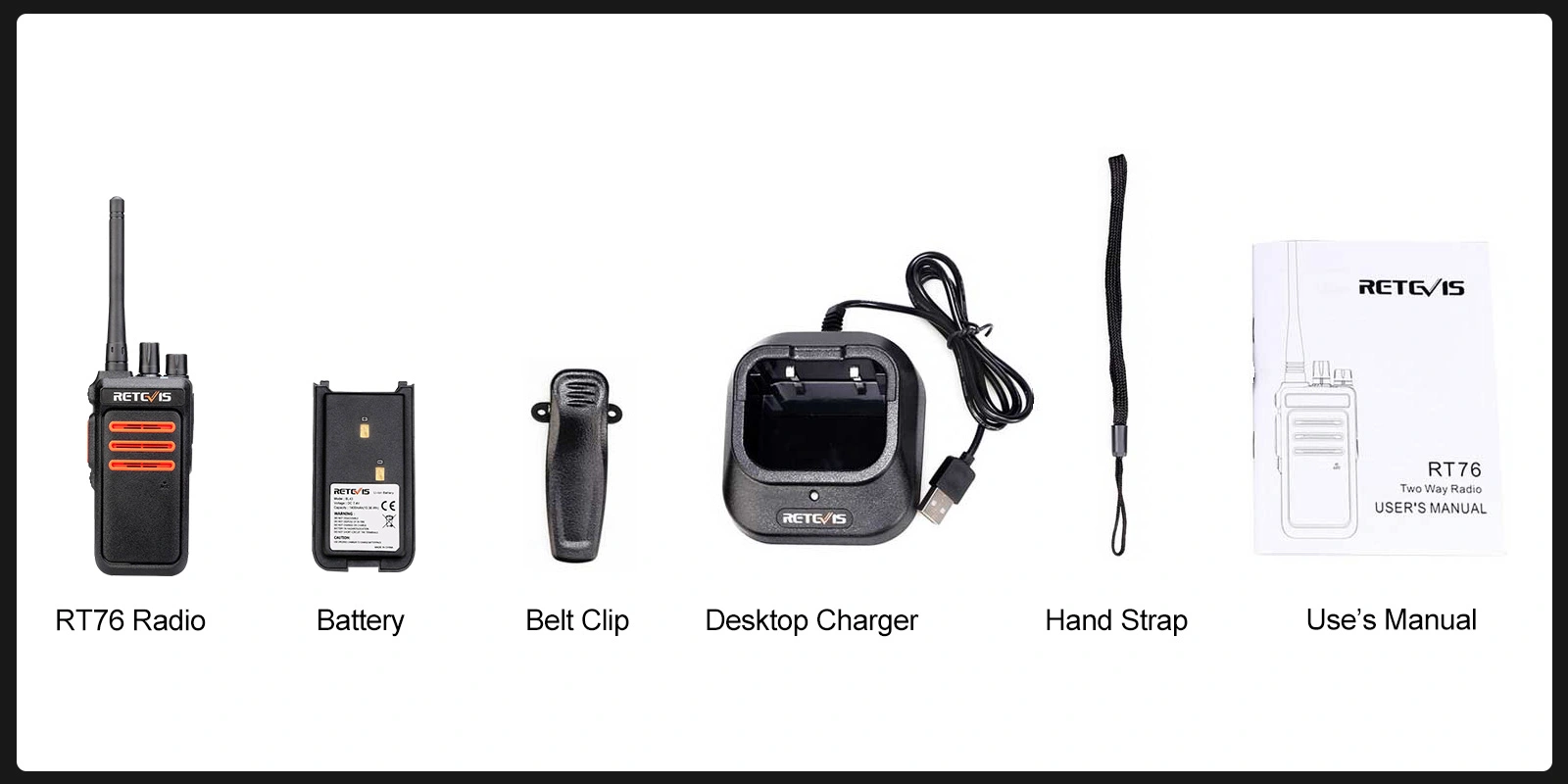 What's in the Box?
1 x RT76 handheld GMRS long range radio
1 x Battery
1 x Belt Clip
1 x Adapter
1 x Hand Strap
1 x User's Manual
1 x USB Desktop Charger
Spec
Technical parameters:
TECHNICAL PARAMETERS
Product number
RT76
Frequency Range
GMRS
Channel number
30
RF Power
High:5W Low:0.5W
Audio Distortion
<5%
Frequency Stability
±2.5ppm
MAX Frequency Deviation
≤5KHz/≤2.5KHz
Spurious Emission
≤7uW
Modulation Mode
16KΦF3E/ 11 KΦF3E
Reference Sensibility
≤0.25uV/≤0.3uV
Squelch On Sensibility
≤0.2uV/≤0.25uV
Adjacent Channel Selectivity
≥65dB
Spurious Response
≥55dB
Intermodulation
≥60dB
Current
≤1.6A
Working Voltage
7.4V DC
Operating Temperature
-20℃- +60℃
Feature
1, Easy and straightforward to use, no need to program. Retevis RT76 comes with GMRS two-way and GMRS repeater channels pre-programmed.
2, 22 GMRS Two-Way Channels (Channels 1-22) and 8 GMRS Repeater Channels (Channels 23-30)
3, More features like Alarm function, Scan function, Monitor, VOX, and etc.
Support
Accreditations
---
Accreditations
---
Accreditations
---
RT76-FCC-Certificate