RT76P Long Range GMRS Portable two way radios with Display
US$67.99
Free shipping on orders over $50
US$ 67.99
-100%
1, GMRS band
2, Support NOAA weather Channels
3, Support GMRS repeater( last 8 channels.)
4,NOTE: Programming software: please click "support" to download
Order Handling Time within 3 Working days(Pre-sale products excluded).
43785 PEOPLE ARE LOOKING FOR THIS PRODUCT
OverView
Retevis RT76P GMRS long range radio Portable two-way farm radio with display for logistics and logging.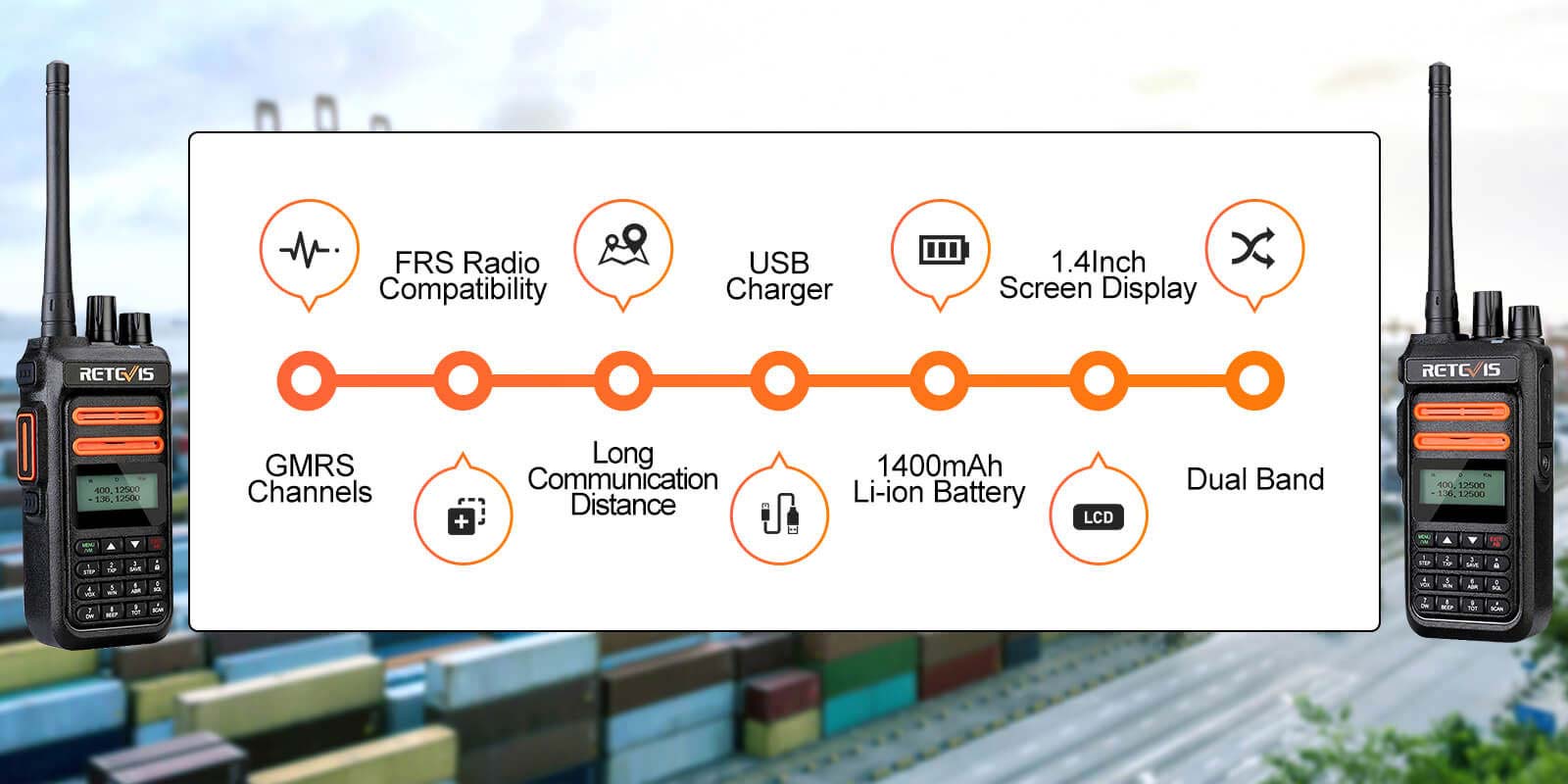 2, Warehouse workers belong to different sections and may use different frequencies, so it is easier to communicate via a walkie talkie with multiple channels. With 22 FRS channels, the walkie talkie can work with FRS and other GMRS radios, which is very convenient.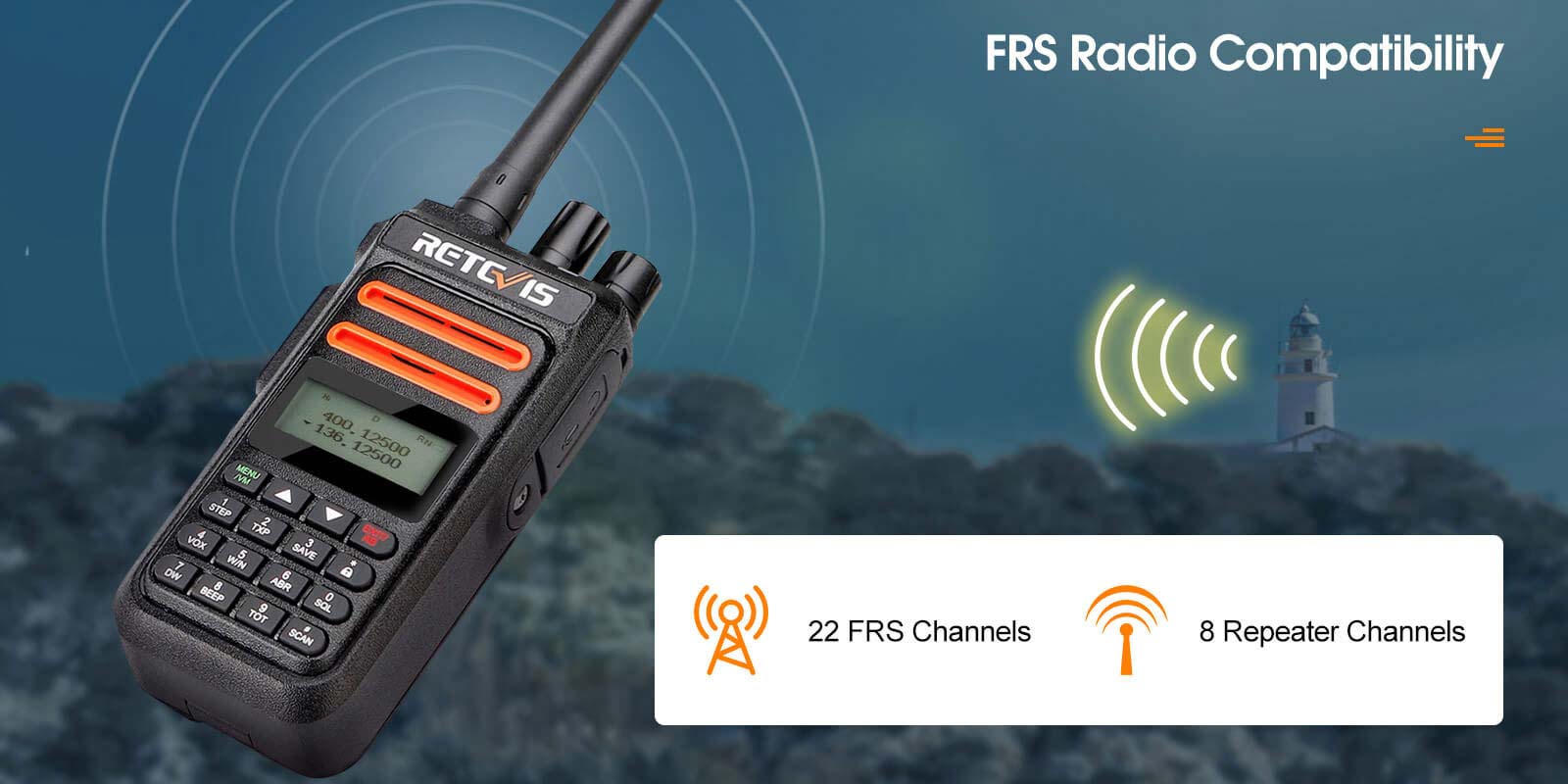 3, It is beneficial for logging workers to choose a walkie talkie with a long call distance. With 5W high power, the walkie talkie has a wider range and a stronger signal. Additionally, with 8 repeater channels, the walkie talkie can be easily connected to the repeater to extend call distance.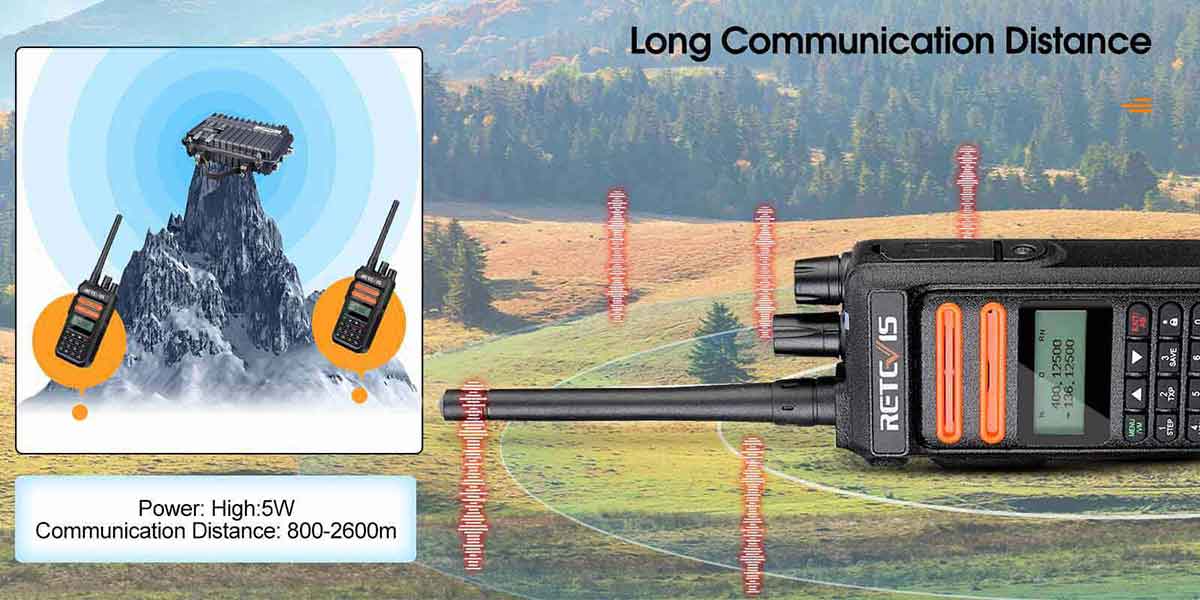 4, Transportation in logistics is always on the road, so the charging method is a important consideration when choosing walkie talkies. Equipped with a USB charger, you can charge the walkie talkie via a power bank, a computer or a car, which is more convenient.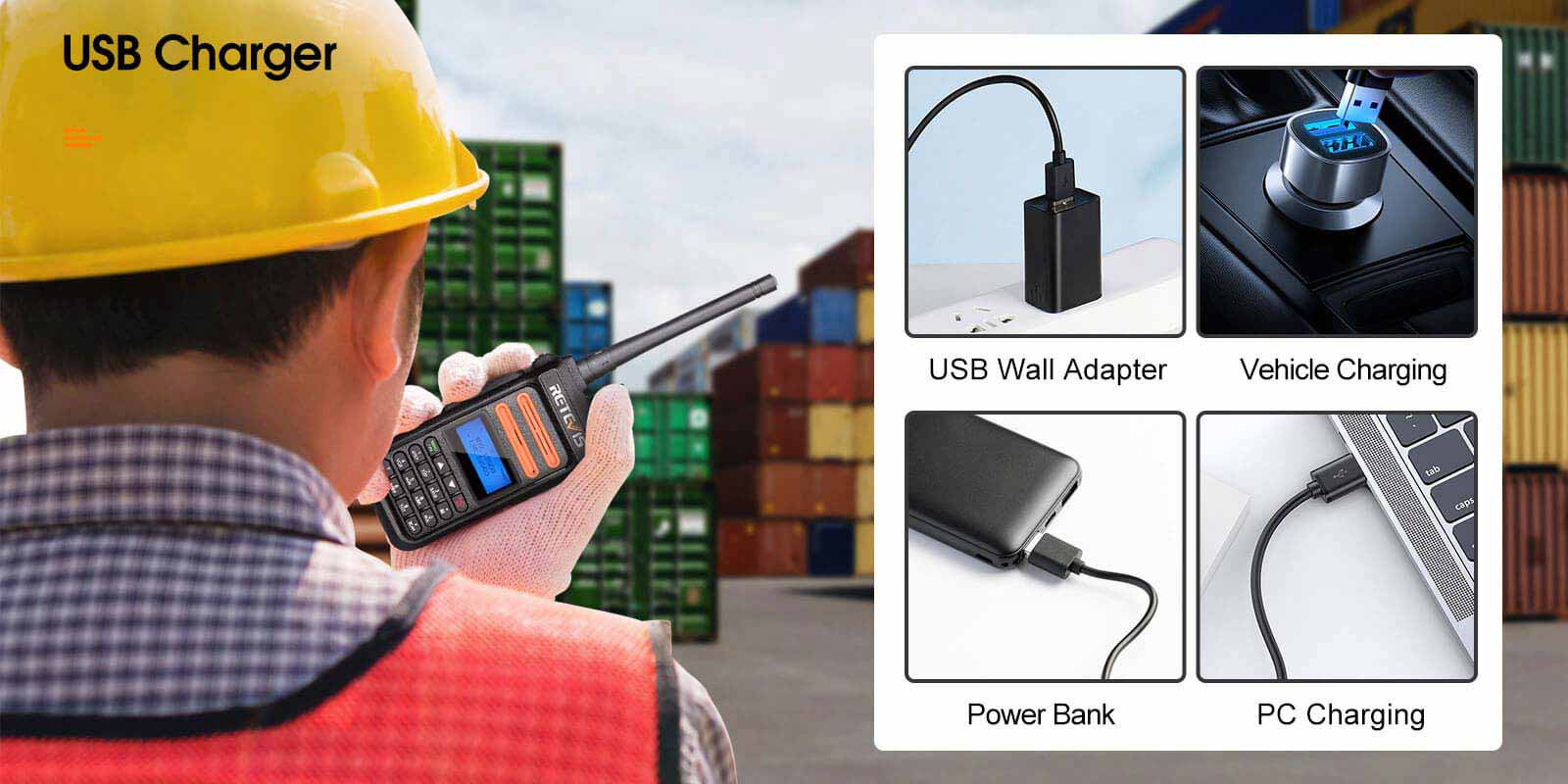 5, Logging requires workers to go to forests in the process of cutting, where the environment is changeable and dangerous. When emergency happens, it is convenient for you to call for help via the emergency alarm.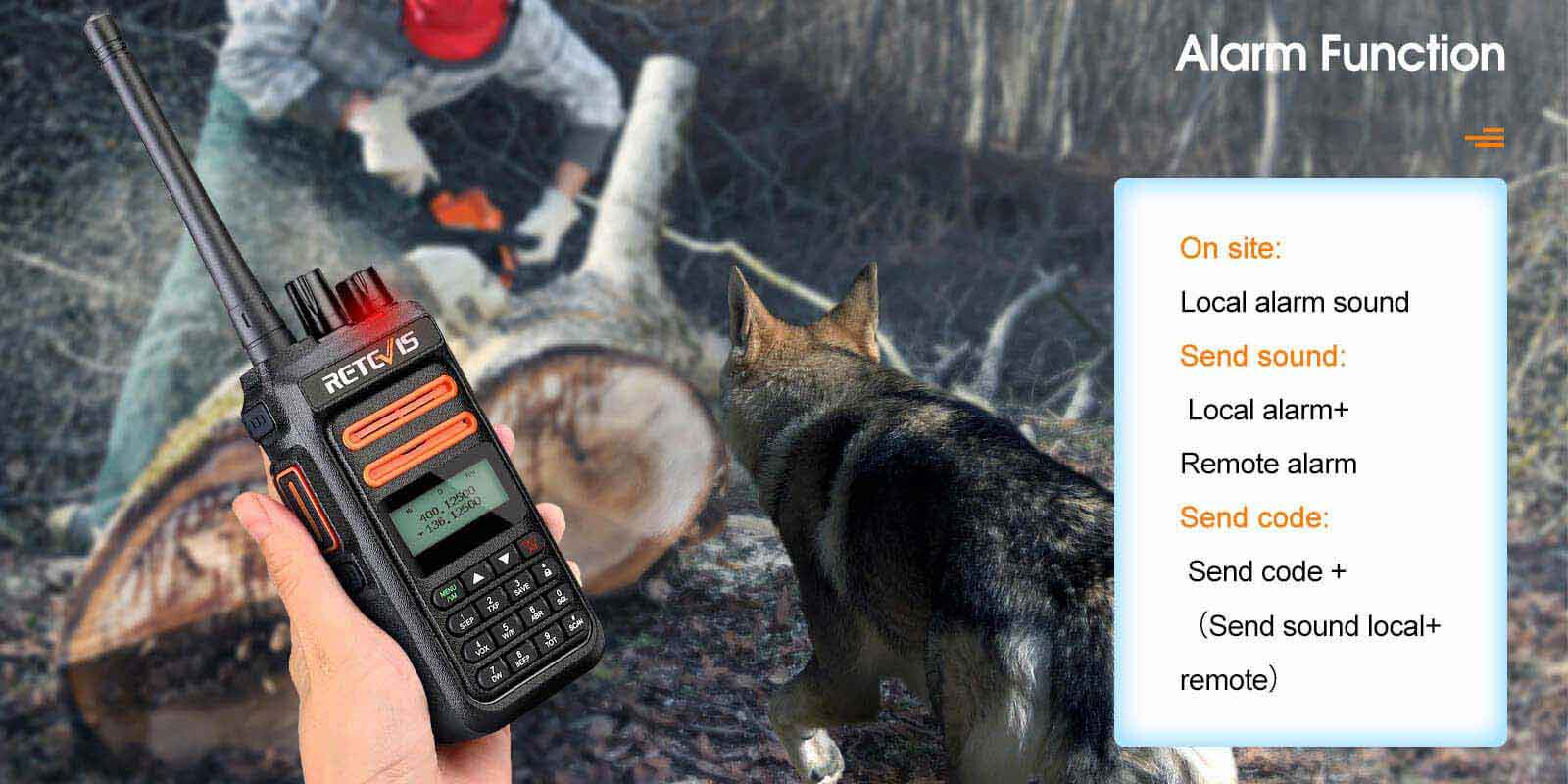 6, The walkie talkie needs to support a-whole-day use in warehouses. It is better to choose a walkie talkie with long working time. Equipped with a 1400mAh rechargeable battery, the walkie-talkie can be used continually for 10-12 hours, without the hassle of frequent charging, which is more convenient.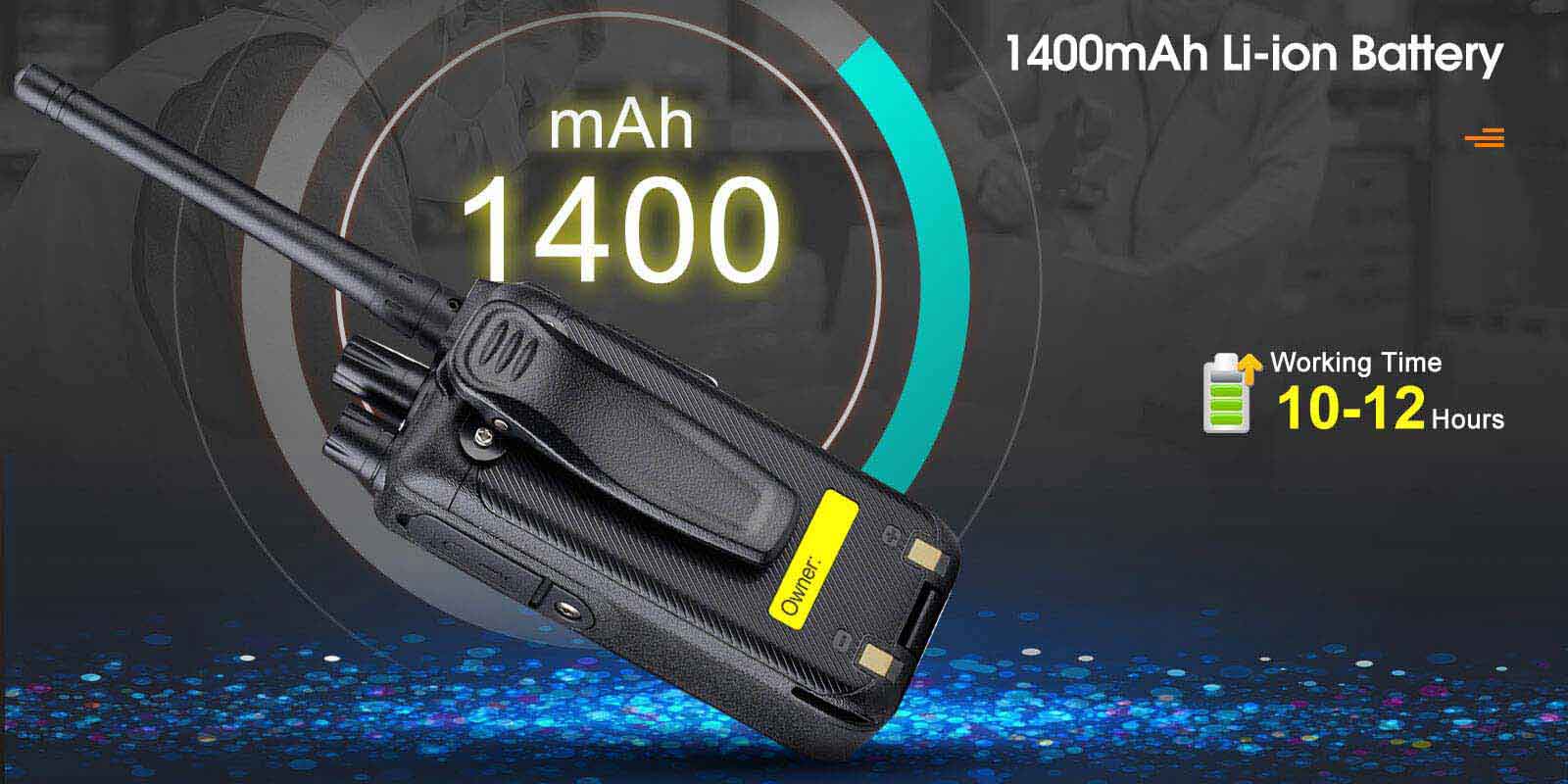 7, Long-distance transportation in logistics is always on the road. It is necessary to pay attention to the usage of the walkie talkie. With a 1.4-inch screen display, you can easily check the current channel, CTCSS and power, and read the channel status of the walkie talkie.

8, NOAA plays an important role in logging operations, especially for those who work in logging sites. You can arrange work through the latest weather forecast information, and take effective measures in time to deal with disastrous weather and avoid causing losses.
9, Retevis RT76P GMRS radio for logistics and logging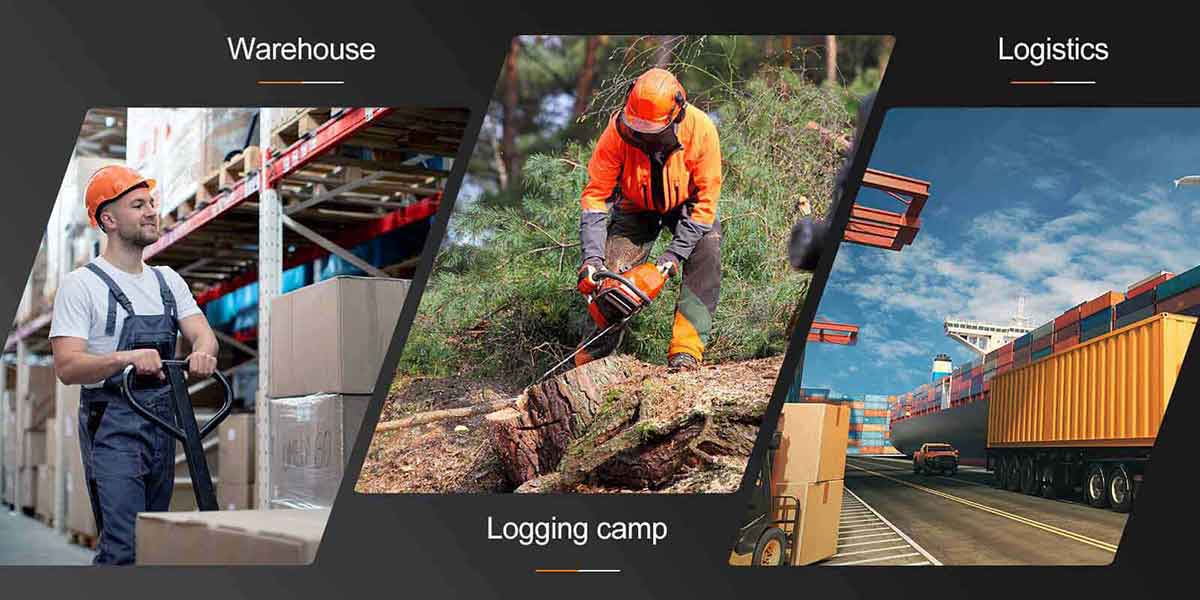 10, RT76P gmrs radio function detail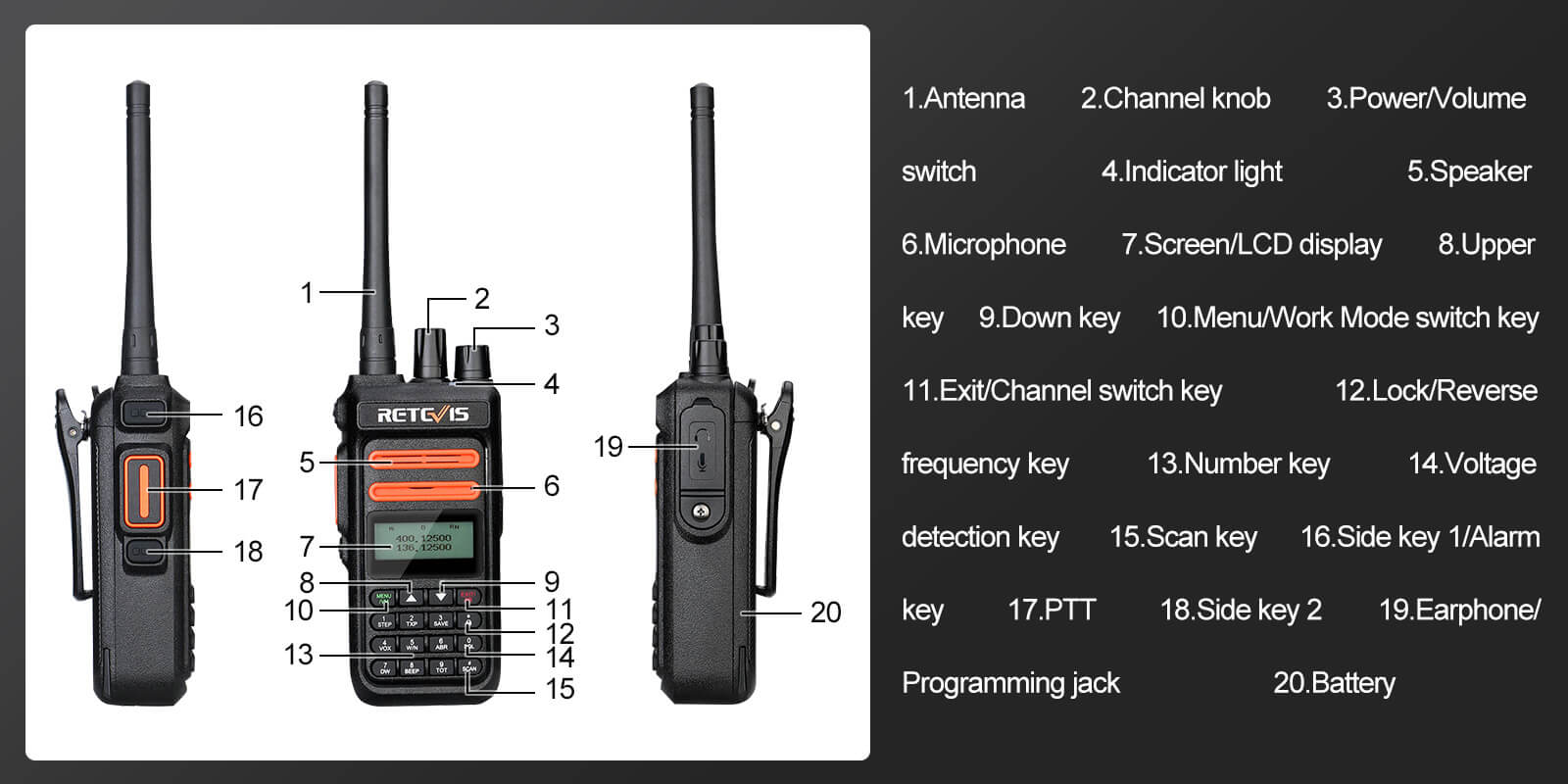 11, RT76P gmrs radio speciafication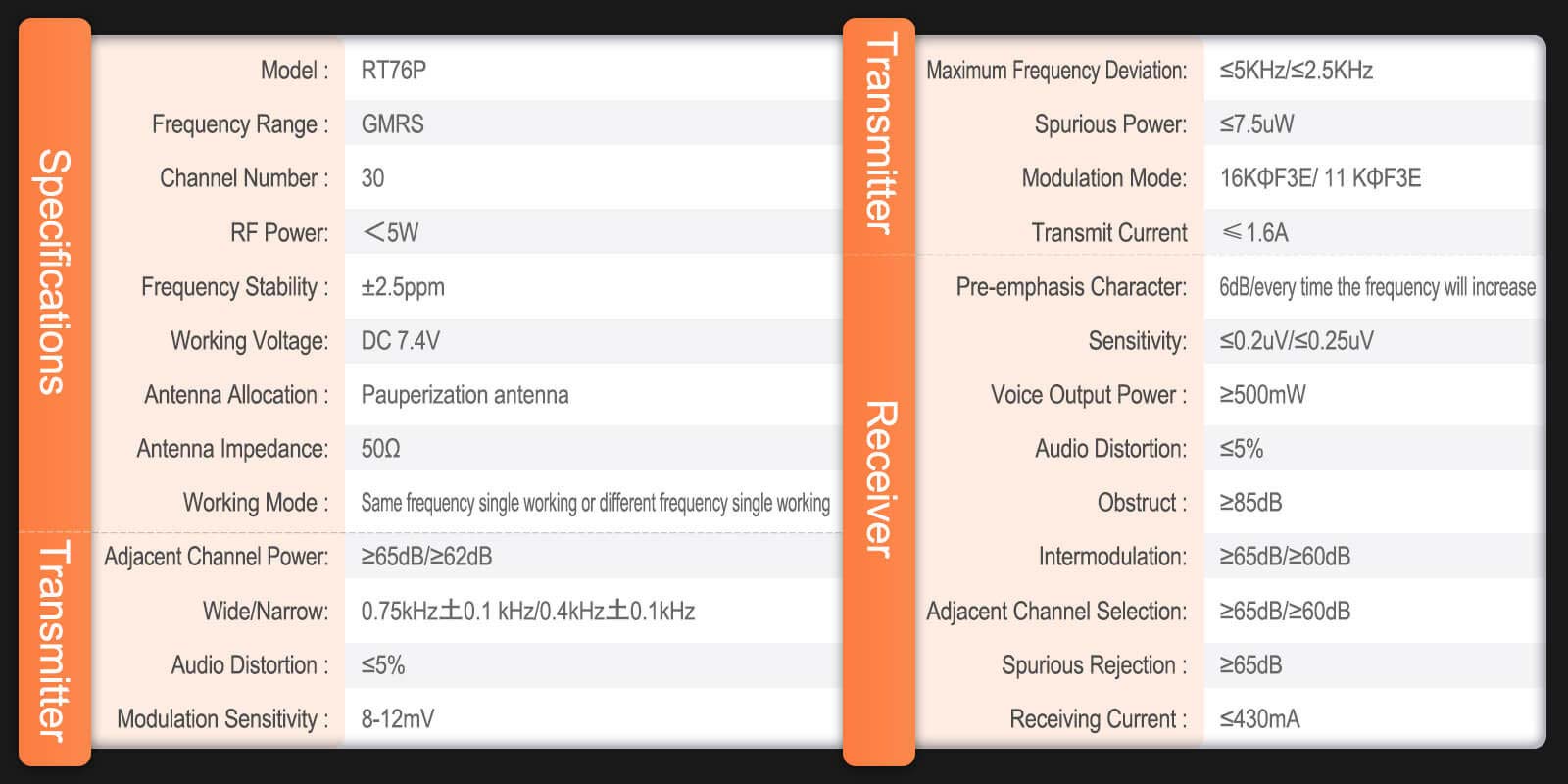 12, RT76P gmrs radio package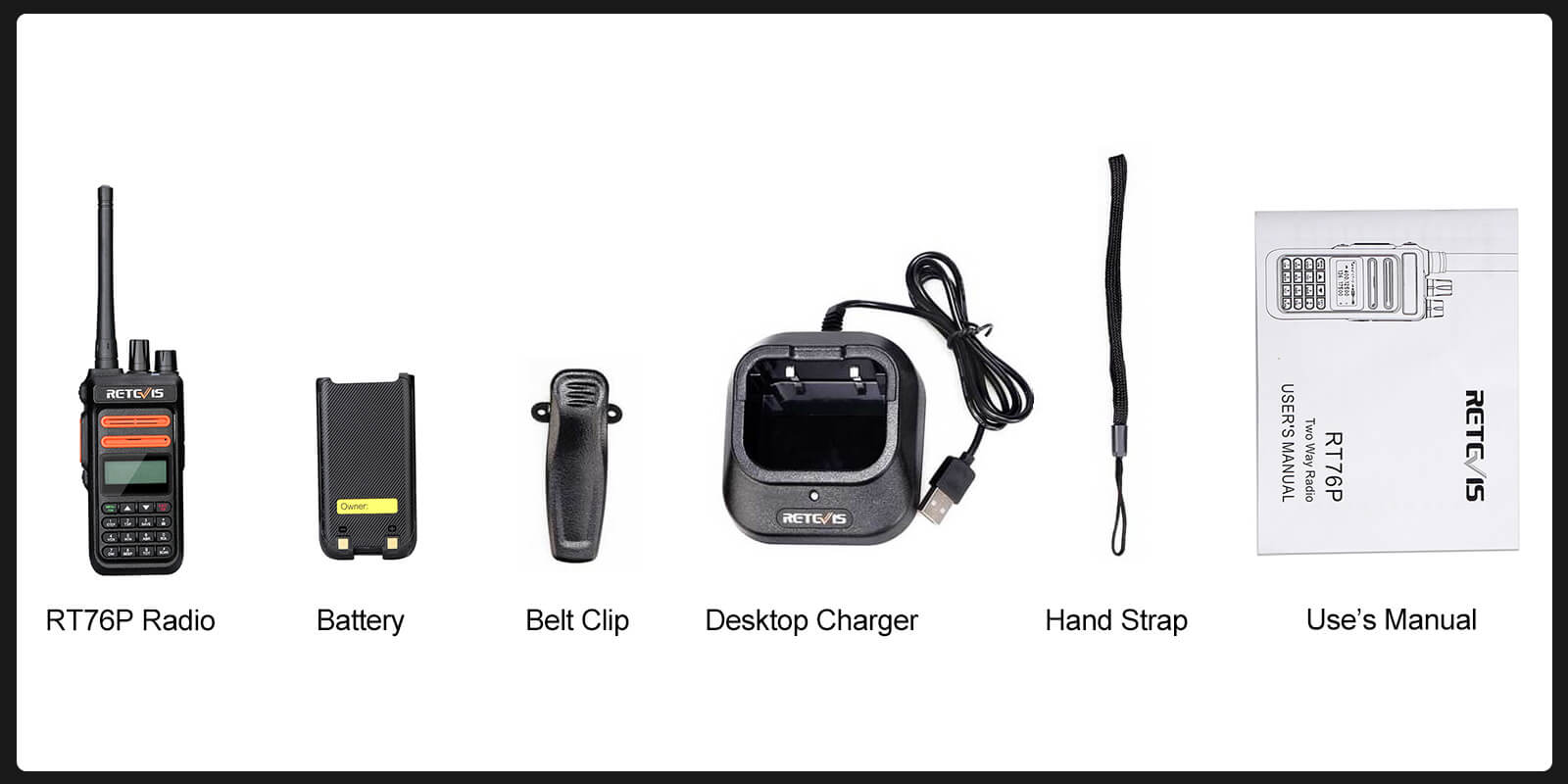 What's in the Box?
1 x RT76P GMRS LONG RANGE two-way radio
1 x Battery
1 x Belt Clip
1 x Hand Strap
1 x User's Manual
1 x Desktop Charger
Feature
1, LCD display
Retevis RT76P comes with the LCD display, it will help you to check your current channel, CTCSS, POWER and so on, easily read the channels status.
2, NOAA weather Channels and FM radio function.
Be prepared for storms and emergencies with the built-in NOAA radio receiver providing coverage of all government operated weather channels. And FM radio, can make your relax during you outdoor.
3, GMRS band
Retevis RT76P is the GMRS BAND licensed radio, the users need to get the License from FCC. It has the longer communication range than FRS band radio.
4, Repeater function.
Retevis RT76P with the 8 repeater channels, help you to connect your RT76p with other GMRS repeater like Retevis RT97 GMRS repeater. Extend your RT76P communcation range.
5, Rechargeable Long Battery Life
Long standby battery can make sure the working time longer, keep in touch with your partners anytime.
6, Offers the belt clip
With a convenient clip, you can free your hands by attaching the portable 2-way radios to your belt
Retevis RT76P also has other functions like Monitor, Scan, VOX, TOT,Dual watch, and so on.
Product Reviews
Sean Liming

Great little GMRS Radio

The first GMRS radio I purchased and still one of the best. 30 channels, connect with repeaters, NOAA stations, and listen in on VHF/UHF bands. Programming is easy with the software and the latest firmware updates resolve some issues that others have mentioned. Once configured, the radio performs perfectly.

Good radios but they come programmed with tones already in them that if you're talking to another retevis you're fine but to communicate with another GMRS radio you need to add the tones to that radio or remove them from the retevis.

hillbilly ghost

great radio

I liked the radio.and can program with pc, the function is good.

Totally satisfying,the radio work good. so like it

eals

Good quality walkie talkies

Good quality walkie talkies! So good they were picking up police walkies too;). Great range and easy to use! Packaged very well.

The firmware update has improved this radio immensely. You can now use the radio keypad to change all settings. The build quality of this radio is very good. The display, while not high resolution, is actually bright and sharp (compared to a UV-5R for example). The speaker is loud and sounds very good. Not at all thin or tinny. Battery is a bit small but lasts for quite a while. I can't say I love the form factor. These radios are a bit short and chubby. Fortunately because of the build quality, they are comfortable to hold. No seams or rough edges. Pretty good belt clip as well. If you tried the RT76P in the past and were disappointed because of the programming limitations, it is definitely worth revisiting this radio, Exceptional quality and BTW very good support from Retevis if you ever need it. Start by contacting them for the new firmware.

Steve

long distance walkie-talkie

Talking range will vary by environment, but hiking in relatively open spaces well over a mile is easukt possible (really much farther should be doable), but if you're in an urban environment, you'll do well to get half a mile. That's true of all radios that don't use infrastructure to repeat their signal.

The display is nice and crisp, although small. And those little icons are even smaller, so wear your glasses.

nonya

outdoor walkie talkie

The radios feel solid but lightweight at the same time. The Pofung and Tidradio competitors definitely have more heft to them while being a bit smaller in size. This radio, however, being a bit larger, is easier to handle, especially with gloves. One disadvantage for most users will be the required use of the charging trays for the radios - many others have gone to charging via USB-C by directly plugging into the battery, a definite advantage while hiking, camping and even at home.

The radios are usable right out of the box, but to really make them shine one needs to use the programming software. As Part 95E certificated radios, you cannot change the frequencies programmed or add additional frequencies to them (here's hoping for an eventual "update"). The antennas are also fixed, but if you loosen the torx screw at the base of the antenna, it is removable.
Support
Accreditations
---
Accreditations
---
Accreditations
---
RT76 FCC Accreditation