A typical and essential accessory for first responders and some construction workers, radio holsters provide a hands-free way to carry portable radios on the belt, jacket, or by the chest. They're a great way to keep radios easily accessible for those who wear them on a daily basis for a job. If you're looking to purchase one of these convenient inventions, here are some we recommend.
What to Look for in a Radio Holster
There are numerous options for radio holsters, so here are some factors to consider when making a purchase:
Accessibility: Consider how easily you can remove the radio from the pouch, especially in emergent situations. You don't want to have to fumble with the holster forever to get to your device.
Adjustability: A great feature is when the radio holster can be adjusted for a custom fit or for an alternative placement on your body.
Compatibility: Check to make sure the radio holster is compatible with the size and type of radio you have.
A radio pouch designed for duty belts, The belt loop can hold a maximum of 6cm belt width.this option fits most hand-held radios. The Retevis radio holster is created with high-quality and durable nylon to be extremely sturdy yet lightweight. Easily carry your radio at your waist and work hands-free with this radio holster.
Adjustable design: The radio can be securely fastened to the radio holder with an adjustable elastic cord and hook & loop, the detachable while hook & loop inside the bag can be adjusted to tighten the radio at different height, protect the radio from rubbing and prevent the radio from falling.
Easy to use:Tactical radio holder easy to remove the radio out and put it back into radio holster with the open top design.The detachable hook & loop can be quickly released, convenient to open and close.
Wide application: Apply for camping,tactical sports, hiking, rock climbing, EDC use and fitness, as ideal gift presented to relatives, friends.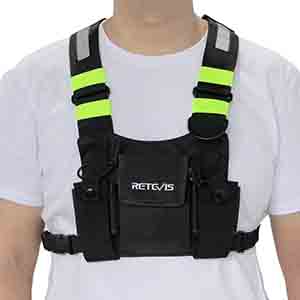 This radio shoulder holster comes with adjustable shoulder straps for maximum comfort for both men and women and no matter your size. Created with high-quality nylon, the harness can adjust to any size of the radio as well. It can be worn inside or outside jackets and vests and by anyone not wanting a belt style radio harness.
Highlighted Features
Universal radio shoulder holster with adjustable shoulder straps for maximum comfort, suitable both men and women.
Material: Make with good quality nylon, it is a quality built product that can adjust to any size of radio
It compatible with wild land fire, Survival, search and rescue, on fire/EMS calls and amateur (HAM) radio uses NO matter any Brand of Radio Baofeng Motorola Arshell ect
Can be worn inside or outside jackets or vests and maintain comfort, idear for law enforcement personel or anyone not wanting a chest style radio harness.
Applicable occasions: police, production workshop, construction sites, such as a dangerous place, convenient carrying walkie-talkie equipment and a variety of operating tools
Best Radio Holsters -New & Trendy: Buying Guide
radio holsterss have snaked their way into almost every living moment of our technologically-fueled lives. More people are buying radio holsters, and the number of options is also increasing. Choosing a radio holsters from such an overwhelming list of options might get confusing, so we made a guide that helps you pick the best one for your needs.
There are a few things you need to keep in mind while buying the right radio holsters for yourself.
You must identify what you use your radio holsters for.
This guide takes you through the complete process of selecting the best radio holsters.
Brand
The brand of a radio holsters is the most important factor to consider. A trusted company should produce the radio holsters. Generally, well-known brands produce durable and effective models. You can find a lot of good, reliable models from less well-known brands. Read the reviews to find out more.
Design
Look for something that is attractive – this is a personal decision, but an important one. The radio holsters is an integral part of daily life, and you may use them. Look for a radio holsters that looks appealing, and that is even customizable, such as a product that can be customized with a face or an array of bands.
Size
The radio holsters is typically a small product. The size and weight of this product are often comparable to those of a radio holsters. With such a feature, the product can take their devices with them wherever they go. Various products come with additional features, though. Features can increase the radio holsters size and weight. Weight and size may be sacrificed in order to get product features.
Price
Budget preferences differ between individuals. Determine your budget and then narrow your options based on it. Regardless of your budget, you'll discover a good product. Generally, the price tag reflects the quality and function of the product. It is worth what it costs. But don't get discouraged by this. Several radio holsters are available that are reasonably priced and do the job perfectly.
Ease Of Use
Before we can get into the product details, we must take a close look at the usability of radio holsters . How is the ease of use so critical? It certainly won't do you any good to buy a product that's difficult to use. You should be able to set up and install a good radio holsters fairly easily. We will discuss some of the factors that affect a radio holsters usability in this article.