The walkie-talkies or two-way radios are designed to provide affordable and reliable communication. Not only that, the walkie-talkies are also one of the most reliable communication tools, especially in groups. Handy in all situations, the walkie-talkies are durable and easy to use at the same time. Read more about retevis holloween walkie-talkies sales below to find out.
How do walkie-talkies work?
Walkie-talkies rely on radio frequencies
There are a few drawbacks to this kind of communication, however. A walkie-talkie is a two-way radio, meaning that when one person talks all the other walkie-talkies on that same frequency can hear it through their speakers. The catch is that only one person can talk at once and you can't just chime in. (This is why somebody typically says "over" when they've finished talking and "over and out" when they are finished with the conversation.)
A walkie-talkie doesn't have nearly the range of a smartphone. A cellular or Wi-Fi connection allows anybody with a smartphone to instantly talk to somebody on the side of the country or world. A radio frequency depends much more on line-of-sight and therefore most walkie-talkies can only communicate when within a few miles of each other. If the terrain isn't flat or clear, say you're in a mountainous, hilly or even heavily wooded area, then the range goes down.
Retevis H-777 Walkie Talkies For Hunting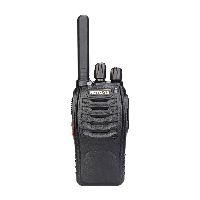 Compared to most of the walkie talkie for hunting, the Retevis H-777 is the best walkie talkie for hunting offered at the most affordable price. But don't let that fool you, because this two-way radio is packed with amazing features. One of the things that impressed us the most was the emergency alarm. Whenever there's a potential danger, such as mudslides or fire, you'll immediately get a notification. A really useful feature, especially for less experienced hunters.
As for the battery life, Retevis promises no less than 10 hours of usage time. For the main power source, this lightweight walkie talkie uses a rechargeable and removable Li-ion battery. Apart from that, there are high and low power modes, so you can actually save energy juice as needed.
What We Love
An affordable and reliable walkie talkie for hunting
Pros:
Durable
Rechargeable
VOX hands-free
Loud audio

Cons:
It's not completely waterproof
BUY NOW:https://bit.ly/3x9oGvM
The more best walkie talkie sale in holloween sale