Today with millions of digital two-way radio devices in operation with thousands of customers across hundreds of applications, from Mission Critical Public Safety to Business & Industry in over 160 countries throughout the world, Digital Retevis Radios offers a comprehensive line-up of digital air interfaces that allow users to select precisely the right solution to meet specific operational requirements whether in migrating from analogue or upgrading an existing digital system.
Durable, dependable and with proven performance, you can be sure that whichever Digital Retevis Radios communications solution you select, it will continue to serve you well into the future.
Next, I will recommend a few digital retevis radios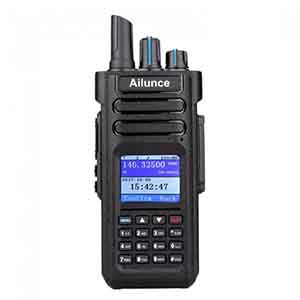 Brand: Retevis
Model: HD1
Operating range: 136-174 /400-480MHz /76-107.95MHz
Number of channels: 3000

Squelch/Coding: Yes, CTCSS/DCS subtones

Output Power: VHF 10W/5W/1W / UHF 8W/4W/1W

Possibility to connect a PTT/Headset: Yes

Battery: Li-ion / 3200mAh
Supports both digital and analog modes, compatible with existing analog systems, users can gradually switch analog terminal settings according to budget and actual communication needs.
Dual time slot for point to point supports two group calls in one channel under direct model; 3000 channels, 20000 priority contacts enable you to call the people important to you more convenient.
Waterproof walkie-talkie HD1 has VFO mode; very easy to learn and use.3200mAh battery enable normal use 7 days standby / 2-3 days typical use / Continues use 12-16 hours.
HD1 has GPS positioning function, GPS function gives you latlong; altitude; bearing; and speed information SMS function support to text the information to another radio with the same DNA protocol. In the event of an emergency, GPS can be used to locate the team's location for emergency rescue.
IP67 waterproof rating, can be immersed in 1 meter of the water for 30 minutes,waterproof and dustproof function, can be used in rainy and snowy weather, very suitable for outdoor skiing activities.
AILUNCE HD1 DMR Digital VHF/UHF Handheld Radio With CTCSS/DCS TONE SQUELCH long range waterproof walkie talkies for Business, outdoor activities.


Brand: Retevis
Model: RT81
Operating range: UHF 400-470MHz
Number of channels: 32
Squelch/Coding: Yes, CTCSS/DCS subtones
Output Power: Low:1W High:10W
Possibility to connect a PTT/Headset: Yes
Battery: 2200mAh
The design of dust-proof and waterproof prevents solid objects and water from damaging the walkie talkie. Allows you to use RT81 in complex environments.
Secure communications are an essential requirement, especially for public safety applications, RT81 is equipped with 10-bit key data encryption, walkie talkie prevents eavesdropping and avoids interference to ensure secure communication.
Built-in 2200 mAh battery, an operating time of 15 hours in analog mode and 25 hours in digital mode, and is suitable for daily use.
Security personnel typically work in a busy, noisy environment. The sound quality of the walkie-talkie is especially important. Due to the built-in high quality speakers, the DMR walkie-talkie provides better noise cancellation. In a noisy environment, it is possible to communicate with others in better quality.
In the security process, it often happens that the walkie-talkie falls down by running. Therefore, there are certain requirements for the fall resistance of the walkie talkie. A robust shell with stronger protection against falls and earthquakes is more durable.
High power has a longer call range. Low power has a longer battery life. The selection between high and low power can be used flexibly, allowing you to choose the appropriate power in different situations.
For security, it is necessary to communicate. The walkie-talkie supports individual and group call with ID, by setting the frequency, time slot, etc. to meet complex communication requirements.
Since the walkie talkie is compatible with both analog and digital modes, it not only retains the analog radio function, but also has the advantages of digital radio, such as better radio performance and longer battery life, higher energy efficiency, and in the meantime reduces the cost of equipment replacement.
The walkie talkie supports a repeater that is compatible with digital DMR and analog repeaters and extends the communication range.
The walkie talkie has three modes: simplex, repeater, and simplex dual time slot. In simplex mode, the walkie talkie communicates in different time slots, which improves communication efficiency. In Repeater mode, the walkie talkie increases the communication distance. Dual Time Slot expands the channel capacity and extends the communication distance.
UV dual-band, UHF in the high frequency band has better penetration and is more suitable. Outdoors, in a more open environment, VHF in the low frequency band has better diffraction and is more suitable.
RT81 high power dual-time radio for rescure, security, Firefighting