One important factor in the distance a two-way radio will communicate is its power output. This power output is measured in watts. Youve likely heard an FM radio station say they are broadcasting at 50,000 or 100,000 watts. Well, a handheld business-type two-way radio usually broadcasts at 1-5 watts. A vehicle mobile radio may broadcast anywhere from 5 to 100 watts. The more watts a radio has, the farther it can transmit.
Full power handheld means 5W handheld two way radio
so let's take a look at the retevis RT85 full power handheld two way radio.
Brand: Retevis
Model: RT85
Operating range: 136-174 MHz, 400-480 MHz
Number of channels: 200
Squelch/Coding: Yes, CTCSS/DCS subtones
Output Power: High to 5W, Low to 1W
Possibility to connect a PTT/Headset: Yes
Battery: 7.4V 1400mAh
Weight: about 230g
The appearance of the radio is shown in the photographs below. Of the features – shifted to the center of the display, which is located above the conversational speaker.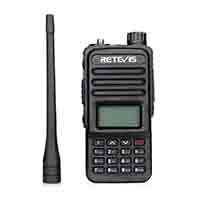 If we compare the Retevis RT85 radio with other models, for example, with Retevis RT86, with Zastone M7, BaoFeng UV-S9 Plus, I will note a more tal appearance of the reviewed model. Unlike the RT86, the RT85 is more advanced – more channels, manual input, etc. The keyboard can easily realize programming without computer programming, especially in the outdoor environment, which is more convenient and fast.
The radio is provided not only with a keyboard for entering frequencies, but also with additional keys for quickly calling up various function modes.
The keyboard block allows you to quickly call up two preset frequencies or channels by switching A – B. The F button calls up a fairly voluminous menu (36 functions) for the settings of the radio itself.
On the top panel there is a volume selector, an operation indicator, a flashlight (lensed LED), as well as an antenna connector. The antenna is removable, if desired, you can install a longer one.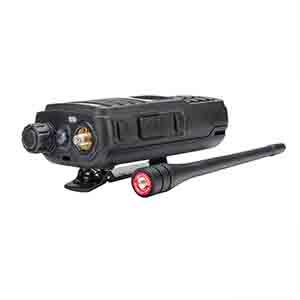 The walkie-talkie has a universal application – with such a one, even in the forest for hunting, even for fishing, even for the beach in the sand. Well, before using the walkie-talkie, you should configure it so that it meets the permitted frequency standards.
To set up the frequency and channel list, as well as the entire intercom, you need to purchase the programming cable separately, which works in USB-serial bridge mode and is defined as a virtual COM port.
The Retevis RT85 model is therefore a full power UV dual band radio with the ability to program the frequency grid. It is convenient to take it to nature, especially when the whole company has radios. To exchange meters, you can use a proprietary application or Chirp.